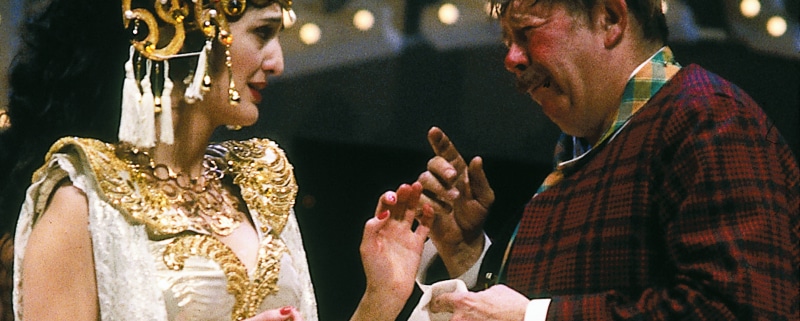 Deeper Dive: A closer look at 'Twelfth Night'
Artistic Director Chris Coleman talks about love's confusing joy in 'Twelfth Night,' which he will direct next season.
Shakespeare will be back as Theatre Company prepares to get (gender) bent at Christmastime

Written by: William Shakespeare
Year written: 1601
Broadway debut: 1804 (and 30 more times since!)
Director: Artistic Director Chris Coleman
Music composer: Multi-instrumentalist and composer Tom Hagerman, a member of the band DeVotchKa
Dates: November 15-December 22 (Opens November 22)
Where: Space Theatre
The play at a glance: Hilarious hijinks. Unrequited love. Gender-bending disguises. The struggle is real in this Shakespearean comedy, where the clumsiness of romance is on display in every way. Separated from her twin brother after a shipwreck in Illyria, Viola disguises herself as a man to work in the local household of Duke Orsino. The closer they become, the more Viola gets acquainted with Orsino's crush, the beautiful noblewoman Olivia. Much to their dismay (and to your delight), the trio is inevitably thrust into a love triangle of mistaken identity and wanton foolishness. Overflowing with quick wit and titillating trysts, this standout play by The Bard is sure to please with its captivating characters and one of his most dynamic heroine.
Quote from the script: "If music be the food of love, play on."
About the author: Perhaps you've heard of him: English playwright, actor and poet often called the greatest writer in the history of the English language. He was born in Stratford-upon-Avon in 1564 and, over a 20-year writing career, wrote 37 plays (give or take) that capture the complete range of human emotion and conflict.
Says Coleman: "When I'm working on Shakespeare, what I love most is to figure out how to illuminate it from within, and Twelfth Night is a compelling comedy with a lot of emotional depth to it. I'm also extremely excited for audiences to hear the music in this production, composed by Tom Hagerman from the band DeVotchKa. Audiences who saw the Theatre Company's 2016 collaboration with DeVotchKa on Sweeney Todd can expect to hear something just as unique, and a beautiful blending of the music with the story of Twelfth Night."
What scholars say about Twelfth Night: Twelfth Night is considered one of Shakespeare's great comedies and defies many of the prior conventions of comedy that his earlier comedies followed. Comedy was seen as a show that resolved happily. However, despite having a positive ending, Twelfth Night is also serious and sobering.
Fun facts: The title is a reference to the final night of "The 12 Days of Christmas," a Christian festival celebrating the birth of Jesus, culminating with the visit of the Magi. Most traditions mark the date as January 5. … Henry VIII, George Washington and the elder George Bush all celebrated "Twelfth Night" by getting married on that day, in 1540, 1759 and 1945. … The Denver Center last presented Twelfth Night in 1991. … This will be Coleman's first Shakespeare production since joining the Denver Center. … When Twelfth Night last returned to Broadway in 2013, it starred Mark Rylance as Olivia and Stephen Fry as Malvolio.
John Moore was named one of the 12 most influential theater critics in the U.S. by American Theatre Magazine in 2011. He has since taken a groundbreaking position as the Denver Center's Senior Arts Journalist.
https://www.denvercenter.org/wp-content/uploads/2019/03/Twelfth-Night-1991-Jacqueline-Antaramian.jpg
722
800
John Moore
John Moore
2019-03-25 17:28:19
2019-03-30 10:56:28
Deeper Dive: A closer look at 'Twelfth Night'