'Twelfth Night' sets sail on an ocean of design influences
Video above: Take an audio-assisted virtual tour into the world of Robert Mark Morgan's scenic design for the DCPA Theatre Company's production of 'Twelfth Night.'
Costumes, scenery and music will represent a cross-pollination of Renaissance sources
Shakespeare set his comedy Twelfth Night in Illyria, an ancient region along the eastern coast of the Adriatic Sea, which is precisely where Artistic Director Chris Coleman is setting his production of the play. This is where many of the trade routes (think the Silk Road) from the Far East ended, making it a multicultural world marketplace. In terms of the time period, Coleman wanted the production to be fairly traditional, initially giving the designers a wide berth of between 1400 and 1700. The show's designers, armed with these guideposts, eagerly dove in to research and design the production.
Since the time period most affects the costumes, let's start with costume designer Kevin Copenhaver. Copenhaver was able to iris in on the dates 1490-1550 for his clothes, naming the world of the play as "Renaissance." According to Copenhaver, the look will be very pretty, lush, with lots of fabric. But also light in weight and color of fabric, as it's a comedy. "I don't want it to be ponderous," the designer remarked. As a crossroads of the world, he's drawing on a variety of cultural references: "I'm borrowing a little Spanish influence, French influence, of course Italian," with added German and Romani touches.
Copenhaver is adding his own time-bending twists, for example instead of tights, men will primarily be wearing tight pants with codpieces. The women's dresses will have an Empire silhouette, in which the waist starts just below the bust line. In terms of color, the Illyrians will be dressed in warm rich colors. Viola and Sebastian, shipwrecked visitors to this place who literally come from the sea, will be sporting clothes in a color range of blues and aquas and greens.
Set designer Rob Morgan was able to research the eastern Adriatic coast from the comfort of his home studio by using the app Google Maps: "The beauty of the technology now is that you can feel like you are virtually going to the place and drop into a street of a small Italian village." Recurring features he noticed such as tile roofs and tiled walkways will be used throughout the set, which will also feature colorful flower boxes and prominent staircase units. In an attempt to make the space more immersive for the audience, Morgan is adding as much design to the mezzanine level as to the ground level: "There will be quite a bit of scenery on the second level, and we are designating two of the five boxes as playing areas." He wants the audience to feel as if they have walked into a post-medieval world as inhabitants, not merely spectators.
Morgan, who has designed many productions for the Space Theatre over the years, loves the five-sided theatre: "The fact that it's got one more side [than a traditional four-sided arena stage] gives it such a dynamic energy."
Composing original music for the show, Tom Hagerman can lean into his band DeVotchKa's signature culturally blended sound. "The music is going to be a cross-pollination of influences ranging from a sort of modern Bollywood to Italian spaghetti westerns." One instrument that will be prominently featured is the Bouzouki, which is Greek in origin and resembles a mandolin. Hagerman will be using an Irish Bouzouki, which has four strings, instead of the three-stringed Greek version. Hagerman's early musical sketches indicate a lush sound that also features violin prominently and folds in middle Eastern and renaissance motifs.
Twelfth Night is infused with music, loaded with songs for the clown Feste, including "The Rain it Raineth Every Day," "Come Away Death," and "O Mistress Mine." While the accompaniment for the songs will be live and played by the actors, Hagerman also will record music to be used in scene transitions and as underscoring.
So come expecting a lush, Renaissance, cross-cultural, somewhat immersive production that will be a feast for the eyes as well as the ears. After all, this is the play that begins with the words: "If music be the food of love, play on."
Douglas Langworthy is the DCPA Theatre Company's Director of New Play Development, Prior to Denver, he served as Dramaturg and Director of Play Development at McCarter Theatre in Princeton, N.J. for two years and Director of Literary Development and Dramaturgy at the Oregon Shakespeare Festival for seven.

Twelfth Night: Ticket information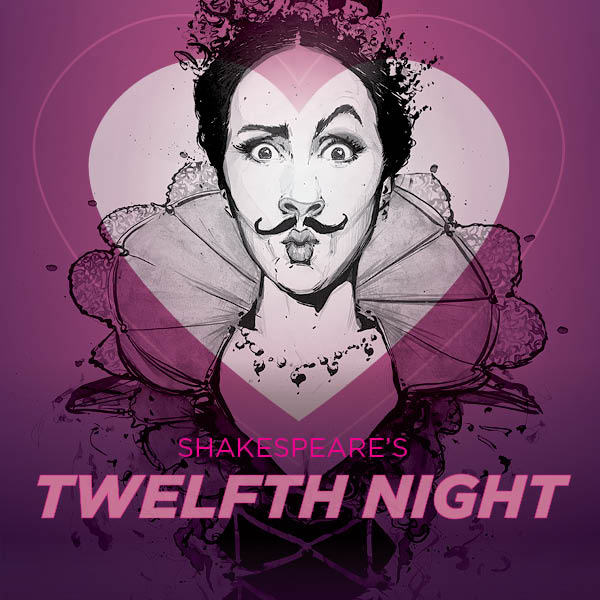 Hilarious hijinks. Unrequited love. Gender-bending disguises. The clumsiness of romance is on display in every way in this Shakespearean comedy. Separated from her twin brother after a shipwreck in Illyria, Viola disguises herself as a man to work in the local household of Duke Orsino. The closer they become, the more Viola gets acquainted with Orsino's crush, the beautiful noblewoman Olivia. Much to their dismay (and to your delight), the trio is inevitably thrust into a love triangle of mistaken identity and wanton foolishness. Overflowing with quick wit and titillating trysts, this standout play by The Bard is sure to please with its captivating characters and one of his most dynamic heroines
Dates: Performances through December 22
Where: Space Theatre

Genre: Romantic comedy with music
Tickets: Start at $30 and can be purchased at 303-893-4100 or in person in the Helen Bonfils Theatre Complex at 14th and Curtis streets or online by clicking here:

Photo gallery: Your first look at Twelfth Night
Photos by Adams VisCom.
Videos: Twelve seconds with the cast of Twelfth Night
Photo gallery: The making of Twelfth Night in Denver
Photos by John Moore for the DCPA NewsCenter.
https://www.denvercenter.org/wp-content/uploads/2019/11/06-Kim-Staunton-and-Cameron-Folmar-in-TWELFTH-NIGHT_-Photos-by-Adams-VisCom.jpg
666
1000
Douglas Langworthy
Douglas Langworthy
2019-11-20 09:56:18
2019-11-21 10:09:49
'Twelfth Night' sets sail on an ocean of design influences