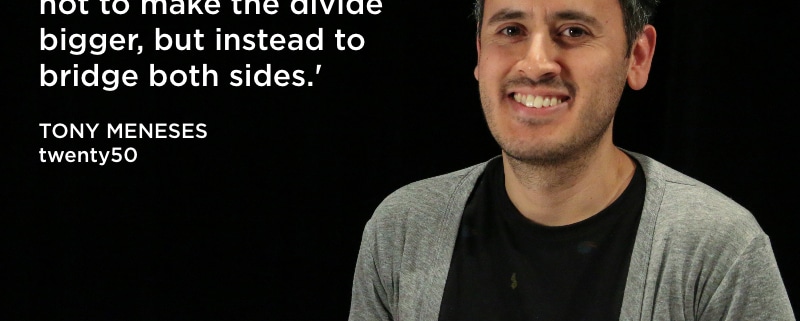 Deeper dive: A closer look at 'twenty50'
In the video above, playwright Tony Meneses talks about 'twenty50' at the recent Colorado New Play Summit. Video by John Moore and David Lenk for the DCPA NewsCenter.
An immigrant's election decision speaks to issues that are being urgently debated in this country right now
Written by: Tony Meneses
Year written: World premiere
Director: Henry Godinez
Dates: January 31-March 1, 2020 (Opens February 7)
Where: Space Theatre
The play at a glance: In the year 2050, an immigrant named Andres Salazar is running for congress. By this time, Latinx people have been assimilated into the majority of the United States, but race issues are far from resolved. In this tricky political environment, Andres must decide whether identifying himself as Mexican American will help or hinder him on Election Day, and whether losing some of his own identity is worth the potential social benefits. When a mysterious stranger arrives, Andres' family rallies to save his imperiled campaign. On the brink of our upcoming presidential election, this suspenseful thriller peels back the façade of campaign-trail craziness to reveal how power and shifting identity blur our truths with those of the greater whole.
Summit Spotlight: Tony Meneses imagines an America where Latinx people are absorbed into whiteness
Quote from the script: "This is a different country now. We're different. The days of picking tomatoes and jumping over border fences and speaking in (bleeping) Spanish – that's all over now. … You're white. I'm white. There is no such thing as Latinos or Hispanics anymore. Those terms are dead. Those people are dead. We are now just like everybody else. Enjoy it. Take advantage of it!"
About the author: Tony Meneses was born in Guadalajara, Mexico, and raised in Albuquerque and Dallas. He's a two-time recipient of the Kennedy Center Latinx Playwriting Award and he wrote twenty50 as a commission from the DCPA Theatre Company, which means the Denver Center had the right-of-first-refusal to fully stage produce the world premiere of the play. Meneses graduated from the University of Texas at Austin and earned his MFA from the Iowa Playwrights Workshop. He was called "a distinctive voice worthy of attention" by the New Jersey Star Ledger.
About that premise: "twenty50 is taken from the thesis that by the year 2050, we're going to be so diverse as an American people that prejudice and racism no longer exist. So there is no majority anymore, which sounds like a Kumbaya version of where this country is heading," Meneses told the DCPA NewsCenter. " But just looking at the history of America and the malleability of race and the systemic institution of white supremacy, I'm dubious of that conclusion. America has shown that minority communities are initially otherized and then eventually accepted and absorbed into whiteness. And that makes me wonder if that is going to happen with Latinx people. I already see it happening now. Certain politicians who are Republican and Latino have assimilated, and have sacrificed a lot of their own identity to do so."
Says Artistic Director Chris Coleman: "When I read twenty50 for the first time, I instantly felt this is a play that speaks to things that are being urgently debated in this country right now. twenty50 is a perfect example of the deeply moving work that comes out of the Colorado New Play Summit and our commissioning program. Tony is an incredibly special writer and I am honored that the Theatre Company will be the first to produce this powerful story."
Last word from the playwright: "I think all artists are wrestling with what impact we can have politically right now. I think it's empathy: Just being able to connect with another human being on that base level and to invest and to root for a character. And then maybe on the ride home, you're like, 'Wow, I just fell in love with a Latino family for a night.' And maybe that translates into them actually falling in love with a Latino family in real life … or at least upends assumptions and conclusions that we make on both sides."
John Moore was named one of the 12 most influential theater critics in the U.S. by American Theatre Magazine in 2011. He has since taken a groundbreaking position as the Denver Center's Senior Arts Journalist.
Video bonus: Artistic Director Chris Coleman talks about twenty50
Photo gallery: Your first look at twenty50
Photos by John Moore for the DCPA NewsCenter
https://www.denvercenter.org/wp-content/uploads/2019/02/Tony-Meneses-twenty50-John-Moore-CNPS.jpg
572
800
John Moore
John Moore
2019-03-27 17:56:14
2019-03-27 17:56:14
Deeper dive: A closer look at 'twenty50'