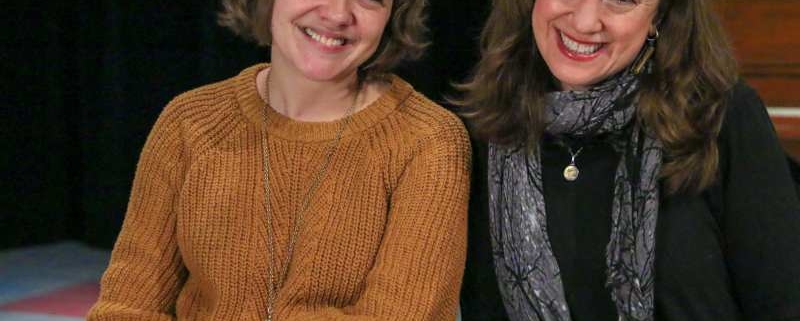 Summit Spotlight: Neyla Pekarek and Karen Hartman on 'Rattlesnake Kate'
Video by DCPA Video Producer David Lenk and Senior Arts Journalist John Moore.
In this daily five-part series for the DCPA NewsCenter, we introduce you to the plays and playwrights featured at the Denver Center's 2019 Colorado New Play Summit through February 24. Over the past 14 years, 29 plays introduced at the Summit have gone on to be premiered as fully staged productions on the Denver Center Theatre Company's mainstage season. Today: Neyla Pekarek and Karen Hartman, writers of 'Rattlesnake Kate.'
How a Greeley farmer grew into a Colorado legend, a concept album, and now, a new stage musical

The play in a nutshell: Around 100 years ago near Greeley, Kate McHale Slaughterback came upon a migration of rattlesnakes while on her horse with her young son. To protect her child and herself, she proceeded to famously kill 140 snakes. Neyla Pekarek has woven Slaughterback's biography into a concept album called Rattlesnake that was released January 18 on S-Curve Records. The Denver Center Theatre Company has commissioned Pekarek and playwright Karen Hartman to transform the story into a fully fleshed stage musical that will be presented as a concert reading at the 2019 Colorado New Play Summit.
The writers at a glance: Aurora native Neyla Pekarek was a longtime cellist and vocalist with the folk-rock band The Lumineers, whose first record reached triple-platinum status with sales of more than 3 million records.  She is a graduate of the University of Northern Colorado in Greeley and sings barbershop music competitively as a member of Sweet Adelines International. San Diego native Karen Hartman specializes in plays about human beings in the crosshairs of history. Her play Good Faith: Four Chats about Race and the New Haven Fire Department premieres later this year at  Yale Repertory Theater. She graduated from the Yale School of Drama and is Senior Artist in Residence at the University of Washington.
Here is more of DCPA Senior Arts Journalist John Moore's conversation with Neyla Pekarek and Karen Hartman:
John Moore: Neyla, let's talk about your roots.
Neyla Pekarek: So I have always been a fan of musical theater. I grew up in Aurora and went Overland High School. Shari VanHaselen was the theater teacher at the time, and Darin Drown was the choir teacher. I feel like everything that's good in my life is because of those teachers. They were so influential in me becoming who I am. I was such a shy kid and I didn't like being in front of people. That clearly went away, but only through the help of a lot of really great teachers. I felt very out of place until I found my like-minded, weirdo drama kids.
John Moore: And then you went to the University of Northern Colorado.
Neyla Pekarek: I went there as a musical-theater major but about halfway through I decided it was probably a good idea to get a music-education degree. I was not ready to move to New York to try being on Broadway. I knew I wasn't a dancer. I knew I was first and foremost a musician. I felt like I wasn't using the skills I was really good at. And then I had this very strange roundabout where I was in a band for a while, and I traveled the world with them, and then recently I came back to my musical-theater roots.
John Moore: Not to interrupt, but is this a band we might have heard of?
Neyla Pekarek: It's a small, local band called The Lumineers.
John Moore: I'll Google them.
Neyla Pekarek: You'll find them.
John Moore: Seriously, how do even begin describe your crazy life so far? I mean, you answered a Craigslist ad looking for a cellist and now you've performed with U2. You've played Madison Square Garden. You've played Paris. And here you are now at the Denver Center creating a stage musical.
Neyla Pekarek: My life has been really strange, and very lucky. I'm very fortunate that I stumbled into this monster machine that became The Lumineers. It didn't start out that way. It started out with two guys in their basement asking me if I wanted to get into a minivan and play shows.
John Moore: OK, so I know The Lumineers have been incredibly successful. But seriously, you should just say no when two guys in a basement ask you to get into their minivan.
Neyla Pekarek: You're right about that. There's no reason any of this should have worked out. But I will tell you, even when we played Madison Square Garden, someone asked me that night: "What does it mean to you to be playing Madison Square Garden?" And I said, "This is the closest I've ever been to being on Broadway." They said, "Well, this is a much bigger deal." But not in my mind.
John Moore: What kind of music were you into growing up?
Neyla Pekarek: I was belting Liza Minnelli in my bedroom when I was 12. I didn't really care about rock bands.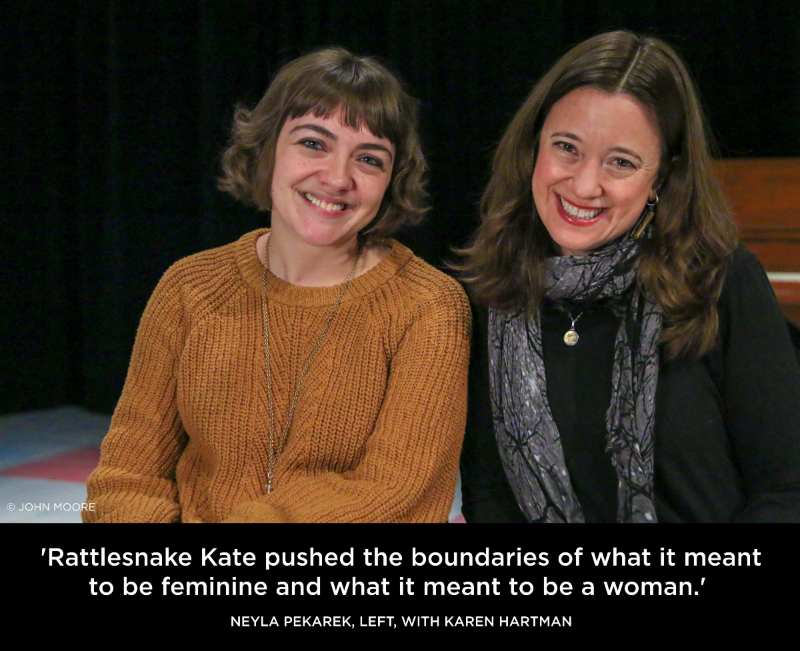 John Moore: Looking back, how does your time with The Lumineers live with you now?
Neyla Pekarek: While I feel very lucky to have had my experience with The Lumineers, it only makes me come into this opportunity with even more appreciation. I've said multiple times this week as we've come out of these really hard work days: I haven't felt this creatively fulfilled ever in my life. This has just been an incredible experience. I feel like I'm where I'm supposed to be. There were times with the band when I felt like I was living someone else's dream, and I feel like I finally have this space to live my own dream. I feel at home in the theatre.
John Moore: Tell us how Rattlesnake Kate came to be.
Neyla Pekarek: I knew I wanted to write a musical, and I knew I wanted to write about this Colorado historical figure I stumbled across as a college student at the Greeley History Museum. Her name was Rattlesnake Kate, and her story stuck in my head because it was so much stranger than fiction. She's not really a household name, and I still don't understand why nobody knows about her. And so all these things came together like a creative lightning bolt strike in my brain.
Read more: Overland High School set Pekarek on a path to international stardom
John Moore: What is the legend of Rattlesnake Kate?
Neyla Pekarek: Rattlesnake Kate became notorious in the 1920s for this strange encounter with a rattlesnake migration. In order to protect herself and her 3-year-old son, who was mere feet away on horseback, she proceeded to kill 140 rattlesnakes. It took her two hours, but she walked away and lived to tell the tale. The very next day she went back to the scene of the crime, which must have been horrific event. But she had get a little bit of proof that this happened. So she collected all these snakeskins and she fashioned herself a flapper-style gown that she would then wear to parties.
John Moore: How did she kill all those snakes?
Neyla Pekarek: At first she killed them with her rifle but she ran out of bullets. So she plucked a "No Hunting" sign from the ground and just started clobbering them. She bludgeoned those snakes to death.
John Moore: That's worth a musical.
Neyla Pekarek: But the story of Rattlesnake Kate goes so far beyond the rattlesnake encounter. That's the hook that gets you into her story but as I began researching her, I discovered she kept up this love-letter correspondence with a man in Iowa for 40 years – and they never met. She kept having all these challenges thrown at her, and they only made her stronger. That's when I realized, "Oh, this is more than just one song. It's a whole album. It's a whole musical."
John Moore: So how did you start?
Neyla Pekarek: A few years ago, I started writing songs about this woman without an end plan, and it quickly got out of control where I wrote a whole bunch of songs and put them on a record called Rattlesnake. I also knew I wanted to make the further transformation into a stage musical, but I wasn't quite sure how to do that. An agent of mine named Jack Tantleff said to me: "Well, you're from Denver. They have a really great professional regional theater out there." And I said: "Yes, yes. I know." And so through some magic, last summer I got partnered up with Karen Hartman to write a script to go with my music.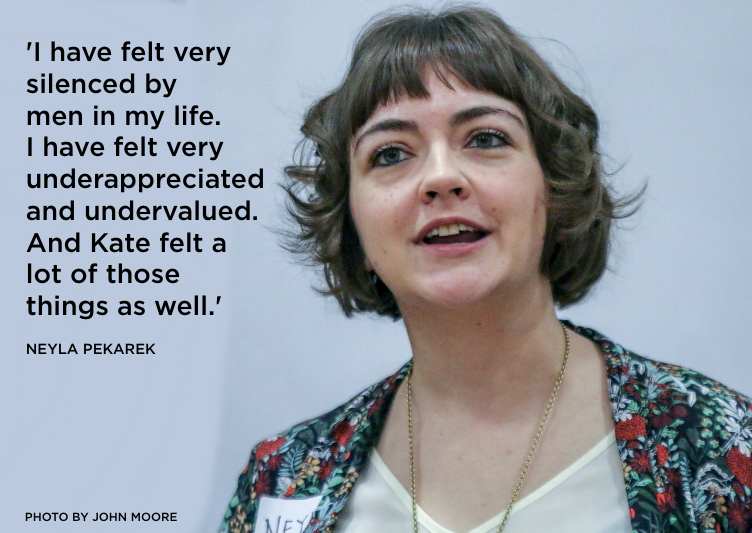 John Moore: Karen, did you two know each other or was this like a blind date?
Karen Hartman: Well, neither. This is Neyla's album. This is Neyla's show. I heard from my agent and from Douglas Langworthy, who is the Director of New Play Development here at the Denver Center, and they both thought maybe this would be a good fit. I listened to five notes of the first song of Neyla's record and I was just hooked. And it just grows on you. I was excited by the story of Kate, but I was also excited by what seemed to me to be a dialogue between this contemporary woman – Neyla – and this historical figure – Kate. I wanted to make a show that could capture that conversation between the past, the present and the future between these two Colorado women.
John Moore: Neyla, when you visited that museum in Greeley, do you feel like Kate talked to you?
Neyla Pekarek: I think I might be too much of a Virgo to confidently say spirits came to me, but I do fully believe Rattlesnake Kate was my muse. I was so enamored by this woman who lived her life exactly as she wanted to. She didn't really care what other people thought about her. In the beginning, I could not stop thinking about her. I could not stop talking about her. Everything reminded me of her, and she really became all-consuming.
John Moore: What about the way she lived her life speaks to you 100 years later?
Neyla Pekarek: She pushed the boundaries of what it meant to be feminine and what it meant to be a woman. She really didn't take a lot of crap from anybody. She said what was on her mind. Just today in rehearsal, one of our actors got teary talking about how her story speaks to her as a young woman. And I was like, "That's exactly why I wanted to write this." I found my voice and I found a little more bravery inside me. And I hope other people who have ever felt marginalized can relate to this story as a result.
John Moore: I imagine that as a single mother in Greeley in the 1920s, she was fairly ostracized.
Neyla Pekarek: Yes, and she was married six times.
John Moore: Although six is a lot.
Neyla Pekarek: Yes, six is a lot of marriages.
John Moore: I'm sure a few of them were snakes. The men, I mean.
Karen Hartman: Certainly.
John Moore: So Karen, tell us about the process of taking this newly released concept album of Neyla's, Rattlesnake and turning it into a stage musical.
Karen Hartman: So we start with this album that is really beautiful and it works gorgeously as it is. And now we're making it into this other thing. We're going on this journey with Kate from when she leaves home in her teens through age 75 when she donates her snakeskin dress to the museum in Greeley shortly before she dies. So I just mapped it all out from beginning to end.
John Moore: Talk about the decision to have three actors play Kate at different times in her life.
Karen Hartman: Because Neyla writes woman's barbershop music, we wanted there to be four women in the ensemble. And because we're covering this huge span of Kate's life, I thought we should cast Kate at three stages of her life. That's something a stage musical can do really easily.
John Moore: That's Fun Home.
Karen Hartman: It is, and it seems to be working quite well. Sometimes the Kates sing together. Sometimes they back each other up. You might see future Kate giving her younger self some advice.
John Moore: When you say, "Women's barbershop," that makes me think of the great local band Paper Bird.
Neyla Pekarek: I love that Paper Bird has three frontwomen singing such beautiful harmonies. I come from such a barbershop background, so I have always been attracted to that kind of sound. My record is full of harmony as well, and I wanted to keep that in the stage musical. I think it works really well.
John Moore: So why is Neyla not playing one of the three Kates?
Karen Hartman: I said to Neyla: "If you want to be Kate, you're Kate, obviously. This is your show. This is your Hamilton." And Neyla felt like, "Well, I don't have to be Kate. I'm not even sure if I am Kate." And so then we came up with this three-Kate idea.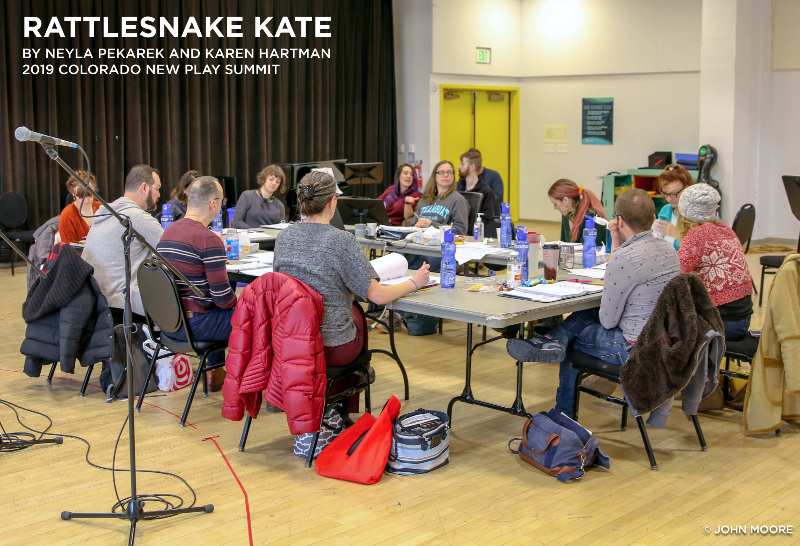 John Moore: But she is still performing in the musical in another role.
Karen Hartman: She is, and she has at least one great solo number. But the character she is playing right now is more Neyla. She's the creator of this world. And that gives her the opportunity to be in dialogue with Kate.
Neyla Pekarek: The bottom line is, I got to make a record exactly the way I wanted to make it. I've got my live show where I can do my show-pony thing and sing all the songs myself. But watching these incredible singers sing my music in this musical has been a really emotional, amazing experience. These actors are really good. Mary Kate Morrissey is playing our main Kate and I just look at her in awe. I could never sing these songs the way she does. So it's actually been a real treat to have written these songs for these other voices.
John Moore: How do you feel about being the first playwright to be commissioned to write for the Denver Center Theatre Company under new Artistic Director Chris Coleman?
Neyla Pekarek: It's an insane honor, especially because I am doing it here. I feel so connected to the Denver Center. This is where I fell in love with theatre, watching all the Broadway tours come through and coming to plays with my English class in high school. Not only is it an honor to have been commissioned anywhere to do something I feel insanely lucky to be doing in the first place, but even more so because this is home.
Karen Hartman: I would also say that it's just such a good move for Chris Coleman's first commission to go to a global Colorado artist who is writing a Colorado story. What a brilliant move.
John Moore: For fans who already have bought your record and may be coming to see the concert version of the stage musical, how different is the score for the stage version?
Neyla Pekarek: Rattlesnake Kate, the musical, is a completely different beast from Rattlesnake, the album I am touring. I put my live show together with a traditional band set-up and we will play rock clubs like the Hi-Dive or the Larimer Lounge here in Denver. The stage musical uses songs from the record, but they're presented in a very reimagined way. Although I do wear a rattlesnake dress, which I think is important.
Karen Hartman: The songs on the record are complete in their own way. Each one is like its own journey. But in a musical, you want a song to be open at the end, or to be used within dialogue. So a lot of what I've been doing is asking, "Well can the verse of this one song belong to Kate and the chorus of this other song belong to the judge in a courtroom? That kind of thing.
John Moore: And from what I understand, Neyla has been writing new songs for the musical here in rehearsals that obviously were not on the record.
Karen Hartman: Neyla wrote an amazing new song to start the show that is a classic musical-theatre song – because we needed one. It's a song that introduces Kate and tells the audience, "This is who I am, and this is what I want." There isn't a song like that on the record because the record doesn't need it. So we're reimagining what can be reimagined; we're using verbatim what can be used verbatim; and then we're starting over with those spots along the theatrical journey that aren't on the record.
John Moore: Neyla, do you hope your name recognition with The Lumineers will attract the kind of people who regularly attend rock concerts at venues like the Bluebird to see Rattlesnake Kate the stage musical someday?
Neyla Pekarek: I hope having one foot in the music world and one foot in the theatre world will appeal to a larger audience. When someone tells me, "I hate musicals," I think, "Well, then you just haven't seen the right one." There are so many different kinds of musicals. It's like when people say they don't like to read books. I say they just don't know the right books to read. So, yes. I do hope that top-40 radio people who have heard of The Lumineers but wouldn't normally go to a musical will come and give it a chance.
Video bonus: Neyla Pekarek sings from her concept album, Rattlesnake:
John Moore: And why is this the right play at the right time?
Neyla Pekarek: I think because I wrote Rattlesnake Kate from a place where I was feeling a lot of the feelings that women are feeling right now. I wasn't trying to write a "Me Too" musical. I was writing my experience. I have felt very silenced by men in my life. I have felt very underappreciated and undervalued. And Kate felt a lot of those things as well. There have been moments in the rehearsal room where we all have been just in shock at how raw and how immediate these songs sound.
John Moore: I also want to know your thoughts on the Women's Voices Fund, which is the Denver Center's $1.5 million endowment to support the work of women playwrights and directors.
Karen Hartman: I have been a woman playwright in the world for a long time. And plays written by women still make up only about 28 percent of all plays staged in America – and that's not even counting Shakespeare. That's a problem people are working on from many different fronts, because parity takes a lot of things: It takes child-care. It takes programming the work. It takes trusting that audiences like to see stories about women. And trusting that people will show up to see work written by women – which they do. Field-wide, the Women's Voices Fund is way out ahead of the pack. And it's incredible that Denver Center is taking the lead.
John Moore: Neyla, I also just learned that you also will be performing at the 14th annual "Women with Hattitude" luncheon on May 2 in support of the Denver Center's ongoing mission to level the playing field for women playwrights and directors.
Neyla Pekarek: I was so excited to be asked to perform at Hattitude. This whole experience with the Denver Center, and the Colorado New Play Summit, and being commissioned to write a play here – it all feels way too good to be true. I just keeping saying to myself: "Wait. They're paying us to write this show? It's a dream come true." So I am happy to help in any way I can. And talking about these issues of inequality tells me that Rattlesnake Kate and Hattitude will be a perfect match.
John Moore was named one of the 12 most influential theater critics in the U.S. by American Theatre Magazine in 2011. He has since taken a groundbreaking position as the Denver Center's Senior Arts Journalist.
Rattlesnake Kate: A Concert Reading

4 p.m., Saturday, February 24 only, Seawell Ballroom SOLD OUT
Book by Karen Hartman
Music and Lyrics by Neyla Pekarek
Directed by Chris Coleman
Dramaturgy by Heidi Schmidt
Music Direction by Angela Steiner
Cast, musicians and crew:
Katherine: Leslie Alexander
Ernie: Brian Cronan
The Colonel: Matthew Bryan Feld
Katie: Sara Masterson
Kate: Mary Kate Morrissey
The Lady: Neyla Pekarek
Stage Directions: Alaina Beth Reel
Bass: Nicolas Golder
Cello: Neyla Pekarek
Guitar: Joshua Skelton
Keyboard: Angela Steiner
Drums: Blake Watts
Stage Manager: Rachel Ducat
Stage Management Apprentice: Wayne Brey
2019 Colorado New Play Summit: Ticket information

Through Sunday, February 24
303-893-4100 or INFO
Photo gallery: Your first look at Rattlesnake Kate

Photos by Adams VisCom and John Moore for the DCPA NewsCenter
https://www.denvercenter.org/wp-content/uploads/2019/02/QUOTE-social-Rattlesnake-Kate-Neyla-Pekarek-Karen-Hartman1.jpg
651
800
John Moore
John Moore
2019-02-21 11:54:51
2019-02-22 08:44:41
Summit Spotlight: Neyla Pekarek and Karen Hartman on 'Rattlesnake Kate'