Summit Spotlight: Jessica Kahkoska, 'In Her Bones'
In this daily five-part series for the DCPA NewsCenter, we introduce you to the plays and playwrights featured at the Denver Center's 2020 Colorado New Play Summit through February 23. Over the past 15 years, 31 Summit plays have gone on to be premiered as fully staged productions on the DCPA Theatre Company's mainstage season. Today: Jessica Kahkoska, author of 'In Her Bones.' Video by DCPA Video Producer David Lenk and Senior Arts Journalist John Moore.
Homegrown project sheds light on a hidden heritage in southern Colorado
The play at a glance: Colorado's San Luis Valley is world-renowned for its beauty, but the area holds a deeper clandestine heritage: The legacy of Sephardic Jews who fled the Spanish Inquisition five centuries ago. When Mia returns to the region for her grandmother's funeral, she's forced to confront a past that she is both fleeing and seeking out. As she looks back on family memories, another world creeps in — one of shadows, forgotten prayers, and secrets hiding right in plain sight. Unearth the complicated legacy of Crypto-Judaism in the Southwest through this unlikely alpine tale of faith, fear and how we pass on culture when written records are too dangerous to keep.
The playwright at a glance: Jessica Kahkoska, a native of Black Forest and a graduate of Northwestern University and Rampart High School in Colorado Springs, is most interested in work driven by history, research, community and interdisciplinary collaboration. She received the 2019 Powered by Off-Center Residency at the Denver Center to develop In Her Bones. Other projects have included Agent 355 with Chautauqua Theater Company in New York, which explored the loyalty, heritage, and courage of six real Revolutionary women whose sacrifices shaped the nation. She serves as Regional Vice President of both the Mountain West and New York City metro regions of the Literary Managers and Dramaturgs of America.
"This is a moment in time when we have a lot to learn by listening to people who live in rural communities about how they experience their history." – Jessica Kahkoska
Most playwrights lock themselves in a room, open their computers and write a play. It can be a very solitary experience.
Jessica Kahkoska is not like most playwrights.
She's a research-driven dramaturg at heart, and her interview-based new play In Her Bones has come to collaborative life with the input of more than five dozen consultants, research collaborators, archivists and ordinary people who helped her shed light on a largely unknown slice of southern Colorado heritage: Crypto-Judaism.
"Broadly defined, Crypto-Judaism is anyone who practices or identifies as Jewish but does not outwardly profess that," said Kahkoska. "And in the case of this play, it refers to the idea that some of the families who live in the San Luis Valley might be direct descendants of the Jewish families who left Spain during the Inquisition in the 1400s. But you might never know that."
Kahkoska, a native of Black Forest outside of Colorado Springs, earned a residency from the Denver Center to develop In Her Bones last year. And that's when the researcher in her got to researching. Her focus was on the isolated and sparsely populated San Luis Valley, headwaters of the Rio Grande River.
"I have, at this point, conducted about 30 oral-history interviews in partnership with the San Luis Valley Community Foundation," said Kahkoska, who continued her work last summer as at another residency with the Southern Colorado Repertory Theatre in Trinidad. She was assisted in finding interview subjects by the Community Foundation of the San Luis Valley. And in the spirit of giving back, Kahkoska has committed to donating 10 percent of any money she ever makes on the play back to the foundation.
"It's my way of acknowledging that those stories were given to me by the people of the San Luis Valley, and that is my way of putting some resources back into the community."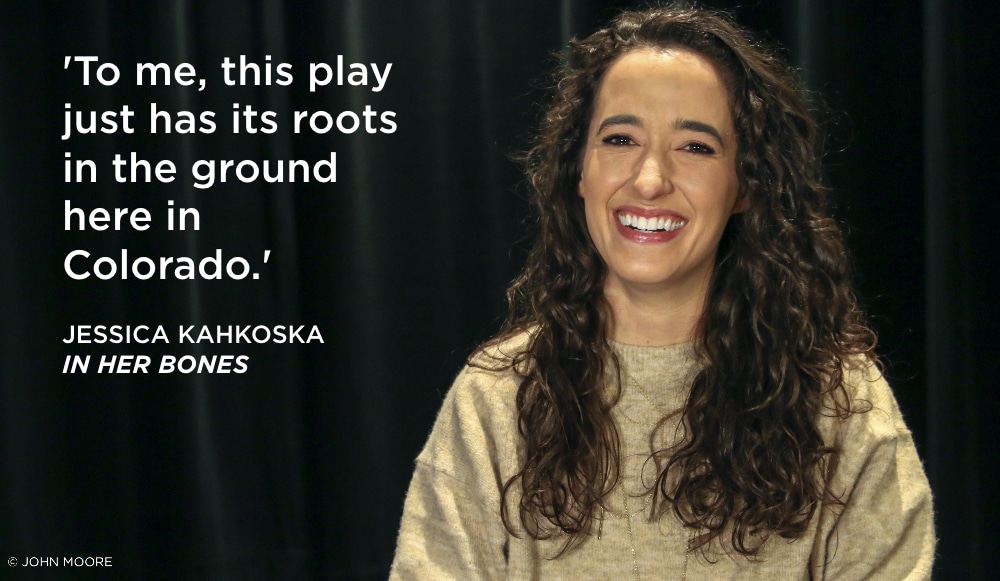 Here are additional excerpts from Senior Arts Journalist John Moore's conversation with Jessica Kahkoska:
John Moore: What will it mean to you as a Colorado-born dramaturg-turned-playwright to have your story told on a Denver Center stage?
Jessica Kahkoska: I mean, it's everything. This is where I met theater. As a young person seeing theater, the Denver Center blew open my sense of what is possible.
Do you remember the first time you came to the Denver Center to see a show?
Jessica Kahkoska: I do. I saw Wicked for my 11th birthday – and it was amazing. And I saw the DCPA Theatre Company's All My Sons on a high-school field trip. I remember seeing August Wilson's Gem of the Ocean. I remember that they had running water on stage and later asking my friends, "Did anyone else notice that sink really worked?"
John Moore: What was the origin of this particular project?
Jessica Kahkoska: I left Colorado for college in New York, and it took going away to make me realize that Colorado is a really important part of my life. I moved to Creede, Colorado, in the winter, when there are only 300 people living there. Even though I had grown up in Colorado Springs, I had never been further south than Pueblo, so just being exposed to region for the first time was an incredible experience. And that's where I learned a little about Crypto-Judaism and the idea that some of the families who live in the San Luis Valley are direct descendants of the families who left Spain during the Inquisition. I grew up Jewish, so that sparked something in my heart, too.
John Moore: So what happens in your play?
Jessica Kahkoska: The play is about a young woman from Denver named Mia. She's a freshman at the University of California Berkeley. As she is driving through the San Luis Valley in a blizzard, she is forced to pull off the highway and wander into one of those general stores that you often see down rural stretches of highway. While she's there, she encounters a mysterious store owner named Moises. Their conversation opens the door to some memories and some magic and a bigger conversation about who Mia and her mother and her grandmother are – and of all of the things that got her to the store in the first place.
John Moore: And this man is not accidentally named "Moises," I'm sure.
Jessica Kahkoska: No.
John Moore: Tell us more about Mia and her family.
Jessica Kahkoska: This is a Colorado family. Mia and her mother live in Denver, while the grandmother, Raquel, lives in the San Luis Valley. It is ultimately Raquel's death that brings mother and daughter down to the Valley. The events that transpire around the funeral and the cleaning of the house bring up a lot of the questions of identity and who Mia's family really is.
John Moore: So what do you want us to leave your play thinking about?
Jessica Kahkoska: I think that a play, more so than a research paper or a magazine article, can offer a space for discussion about the complexities of identity. More so than genealogy, because with identity, so many things can be true at once. So I hope that this piece is able to reveal how complex and ongoing and cyclical these histories are – even in modern-day Colorado.
John Moore: So why is this the right play at the right place at the right time?
Jessica Kahkoska: I think we are in an era where turning back to history has become a vital exercise as we're trying to understand this present moment we're in. And I think that the people in this play and the experiences that they have had can help us understand Colorado and the West in a way that is not part of the mainstream historical narrative. I think this is a moment in time when we have a lot to learn by listening to people who live in rural communities about how they experience their history.
John Moore: So let's talk specifically about the Colorado New Play Summit, and having your play be seen here.
Jessica Kahkoska: To me, this play just has its roots in the ground here in Colorado. And at this moment of its life, I feel like it needs this air to grow. This is a truly homegrown project. The gift of the Summit is the continuity it brings to the project. It feels really special that this piece has a home here.
John Moore: What are your ultimate hopes and dreams for this play?
Jessica Kahkoska: I think the San Luis Valley is such a special and unique place – visually, the sonic worlds of it, the feeling of it – that it's really exciting for me to think about how that would translate into a fully staged production. I think that figuring out how to capture what makes the San Luis Valley so different and special and fundamental to Colorado, and to have the opportunity to explore that might look like with a full design and finished script, would be very exciting.
John Moore was named one of the 12 most influential theatre critics in the U.S. by American Theatre Magazine. He has since taken a groundbreaking position as the Denver Center's Senior Arts Journalist.
Check out all of our 2020 Colorado New Play Summit Spotlights:

Photo gallery: In Her Bones

Check out our growing gallery of photos from the 2020 Colorado New Play Summit
---
By Jessica Kahkoska
Directed by: Jerry Ruiz
Dramaturgy by: Lynde Rosario
Cast and crew:
Raquel: Laura Crotte
Lea: Zilah Mendoza
Mia: Valentina Guerra
Moises: Zeus Mendoza
Outsider: Seth Dhonau
Stage Directions: Chelsea Frye
---
The 15th Annual Colorado New Play Summit
Launch Weekend: February 15-16
Festival Weekend: February 21-23. All-inclusive Festival Weekend packages include five play readings and two fully staged world premieres, plus meals and special events
Details and packages available at denvercenter.org
The 2020 Colorado New Play Summit is presented by AT&T, Sheri & Lee Archer/New Wave Enviro, The Joy S. Burns Commission in Women's Playwriting, Daniel L. Ritchie, Semple Brown Design, Robert & Carole Slosky, and Transamerica.
Follow the DCPA on social media @DenverCenter and at the DCPA's online NewsCenter.
https://www.denvercenter.org/wp-content/uploads/2020/02/Jessica-Kahkoska-Colorado-New-Play-Summit-2020.-In-Her-Bones.-Photo-by-John-Moore.jpg
581
1000
John Moore
John Moore
2020-02-20 09:22:42
2020-02-23 11:36:18
Summit Spotlight: Jessica Kahkoska, 'In Her Bones'