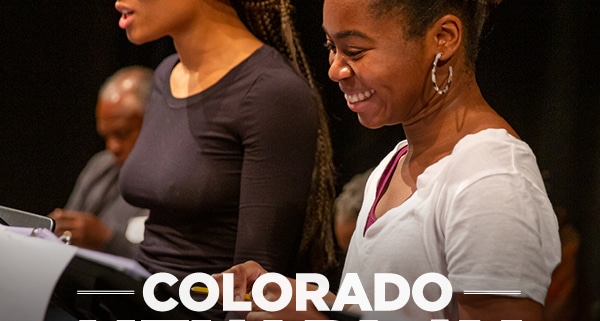 Colorado New Play Summit: The Gift of Collaboration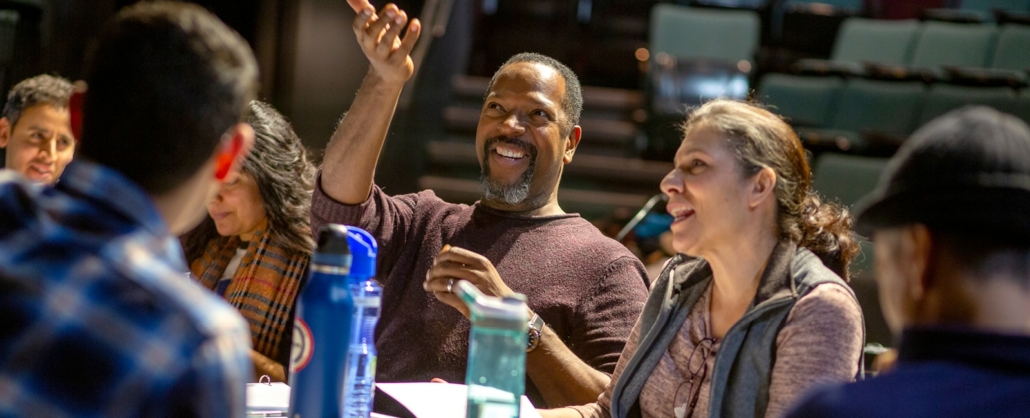 By: Joanne Ostrow
Someday there will be costumes, props, scenery and lighting. For now, the messy process of shaping and fine tuning a play, hearing what works and what doesn't, takes place in bare-bones, all-day marathons over two weekends of readings. With actors stationed at music stands, scripts before them, the words (with luck and edits) come to life.
It's an exciting and, for some, excruciating process.
Because Denver has a reputation for nurturing new play development, because some of the plays incubated here have gone on to national acclaim, and because the highly competitive process draws artists from across the country, assorted playwrights, directors, actors and dramaturges will roll up their sleeves here this week.
Industry onlookers, serious theater geeks and the merely curious are invited to attend the 16th annual Colorado New Play Summit Feb. 26-27 and March 5-6.
Notable productions shaped by past summits include Lauren Yee's The Great Leap, José Cruz González's American Mariachi, Matthew Lopez's The Legend of Georgia McBride, Lauren Gunderson's The Book of Will, Marcus Gardley's black odyssey, and Samuel D. Hunter's The Whale.
The world premieres of Rattlesnake Kate (music and lyrics by Neyla Pekarek, book by Karen Hartman) and Beaufield Berry's In the Upper Room — both workshopped during the most recent summit — are running concurrently with the weekends of readings.
This year's summit features a diverse crop of playwrights and varied types of storytelling— from absurdist dark humor to heroic biography, from a rumination on religious identity to a meditative abstraction. The only common thread may be an interest in underrepresented characters and communities.
The four 2022 Summit plays are American Fast by Kareem Fahmy, Cebollas by Leonard Madrid, Rubicon by Kirsten Potter and saturday by Kimber Lee, a DCPA Theatre Company commission.
The plays
In American Fast, Khady Salama is a 21-year-old college basketball sensation, ready to compete in March Madness, which this year falls during Ramadan. Her religious mother expects her to fast — even on game days. As the tournament unfolds, Khady becomes a role model for young Muslim women everywhere, except she's secretly breaking her fast. Pressures mount, her lie comes to light, and the story quickly unfolds, examining how the practice of faith and the practice of sport are intertwined.
"There's an inherent conflict in that, I was particularly intrigued by how to get inside the idea of how Islam is practiced in America."
Playwright Fahmy said the story is somewhat autobiographical "in the sense that I was inspired by my experience. I've been intrigued by how that generational shift occurs between first-generation immigrants, like myself, and my parents' generation, who grew up in Egypt, a Muslim-majority country." He and his siblings were born in Canada but raised with the mentality of Middle Eastern Muslims. "There's an inherent conflict in that, I was particularly intrigued by how to get inside the idea of how Islam is practiced in America." While Fahmy notes that American Fast is the least overtly political play he's written, "it's a very, very personal play and it's gotten more so as I've worked on it. It gets deeper."
---
In Cebollas, odd circumstances force three sisters to take an unexpected road trip from Albuquerque to Denver. Points along the way reflect the playwright's feelings toward each place as the sisters bicker, sing and share secrets. Latina culture and the bonds of sisterhood take center stage.
"Three sisters, ten hours on the road, one car, one dead body."
"Humor is a major part of my life," New Mexican playwright Leonard Madrid said. His play Cebollas (which he subtitles "The Onion Play" for the benefit of non-Spanish speakers) is an absurdist comedy that includes a dead body in every scene. "It's intentionally about sisterhood," he said, "about the lengths we will go to to protect the ones we love."
---
In Rubicon, based on a true story, a woman overlooked by history finally gets her due. Elizabeth "Betty" Pack, a society wife and mother, makes the transition to seductive spy as a continent-hopping agent for British and American intelligence operations in the years before World War II. Though left out of the historical record, she played a role in helping to crack the Enigma code, smuggling secret plans in her underwear. Betty is clever and beautiful, but she's also a complicated woman who was both celebrated and denigrated for abandoning family and weaponizing her sexuality.
"I am a mother and I am a working professional, and I fail continuously…because I don't do any of them exclusively the way that Betty did."
Playwright Kirsten Potter, an award-winning actress, playwright, narrator and voice-over artist, said she was angry when she first read an article about Betty and wondered why we hadn't heard about her exploits. "I got all self-righteous about it." She started researching in 2017. "I worked hard at times to suspend my own judgment about her," Potter said.
---
saturday by Kimber Lee imagines two women in a boat on a mountain lake, adrift in time and place, laughing and arguing through currents of memory. It's at once theatrical and self-aware: "Like a bad play about a mother and daughter in a boat on a lake, pretending to fish. What are we even doing?" the daughter asks.
"The surface is deceptively simple: people trying to talk to each other."
"I have an interest in poking at the artifice," playwright Lee said. Hers is the most dream-like of the four plays, addressing the artifice of the theater while prodding the audience to think about the underlying emotional structures. "The surface is deceptively simple," Lee said, "people trying to talk to each other." Tilly has come home to take Ora fishing. But themes of physics and quantum theory, plus issues of transracial adoption, are "the tracks that those things kind of run on," Lee said. "I'm hoping there can be a deeper experience of the play that can be a post facto understanding." Lee, a Korean-American woman who grew up in Idaho, declines to comment on how autobiographical her work may be. "The play stands on its own."
---
Theatre Company Artistic Director Chris Coleman said the Summit, the DCPA's signature festival, not only allows the company to nurture new playwrights, but also keeps it alert to the future through some of the country's most exciting writers.
"When selecting a play for the Summit," Coleman said, "we don't stick to a theme but find selections that are different and engaging. saturday feels contemplative and meditative, Cebollas feels wacky and at warp speed, Rubicon is sexy and suspenseful, and American Fast feels amped and spiky."
At this point, the playwrights are hoping for the best but fearing the worst. "It's a decent length. I'm worried it's going to be 14 minutes long, live! It moves at a clip," Madrid said of his play Cebollas, modeled after the vibe of his many fast-talking aunts.
Conversely, Potter said Rubicon is "a mammoth beast of a play. It's huge. I definitely fictionalized things, omitted a tremendous amount of Betty's accomplishments… The initial draft was much, much, much longer."
Having worked at the Denver Center as an actor, Potter said, she is "thrilled, I can't believe what good hands I've been placed in." She has two big fears going into the New Play Summit: "One, I may find out the play isn't very good, and, two, I may think this is good, we've done the work, and then nothing happens."
There's no guarantee.
But there are hopeful signs. "At a lot of places I've been working, I'm the first Middle Eastern playwright in decades of the history of a theater company," Fahmy said. "Now two companies that may be producing American Fast next year said I'm the first."
The summit "is such a nurturing experience for me," Madrid said. "Just being recognized and acknowledged, I'm not sure a New Mexico playwright has ever been included. It's an extra big deal for us."
For Lee, "my goal for these two weeks is that the actors, director, dramaturg, the team enjoy working, enjoy doing this thing we haven't been able to do for so long. I love that we get to be here, that's the gift. Whatever happens beyond that for my so-called career is not the point."
https://www.denvercenter.org/wp-content/uploads/2019/10/TC-19-CNPS-WebAssets-600x600-tile.jpg
600
600
DCPA Press
DCPA Press
2022-03-01 15:45:26
2022-03-01 15:59:16
Colorado New Play Summit: The Gift of Collaboration