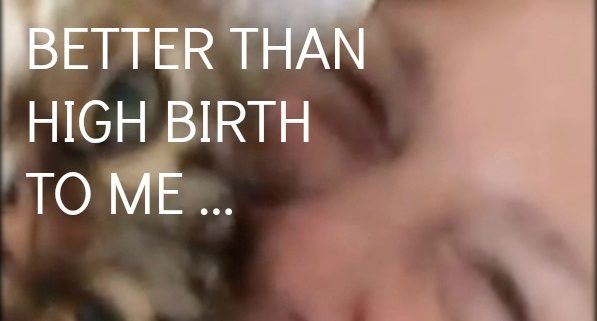 Denver Sonnets Project: Sam Gregory delivers a love letter to his wife
​CultureWest.Org, a web site founded by Denver Center for the Performing Arts Senior Arts Journalist John Moore, is endeavoring to make short films out of all 154 of Shakespeare's sonnets, each featuring actors with Colorado connections.

For Sonnet 91, acclaimed actor Sam Gregory uses his dream vacation in Hawaii as an opportunity to deliver a Shakespearean love letter to his wife, Sylvia. "Thy love is better than high birth to me," says Sam, an homage made all the more poignant by her recent successful battle with cancer.
Gregory just completed a varied season at the Colorado Shakespeare Festival playing Barrymore in the comedy "I Hate Hamlet" and King Henry IV in "Henry IV," Parts 1 and 2. Sam is a multiple Denver Post Award winner who has performed in 42 plays with the Denver Center Theatre Company. He'll star next in Christopher Durang's 2013 Tony-winning best play, "Vanya and Sonia and Masha and Spike," running Oct. 10-Nov. 16 in the Ricketson Theatre (303-893-4100 or www.denvercenter.org).
Here's a link to the YouTube playlist that hosts the entire series to date.
The Denver Sonnets Project is an ongoing public art project, open to a variety of volunteer actors and filmmakers, with limited eligibility requirements for participation. For information, email your interest to John Moore at culturewestjohn@gmail.com.
A new short sonnet film is posted every Monday. Videos by John Moore.
Completed episodes to date (in numeric order):
Sonnet 1, Cast of "Cult Following": "From fairest creatures we desire increase …"
Sonnet 2, Josh Robinson, "See thy blood warm …"
Sonnet 6, Joe Von Bokern: "Make worms thine heir!"
Sonnet 10, Augustus Truhn: "Thou art so possessed with murd'rous hate …"
Sonnet 17, Anne Sandoe: "If I could write the beauty of your eyes …"
Sonnet 23, Gabra Zackman: "As an unperfect actor on a stage …"
Sonnet 31, Sean Scrutchins and Devon James: "Thou art the grave where buried love doth live …"
Sonnet 36, Rachel Fowler, "I may not evermore acknowledge thee …"
Sonnet 44, John Carroll Lynch, "Thought kills me that I am not thought …"
Sonnet 47, Adrian Egolf, "Thyself away are present still with me …"
Sonnet 73, Jim Hunt: "Love that well which thou must leave ere long …"
Sonnet 74, Lowry Elementary School: "Thou hast but lost the dregs of life …"
Sonnet 90, Adam Stone: "If thou wilt leave me, do not leave me last …"
Sonnet 91, Sam Gregory: "Thy love is better than high birth to me …"
Sonnet 94, James O'Hagan-Murphy: Sweetest things turn sourest by their deeds …" Sonnet 124, Cast of Colorado Shakespeare Festival's 'The Tempest'
Sonnet 131, Josh Nelson, "In nothing art thou black save in thy deeds …"
Sonnet 136, Lyndsay and Jeremy Palmer, "Make but my name thy love …"
Sonnet 144, Cailin Doran, "Two loves I have, of comfort and despair …"
Please consider supporting the Denver Actors Fund at www.DenverActorsFund.Org
https://www.denvercenter.org/wp-content/uploads/2018/04/featured-image-1420.jpg
597
597
John Moore
John Moore
2014-09-01 10:54:00
2014-09-01 10:54:00
Denver Sonnets Project: Sam Gregory delivers a love letter to his wife