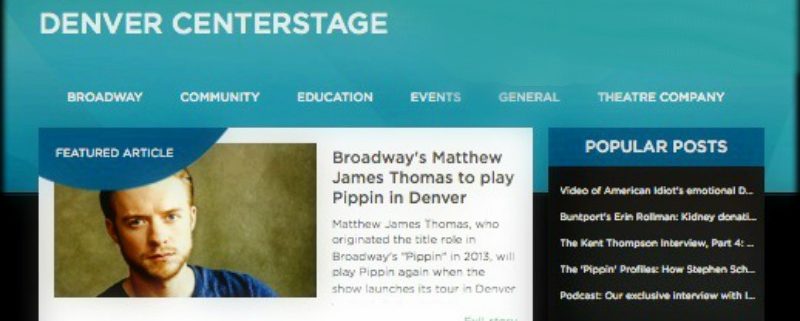 Introducing DCPA's groundbreaking News Center media outlet
There's a new media outlet in town, and it is our very own. Check out our News Center on the new www.denvercenter.org. We call it Denver CenterStage. It has been in the works for a year — and we think it is already one of the most active and vibrant sources for news and information about local theatre you will find anywhere on the web.
This is a groundbreaking new professional journalism initiative headed by respected local arts journalist John Moore and Video Producer David Lenk, who are bringing you fresh theatre stories every day from the Denver Center and throughout the Colorado theatre community using words, photos, audio and video.
Our News Center is a cornerstone of the new DenverCenter.Org. It's another major reason to visit our new web site — ­ and stay awhile. With stories being added several times a day, we hope you visit often. For those of you who have followed our coverage while the News Center has been under construction for the past year, the previous MyDenverCenter.Org URL will now take you to our new home.
STAY INFORMED
The DCPA hired John Moore, the former longtime theatre critic at The Denver Post, to report news, tell feature stories and keep readers informed about all things happening not only here at the DCPA, but in the Colorado theatre community and around the nation. Working alongside award-winning Video Producer David Lenk, our team will make sure you know about all the varied happenings at one of the nation's leading arts centers, and in the neighboring community.
START ON THE HOME PAGE
When you come to the new home page at www.denvercenter.org, you will see the NEWS CENTER tab at the top of the page. Click on it and you will get a pulldown featuring our two most recent stories. (See above.)
FEATURED VIDEO, PODCAST AND PHOTOGRAPH:
YOUTUBE
We produce creative and fun videos that bring you the personalities and show you the process behind the magic we make on our stages. We also chronicle the vital work being done by Denver Center Education in area schools and throughout the community. Find out why our YouTube Channel has drawn more than 1 million visits.
RUNNING LINES PODCAST
"Running Lines" is John Moore's award-winning audio podcast that lets you listen in on conversations with emerging and leading figures in the local and national theatre communities.
FLICKR PHOTOS
We try to capture everything that is happening under the arch and beyond with our cameras, and then show them to you on our Flickr account. We will always feature a compelling recent photo on the News Center's home page.
SORT YOUR NEWS HOW YOU WANT IT SORTED
At Denver CenterStage, you will find our content neatly organized according to your interests. Easily find coverage specific to our Theatre Company, Broadway or Education divisions. Or go straight to our coverage of Other Theatres or the Community. For now, with so much attention on our season-opening staging of The Unsinkable Molly Brown, we've created a temporary tab to make it as easy as possible for you to find all of our coverage of the show to date in one place. We also have a highly efficient search engine located at the top of any page on our new web site. Just enter the show, actor or term of interest, and your selection should pop right up.


MEET THE CAST VIDEOS
One of our most popular innovations is our "Meet the Cast" video series. In the past year, we have produced more than 60 brief video introductions that allow you get to know our actors in a much more personal way than ever before. These videos are posted individually on the News Center, but they are also available on our unique "Cast and Crew" pages that we produce for every show we stage. To find them, click "Shows and Tickets," choose your show and then click "Cast & Crew." To play the video featured above, just click here and enjoy.
MOST POPULAR STORIES
We list what your hits tell us are our most popular, compelling or engaging stories and keep them available to you for easy access long after they might otherwise be replaced on the home page by newer stories.
MORE ABOUT THE EDITOR:
John Moore is the DCPA's award-winning Senior Arts Journalist. He was The Denver Post theatre critic for 12 years, and in 2011, he was named one of the 12 most influential theater critics in the U.S. by American Theatre Magazine. He is also the founder of the Denver Actors Fund, a nonprofit that raises money for local artists in medical need. He is also the instigator of one of the largest ongoing public arts projects in Denver: The Denver Sonnets Project is his three-year attempt to film all 154 of Shakesepare's sonnets as mini films. John is a native of Arvada who attended Regis Jesuit High School and the University of Colorado at Boulder. Follow him on Twitter @moorejohn.
JOIN IN
We want you to think of Denver CenterStage as an active, vibrant new media outlet that you will want to check every day (or more!) for news and other stimulating content that is sure to spark a conversation. Bookmark Denver CenterStage on your browser and join in.
Please Bookmark Denver CenterStage … and tell all your friends!
And please email all feedback to jmoore@dcpa.org
https://www.denvercenter.org/wp-content/uploads/2018/04/featured-image-1366.jpg
570
800
John Moore
John Moore
2014-09-19 07:48:00
2014-09-19 07:48:00
Introducing DCPA's groundbreaking News Center media outlet