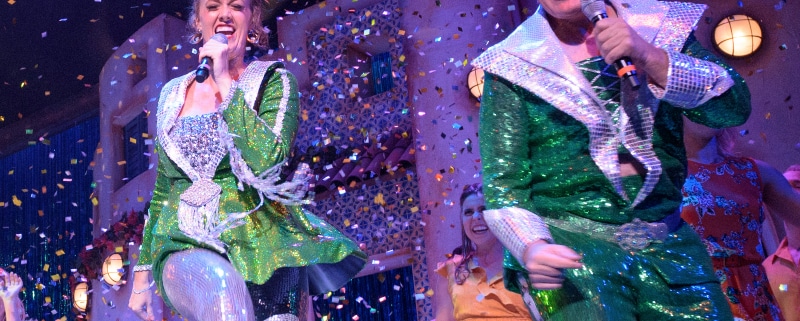 'Mamma Mia' marks Devine's hair-raising return to the stage
The actor who made history with the Denver Center is back in Arvada after having created a popular, long-locked rock icon named Mr. Majestyk
When Denver actor Mark Devine makes his return to the theatrical stage on Friday in the Arvada Center's regional premiere of Mamma Mia, fans of the Denver Center's record-breaking staging of I Love You, You're Perfect, Now Change will see a familiar, clean-cut, all-American boy in the role of proper British banker Harry Bright.
Fans of the hilariously rocktastic 1970s tribute band Mr. Majestyk's 8-Track Revival, on the other hand, are in for a hair-raising shock.
The actor is Devine, who performed in the ensemble of the longest-running ongoing theatrical production in Colorado theatre history for more than three years ending in 2003. Which was very nearly the last time Devine got his hair cut. That is, before a gentle Arvada Center stylist named Richard Krammes removed a foot of blonde locks from Devine's head last month and presented it to Devine's grieving girlfriend, Cyndi Hauptman.
"However, my 72-year-old mom was very happy that I finally got a haircut," Devine said with a laugh.

Devine, whose last stage appearance as an actor was in Moby Dick at the Aurora Fox in 2008, has since worked as a high-school theatre teacher and front man for two cover bands: A Beach Boys tribute group called Kahuna Beach Party, and Mr. Majestyk's 8-Track Revival — or MM8TR, for short.
MM8TR is a popular and polished, eight-person superband complete with a traveling string section that specializes in playing rock masterpieces of the 1970s ranging from ELO to Alice Cooper to Led Zeppelin. And front and center since the band's founding in 2012 has been a lovable character inspired in part by Jeff Spicoli, the long-haired free spirit played by Sean Penn in the movie Fast Times at Ridgemont High. [The name might also be a nod to an Elmore Leonard character played on film in 1974 by Charles Bronson as a Vietnam War veteran trying to keep his watermelon farm afloat.]
Mr. Majestyk is Devine. Or Devine is Mr. Majestyk. Who can say, really?
"Well, I'm not that ridiculously silly," laughed Devine, who, after all, graduated from the American Academy of Dramatic Arts. "I mean, when we play Cheap Trick's 'The Dream Police,' I'm using an ice scraper as my gun. We use the cheapest props you could ever find. And I think that is what makes it fun for the audience."
That, and tunes he describes as "songs that blasted from the 8-track player of your 1970 Challenger as you hurtled through the desert, Vegas-bound." (His favorites to sing: "I Just Want to Be Your Everything" by Andy Gibb, and Led Zeppelin's "Kashmir.")
Mr. Majestyk, he says with love, is Devine's lighthearted homage to the glory days of the rock front man. "The goal was to create a character who was the opposite of someone who thinks that they are way cooler than they are," Devine said. "It's meant to be tongue-in-cheek of what cool really is. That allows me to go for the whole spectrum: I can be funny. I can be goofy. And then I can flip that and become serious, or even a little bit theatrical. As long as you're nailing all the material and singing it well, the audience kind of lets you do whatever you want. Maybe they're forgiving of my ridiculousness because we sound so good."
For that, he added, "I give all credit to the band. I mean, talk about one of the tightest cover bands you could find in the state of Colorado. These are great, great, great musicians."
Devine's experience as a musical-theatre actor has helped MM8TR build a loyal following that goes wherever the band goes, from Ophelia's downtown to Red Rocks to Fiddler's Green and throughout the Front Range. They are particularly popular with women who grew up with the songs that make up the MM8TR catalog.
"Mr. Majestyk performs the best songs from the '70s in the most enjoyable way possible," said Maura McCormick of Frederick, who has seen about 12 MM8TR shows since the band debuted in 2012. "They are the whole package. The musicians are amazing, every one of them. The songs bring back memories from better times. We all sing and dance and laugh all night."
Caught in life's crosshairs
Devine was juggling the responsibilities of family with the inconsistent paydays of acting in 2006, when he went back to school to become a certified teacher. Soon after, he began teaching and directing big musicals at Cherry Creek and Heritage high schools. As a divorced father, Devine somehow thought teaching full-time would not only bring some elusive financial stability but also allow him more time with his kids. In retrospect, he says, "What a ridiculous thought that was!"
When Devine decided to jump back into the local theatre scene for the first time in a decade and auditioned for Mamma Mia, anyone who knows Devine and the musical might think he'd be a natural for the role of Bill Anderson — a wild, long-haired Bohemian writer and adventurer. Bill is one of three characters who might be the unknown father of the bride in the story. Devine certainly thought so.
"Absolutely. But apparently, others can see beyond the long hair," Devine said with a chuckle. He meant Director Rod Lansberry, who instead cast Devine in the neatnik role played by Colin Firth in the 2008 popular film adaptation.
Then again, maybe it was the photo Devine submitted for his audition. "I gave them my 32-year-old, black-and-white headshot," he said.
In many ways, Mamma Mia is a homecoming for Devine. The Arvada native graduated from Pomona High School and played Riff in West Side Story there in 1999. He returned in 2000 for Violet opposite Shannan Steele, who not only performed with Devine in the Denver Center's I Love You, You're Perfect, Now Change, but is now starring as Donna in Mamma Mia.
"He's my good luck charm, apparently," Steele said.
Devine, Steele added, "constantly knows how to make me laugh, on stage and off. And he's more emotionally invested than you'd think, being that he's just so funny. He's passionate about finding the love and connection at the root of his humor, which makes his comedy all the more effective. He also loves to enjoy his work — and it shows."
Devine and Steele both take pride in having made Colorado theatre history together in Love, Perfect, Change. "That was not only the greatest acting exercise in all history, but the greatest job any musical-theater actor could have had in the city of Denver," Devine said.
"It was also an opportunity to do what I love more than anything, which is make people laugh and share my voice eight shows a week. I have nothing but great, great memories of that."
The winner takes it all
Mamma Mia, Devine says, makes for a night of crowd-pleasing nostalgia in much the same way his concerts are. "It's the music of ABBA, and it is hysterical," he said. "There's a reason this is the eighth-longest-running show in Broadway history." He went on to praise Steele and other castmates, but said, "It's the ensemble that just blows me away. Oh, my gosh, they are so amazingly talented. They do it all. It's just a fun, fun show."
And when Mamma Mia closes on Sept. 30, Devine immediately returns to MM8TB for an Oct. 5 gig at the Soiled Dove Underground at Lowry.
The question is … will the hair?
"I think when the fans see the short hair, they might start throwing chairs, or tomatoes, or wig heads," Devine said. "In fact, I might have to wear a wig the whole time. But we'll have to see what happens. I don't think I can get away with a wig for the entire show. It'll fall off, for sure."
John Moore was named one of the 12 most influential theater critics in the U.S by American Theatre Magazine in 2011. He has since taken a groundbreaking position as the Denver Center's Senior Arts Journalist.
Mamma Mia: Ticket information
Presented by the Arvada Center
Sept. 7-30
Directed by Rod Lansberry
Performances 7:30 p.m. Tuesdays through Saturdays; 2 p.m. Saturdays and Sundays, and 1 p.m. Wednesdays
6901 Wadsworth Ave.
Tickets $53-$77
Info: 720-898-7200 or arvadacenter.org
Cast and creatives:
Mariah MacFarlane (Sophie Sheridan)
Shannan Steele (Donna Sheridan)
Piper Lindsay Arpan (Tanya)
Kitty Skillman Hilsabeck (Rosie)
Glenn DeVar (Sky)
Mark Devine (Harry Bright)
Jeffrey Roark (Bill Austin)
Daniel Robert Sullivan (Sam Carmichael)
Ensemble: Jasmine Jackson, Emily Hin, McKayla Marso, Emily Luhrs, Lindsey Somers, Danielle Scheib, Alissa Robinson, Michael Bouchard, Daniel Velasquez, Nolan Baker, Barret Harper, Elliot Peterson, Benjamin Roeling, Colin Lee and Joe Callahan
Mr. Majestyk's 8-Track Revival
Friday, Oct. 5
Soiled Dove Underground, 7401 E. 1st Ave.
Doors 7 p.m.; show 8 p.m.
Tickets $14-$18
Info: ticketfly.com
Minors under 21 welcome with parent or guardian
Band members: Jeff LaQuatra (guitar), Madison Lucas (drums), JC Jonathan Cernan, (keyboards), Chris Reidy (bass), Giga Romero (violin), Javan Carson (violin), Jennifer Arnold (cello), Mark Devine (vocals)
Band web site: mm8tr.com
Booking info: Call Dave Fairbrother at 303-725-6167
https://www.denvercenter.org/wp-content/uploads/2018/09/Piper-Lindsay-Arpan-and-Mark-Devine-in-Mamma-Mia-at-the-Arvada-Center.-Matt-Gale-Photography-20181.jpg
576
800
John Moore
John Moore
2018-09-05 14:02:48
2018-09-08 13:27:42
'Mamma Mia' marks Devine's hair-raising return to the stage