Meet 2019 Bobby G Awards Outstanding Actor nominee Curtis Lemieux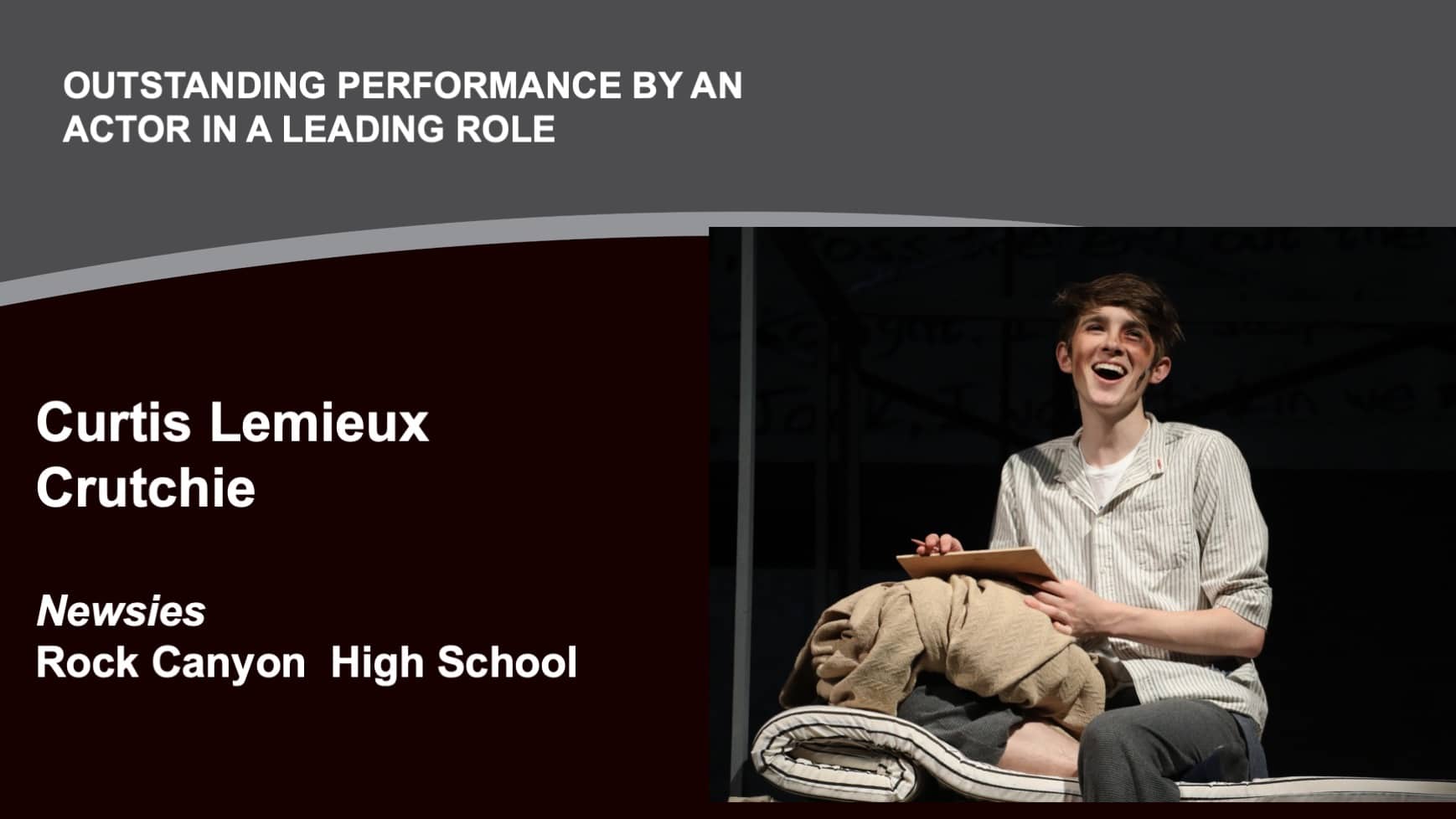 The Bobby G Awards celebrate outstanding achievement in Colorado high-school musical theatre. The seventh annual awards take place at 7 p.m. Thursday, May 23, at the Ellie Caulkins Opera House. (Reserve your seat here.) Today we continue our rollout of the five finalists for Outstanding Lead Actor. The winner will advance to represent Colorado at The Jimmy® Awards/The National High School Musical Theatre Awards™ (NHSMTA).
Curtis Lemieux
Crutchie in Newsies
Rock Canyon High School
Class of 2020
Director: Cindy Baker
Twitter bio: I enjoy making new friends, cooking and performing, of course. I'm a junior in high school, but super ready to see what the future holds.
What's your handle? @curtis.lemieux on Instagram
College plans: I want to major in musical theatre and am looking currently to find out where I would love to go.
First role: I played Tree #1 in Princess and the Pea when I was around 8 years old.
Why do you perform? Performing is a wonderful form of self-expression, and I love getting to work among such talented people. It can be so powerful and inspiring to perform, and I know that, for a short time, you give the audience an escape from the real world.
One time you saw greatness play out in front of you: I was fortunate enough to see the original Broadway cast of Finding Neverland, and watching that show was an experience I'll never forget.
Ideal scene partner: Ben Platt for sure, because I look up to him and his work so much. He is one of my favorite singers and actors, and it would be so cool to share a scene with him.
What's playing on your Spotify right now? I love most genres, but right now I'm listening to Ben Platt and Kacey Musgraves
Favorite moment from your show: Before every show, the cast would get in a circle and share a memory from rehearsals. Before our final show, the memories everyone shared stuck with me, and the goodbyes the seniors gave caused so many teary eyes. But it was also such a fun memory from the whole experience.
How does it feel to be nominated? Surreal. I am so incredibly grateful, and I feel so supported by my school and family.
What does it mean to you that the Bobby G Awards exist? ​It makes us feel proud. It gives theatre kids a place to belong, and to show their hard work and talent. It means so much, and we are incredibly grateful.
What has this experience taught you about the value of arts education and extracurricular activities at your school? That I am fortunate to have a program at my school that is so involved and hard-working. It takes so many people to put on a show. And as a military kid, I have attended schools that don't have funding or enough interested people to put on shows. My experience in ​Newsies​ has taught me how hard work, dedication and fun can create something spectacular.
https://www.denvercenter.org/wp-content/uploads/2019/05/Curtis-Lemieux.jpeg
978
1738
John Moore
John Moore
2019-05-20 10:20:47
2019-05-21 08:59:27
Meet 2019 Bobby G Awards Outstanding Actor nominee Curtis Lemieux