Meet 2019 Bobby G Awards Outstanding Actress nominee Olivia LaMee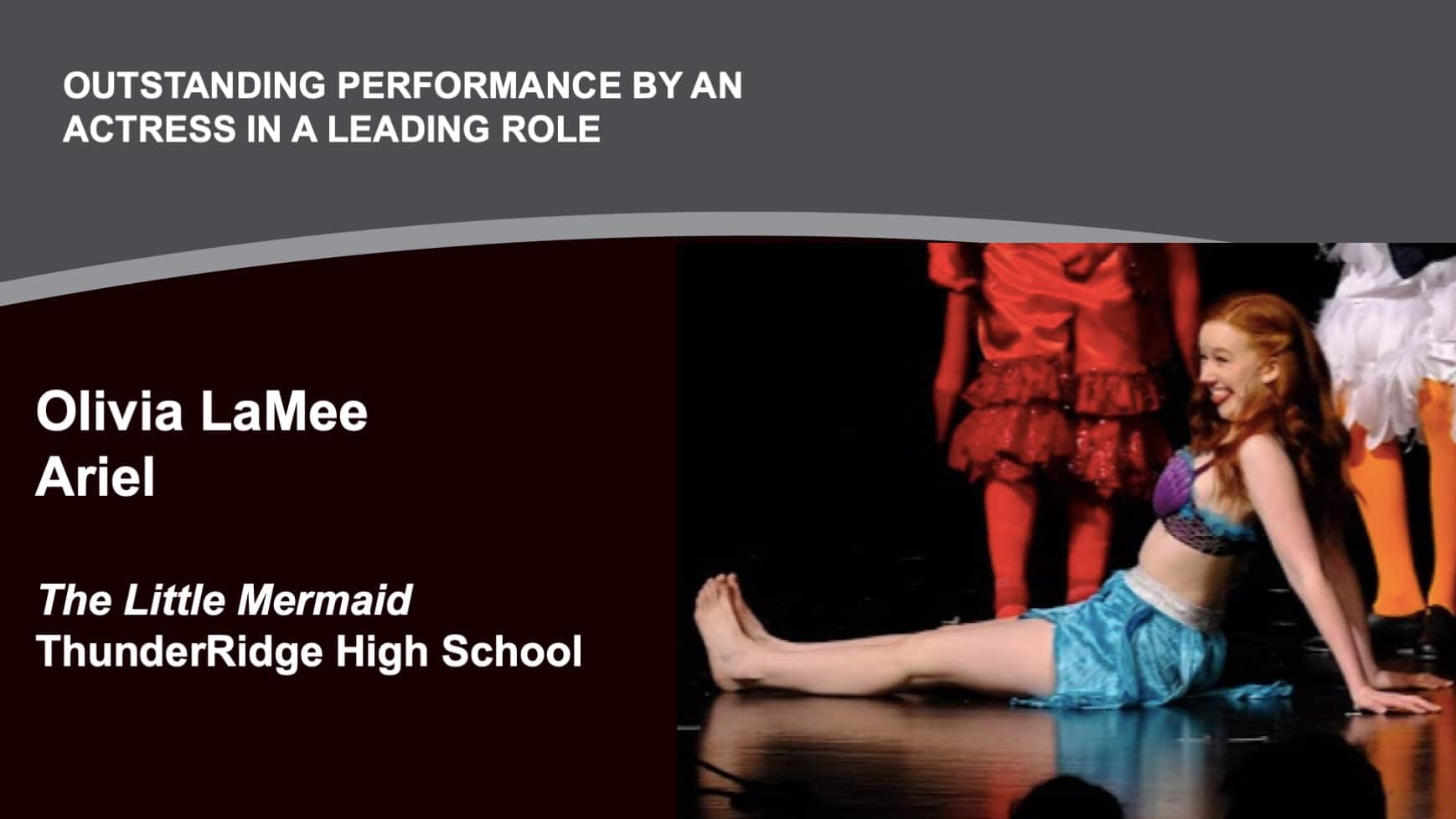 The Bobby G Awards celebrate outstanding achievement in Colorado high-school musical theatre. The seventh annual awards take place at 7 p.m. Thursday, May 23, at the Ellie Caulkins Opera House. (Reserve your seat here.) Today we continue our rollout of the five finalists for Outstanding Lead Actress. The winner will advance to represent Colorado at The Jimmy® Awards/The National High School Musical Theatre Awards™ (NHSMTA).
Olivia LaMee
Ariel in The Little Mermaid
ThunderRidge High School
Class of 2019
Director: Kylene Hurley
Twitter bio: Just a girl who sings everywhere but the shower, dances like she just got legs, and smiles like she's in a toothpaste commercial.
What's your handle? @olivialamee on Instagram.
College plans: I will be attending the University of Colorado Boulder this fall.
First role: I played a red squirrel in A Year with Frog and Toad Kids. This was the beginning of my ongoing redhead typecast phase.
Why do you perform? Simply because of its unique ability to bring me joy. Whether comedy or tragedy, I love to to tell stories that can impact an audience. The feeling I get after performing is pure happiness. There's nothing better than that final bow with your castmates, or that audience member who tells you how much they genuinely enjoyed the show, or that family member or friend you get to hug after the big adrenaline rush that is being onstage. These little moments are what always bring me back to performing.
One time you saw greatness play out in front of you: When I saw Jesus Christ Superstar in London. It was my introduction to the show, and I was absolutely blown away. It was honest, unique and modern. They used golden glitter instead of blood. They had an incredibly diverse, talented cast. It was nothing like I had ever seen before.
Ideal scene partner: John Krasinski. He seems like such a genuine guy and has this hilarious, dry sense of humor that I think would be really fun to play off of.
What's playing on your Spotify right now? Some of my favorites are Hozier, Mumford & Sons, Glass Animals and Milky Chance. They all have a relaxed, soulful sound that I really like listening to on my commute to school.
Favorite moment from your show: When the entire special-needs program at ThunderRidge came to see it. A lot of them were dressed up, wearing Disney shirts or princess dresses. One even asked me to sing one of my songs with them. They all gave me huge hugs after the show, and it just made me feel so happy to see all of their smiling faces there.
How does it feel to be nominated? It feels surreal. I truly put my whole heart into this role. Getting recognized for my performance is an unexpected perk of what already has been an incredible experience. I am so grateful to even be considered for this award, especially with the crazy talent I am surrounded by. Thank you all so much!
What does it mean to you that the Bobby G Awards exist? It's really encouraging. So often you see the arts getting pushed to the side, frequently favoring athletics. I think this program is super important because it shows our community how much artistic talent the youth of this state have to offer. It's mind-blowing the amount of skill, drive and genuine kindness my fellow nominees have.
What has this experience taught you about the value of arts education and extracurricular activities at your school? There are so many people out there who have the same love for the arts I do. It is an inclusive environment that has a place for all different sorts of skills and personalities. Valuing theatre, music and other arts at a young age sets a precedent of creativity and a mindset that we can make a better world for generations to come.
https://www.denvercenter.org/wp-content/uploads/2019/05/Olivia-LaMee.jpeg
978
1738
John Moore
John Moore
2019-05-20 09:49:11
2019-05-21 08:50:00
Meet 2019 Bobby G Awards Outstanding Actress nominee Olivia LaMee