Creativity: A Super Power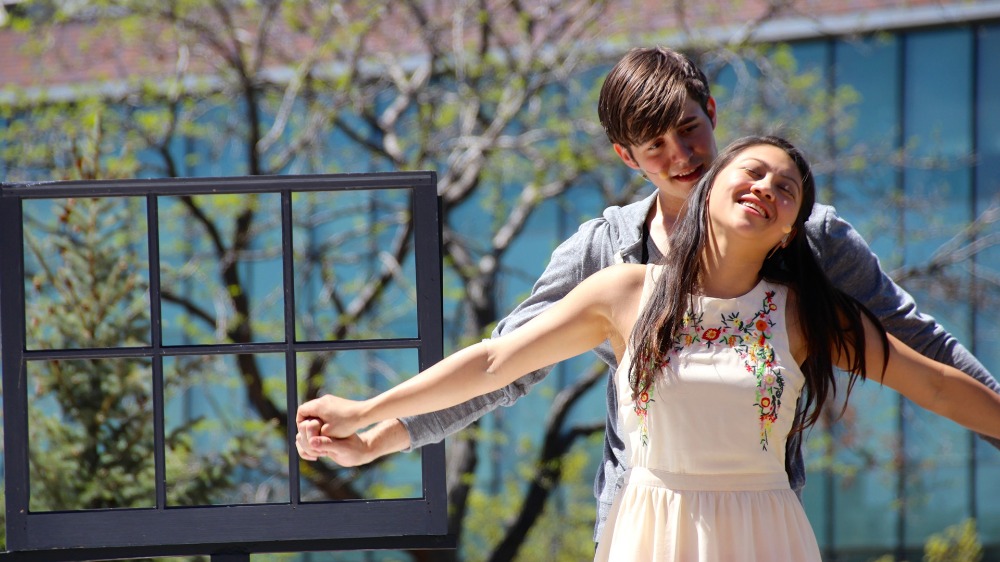 Remember when you were a kid and maybe ditched class a few too many times that it raised suspicion? So does Allison Watrous, Executive Director of Education and Community Engagement at the Denver Center for the Performing Arts. When her mom came to observe her in class at the teacher's request, she "quickly found out that I was visiting the bathroom to sing in the acoustics at a full belt!"
As multiple studies will show, Allison — and the majority of students who are exposed to the arts at an early age — excel academically. Students involved in the arts are four times more likely to be recognized for academic achievement, three times more likely to win an award for school attendance, and low-income students who are highly engaged in the arts have a 4% dropout rate — five times lower than their low socioeconomic status peers.
With statistics like these, it's hard to argue the importance of a well-rounded education, which is why for the tenth anniversary of National Arts in Education Week, the Denver Center Education Department is joining individuals and arts organizations around the country to celebrate the transformative power of the arts.
Passed by Congress in 2010, the second Sunday of September marks the beginning of National Arts in Education Week. Supported by Americans for the Arts, this week invites educators to join together in communities across the country to share the impact that arts have on education and student achievement.
As a partnering organization, DCPA Education not only believes in the transformative power of the arts in education but incorporates it into all of its programming. The Education Team stands on three core values; Nurture, Empower and Inspire. "All of our programming focuses on the power of self-expression and creative exploration," explained Watrous. "Our programs give students and community members of all ages the opportunity to bolster their own creative thinking and creative journey."
Theatre education is more than just acting. "Our offerings may be theatre-based," explained Patrick Elkins-Zeglarski, Director of Education and Curriculum Management, "but the discoveries and take-aways within our classes become an informed way of seeing the world, joining in it and inquiring of both it and self."
While more widely known for acting classes, the education department also designs programs for schools, which include Book Stars, Dramatic Learning, Shakespeare in the Parking Lot, and Middle and High School Playwriting Workshops and Competition. "Teachers need to be equipped to inspire children in all areas of curriculum," said Watrous. "I had an absolutely fantastic teacher in high school named James Dalton. He was so passionate about sharing the art and joy of music with all of his students.… He ignited my imagination and encouraged me to dream creatively and to dream big. Through our online and in-school programs, our teaching artists work with educators to not only exceed Colorado Academic Standards, but also make subjects such as math, science, social studies, and language arts more engaging by incorporating the fundamentals of acting."
The DCPA Education Department believes so strongly in the transformative power of live theatre that their programs span a child's lifetime. These include:
BOOK STARS (PreK-K)
Book Stars, a program designed for preschool and kindergarten students, promotes emergent reading and literacy skills through kinesthetic learning, critical response and creative play by activating picture books through props and hands-on activities.
Iliana Lucero Barron, a bilingual teaching artist involved with Book Stars, believes theatre can be used to tear down barriers including language, social class and access to resources. "We use theatre to bring fun and imagination," Barron explained, "but are given the gift of incorporating their curriculum, which stimulates them, especially for kids who need to be active and use their bodies to express themselves."
By tearing down these barriers, students can engage, access and learn to their fullest potential.
DRAMATIC LEARNING (all grades)
Dramatic Learning is a year-round, innovative arts education program that infuses theatre arts into any subject. Designed to complement teachers' curriculum, these activities pair theatre techniques with problem-solving, critical thinking and creativity to make core subjects engaging and fun. Available for all grades, the personally-guided online learning sessions are fully customized to meet teacher needs with topics ranging from ecology and fractions to American history and debate.
"Theatre education is a vital force for building a community of acceptance, inclusion, community, global perspective and empathy," said Andre Rodriguez, former Dramatic Learning program manager and current Director of Theatre at Denver School of the Arts. "Without theatre education, it is difficult for us to exercise our imagination. Without imagination, it's impossible to imagine solutions that make our communities a better place."
Dramatic Learning allows students to learn how the arts express a wide range of human experiences, make relevant connections to their own lives, and develop skills like problem-solving, critical thinking and imagination.
SHAKESPEARE IN THE PARKING LOT (Middle and High School)
Shakespeare in the Parking Lot is an abridged performance of Romeo and Juliet , Macbeth or A Midsummer Night's Dream that takes place in and around a pick-up truck "set." Performances are followed by an in-class, interactive workshop that helps students connect themes of the play to contemporary issues and the high school experience. Led by cast members, the classroom-based workshops expand on the play by moving students from being an audience into roles of active engagement.
"Healthy arts programs are a reflection of a healthy society," shared Quinn Marchman, a performer and facilitator of Shakespeare in the Parking Lot. "Students need opportunities to see and analyze complex characters operating in complex situations and theatre fosters that critical thinking.
"Theatre has existed as a tool to connect the masses to culture, politics and the human experience for millennia," Marchman continued. "Well before schooling and literacy were common, theatre was an accessible way to reach people. Theatre education offers a different dynamic in the classroom. It's not instruction, but engagement."
AT&T PLAYWRITING WORKSHOPS & COMPETITION (Middle and High School)
The DCPA's annual Playwriting Workshops and Competition expanded this school year to middle schools. Now both middle and high school drama and language arts teachers alike can take advantage of free 60-minute workshops introducing students to the fundamentals of writing a one-act play or exploring character through dialogue. All workshops are taught by DCPA faculty and industry professionals.
"DCPA Education's programming is about many things," Elkins-Zeglarski said, "but, for me, it comes down to two: celebrating authentic voice and commitment to inclusive and asset-based communities of learning. Our playwriting program, specifically, provides a venue for raising a voice of lived experience and formalizing it into a theatrical narrative."
Workshops are an excellent way to engage students' interest in the context and teach them about playwriting and the theatre simultaneously.
ACTING INSTRUCTION (PreK – adult)
Outside of the various in-school programs offered, the Education Department offers a variety of classes for students who seek to further their theatre education. "Some of our students are grateful for community, for joy, for learning something new," said Tim McCracken, DCPA Head of Acting/Adults, "while others are seeing their careers positively impacted by their training…many are impacted in all of these ways!!"
Designed to fuel creativity, these classes reinforce the tools to help all skill levels improve and develop their craft. By blending the fundamentals of acting while developing skills like critical thinking, language and teamwork, students come to understand the importance of commitment, collaboration, grit and teamwork.
"In this time in particular, our program exemplifies a HUGE need for our community," McCracken continued. "A place for people to connect, to learn, to risk, to be present, to have COMMUNITY. Even in this challenging time, we have adapted our classes and focus to be able to truly reach people at home! It's a boon in this time of much isolation and uncertainty. And this translates into when things are more "normal" too…."
As all teaching artists will agree, arts education is an invaluable experience in an individual's life. "Igniting this superpower in students," Watrous concluded, "gives them tools to see and reflect the world, to broaden their horizons, to challenge their thinking, to respond empathically and to see a greater possibility for their own life journey.  Exploring stories and humanity connects people and moves us to understand.  It fosters becoming beautiful and dynamic citizens of the world."
To learn more about these programs and our acting classes, visit denvercenter.org/education.
https://www.denvercenter.org/wp-content/uploads/2020/09/Shakespeare-in-the-Parking-Lot_full.jpg
562
1000
Madison Stout
Madison Stout
2020-09-14 14:52:42
2020-09-14 14:52:42
Creativity: A Super Power