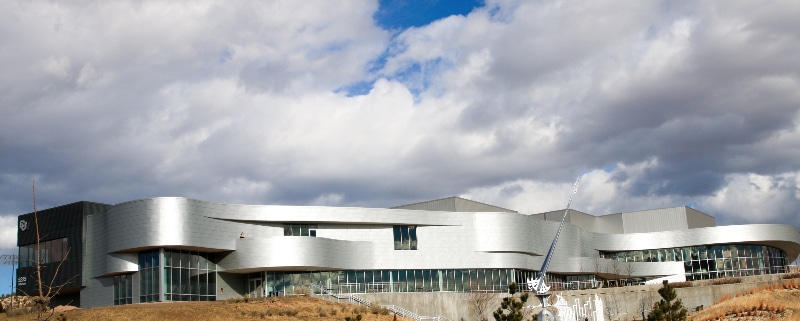 New Colorado Springs artistic leader on closing the empathy gap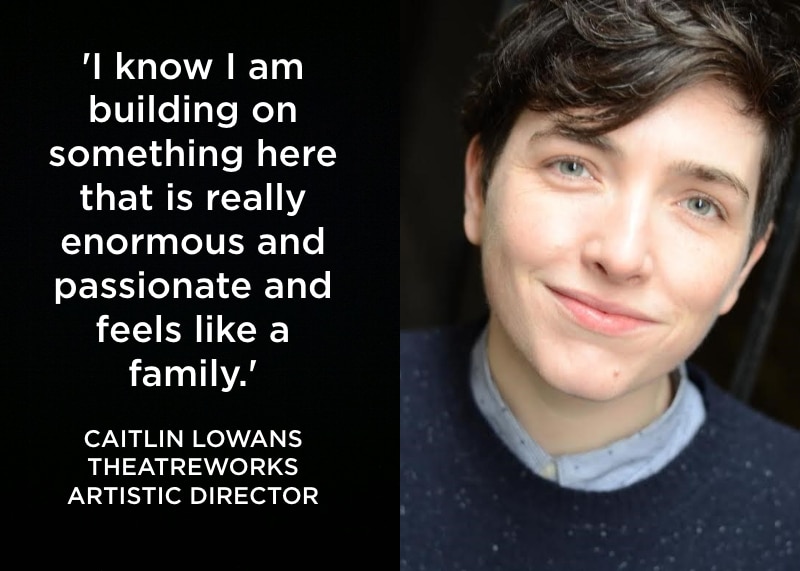 Caitlin Lowans succeeds TheatreWorks founder Murray Ross knowing her appointment is both a responsibility and a gift
Caitlin Lowans looks out at the expanse of Colorado Springs as it runs headlong into the foothills of Pikes Peak with a sense of wonder and melancholy. Wonder because this child of New England is starting her dream job way out west as only the second Artistic Director in the 43-year history of Colorado Springs TheatreWorks.
Melancholy because "I know that the only reason I am here is because he is not," she said.
"He" is Murray Ross, who started TheatreWorks from nothing on the campus of the University of Colorado at Colorado Springs in 1975 and built it into a fertile theatre incubator for students and the larger Pikes Peak region until his death in January 2017. Lowans, who has more than 50 directing credits in Boston and Chicago, was named his successor in May and begins in earnest this month with the September 27 opening of A Raisin in the Sun.
Lowans never met the free-spirited Ross, but she knew he was a kindred spirit as soon as she read about his 2013 production of Everyman on the Bus. That was an adaptation of a 500-year-old English morality — and mortality — play. And it was staged on a moving public bus (a metaphor for death) that ended at a surprise destination.
"Murray seems like someone I would have been so excited to know and create with," Lowans said. "The opportunity to continue his legacy feels like a great gift and a great responsibility. I know I am building on something here that is really enormous and passionate, and feels like a family."
Her first impressions of Colorado Springs reflect the anachronism and contradiction of a major metropolis made up of a wide ideological mix of military, evangelical and counterculture populations. And Lowans and can't wait to get to know them more.
"I think there's something about the differing political affinities here — that someone can be politically conservative and still go to yoga," she said. "Here, these things can coexist. I feel like the landscape is metaphor in the way: Here the city and the wilderness both intermingle with each other."
Colorado Springs presents itself to Lowans as a community in transition. "This city is of a size where a civic institution like TheatreWorks or the Fine Arts Center at Colorado College can actually make a difference," she said. "That wasn't always the case in Chicago. The idea of making art and really being able to be in conversation with the people of your city is very exciting to me."
TheatreWorks is an uncommon professional regional theater company in that it is both fully integrated as an outreach program of the college while also serving the Pikes Peak community as a whole. TheatreWorks offers a mix of both classic plays and more challenging contemporary fare. Lowans has inherited a first season that includes traditional titles A Christmas Carol and Little Shop of Horrors along with a new developing work by Idris Goodwin, who wrote and directed the Denver Center's recent production of This is Modern Art. She arrives in Colorado Springs just in time for her company's second season in the new crown jewel of Colorado Springs: The $70 million Ent Center.
When asked what made her the right person for the job, Lowans speculated that the deciding factors were "my love of the work of the past, but always at the service of building a future," she said. "And my listening."
Lowans says much of her first year in Colorado Springs will be spent listening as she assesses how to serve both the student and broader communities, which often can be at odds.
"The question I will be asking is this: 'What are the conversations that this community and these students need to be having — among themselves, and with each other?' " she said. "When I look at a play that we might produce, I will want to know: 'What are the conversations this play begins, and how can we create structures before, after, even sometimes during the work to have those conversations?' "
Lowans says her personal passion is for new work and heightened language. When asked to name a previous production she directed that best signals the kind of artistic leader she will be at TheatreWorks, she chose Passion Play by Sarah Ruhl. It's an epic story that shows three communities attempting to stage the story of Christ's death and resurrection in very three different times and places: 1575 England, 1934 Bavaria and 1960s-80s Spearfish, S.D.
"The play itself is fantastic, and one of the many questions it asks is how to be an individual in a community that tells that individual how to live," she said. "I did it on a campus, where young people often feel pressure to conform to what the campus community needs them to be. But in staging that play, we created community. We literally broke bread with the audience during the intermissions. We broke down the divide between the artists who make things and audiences who sit back and experience things. And in the end, we were just a group of people coming together to share a story."
Lowans was born in Cambridge, Mass., and this year earned her master's degree in directing with a 4.0 grade-point average from Northwestern University in Chicago under the tutelage of towering theatre figures such as Anna Shapiro and Mary Zimmerman. She earned her first master's degree in Education at Harvard in 2008 and graduated from Georgetown with a degree in International Politics in 2003.
She now joins the ranks of the nation's leading artistic directors at a time when 73 percent of U.S. artistic directors are white men. She said decades of closed doors at the highest levels of artistic leadership has resulted in what she calls "an empathy gap" in our society. "Certain people have not been shown themselves in the mirror — so they've been asked to stretch and see themselves in folks who don't look like them," she said. "Those who have traditionally held power haven't been asked to stretch, and they haven't been asked to see themselves in others."
The biggest challenge facing American artistic leaders today, she said, "is to find the courage to act from a place of strength rather than a place of deficit or fear. When people are operating from a place of fear, I think they're afraid to lose what they already have.
"So as we invite new people to the table for the first time, I think a lot of people are afraid that is going to get them kicked off the table. But I say, 'Hey, let's just make the table bigger.' The conversation will be richer for the multiple voices that are around it."
John Moore was named one of the 12 most influential theater critics in the U.S by American Theatre Magazine in 2011. He has since taken a groundbreaking position as the Denver Center's Senior Arts Journalist.
Coming next week: Our interview with new Aurora Fox Producer Helen Murray
Get to know Caitlin Lowans:
John Moore: Name five of your favorite playwrights, living or dead.
Caitlin Lowans: Suzan-Lori Parks, Lucy Kirkwood, Rachel Crothers, William Shakespeare and Antoinette Nwandu. She is one of the most exciting playwrights I've ever encountered.
John Moore: When is the last time you saw greatness play out in front of you on stage or screen?
Caitlin Lowans: Sorry to Bother You was a fantastic film. I am really attached to form and how people play with it. And it's been a long time since I saw something that critiqued a larger structure not just in the content but also the way that film critiqued capitalism. How art can critique structures is a huge question for me.
John Moore: TheatreWorks has a tradition of regularly bringing some of the most remarkable artists in the American theater to campus through the work of True West Award winner Kevin Landis. Who would be your ultimate visiting artist?
Caitlin Lowans: Lear DeBessonet, who originated the public works program at the Public Theatre in New York.
John Moore: What's currently playing on your Spotify?
Caitlin Lowans: Tank and the Bangas. You should watch their tiny-desk concert which is how I, like the NPR dork that I am, first found them.
John Moore: Tom Brady or Case Keenum?
Caitlin Lowans: I'm going to say Tom Brady because I don't know who that second person is.
John Moore: I'm going to help you: He's the new quarterback of the Denver Broncos.
Caitlin Lowans: This is a terrible question.
John Moore: It is. But you're in charge now. You are going to have get used to the hard questions.
Caitlin Lowans: I'll go with the Broncos then, because I am still suspicious of that whole DeflateGate thing. I have no deep affection for Tom Brady. Now if you had asked me which minor-league baseball team do I support, I would have gone with the Portland [Maine] Sea Dogs all the way. No matter where I live now.
John Moore: Here's another hard question: What do you think Murray Ross' advice to you would be?
Caitlin Lowans: I think he would tell me that if something really needs to be made, I should just go for it and make it — and that there are other people here who will come together and help me figure out how to get it done.
Colorado Springs TheatreWorks

5225 N. Nevada Ave., Colorado Springs, CO 80918, 719-255-3232 or theatreworkscs.org
September 27-October 21, 2018: TheatreWorks' A Raisin in the Sun
November 29-December 24, 2018: TheatreWorks'A Christmas Carol
January 24-February 10, 2019: TheatreWorks: New work by Idris Goodwin
April 25-May 19, 2019: TheatreWorks' Little Shop of Horrors
https://www.denvercenter.org/wp-content/uploads/2018/09/ENT-CENTER.-JOHN-MOORE-1.jpg
539
800
John Moore
John Moore
2018-09-14 16:10:35
2018-09-17 09:21:18
New Colorado Springs artistic leader on closing the empathy gap