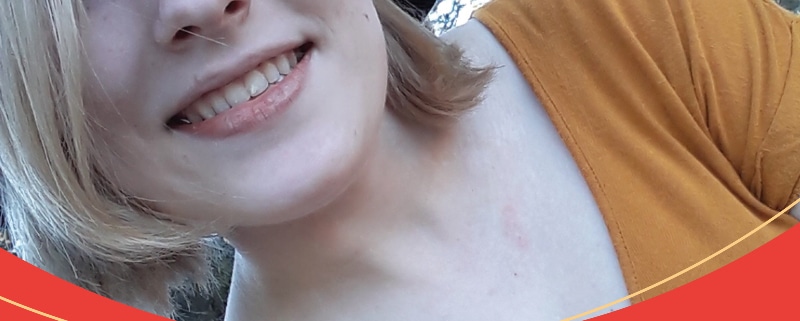 The 2019 Scenesters: Sophie Greenway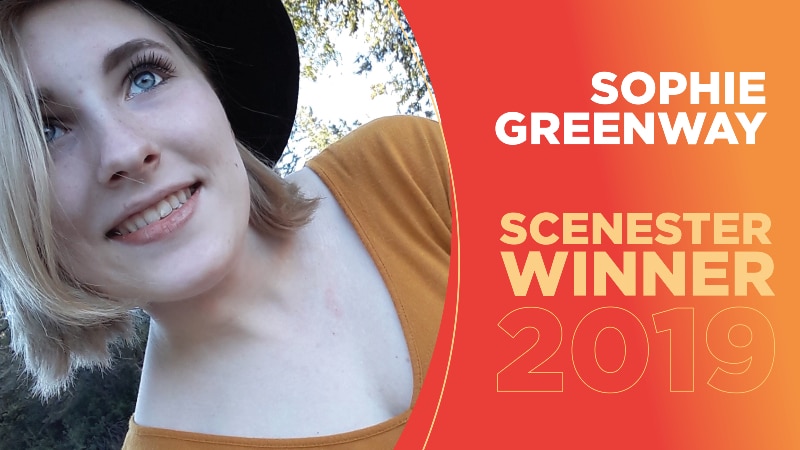 The Estes Park High School student is among three winning playwrights whose scripts will be presented Saturday at the Colorado New Play Summit
Today on the DCPA NewsCenter, we begin our countdown of the three winning Colorado student playwrights whose plays will be read on Saturday, February, 23 at the 2019 Colorado New Play Summit. (Details below.)
Sophie Greenway, Estes Park High School
Class: Senior
Play Title: The 12:30 Train
Teacher: Andrew Virdin
What is your play about? The 12:30 Train tells the story of a convicted murderer named Henry and a scientist named Esme who travel back in time to a train station to prevent the murder Henry committed 25 years ago. However, Esme's machine malfunctions and they end up at the station half an hour early, and they must spend that time convincing the murder victim not to get on the train that will lead to his death.
Word play: What's one fun, unusual word that appears in your script? Continuum
What was your inspiration for writing your play? I always wanted to write a story that took place in a train station because I thought it would be a good place for different characters to meet. The concept of time travel came later, after I thought up a short dialogue exchange between the three characters and couldn't get it out of my head. I ended up writing the entire play around that piece of dialogue.
Killer casting: I'd like to see Brandon Perea play Oliver. I've always been a huge fan of the O.A, and he was a standout in the cast. I think he looks the part and I'd be really interested to see what he could do with the part.

Killer dialogue:
ESME: I already told you that we have no idea what this could do to the future! We can't jeopardize it like that! Don't you want a world to go back to?

HENRY: I don't even know what the world looks like, Esme! I'd go back to a cinder-block cell and 25-to-life. I don't care what changes, I won't let this happen again. I've got nothing to lose.
What did you learn from writing this play? I've never written a play before, though I've performed in my fair share. All of my writing was confined to stories I have never shared with anyone. Writing this play allowed me to be vulnerable with my writing in the same way I was on stage. Putting something that you've poured yourself into is extremely scary. This play showed me that taking risks with creative projects is extremely important to growing as an artist.
---
See the student readings at the Colorado New Play Summit
Public reading 8 p.m. Saturday, February 23
Randy Weeks Conservatory Theatre in the Newman Center for Theatre Education at 1101 13th St., at the corner of 13th and Arapahoe streets
The event is free but reservations are encouraged by clicking here
---
About the Regional High School Playwriting Workshop and Competition:
What: A one-act playwriting competition designed for area high schools. Local playwrights and DCPA Education faculty taught 170 playwriting workshops in 40 Colorado schools. A record 3,277 high-school students participated in those workshops, which were held in every school district in the Denver-metro area and in 21 counties around the state. The objective was to introduce students to the craft of playwriting, and encourage them to submit their own plays for the competition.
The Scenesters: The full list of 10 2018-19 playwriting finalists
Why: To nurture Colorado's young playwrights; develop theatre artists and audiences; develop new plays; and advance literacy, creativity, writing and communication through playwriting.
How: A total of 181 submissions were judged blindly by DCPA artistic, literary and education professionals. Ten finalists were initially selected, from which three winners were chosen. After a week of in-house workshopping at the Denver Center with trained actors, and mentorship from both DCPA Teaching Artists and a professional playwright, the three winning plays will be read at 8 p.m. Saturday, February 23, in The Randy Weeks Conservatory Theatre. Each winner also will receive a cash scholarship of $250 and complimentary passes to the Colorado New Play Summit. One new feature this year: The three winning scripts each will have additional readings at their playwrights' own schools in the coming weeks. In addition, each teacher of the three winners will receive a $250 gift certificate for books, supplies or other teaching tools for their classrooms.
Sponsors: The Robert and Judi Newman Family Foundation with matching gifts from The Ross Foundation, June Travis and Transamerica.
Online video bonus: A look back at the 2017-18 Scenesters
In the video above, DCPA Senior Arts Journalist John Moore speaks with Executive Director of Education Allison Watrous and the student playwrights whose works were selected to be read at the 2018 Colorado New Play Summit. Video by David Lenk for the DCPA NewsCenter.
https://www.denvercenter.org/wp-content/uploads/2019/02/Scenesters-Sophie-Greenway-1.jpg
800
800
John Moore
John Moore
2019-02-17 13:11:31
2019-02-18 11:08:05
The 2019 Scenesters: Sophie Greenway