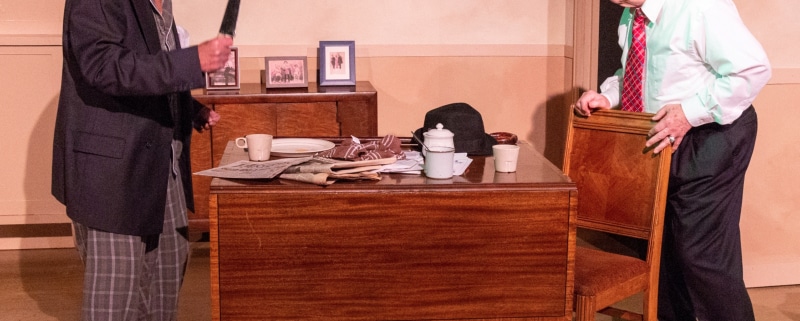 The 'ageless wit' of Neil Simon is silenced at age 91
Perhaps the most performed U.S. playwright in decades was assigned to Lowry Air Force Base and attended the University of Denver.
After Edward Albee's death in 2016, the DCPA NewsCenter surveyed dozens of playwrights and industry professionals asking who was now the leading, living voice in the American theatre. Perhaps the most surprising and yet most obvious top-10 finisher was Neil Simon, at No. 5.
Simon, who published 34 plays, including some of the most popular comedies of the 20th century, had long passed his prime in the American theatre and yet remains perhaps the most produced American playwright of the past 50 years. The Bronx-born king of bittersweet autobiographical comedies was best known for The Odd Couple, which he later adapted for both women and African-American actors, and became the basis for a hit TV sit-com. Other major hits included Lost in Yonkers and The Eugene Trilogy (Brighton Beach Memoirs, Biloxi Blues and Broadway Bound).
Simon, who was born on the Fourth of July 1927, died Saturday night of complications from pneumonia at New York-Presbyterian Hospital, said Bill Evans, a longtime friend and director of media relations for the Shubert Organization. He was 91. In 2004, Simon received a kidney transplant from Evans.
Simon dominated Broadway for so long that for decades, he was known as the only American playwright who could open his plays directly on Broadway, without the need for out-of-town tryouts. For seven months in 1967, Simon had four productions running at the same time on Broadway: Barefoot in the Park, The Odd Couple, Sweet Charity and The Star-Spangled Girl. In a separate NewsCenter poll, three of Simon's plays finished among the top 75 most important American plays of all-time: The Odd Couple (21), Lost in Yonkers (52) and Brighton Beach Memoirs (67).
The key to his success and longevity, Simon once told me, was that "all comedy is based on hostility."
But his plays remain so ubiquitous at theatres across America today that one Denver actor, Marcus Turner, has performed in two Neil Simon plays for two different local theatres this calendar year alone — Laughter on the 23rd Floor for Inspire Creative in Parker, and Vintage Theatre's ongoing The Sunshine Boys, performing through Sept. 9 in Aurora.
Simon's place in the 2016 NewsCenter poll of greatest living American playwrights, behind only Tony Kushner, Sam Shepard, Lynn Nottage and Suzan-Lori Parks, comes as no surprise to Turner.
"It's because wit is ageless," Turner said this morning. "Neil Simon was the master of the brilliant one-liner. But the reason they will last forever is that underneath they made an emotional connection — sometimes dark and sometimes really heartfelt, but always truthful."
Simon, for a time, lived and studied in Colorado. Soon after graduating from high school in New York, he signed up with the Army Air Force Reserve at New York University, and was eventually sent to Colorado as a corporal. It was during those years in the Reserve that Simon began writing, starting as a sports editor. He was assigned to Lowry Air Force Base in 1945 and attended the University of Denver from 1945-46, when he was discharged from the army. In later years, he regularly attended the U.S. Comedy Arts Festival in Aspen.
For the NewsCenter poll, Denver actor Michael Bouchard ranked Simon No. 1. And for that moment of apparent sentiment, he apologizes to no one.
"Yeah, I said it. (Bleep) everyone who disagrees," said Bouchard, who will next appear in the Arvada Center's Mamma Mia before returning to his seasonal role as David/Crumpet in Off-Center's holiday co-production of The SantaLand Diaries at the Jones Theatre.
"Comedy is an art, and he is the most popular artist of his generation and beyond because his comedy is foundational and spot-on," Bouchard said. "Humans love it. Not snobby-smart humans. Humans. That is my statement."
But Simon's place on the list, while obvious and necessary, surprised even some of those whose votes put him there. "I went back and forth over a 24-hour period and was actually very surprised to land on Neil Simon at the top," said Denver playwright Jeffrey Neuman, whose next world-premiere play, What You Will, will be staged in November at Benchmark Theatre. "But when you look at the depth, scope and breadth of Simon's career, his plays have had enormous impact and an immeasurable reach. Simon's plays are a part of our cultural consciousness in a way that virtually no other American playwright can claim today."
Simon visited Denver in 1977 when Lynn Redgrave starred in a production of California Suite at the old Elitch Theatre. They're Playing Our Song was presented there in 1982. Cultural preservationists here have been trying to restore and refurbish the Elitch Theatre since it was closed in 1985. In 2006, during a major push led by then-Denver mayor John Hickenlooper, it was announced that each year, programming at the new Elitch Theatre would be themed around one American artist. The 2006 outdoor summer film, comedy and live music series honored Simon.
"It's very nice, and I am honored to be the first," Simon told me at the time." His only reservation was that live theater was not yet ready to be part of the programming, "because I think some of my plays came out a lot better than the films," he said.
A personal aside: Simon kept a room in the Ritz Plaza in New York to do most of his writing. Unlike virtually every other interview subject, when I sought comment from Simon for that Elitch Theatre story, I was told to simply call the main number at the hotel and ask for his room, without an appointment. I was directly connected with Simon and had the quote I needed within five minutes of placing the call.
"If  you are talking about American comedy, in some sense the conversation starts with Neil Simon. It reaches backward, it reaches forward," said former Elitch Theatre Foundation board member Kevin Causey.
Simon's stage career began with Come Blow Your Horn in 1961 and continuing into the next century, he rarely stopped working on a new play or musical. Simon's stage successes also included The Prisoner of Second Avenue, Last of the Red Hot Lovers, Plaza Suite, Sweet Charity and Promises, Promises.
Broadway star Josh Gad (The Book of Mormon) told the Associated Press today that Simon "was one of the primary influences on my life and career."
Simon, who lost first wife Joan Baim to cancer in 1973, met and married Marsha Mason later that year. Their collaborations on stage lasted longer than their marriage and resulted in The Goodbye Girl (1971), The Cheap Detective (1978) and Only When I Laugh (1981). Simon would eventually marry five times.
Simon was notoriously unforgiving of any theatre company anywhere that did not perform his scripts to the letter – no cuts and no changes were allowed. In one example that made national news, Simon's representatives shut down a 2003 production of Rumors when a Utah dinner theatre softened some of Simon's profanity. "You must present the play as written or not at all," attorney Gary DaSilva told representatives of the Pleasant Grove Theatre, who decided instead to cancel its production.
John Moore was named one of the 12 most influential theater critics in the U.S by American Theatre Magazine in 2011. He has since taken a groundbreaking position as the Denver Center's Senior Arts Journalist.
News services contributed to this report.
A look at a few of Neil Simon's hit plays:
Barefoot in the Park: A light romantic comedy about a pair of young New York newlyweds.
Biloxi Blues: Simon's acclaimed autobiographical comedy about an Army recruit in World War II.
Brighton Beach Memoirs: In Simon's coming-of-age comedy set in 1937 Brooklyn, a Jewish family experiences everything from financial concerns to the mounting uncertainty surrounding their loved ones overseas.
Broadway Bound: In the final chapter of The Eugene Trilogy, the Jerome brothers are late 1940s comedy writers, but their family is breaking up.
Chapter Two: The autobiographical story of a successful writer who is mourning the recent death of his beloved first wife when he meets a bright, vivacious actress. But the memories of his first wife threaten to ruin his second chance for happiness.
The Odd Couple: Simon's classic roommate comedy about a compulsive neatnik who moves in with her slovenly best friend.
Rumors: A farce in which four couples arrive at a swank New York City anniversary party – but the host has been shot and his wife is missing. The escalating cover-up is always worse than the crime.
Sweet Charity: Simon's dark musical look at the romantic travails of an aspiring New York dancer who continues to have faith in the human race despite numerous disappointments.
Neil Simon: The official biography
Born on July 4, 1927, in New York City, Neil Simon began writing comedy for some of radio and television's top talents in the 1940s. Turning to the stage, he enjoyed his first major hit with Barefoot in the Park in 1963, and later scored Tony Awards for The Odd Couple (1965), Biloxi Blues (1985) and Lost in Yonkers (1991). Simon also became a successful screenwriter, earning acclaim for both original and adapted works. In addition to his numerous Tony and Academy Award nominations, Simon in 1983 became the first living playwright to have a Broadway theater named in his honor. He grew up in the Washington Heights neighborhood of Manhattan, where he lived with his parents, Irving and Mamie, and his older brother, Danny. His parents had a tumultuous marriage, with Irving often leaving the family for months at a time. As a result, Simon took refuge in the movies as a child, finding particular solace and delight in comedies. In 1946, after returning from the army, Simon took a job in the Warner Brothers Manhattan office mailroom. A pivotal moment came when he and his brother Danny created a sketch for radio producer Ace Goodman, launching their careers as a comedy-writing team. The brothers soon began writing material for stars like Milton Berle and Jackie Gleason.
In the early 1950s, Neil and Danny Simon joined the all-star writing cast of the Sid Caeser television series, Your Show of Shows, which also included Mel Brooks, Woody Allen and Carl Reiner. By the middle of the decade the brothers had parted ways, but Neil continued his success via the small screen; earning Emmy Award consideration for his work with Caesar, and also wrote for The Phil Silvers Show and The Garry Moore Show. He began writing for the stage while still employed as a TV writer, His first solo play, Come Blow Your Horn, began a solid run on Broadway in 1961, following years of rewrites. However, it was his follow-up effort, Barefoot in the Park (1963), that established the playwright as a star in his field, a reputation that was cemented with his instant classic about mismatched roommates, the Tony Award-winning The Odd Couple (1965). Simon's string of Broadway successes included four plays running simultaneously during the 1966-67 season. He scored major hits with Promises, Promises (1968), a musical based on the 1960 Billy Wilder film The Apartment, and with The Sunshine Boys (1972), a tribute to the bygone art of vaudeville. Simon has drawn extensively from his own life and upbringing in his theatrical writing. Chapter Two (1977), about a widowed writer embarking a new relationship, began its stage run four years after the death of Simon's first wife. The playwright also mined his personal history for the "Eugene Trilogy" – Brighton Beach Memoirs (1983), Biloxi Blues (1985) and Broadway Bound (1986) – with its New York City-born protagonist spending time in the military before teaming with his brother to write comedy. Despite his popularity and immense success, Simon at times endured less-than-stellar reviews from critics who considered his work sentimental and mainstream. However, he finally achieved a critical breakthrough when his 1991 play, Lost in Yonkers, was awarded a Pulitzer Prize for Drama, along with a Tony for Best Play.
The prolific playwright continued churning out productions, earning strong reviews for his 1995 Off-Broadway creation, London Suite. After Come Blow Your Horn was turned into a Frank Sinatra movie in 1963, Simon tried his hand at writing feature films, starting with After the Fox (1966). Several of his original screenplays drew strong praise, with The Goodbye Girl (1977) earning an Academy Award nomination. Simon adapted many of his plays for the big screen. The Odd Couple famously became both an Oscar-nominated film in 1968 and an acclaimed TV series in the early 1970s, and Simon also delivered successful film adaptations of Plaza Suite (1971), The Sunshine Boys (1975) and California Suite (1978), among others. Simon has been nominated for more than a dozen Tony Awards over the course of his career, winning three times and garnering a special Tony in 1975 for his contributions to theater. Additionally, he has been nominated for four Academy Awards, been named a Kennedy Center Honoree and earned honorary degrees from such institutions as Williams College and Hofstra University. In 1983, the Shubert Organization changed the name of the 1920s-era Alvin Theatre to the Neil Simon Theatre, making him the first living playwright to have a Broadway venue named in his honor.
https://www.denvercenter.org/wp-content/uploads/2018/08/Roger-L.-Simon-as-Willie-Clark-and-Joey-Wishnia-as-Al-Lewis1.jpg
606
800
John Moore, Senior Arts Journalist
John Moore, Senior Arts Journalist
2018-08-26 12:51:55
2018-08-27 18:28:06
The 'ageless wit' of Neil Simon is silenced at age 91