The Other Josh Cohen's Brett Ambler: From Kazoo Prodigy to Music Man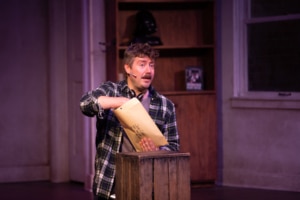 In 2016, a new meme took the world by storm. You on Kazoo!, a video from 1989 was uploaded to YouTube and quickly went viral. The star of this video is a kazoo-loving young boy, Brett Ambler, who now plays Josh Cohen in the DCPA Cabaret production The Other Josh Cohen. 
Though he might have gotten his start by playing kazoo, Ambler is a true musician. He has used the meme fame to his advantage by sharing YouTube videos playing multiple different instruments. "Being the kazoo kid gave me an audience," said Ambler, "and what kind of performer doesn't want his own little audience?" You can catch Ambler playing guitar, mandolin, and drums, but his expertise extends further. He admits to playing several other instruments at a low level, though his castmates would disagree – he's filled with natural talent. "I can also play a little upright bass, trombone, ukulele, flute, a little keys, and a heck ton of kazoo," said Ambler.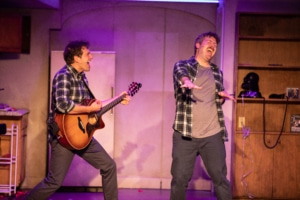 Ambler was thrilled when he was cast in The Other Josh Cohen. "I knew it was a rock and roll musical where everybody in the show plays instruments," he explained, "and then I read the script." That's when Ambler found out his character doesn't know how to play any instruments yet. Strangely enough, that twist of fate speaks largely to Josh Cohen as a character. "You get to see Josh's bad luck two minutes into the show when he steps in a puddle, fixes his shoe, and then steps in the same exact puddle again," said Ambler, who describes Josh Cohen as a schlimazel. "Somebody once explained to me that a schlemiel is someone who accidentally pours soup on someone else. A schlimazel is somebody who gets soup poured on them by accident."  
As an aside, TV watchers of the 70s hit comedy "Laverne & Shirley" can now decipher half of the opening words of each episode: "Schlemiel! Schlimazel! Hasenpfeffer Incorporated!"  
But Josh's story is one anybody can relate to. He's having a really bad year, but he finds positivity even on the darkest of days. "I don't know anybody who hasn't experienced that in the last couple years," said Ambler, "so, if anyone needs some hope, come and get it."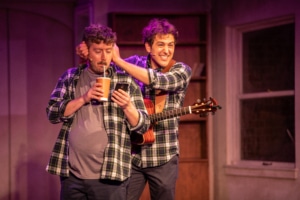 Though he doesn't get to showcase his instrumental talents, Ambler still considers himself incredibly lucky to be a part of the production. "I get to do this eight times a week as a living," said Ambler, "I'm exceedingly fortunate to get to do this, especially at the DCPA with these people." Ambler has been a part of other DCPA productions in the past, including Off-Center's The Wild Party and the Theatre Company's Animal Crackers. "They've all been very different experiences," said Ambler, "but they've all been so incredibly enjoyable." 
DETAILS 
The Other Josh Cohen 
Now-May 1, 2022 · Garner Galleria Theatre 
Tickets 
https://www.denvercenter.org/wp-content/uploads/2021/10/JoshCohen.jpg
2400
2400
Emma Hunt
Emma Hunt
2022-02-15 11:40:13
2022-02-16 11:12:24
The Other Josh Cohen's Brett Ambler: From Kazoo Prodigy to Music Man