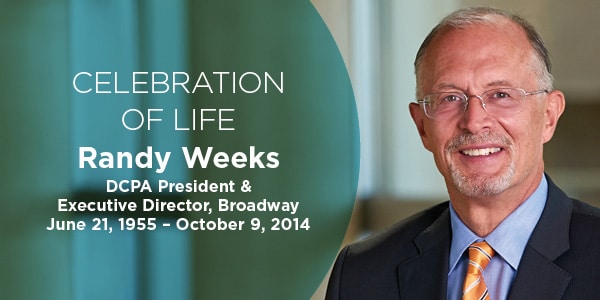 Video project: Share your unforgettable Randy Weeks stories with us
The DCPA is soliciting your personal, videotaped Randy Weeks anecdotes, which we will compile into a streaming tribute we will share on our various social media channels on Nov. 3 to coincide with the celebration of the DCPA President's life at the Buell Theatre.

Weeks died in his sleep Oct. 9 while attending a conference in London.
We are asking you to use your cell phones to videotape your one favorite specific story you feel best illuminates the kind of person Weeks was: The time he let you stay at his house. The time he mentored you. Gave you a leg up. Responded to adversity. Cracked that joke. Wore that … fill in the blank.

So grab your cell phones and talk to us.
Please keep your videos to one minute or less. You may have dozens of anecdotes, but please just choose the best one. The deadline to submit is end of day Monday, Oct. 27.

TWO WAYS TO SHARE YOUR VIDEO WITH US:
Upload your completed video onto your own Dropbox or other file-sharing account, and invite John Moore to share it at jmoore@dcpa.org
Or …
Upload your video to John Moore's Dropbox account at this link: https://www.dropbox.com/sh/q7jl9r2xr3lur1c/AAC4SIB8I-SMBkZK_9RQ8Egfa?dl=0
Please record your video horizontally, not vertically.
Please do not email your actual video file.

If you have questions, or experience any uploading problems, please contact John Moore directly at 303-893-6003 or jmoore@dcpa.org.

Thank you in advance.
The celebration of Randy Weeks' life will take place at 4 p.m. at the Buell Theatre. No RSVP is required.
Our coverage of the death of Randy Weeks:
DCPA president Randy Weeks dies at London conference
Video: Randy Weeks honored with dimmed lights, moments of silence
Video project: Share your unforgettable Randy Weeks stories with us
Randy Weeks photo gallery
DCPA to celebrate Randy Weeks' life on Nov. 3
A look back at Randy Weeks' 'It Gets Better' video
https://www.denvercenter.org/wp-content/uploads/2018/04/featured-image-1282.jpg
300
600
John Moore
John Moore
2014-10-20 14:47:00
2014-10-20 14:47:00
Video project: Share your unforgettable Randy Weeks stories with us