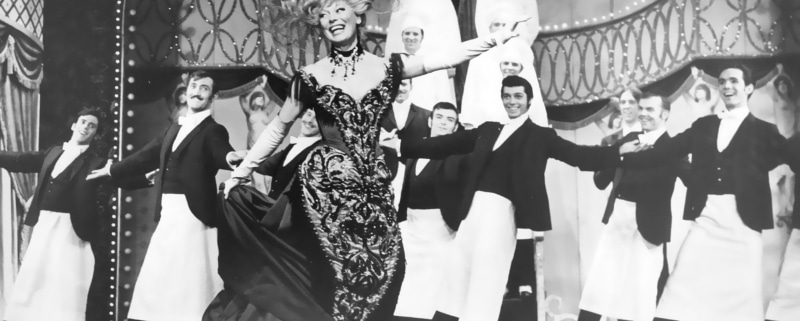 Well, hello, Gene! Original 'Dolly' actor is still dancing in Denver at 84
After more than 50 years, Gene GeBauer hopes to reconnect with some very special memories at Sunday's performance
Denver dancer Gene GeBauer performed on Broadway with Carol Channing, Ginger Rogers, Martha Raye and Betty Grable. … And those were just some of his Dollys in Hello, Dolly!
He also high-stepped alongside Carol Burnett and Julie Andrews, among others.
GeBauer, the 84-year-old husband of local playwright Judy GeBauer, performed in six Broadway musicals, none bigger than Hello, Dolly! – and perhaps none a more unlikely blockbuster.
Oh, the show had pedigree: Director and choreographer Gower Champion was coming off of Bye Bye Birdie and Carnival. Hitmaker David Merrick (Gypsy, Oliver!) was producing. Up-and-comer Jerry Herman (Mame) wrote the score.
Still, GeBauer heard the whispers.
"For some reason, some of the more jaded singers and dancers around town were talking about the show like it was going to be a real bomb, and that we should start looking for work before we even opened," GeBauer said of the enduring American favorite that, 55 years later, is presenting its latest national touring production in Denver this week.
GeBauer wasn't convinced he was in a hit show until it opened on the night of January 16, 1964.
"We had an opening-night party and somebody got hold of the review from The New York Times," said GeBauer – and it was a review like he had never read before. "Hello, Dolly!, which blew happily into the St. James Theater last night, has qualities of freshness and imagination that are rare in the run of our machine‐made musicals," it said. "Hello, Dolly! is the best musical of the season." Playbill now calls Hello, Dolly! "the Hamilton of its time," selling out instantly and remaining a hot ticket for years.
That first Broadway production starred Channing and featured Eileen Brennan, Charles Nelson Reilly and Denver's Mary Jo Catlett, among other future stars. GeBauer was a member of the large ensemble of dancers who originated what is now considered one of the milestone musical numbers in Broadway history: The madcap "The Waiters' Gallop." "Gower had us doing some really tough stuff," GeBauer said of the extended, athletic dance that requires its waiters to perform complex acrobatic movements at lightning speed as they rush to prepare for Dolly's arrival at the Harmonia Gardens Restaurant. It truly is a showstopper.
"We had to leap up into the air with our feet folded underneath us and then land in a squatted position. And from that squatted position we had to jump right back up 4 feet into the air again.
"Cripes!" GeBauer added with a laugh.
But several years into the show, GeBauer landed wrong during the number and suffered a back injury that has bothered him off and on ever since. But it hasn't kept him from dancing into his 80s.
When GeBauer first auditioned for Hello, Dolly!, the show was called Dolly Levi: A Damned Exasperating Woman. He was already 30 at the time and had popular Broadway titles such as Once Upon a Mattress and Camelot under his belt. But it wasn't much of an audition. GeBauer was one of the first actors selected to be in the ensemble.
"That was a thrill for me," said GeBauer, who had had just left No Strings, Richard Rodgers' first musical after the death of Oscar Hammerstein. "For some reason, Gower picked me out immediately. I was standing there watching all the other dancers audition and he just told me he wanted me in the show, right there in front of everyone." He later learned Champion liked that GeBauer was tall and had strong facial features that made him stand out from the crowd.
From Nebraska to Broadway to Denver
GeBauer was born in Nebraska and raised in Oregon. He began dancing in his early teens while recovering from a serious illness. He took his newfound passion seriously, devouring classes in jazz, ballet and modern dance.
He moved to New York at age 26 and was cast a short time later to join Carol Burnett in Once Upon a Mattress.
Hello, Dolly! eventually became the longest-running musical in the Broadway history for its time, but GeBauer was gone by then. He left the show in late 1967 when Merrick replaced the entire cast with African-American actors led by Pearl Bailey and Cab Calloway. But GeBauer was ready. "You don't get four years of employment on Broadway very often," said GeBauer, who was eager to enter what he calls "the actor phase" of his career.
GeBauer later appeared on Broadway in the provocative Oh! Calcutta! and Sugar (the stage adaptation of "Some Like it Hot.") He was nearly 40 by then, and soon to marry Judy Hink and start a family. They lived in Oregon and Iowa (where Judy earned her master's degree in playwriting and Gene got his bachelor's degree — at age 57). They moved to Colorado in 1991 and, nearly 30 years later, GeBauer is still tapping his toes.
He's a legend at Destination Dance in Arvada, where he still teaches classes at 84. How many classes, you ask? "Oh, I teach five days a week," said GeBauer, who begrudgingly admits to making just one concession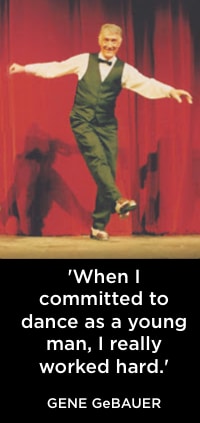 to age. "I can't teach five classes a day anymore," he said, "I can only do maybe three."
Secrets of his success
GeBauer, who was inducted into the University of Denver's "Living Legends of Dance in Colorado" in 2017, might be described today the same way one might describe the immortal Dolly Levi Gallagher: "Unflappable and unstoppable."
What's the secret to his longevity as a dancer?
"I wonder myself," he said. "The only thing I can think of is that when I committed to dance as a young man, I really worked hard. Maybe I just built my body up so well that it hasn't deteriorated. That's the only thing I can think of."
GeBauer thinks Hello, Dolly! endures because it was one of the first blockbuster musicals to put a female character squarely at the center. He thinks the show paved the way for Mame, Sweet Charity and many others.
But he hasn't seen a production of Hello Dolly! in nearly 30 years, and he didn't much care for the 1969 Barbra Streisand film. But he is planning to attend the closing matinee of the national touring production in Denver on Sunday, if only to reconnect with some very special memories.
"I so liked that show," he said. "Those were happy times."
John Moore was named one of the 12 most influential theater critics in the U.S. by American Theatre Magazine in 2011. He has since taken a groundbreaking position as the Denver Center's Senior Arts Journalist.
Hello, Dolly! Ticket information
Book by Michael Stewart; Music by Jerry Herman; Lyrics by Jerry Herman; Based on the play 'The Matchmaker' by Thornton Wilder
Directed by Jerry Zaks; Musical Director: Andy Einhorn
March 27 through April 7
Buell Theatre
https://www.denvercenter.org/wp-content/uploads/2019/04/Hello-Dolly-original-cast-Gene-GeBauer.jpg
513
800
John Moore
John Moore
2019-04-02 19:35:18
2019-04-03 10:56:22
Well, hello, Gene! Original 'Dolly' actor is still dancing in Denver at 84