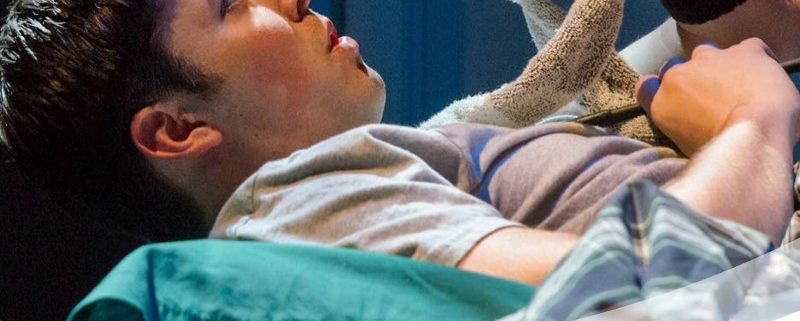 2016 True West Award: John Hauser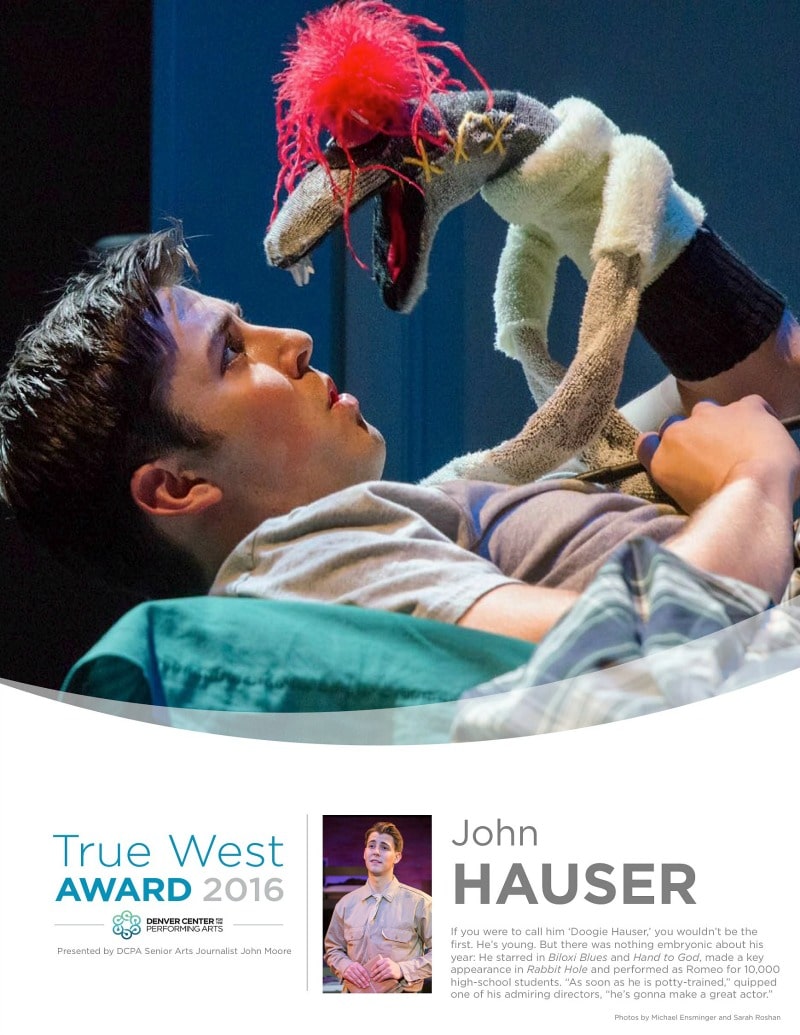 ---

30 DAYS, 30 BOUQUETS
Day 25: John Hauser
If you were to call him Doogie Hauser, you would only be the latest. But given how well former child TV star Neil Patrick Harris' career has turned out, John Hauser would surely take the compliment.
We're not saying Hauser is a kid. But his Biloxi Blues director Kate Gleason is saying that "as soon as John is potty-trained … he's gonna make a great actor."
So he's young. But there was nothing embryonic about his fully formed year on local stages: He starred in Biloxi Blues at Miners Alley Playhouse, and in Hand to God for Curious Theatre. He made a key appearance in Vintage Theatre's Rabbit Hole, and he performed as Romeo before 10,000 high-school students for DCPA Education.
That's a U.S. Army private who comes of age at Basic Training in Neil Simon's 1943 Mississippi. A grieving, God-fearing teen in possession of (or possessed by) a devilish hand puppet. A guilt-wracked teen who plowed his car into a 4-year-old. And only the most famous lover in all of literature. Plus, he joined the cast of Off-Center's immersive freakout Sweet and Lucky, and later understudied several roles in the DCPA Theatre Company's Frankenstein.
John Hauser may not be old. But as an actor, he grew up in 2016.
"He's so good, you forget how young he is," said  Gleason, herself a 2014 True West Award winner. "I mean, he's barely teething, and yet he manages to find humanity in all his roles."
When DCPA Education Director Allison Watrous launched a new pilot program called Shakespeare in the Parking Lot in May 2015, she turned to Hauser first. A team from DCPA Education perform an abridged version of Romeo and Juliet on and around a beat-up old truck in school parking lots – sometimes four times a day. Meaning four times a day, students who otherwise might never be exposed to Shakespeare (or live theatre) crush on the Bard, crush on live performance and, invariably for some, crush on the actor who could win Prom King at just about every school he visits.
"John is stunning as Romeo," Watrous said. "He connects to the hearts and minds of the students through authenticity, vulnerability, humor, kindness and depth." (Pictured below and right: John Hauser as Romeo. Photo by John Moore for the DCPA NewsCenter.)
Hauser and his castmates, all skilled DCPA Education Teaching Artists, return to each school the next day for classroom workshops and ask students tough, ethically ambiguous questions that revolve around teenagers, their parents and issues of privacy and personal responsibility. The point is to help them better understand the issues at the heart of Romeo and Juliet. Because being a teen hasn't changed as much as you might think.
"I am so grateful for John's energy and impact," Watrous said. "He is a true talent."
Next semester, the team will tackle A Midsummer Night's Dream.
Hauser did not just turn a finger up at his squeaky-clean image, but his entire right hand with Hand to God, Robert Askins' profanely dark comedy about a troubled teen who is forced to join his mother's church-led puppet group after his father dies. But when his foul-mouthed sock puppet Tyrone takes on a life of its own and begins to encourage all those around him to give in to their carnal desires, the teen starts to question everything he's been taught.
"John brings a true lightness to the room," said Hand to God Director Dee Covington. "He is generous, reflective and tireless in his determination to not only conquer but totally devour the creative task at hand. He knew the mountain was steep and arduous, but I was so impressed by his ability to temper that slightly self-effacing inner critic with humor and fearlessness. His grit and heart are inspiring."
Westword theatre critic Juliet Wittman wrote: "Hauser does brilliantly in the schizophrenic role of Jason, fully inhabiting both the teen's innocence and Tyrone's savagery, skillfully manipulating the intransigent puppet."
In July, Hauser and his Rabbit Hole cast were honored with the Colorado Theatre Guild's Outstanding Ensemble Henry Award (with Haley Johnson, Marc Stith, Maggy Stacy and Deborah Persoff). As the accidental grim reaper who devastates a family when their son runs in front of his car, "John Hauser manages to deliver a handful of wallops in his limited scenes," wrote the Aurora Sentinel's Quincy Snowdon.
But perhaps the most impressive evidence of Hauser's stellar year is simply his dream team of directors: Kate Gleason, Allison Watrous, Dee Covington, Bernie Cardell  (Rabbit Hole), Zach Morris (Sweet and Lucky) and Sam Buntrock (Frankenstein).
"He is a lovely human being," Covington said, "and he makes the world a more artful place."
And he's not slowing down in 2017. In January, Hauser will be playing Ken in John Logan's acclaimed Red, the story of the temperamental genius artist Mark Rothko and his apprentice, at the Breckenridge Backstage Theatre.
John Hauser/At a glance
Hometown: Cocoa, Fla.
Home now: Denver
High school: The Classical Academy in Colorado Springs
College: Adams State University in Alamosa
Selected additional credits: The Few and Ambition Facing West for Boulder Ensemble Theatre Company; Jerusalem for The Edge Theatre Company

ABOUT THE TRUE WEST AWARDS
The True West Awards, now in their 16th year, began as the Denver Post Ovation Awards in 2001. DCPA Senior Arts Journalist John Moore — along with additional voices from around the state — celebrate the entire local theatre community by recognizing 30 achievements from 2016 over 30 days, without categories or nominations. Moore was named one of the 12 most influential theater critics in the U.S by American Theatre Magazine in 2011. He has since taken a groundbreaking position as the Denver Center's Senior Arts Journalist. His daily coverage of the DCPA and the Colorado theatre community can be found at MyDenverCenter.Org
THE 2016 TRUE WEST AWARDS
Day 1: Jada Suzanne Dixon
Day 2: Robert Michael Sanders
Day 3: After Orlando
Day 4: Michael Morgan
Day 5: Beth Beyer
Day 6: Patrick Elkins-Zeglarski
Day 7: donnie l. betts
Day 8: Night of the Living Dead
Day 9: The Killer Kids of Miscast
Day 10: Jason Sherwood
Day 11: Leslie O'Carroll and Steve Wilson
Day 12: Jonathan Scott-McKean
Day 13: Jake Mendes
Day 14: Charles R. MacLeod
Day 15: Patty Yaconis
Day 16: Daniel Langhoff
Day 17: Colorado Shakespeare Festival costumers
Day 18: Miriam Suzanne
Day 19: Yolanda Ortega
Day 20: Diana Ben-Kiki
Day 21: Jeff Neuman
Day 22: Gabriella Cavallero
Day 23: Matthew Campbell
Day 24: Sharon Kay White
Day 25: John Hauser
Day 26: Lon Winston
Day 27: Jason Ducat
Day 28: Sam Gregory
Day 29: Warren Sherrill
Day 30: The Women Who Run Theatre in Boulder
Theatre Person of the Year Billie McBride
https://www.denvercenter.org/wp-content/uploads/2018/04/featured-image-3470.jpg
1035
800
John Moore
John Moore
2016-12-25 03:38:00
2019-12-02 20:13:43
2016 True West Award: John Hauser