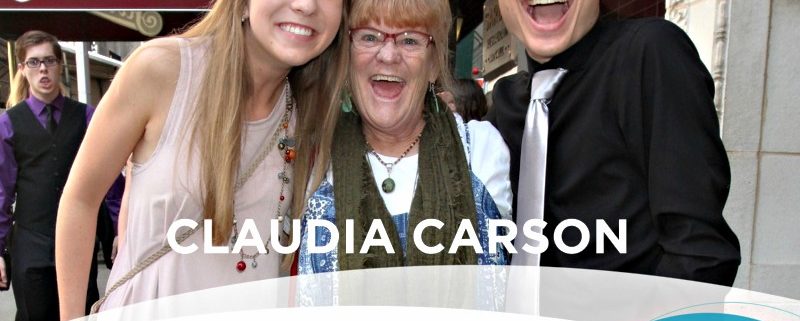 2017 True West Award: Claudia Carson

2017 TRUE WEST AWARDS

Day 6: Claudia Carson
By John Moore
Senior Arts Journalist

Claudia Carson loves her job to her core. That job is to help high-students love theatre to their cores. And she's pretty good at her job.
There's far more to it than that. Carson is also a stage manager, choreographer, director and teaching artist. But what really fuels her fire is coordinating two profoundly meaningful student programs for the Denver Center for the Performing Arts: The annual Bobby G Awards, which celebrate achievements in high-school musical theatre, and a year-round, statewide teen playwriting competition.
"Claudia is just so joyful, so inspirational and so hungry to make an impact with students," said DCPA Director of Education Allison Watrous. "She makes those programs possible with her year-round passion and commitment."
The Bobby G Awards, which served 42 high schools and nearly 7,000 students last school year, are Carson's true labor of love. She manages all operational elements of the wide-ranging, 5-year-old program, including coordinating in-school workshops, professional adjudications of every production and a big, culminating Tony Awards-style party attended by nearly 2,000 each May at the Buell Theatre.
Participating high schools have the opportunity to be mentored by DCPA Teaching Artists, and last year 24 schools signed on for 70 workshop classes. Once their school musicals go up, they are judged by a field of professional artists and educators who not only score each show for awards consideration, they provide detailed, constructive feedback that teachers can use to make their programs better.
The awards ceremony itself is a remarkable celebration of the high-school theatre community. Carson not only directs the slick show, she choreographs sophisticated, original medleys that are performed by all of the male and female leading actor nominees. The two students ultimately named Outstanding Actor and Actress move on to the National High School Musical Theatre Awards in New York City, also known as The Jimmys. And Carson chaperones them every step of the way.
"I think the magic of Claudia coordinating the Bobby G Awards program is that she cares so much about theatre in Colorado, and she cares so much about teachers," Watrous said. "Claudia is a full-on champion of high-school theatre in Colorado."
This past year, the DCPA's fourth High School Playwriting Competition drew 132 one-act submissions from budding writers in 14 Colorado counties. That after Carson sent DCPA Teaching Artists to 46 high schools, where they conducted 138 workshops for more than 2,800 students. Four of the resulting scripts were chosen to be read by professional actors at the 2017 Colorado New Play Summit in February, and two were ultimately given fully staged productions through DCPA Education's summer academy.
If that weren't "job enough," Carson also returned to her roots as a Stage Manager this year for the recent return engagement of Girls Only: The Secret Comedy of Women. And as a summer Teaching Artist for DCPA Education, she and a group of ambitious teens created an entire original musical from scratch — in just two weeks.
If that sounds like a lot, you should know this about Carson: It's in her DNA. Her mother, Bev Newcomb-Madden, is a pioneer of children's theatre in Denver and has directed more plays than any other woman in Colorado theatre history. Her sister, Glenna Kelly, is an accomplished actor who for a long time ran Kaiser-Permanente's acclaimed Educational Theatre Programs for Colorado. And her daughter, Claire Carson, studied at Denver School of the Arts and SMU, and is now an actor in Dallas. That's three generations of accomplished Newcomb women — and counting. And brother Jamie Newcomb performed in the DCPA Theatre Company's recent productions of Benediction and All the Way
Pictured above and right: Claudia Carson with 2016 Bobby G Awards Outstanding Actors Curtis Salinger and Charlotte Movizzo, and DCPA Senior Manager of Press and Promotions Heidi Bosk).
"Claudia is a sensitive, caring and compassionate person, and she really has an innate ability to connect with teenagers," said DCPA Broadway Executive Director John Ekeberg. "But at the same time, she is also a quintessential stage manager and mother, which is probably why she is so good at both jobs. Part of being a good mom is being a good stage manager."
Carson graduated from Denver East High School and studied journalism at Metropolitan State University of Denver. She came to the Denver Center as a stage manager for all Galleria Theatre shows for a five-year stretch starting in 2003 with the longest-running musical in Colorado theatre history, I Love You, You're Perfect, Now Change. She later took charge of the global expansion of the runaway hit Girls Only and then served as Executive Assistant to DCPA President Randy Weeks, who died in 2014. She has also worked as a stage manager at Curious Theatre and the Arvada Center.
But she seems to have found her sweetest spot working with students.
"She's doing what she loves with the people she loves the most," Ekeberg said. "For someone who has done so many things, that's a pretty cool culmination of a pretty cool career."
John Moore was named one of the 12 most influential theater critics in the U.S. by American Theatre Magazine in 2011. He has since taken a groundbreaking position as the Denver Center's Senior Arts Journalist.
The four finalists from the DCPA's fourth statewide High School Playwriting Competition had their plays presented as readings at the 12th annual 2017 Colorado New Play Summit, including 'Dear Boy on the Tree,' above, written by Jasmin Hernandez Lozano of Vista Peak Preparatory Academy in Aurora. Photo by John Moore for the DCPA NewsCenter.

ABOUT THE TRUE WEST AWARDS: '30 DAYS, 30 BOUQUETS'
The True West Awards, now in their 17th year, began as the Denver Post Ovation Awards in 2001. DCPA Senior Arts Journalist John Moore — along with additional voices from around the state — celebrate the entire local theatre community by recognizing 30 achievements from 2017 over 30 days, without categories or nominations. Moore was named one of the 12 most influential theater critics in the U.S by American Theatre Magazine in 2011. He has since taken a groundbreaking position as the Denver Center's Senior Arts Journalist. His daily coverage of the DCPA and the Colorado theatre community can be found at MyDenverCenter.Org


A look back at the history of the True West Awards

The 2017 True West Awards

Video bonus 1: The 2017 Bobby G Awards


Video bonus 2 Student playwriting:

https://www.denvercenter.org/wp-content/uploads/2018/04/featured-image-5561.jpg
618
800
John Moore
John Moore
2017-12-06 03:09:00
2017-12-06 03:09:00
2017 True West Award: Claudia Carson