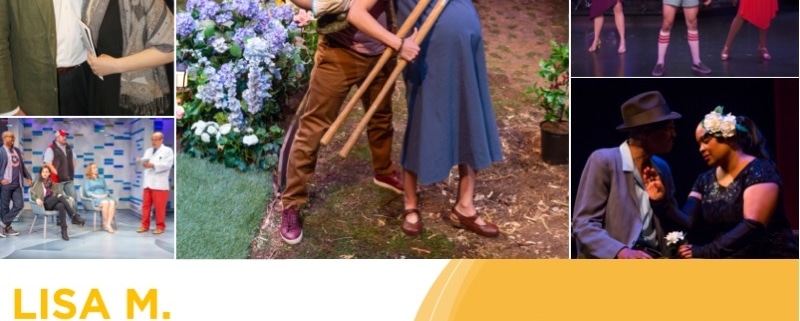 2018 True West Award: Lisa M. Orzolek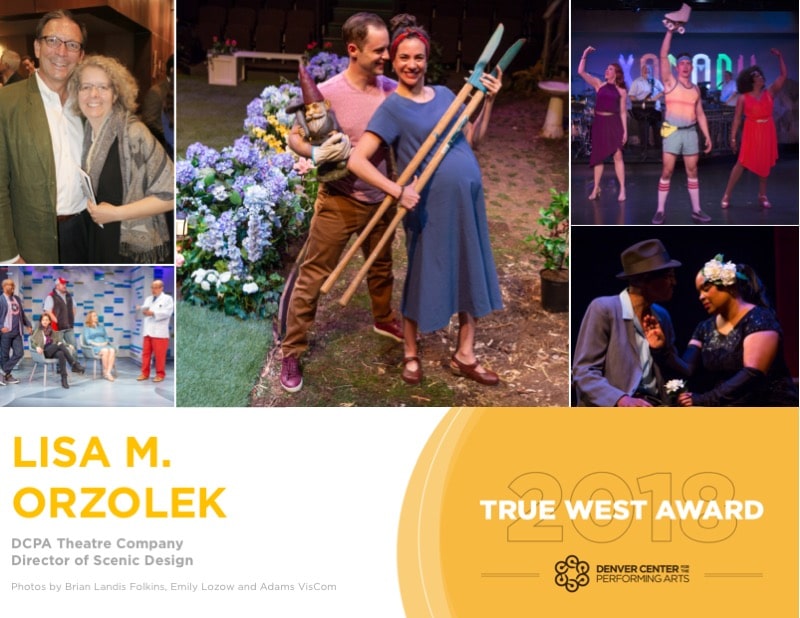 2018 TRUE WEST AWARDS, Day 22

'Lisa is just so good and so confident in her skills that nothing scares her.'
Designing a world on the tiny Garner Galleria Theatre stage might seem like an easy challenge for a Scenic Designer because there is only so much you can do. Instead, designing a world on that stage is a monumental challenge because there is so much you have to do on the equivalent of a postage stamp.
Denver native Lisa M. Orzolek has the distinction of creating more worlds on that pesky little stage anyone else. Some might call that distinction "the short end of the stick." Not her.
Orzolek rolls with every new challenge. And in 2018, we mean that literally because her current coup de roller rink is her set for DCPA Cabaret's Xanadu, which allows for the cast not only to roller-skate on the stage, but on ramps that run halfway through the seating area.
Orzolek also designed the DCPA Theatre Company's first-ever play offering in the Galleria Theatre this year. Human Error was Eric Pfeffinger's comedy about two couples whose lives crash together when one woman's fertilized embryo is mistakenly implanted into the other woman. And, just to add to the fear factor: The play featured a dozen different locations.
And then there was the elegant simplicity of Lady Day at Emerson's Bar & Grill, which took the audience through one of Billie Holiday's final concerts before she died of liver failure. And no pressure, Lisa, but the star of that show was none other than local vocal legend Mary Louise Lee – otherwise known as the First Lady of Denver.
Xanadu, running through April 28, reunited Orzolek with Director Joel Ferrell. Two years before, they created DragOn, Jessica Austgen's new play that combined the worlds of drag and Comic-Con. And did we mention? Xanadu was written for a cast of 14 actors that Ferrell is staging with five.
"Needless to say, both shows required a massive amount of creativity, trial and error … and silliness," Ferrell said.
"Lisa has a really great way of keeping me grounded in reality, while also letting me explore wild, goofy ideas. And she is often the one surprising me by throwing out a great idea that requires even more risk. I think she is just so good and so confident in her skills that nothing scares her – that, or she is well-medicated. All I know is that I cannot wait to work with her again."
For most Scenic Designers, those three shows would constitute a pretty good year. But that was barely the half of it. Orzolek also created two spectacular, transporting worlds for the Theatre Company's Native Gardens in the round Space Theatre, and the constantly moving department store that became home to DCPA Education's Corduroy in the newly re-christened Randy Weeks Conservatory Theatre. Corduroy had multiple levels many moving parts, including an escalator, while also accommodating locations outside the store.
Native Gardens featured a massive and meaningful backyard oak tree that Orzolek built to 24 feet tall and 30 feet wide. It encompassed the entire space above and below the stage, somehow without blocking a single audience member's sightline – a mean feat given that they were seated in a circle all around the stage. How did she pull it off? By positioning the trunk of the tree in one of the Space Theatre's five "voms" (or actor entranceways) and then having its branches reach all the way across the theatre.
Playwright Karen Zacarías said Orzolek's set was a full, living character in the play. "There was real dirt ­– and you could smell it," Zacarías said. "These were yards that you have seen in your real life. The grass was uneven and patchy. The garden consisted of both real plants and fake plants that look super-real." Every night after the show, stagehands had to remove the real plants from the stage and place them under backstage grow lights.
Art and Artist: Bob and Lisa Orzolek have never left the DCPA's nest
What's her story?
The Denver Center has been Orzolek's artistic home for 28 years. She and husband Bob Orzolek, the Theatre Company's Associate Technical Director, now have 58 combined seasons at the Denver Center dating to 1988. "Being able to work at the Denver Center is a dream job, and we are very blessed," Lisa said. "We chose to stay here in Denver to be close to our parents, to be close to where we grew up and to raise our kids here."
Orzolek found her design calling at Manual High School. During her senior year, she joined the DCPA as an intern in the props shop, which is where artists build or find everything an actor sits on or touches in a play. She then went to Boston University to study scene design and returned to the Denver Center for good in 1992.
She was named bigshot Director of Scenic Design in 2001, which makes effectively collaborating with other designers from around the world on Theatre Company shows one of her most important duties. Since her promotion, Orzolek has had a hand in realizing more than 150 productions – some her designs; some others', including a dream team of Wilson Chin, Jason Sherwood, Sandra Goldmark, Robert Mark Morgan, Regina Garcia, James Kronzer, David Barber, Vicki Smith, Ralph Funicello, Michael Ganio and many more. Orzolek also has designed her own local shows for the Lone Tree Arts Center, Colorado Shakespeare Festival and others.
"A lot of people want to move to Colorado," Orzolek said. "We have the privilege of living here already. And I just can't think of better jobs than the ones we have. Or of another place I would want to be."
Video: A tree grows … and grows … in Native Gardens
Lisa Orzolek: 2018
Lady Day at Emerson's Bar & Grill, DCPA Cabaret, Garner Galleria Theatre
Native Gardens, Denver Center Theatre Company, Space Theatre
Human Error, Denver Center Theatre Company, Garner Galleria Theatre
Corduroy, DCPA Education, Randy Weeks Conservatory Theatre
Xanadu, DCPA Cabaret, Garner Galleria Theatre
Coming up:
About The True West Awards: '30 Days, 30 Bouquets'
The True West Awards, now in their 18th year, began as the Denver Post Ovation Awards in 2001. DCPA Senior Arts Journalist John Moore — along with additional voices from around the state — celebrate the entire local theatre community by recognizing 30 achievements from 2018 over 30 days, without categories or nominations. Moore was named one of the 12 most influential theater critics in the U.S. by American Theatre magazine in 2011. His daily coverage of the DCPA and the Colorado theatre community can be found at MyDenverCenter.Org
https://www.denvercenter.org/wp-content/uploads/2018/12/Day-22-Lisa-Orzolek-3.jpg
618
800
John Moore
John Moore
2018-12-19 21:27:19
2018-12-22 08:44:37
2018 True West Award: Lisa M. Orzolek