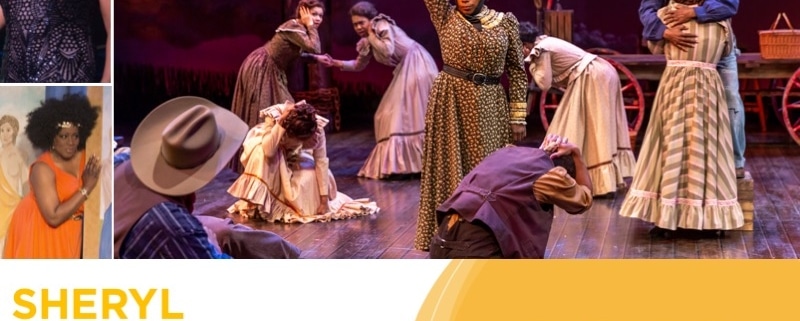 2018 True West Award: Sheryl McCallum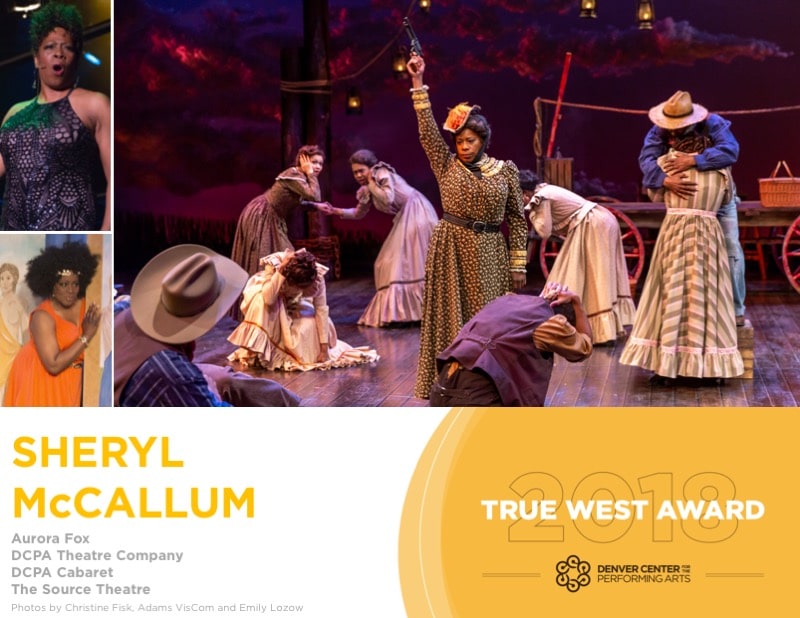 2018 TRUE WEST AWARDS, Day 13

Conquering returning Denver native shows she's as good with a gun as she is on a pair of roller skates
There's versatility, and then there are the roles Denver native and Broadway veteran Sheryl McCallum played in 2018. Consider:
She played the conservative Christian mother to a young black man whose international journey to find himself causes him to miss her death in the Aurora Fox's groundbreaking musical Passing Strange.
She played a fierce, gun-toting Aunt Eller in the DCPA Theatre Company's innovative staging of Oklahoma! By setting the story in an all-African-American town, audiences were forced to consider that in this world, McCallum's Aunt Eller, now a single caretaker to her niece, Laurey, surely had to have been born into slavery. And that begged another ominous question – what then was the possibly violent fate of Laurey's missing parents?
And then she donned roller skates. Seriously, McCallum is currently playing one of the jealous goddess sisters in DCPA Cabaret's silly … silly … hit musical comedy Xanadu through April 24 in the Galleria Theatre. In that role, her songs include the 1970s pop hits "Evil Woman" and "Strange Magic." As the nasty sisters, Westword's Juliet Wittman said McCallum and Sarah Rex are "fantastic," especially given McCallum's preceding turn in Oklahoma! "I last saw McCallum as a dignified Aunt Eller in the Denver Center's radiantly successful Oklahoma!" Wittman wrote. "She's not the least bit dignified here as she identifies herself with full-throated malice."
McCallum is a graduate of Denver South High School who found lasting success on Broadway playing several roles in Disney's The Lion King. She returned to Denver three years ago and was quickly featured in Curious Theatre's Marcus: Or the Secret of Sweet, the Arvada Center's Jesus Christ Superstar and Off-Center's The Wild Party, among others.
With Passing Strange, her 2018 got off to an indelible start. Passing Strange, which was nominated for the Best Musical Tony Award the same year as Lin Manuel-Miranda's In the Heights, is presented as a concert with a rousing funk band led by a showman named Stew who tells us how as a teen, he fled the suburban comforts of Los Angeles to Amsterdam and Berlin "in search of something more real than real." It's the story of excess and youthful narcissism that doesn't fully land on our protagonist until he receives word of his mother's death back home. "I hope audiences felt challenged to find what is real in their own lives," McCallum said. "Before I saw this show, I never would have thought of a black man writing a rock musical about moving to Europe to find himself. But it's an amazing story that everyone can see a little of themselves in."
Joseph Lamar, who played the teenage version of McCallum's son at the Aurora Fox, was amazed by her presence from Day 1 – on stage and off. "It's the sort of presence you can't fake," he said. "It comes from being truly grounded as an artist and as a human being."
In addition, McCallum was the host of the Source Theatre's monthly Monday! Monday! Monday! Cabaret at Su Teatro, a program that promised "singers who will stir your soul, poets who will lift your spirit and artists who will blow your mind."
"One of Sheryl's most humbling qualities is that even though she's a star, she's all about helping other people shine," Lamar said. Her cabaret gives artists from various backgrounds and skill levels an opportunity to perform in front of a supportive audience. Sheryl believes that everyone has a story to tell and something valuable to give. She inspires and uplifts people so they can do just that."
He said it: "Sheryl can not only dazzle you on stage with her talent, voice and smile, but she will win you over off stage with her professionalism, dedication and heart." – Nick Sugar, director of Passing Strange
He did, too: "Sheryl is wholly authentic. What you see is what you get. And while she leads with her heart and warmth, there is a toughness underneath. That combination is pretty powerful onstage." – Chris Coleman, director of Oklahoma!
Last word: "I fell in love with Sheryl instantly at the auditions for Xanadu. She manages to be both open and generous, while still keeping her dry humor and quick wit. And yes, she was as terrified of the roller-skating as I would be. She still looked borderline nauseous on the first day we put on skates. The young ones were whizzing by like crazy people and Sheryl took a loooong time tying her skates and getting on her feet. I kept watching her hug the wall, but she was brave and funny about it the whole time. She never fell and she never gave up. Her motto was, 'Slow and steady wins the race.' I did think she might yell at the young ones Aunt Eller-style at some point, but she just let them fall on their butts and learn the hard way." Joel Feller, director of Xanadu
In the Spotlife: Sheryl McCallum on the performing in Xanadu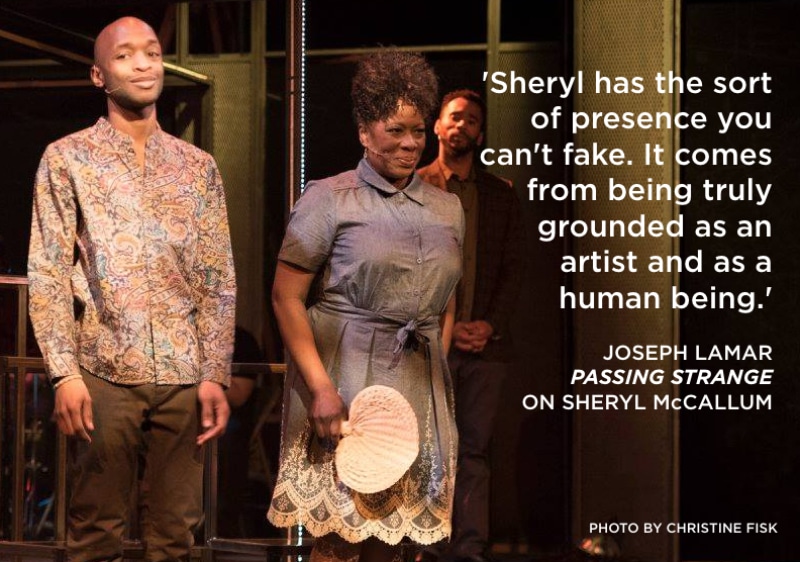 Sheryl McCallum: 2018
Passing Strange, Mother, Aurora Fox
Oklahoma!, Aunt Eller, DCPA Theatre Company
Xanadu, Melpomene, DCPA Cabaret
Host, Source Theatre's monthly Monday! Monday! Monday! Cabaret
About The True West Awards: '30 Days, 30 Bouquets'
The True West Awards, now in their 18th year, began as the Denver Post Ovation Awards in 2001. DCPA Senior Arts Journalist John Moore — along with additional voices from around the state — celebrate the entire local theatre community by recognizing 30 achievements from 2018 over 30 days, without categories or nominations. Moore was named one of the 12 most influential theater critics in the U.S. by American Theatre magazine in 2011. His daily coverage of the DCPA and the Colorado theatre community can be found at MyDenverCenter.Org
https://www.denvercenter.org/wp-content/uploads/2018/12/Day-13-Sheryl-McCallum.jpg
618
800
John Moore
John Moore
2018-12-11 16:26:06
2018-12-14 23:46:59
2018 True West Award: Sheryl McCallum