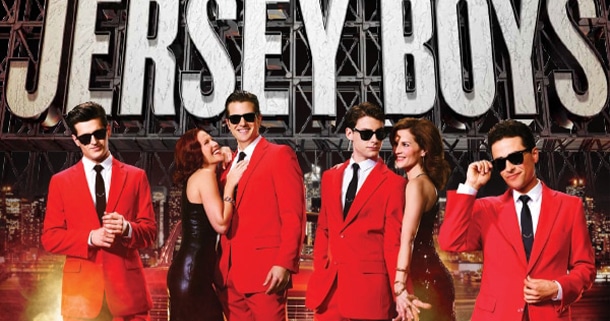 A Show for Everybody: Emphasizing friendship, Jersey Boys crosses generations and wins new fans
By: David Freeland
Jersey Boys, the Tony® and Grammy® Award-winning Broadway musical about the spectacular rise of pop icons Frankie Valli & The Four Seasons, has been seen worldwide by over 24 million people, all of them captivated by the dazzling recreations of classic 1960s hits such as "Sherry," "Big Girls Don't Cry," and "Can't Take My Eyes Off You" – set within a gripping rags-to-riches story. But for many, the show's most unforgettable moment comes when Frankie Valli, as lead singer, decides to enter into a business partnership with the group's keyboardist and songwriter, Bob Gaudio.
"So should we have somebody draw up a contract?" Gaudio asks. Frankie responds by offering his hand.
"You want a contract?  Here – a Jersey contract."  Their handshake becomes a pact, cementing a relationship that has endured for close to 50 years.
"The story of the friendship between Frankie Valli and Bob Gaudio is something that just makes my heart melt every time I think about it," says Pat Prescott, popular radio host on Los Angeles' 94.7 The Wave and a longtime Jersey Boys fan.
"When I think about that handshake and what it has meant," Ms. Prescott observes, "how we as a society have so much gotten away from those values of real friendship, of loyalty, of consistency in relationships – it stands out to me tremendously."
In Jersey Boys, with a book by Tony Award® nominees Marshall Brickman and Rick Elice, four young men persevere against incredible odds to fight their way to the peak of stardom. Later, they stand together through high times and devastating lows. The show's universal themes of courage, friendship and survival have inspired a diverse legion of new Broadway fans, many of them men.
"This is a man's show," asserts Ms. Prescott. "Sometimes when I go to the theater, especially musicals, my boyfriend says, 'Why don't you take one of your girlfriends?' And when I first went to Jersey Boys, I did go with a girlfriend. Afterward, I told my boyfriend, 'You have got to see this show. You're going to love it.' And he actually went with me twice."
Other husbands and boyfriends have become just as enthused. Before Jersey Boys, Dale Skarl was a self-described "Broadway novice."  Now, having seen the show more than 50 times across the U.S. and Canada, he understands why it has earned such a following with "the guys."
"It's because of the camaraderie between the four main characters," Skarl states. "The story is about men and men's success and their triumph over failure. Maybe it's like the team aspect that goes back to sports, or brotherhood and fraternity. It's a story about not giving up."
Together Dale and his wife, Susie, administer the Jersey Boys fan site and blog. They fell in love with the show around the time it opened on Broadway, in 2005.
"To be honest, I was the one who dragged Dale to Jersey Boys," explains Susie, "because I've been a big fan of The Four Seasons forever. I went just because of loving the music, growing up with it."
At first, Susie recalls, the experience seemed like "your typical fun night at the theater, people having a nice time."  But then, she says, something unexpected happened.
"When I actually watched the people in the audience, whether they were 60 years old or 22, everybody was bopping in their seats. I don't know if they had a rough week at work, or else they were going back in time to high school, but you would have thought they didn't have a care in the world. If they could have gotten up and danced they would have."
"We've noticed this on multiple occasions, with many different audiences," Dale adds. "You'll look over to your left or right, and you'll see someone that's sobbing because the music takes them back to a place that they remember so well and has meaning for them. In the end everybody's on their feet and everyone loves the show."
"You're thinking you're going to hear a bunch of great hits, and you do," says Susie, referring to the Frankie Valli & The Four Seasons classics performed in the show (the music is by Bob Gaudio with lyrics by Bob Crewe). "But then, the story is so interesting and compelling that you want to come back. It's a classic story of success that resonates with everybody. You really do get something out of it each time you see it."
It's an observation shared by Frankie Valli himself.
"Jersey Boys is a true story," says the legendary singer, whose sterling falsetto has graced dozens of hits, on his own and with The Four Seasons. "And there are things in the show that, even for me, every time I go back, I pick up on. Some things are like that – you can't get enough."
Kara Tremel, who has performed several roles in the national tour of Jersey Boys, credits multiple Tony-Award winning director Des McAnuff (Big River, The Who's Tommy, The Farnsworth Invention) with creating a fast-paced, visually engaging production that attracts theatergoers who were not born when The Four Seasons' hits dominated the airwaves.
"For young people it's an exciting type of show to see," Tremel observes. "The way Des directed it is so quick: the set moves with the actors, lighting shoots over to another side of the stage, and we're in a totally different scene in a matter of seconds. It's good for a younger generation that needs that kind of quick pace. And whatever your age, you can't not like this music."
Pat Prescott, the radio personality, grew up in a household where music of all kinds was respected and enjoyed. As someone who has loved Broadway ever since her father took her to see the hit musical, Purlie, in the early 1970s, she understands how theater has the potential to reach across generational divides.
"This current generation has grown up with a lot of media thrown in their faces," Prescott remarks. "It may be hard to get them excited about some music from the 1960s or early 70s, but when you put the whole package together – songs and story – into this incredible show, I don't think anybody can resist it. I noticed every time I went, you would see people of all ages, all races. Everybody was in there."
The acclaimed 2014 film version of Jersey Boys, directed by Clint Eastwood, has grossed nearly $70 million internationally, but it hasn't stopped fans and first-timers from packing houses on Broadway, on tour, in Las Vegas and around the world.
"There's so much going on that you need to see it at least two or three times, just so you don't miss anything," Prescott believes. "I wish everybody could see it. This show is really, really special."
DETAILS
Jersey Boys
April 15-17 • Buell Theatre
Tickets
https://www.denvercenter.org/wp-content/uploads/2022/02/Jersey_Boys_610x375.jpg
375
610
DCPA Press
DCPA Press
2022-02-24 08:54:02
2022-02-25 10:52:13
A Show for Everybody: Emphasizing friendship, Jersey Boys crosses generations and wins new fans