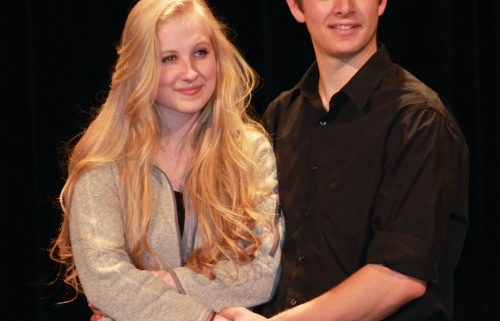 Bobby G Awards a triumph for Durango High School
The Denver Center's third annual Bobby G Awards, which celebrate achievements in high-school musical theatre, were the first to include high schools statewide. And the change produced a storybook evening tonight for a newcomer located nearly 400 miles southwest of Denver.
Durango High School, located in La Plata County just 20 miles from the New Mexico border, swept top honors at the awards gala held at the Buell Theatre. Its production of Les Misérables was named Outstanding Musical, and seniors Evatt Salinger (Jean Valjean) and Emma Buchanan (Eponine) were named Outstanding Actor and Actress.
Salinger and Buchanan will represent Colorado next month at the High School Musical Theatre Awards in New York City. "The Jimmys," as they are known, include a week-long intensive with some of Broadway's leading actors, choreographers and directors, all leading up to a fully staged, one-night performance at Broadway's Minskoff Theatre.
Nominees for the Bobby G Awards are determined by scoring from a team of professional adjudicators who this year spread out all over the state and considered 30 high-school musical productions.
Photo: Outstanding Actress and Actor Emma Buchanan and Evatt Salinger of Durango High School. Photo by John Moore.
In the past, the highest combined scores have determined all winners. But this year, the Outstanding Actor and Actor winners were determined in part by an audition held last weekend at the Denver Center. All nominated leading actors performed before a panel of local theatre educators and professionals.
Durango High School has an enrollment of just 1,239 students, making it the 89th largest public high school in Colorado. Its production of Les Misérables, directed by Landon Newton and Kristin Winchester, is the second Les Mis to win the Bobby G Awards' top prize in three years. Chaparral High School's Les Mis won in 2013.
The ceremony was emotional throughout, culminating with Salinger's poignant testament to both his school and his two families both biological and theatrical. Salinger made special mention of his brother, Curtis, a freshman at Durango who played Marius in Les Mis.
Thursday was an especially meaningful night for Westminster High School's CenterStage Theatre Company. Director Andre' Rodriguez, who holds the distinction of being the only person nominated in all three years of the Bobby G Awards, was named Outstanding Director for Westminster's production of Rent. Rodriguez spoke passionately about how his theatre program serves as an lifeline to at-risk students, some of whom are seeking alternatives to gangs.
"Our students are not defined by the struggles that many face on a daily basis, but by their hope, resilience, and heart. Rodriguez said to cheers.
As part of the creation process, Rodriguez immersed his students in community service, including working with homeless teens at Urban Peak.
"Rent was not only a musical, it was an opportunity to serve our community in new and exciting ways," he said.
The Bobby G Awards were remarkably spread out, with Westminster's Rent leading all schools with four awards. Durango's Les Misérables and Mountain View High School's Aida won three each. Cherry Creek High School's Rodgers + Hammerstein's Cinderella, Denver School of the Arts' Hairspray and Cherokee Trail High School's The Addams Family won two each.
In all, eight schools won at least one of the 18 prizes. Students and educators were honored in the areas of performance, design, direction, choreography, technical production and overall production excellence. All participating schools received one personal master class session with a DCPA Education theatre teacher.
While the Bobby G Awards culminate each year with Thursday's awards ceremony, modeled after the Tony Awards, the year-long focus of the program is to both celebrate and educate. The 30 participating schools receive detailed feedback on their musical productions from the adjudicators. The 10 nominated Outstanding Actors and Actresses are invited to the Denver Center two weeks before the awards to prepare a medley together in community and friendship, which they then perform at the ceremony on the Buell Theatre stage.
Each of the five nominated Outstanding Productions performed a musical number during the ceremony.
The Bobby G Awards were founded in 2013 by the late DCPA President Randy Weeks. They are named after late producer Robert Garner, who established Denver as a top destination for touring Broadway shows.
Master of ceremonies Greg Moody, longtime known as Colorado's Critic-At-Large, concluded a tribute to the two pioneers by saying, "I miss them both, and you should, too. They made Denver a key centerpoint for theatre in the U.S."
John Moore was named one of the 12 most influential theater critics in the U.S by American Theatre Magazine in 2011. He has since taken a groundbreaking position as the Denver Center's Senior Arts Journalist.
Durango High School's Outstanding Musical "Les Miserables" at Wednesday's Bobby G Awards rehearsal. Photo by John Moore.

THE 2014-15 BOBBY G AWARDS
Outstanding Achievement in Hair and Make-up Design



Aida, Mountain View, Dakota Parker, Karla Quinones, Raquel Reynolds and Hannah Tester

Other nominees
The Addams Family, Cherokee Trail, McKenzie Boyd, McKenzie Campbell and Esther Ekberg
Rodgers + Hammerstein's Cinderella, Cherry Creek, Miranda Cochran
Hello, Dolly!, Lakewood, Timothy Campbell and Erin Cole
Beauty and the Beast, Valor Christian High School, Elissa Haney, Rachel Jeffries, Haley Nicas and Trisha Rouleau
​
Outstanding Achievement in Costume Design


Rodgers + Hammerstein's Cinderella, Cherry Creek, Jim Miller and Weldon Steinke
Other nominees
Les Misérables, Durango, Diane Hoffman, Madison Norcross and Isabel Whitehead
Shrek The Musical, Front Range Christian School, Mariah Hart and Jenn Horrom
Aida, Mountain View, Jen Bleem, Jerri Hartshorn, Brynn Ledermann, Jen Likes and Cindy Sipes
Oklahoma!, Wheat Ridge, Teri Nydegger, Amy Sares, Denise Wood & Sarah Wood
Outstanding Achievement in Lighting Design



Rent, Westminster, John Kirk and Travis Roth
Other nominees
Rodgers + Hammerstein's Cinderella, Cherry Creek, Yasmin Farsad
Les Misérables, Durango, Blake Martin, Nico Schiavone and Walker White
Anything Goes, Fairview, Lanny Boyer and Caleb Werkmeister
Aida, Mountain View, Jenny Horstmeyer

Outstanding Achievement in Scenic Design


Rent, Westminster, Brandon PT Davis, Peter Lutz and Trenton Wright

Other nominees
Rodgers + Hammerstein's Cinderella, Cherry Creek, Jack Hagen, Yukki Hashimoto, Max Post and Joe Woodard
Les Misérables, Durango, Elise Christiansen, Sam Coleman, Mia Irwin and Walker White
Hello, Dolly!, Lakewood, Brandon Davis, Sarah DeLaet, Jace Smykil and Anna Tiberi
Aida, Mountain View, Phil Foreman, Tyler King, Even Meyers and Rebecca Reynolds

Outstanding Performance by an Orchestra

Hairspray, Denver School of the Arts

Other nominees
Puck's Potion, Chaparral
Rodgers + Hammerstein's Cinderella, Cherry Creek
Les Misérables, Durango
Anything Goes, Fairview
Outstanding Achievement in Musical Direction

Hairspray, Denver School of the Arts, Brian Stinar
Other nominees
Rodgers + Hammerstein's Cinderella, Cherry Creek, Adam Cave and Sara Wynes
Les Misérables, Durango, Tom Kyser, Katherine Reed and Ivy Walker
Aida, Mountain View, Logan DeBord, Phil Foreman, Alana Reed and Peter Toews
Guys and Dolls, Rock Canyon, Marsha Anema and Julia Dale
Outstanding Performance by a Chorus

Aida, Mountain View

Other nominees
Rodgers + Hammerstein's Cinderella, Cherry Creek
Les Misérables, DurangoAnything Goes, Fairview
Rent, Westminster
Outstanding Achievement in Choreography

Anything Goes, Fairview, Karen Cassel
Other nominees
Rodgers + Hammerstein's, Cinderella, Cherry Creek, Ronni Gallup
Thoroughly Modern Millie, Grandview, Piper Arpen
Aida, Mountain View, Tammy Johnson, Owen Whitman and Lauren Valdez
Rent, Westminster, Rachel Ilk, Starr Palmer and Lea Schoengarth

Outstanding Performance by an Actor in a Supporting Role


Beauty and the Beast, Valor Christian, Mason Askamit, Gaston

Other nominees
Puck's Potion, Chaparral, Jack Griffen, Nick
The Addams Family, Cherokee Trail, Caden Montgomery, Lucas Beineke
Rent, Westminster, Jairo Guerrero, Angel Dumont
Oklahoma!, Wheat Ridge High School, Jose Sierra, Ali Hakem
Outstanding Performance by an Actress in a Supporting Role

The Addams Family, Cherokee Trail, Josette Axne, Alice Beineke
Other nominees
The Addams Family, Cherokee Trail, Tessa Robinson, Wednesday Addams
Hairspray, Denver School of the Arts, Sarah Doerner, Velma Von Tussle
Aida, Legacy, Carly Lyman, Nehebka
Aida, Mountain View, Lauren Valdez, Nehebka
Rising Star (honoring underclassmen)

Rodgers + Hammerstein's Cinderella, Cherry Creek, Luccio Dellepiane, Herald

Other nominees
Bye, Bye Birdie, Discovery Canyon Campus, Lili Yocum, Mae Peterson
Beauty and the Beast, Green Mountain, Emelia Kamadulski, Chip
Beauty and the Beast, Valor Christian, Elleon Dobias, Madame de la Grande Bouche Beauty and the Beast, Valor Christian, Xander Doege, Chip
Outstanding Achievement in Direction

Rent, Westminster, Andre` Rodriguez
Other nominees
Les Misérables, Durango, Landon Newton and Kristin Winchester
Anything Goes, Fairview, Michael Bizzaro and Janice Vlachos
Aida, Mountain View, Phil Foreman and Karla Quinones
Guys and Dolls, Rock Canyon, Cindy Baker
Outstanding Performance by an Actress in a Leading Role

Les Misérables, Durango, Emma Buchanan, Eponine

Other nominees
Anything Goes, Fairview, Alei Russo, Reno Sweeney
Aida, Mountain View, Taylor Lang, Aida
Aida, Mountain View, Raegan DeBord, Amneris
Rent, Westminster, Lea Schoengarth, Mimi Marquez
Outstanding Performance by an Actor in a Leading Role

Les Misérables, Durango, Evatt Salinger, Jean Valjean
Other nominees
Puck's Potion, Chaparral, Ty Eatherton, Puck
Anything Goes, Fairview, Charlie Kolbrener, Moonface Martin
Guys and Dolls, Rock Canyon, Sam Hulsizer, Nathan Detroit
Beauty and the Beast, Valor Christian, Dylan Ruder, Beast

Outstanding Overall Production of a Musical

Les Misérables, Durango
The Addams Family, Cherokee Trail
Anything Goes, Fairview
Aida, Mountain View
Rent, Westminster
SPECIAL ACHIEVEMENT WINNERS:
Achievement in Sound Design


The Addams Family, Cherokee Trail, Abigail Kieffer

Achievement in Stage Management

Shailyn Clay, Mountain View, Aida

Achievement in Leadership


Gabriella Bailey, Westminster, Rent
Our 2014-15 Bobby G Awards coverage to date:
Video: Page to Stage highlights with Bobby G Awards winners
Meet your Bobby G Awards nominees, in their own words Video: Coloradans on Broadway to high-schoolers: 'Be relentlessly yourself'
2014-15 Bobby G Awards: Complete list of nominations
2015 Bobby G Awards announces list of participating schools
Annaleigh Ashford raises $735 for new Bobby G Awards memorial fund
Denver Center establishes Randy Weeks Memorial Fund for The Bobby G Awards
https://www.denvercenter.org/wp-content/uploads/2018/04/featured-image-2112.jpg
526
500
John Moore
John Moore
2015-05-28 22:03:00
2018-06-14 15:30:27
Bobby G Awards a triumph for Durango High School