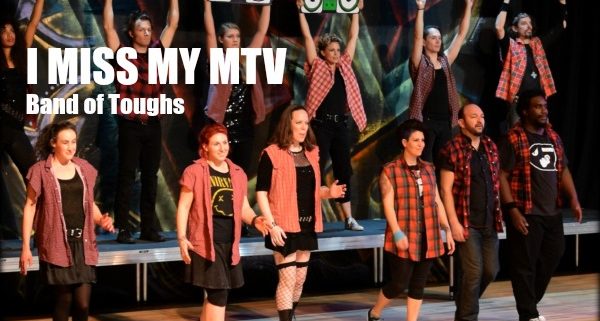 March: Colorado Theatre Openings
"I Miss My MTV" is a live performance mix-tape celebrating the golden era of MTV, created by Boulder's Band of Toughs theatre collaboratory and presented this month at the Bas Bleu Theatre in Fort Collins.
NOTE: At the start of each month, the DCPA NewsCenter offers an updated list of all upcoming Colorado theatre openings.
Following on the heels of the Denver Center's 11th Colorado New Play Summit, many more original works will be featured throughout the month and throughout the state.
Buntport Theatre opens its 15th season of offering exclusively original works with 10 Myths on the Proper Application of Beauty Products, which is loosely based on the Greek myth of Salmacis and Hermaphroditus, who are merged into "one being of both sexes." It's a play about people deeply in love, suffering loss, celebrating strangeness … all while they pluck their eyebrows. It features guest artists Diana Dresser (DCPA's The Giver) and Michael Morgan (Boulder Ensemble Theatre Company's The Few). Oh, and the whole thing is underscored by a band standing in a bathtub.
Several new-play festivals take place in March: Wedding Cake Vodka is a collection of short new works by local writers who make up the Dirtyfish Theater Collective (March 3-6). Funky Little Theater Company's [spectrum: lgbt new play festival] will premiere eight new lesbian, gay and trans plays from around the country March 4-19 in Colorado Springs), the acclaimed LOCAL New Play Festival in Boulder (March 11-13) features three full-length play readings and master classes in devised work with Jill Rafson of New York's Roundabout Theatre Company and LOCAL Artistic Director Mare Trevathan; and the annual Athena Project Arts Festival champions the woman's voice from March 31-April 10 at the University of Denver.
Elsewhere, March will mark Colorado's first two local stagings of the inventive Peter and the Starcatcher (at BDT Stage in Boulder and the Colorado Fine Arts Center); and the Aurora Fox will become the first theatre company in the state to present the 19th century Lakota drama Black Elk Speaks since it received its high-profile world premiere from the DCPA Theatre Company all the way back in 1994. Also, Curious Theatre launches its latest venture into trilogy storytelling with Elliot, A Soldier's Fugue.
The Denver Center presents four offerings ranging from the touring production of Disney's Newsies to the 20th anniversary Riverdance tour to Off-Center's evening of slam poetry, HOW I GOT OVER.
Companies are encouraged to submit future listings and production photos at least two weeks in advance to the DCPA NewsCenter at jmoore@dcpa.org.
Zachary Sayle and Joey Barreiro of from the touring company of Disney's 'Newsies.' Photo by Shane Gutierrez.
---
Now: Check out the complete list of nearly 60 new and continuing theatregoing options for March, including 35 openings:
THIS MONTH'S NEW THEATRE OPENINGS IN COLORADO:
(Submit your listings to jmoore@dcpa.org)
March 3-6: Dirtyfish Theatre's Wedding Cake Vodka
At The Three Leaches Theatre, 985 Santa Fe Dr., dirtyfishtheater.com
March 4-May 14: BDT Stage's Peter and the Starcatcher
5501 Arapahoe Ave., 303-449-6000 or bdtstage.com

March 4-26: Buntport Theater's 10 Myths on the Proper Application of Beauty Products
717 Lipan St., 720-946-1388 or buntport.com
March 4-April 3: Edge Theatre's Getting Out
1560 Teller St., Lakewood, 303-232-0363 or theedgetheater.com​
March 4-27: Cherry Creek Theatre's The Glass Menagerie
Shaver Ramsey Showroom, 2414 E. 3rd Ave., Denver, 303-800-6578 or cherry creek theatre.org
March 4-19: Funky Little Theater Company's [spectrum: lgbt new play festival]

2109 Templeton Gap Road, Colorado Springs, funkylittletheater.org
March 4-6: Northglenn Arts' Guys On Ice (Produced by the Aurora Fox)
DL Parsons Theatre, 11801 Community Center Drive, Northglenn, 303-450-8800 or northglennarts.org
​
​March 4-25: Theater Company of Lafayette's Sherlock Holmes and the Assassins at Sea
​Mary Miller Theater, 300 E. Simpson, 720-209-2154 or www.tclstage.org
March 8-13: Riverdance – The 20th Anniversary World Tour
Buell Theatre, 14th and Curtis streets, 303-893-4100 or denvercenter.org
March 9-10: Band of Toughs' I Miss My MTV
At Bas Bleu Theatre, 417 Pine St., Fort Collins, www.bandoftoughs.org
March 10-26: Bless Me, Ultima
721 Santa Fe Drive, 303-296-0219 or su teatro's home page
March 10-April 3: Lake Dillon Theatre Company's Dancing Lessons
At the Outlets at Silverthorne, 246-X Rainbow Drive, Silverthorne, 970-513-9386 or lakedillontheatre.org
March 10-26: Millibo Art Theatre's The Importance of Being Earnest
1626 S. Tejon St. Colorado Springs, 719-465-6321 or themat.org
March 10-26: Springs Ensemble Theatre's The Last Days of Judas Iscariot
1903 E. Cache La Poudre St., Colorado Springs, 719-357-3080 or springsensembletheatre.org
March 11-13, 2016: LOCAL Lab 2016 New Play Fest
At eTown Hall, 1535 Spruce St., Boulder or localtheatercompany.org
March 11-April 17: Vintage Theatre's Rabbit Hole
1468 Dayton St., Aurora, 303-839-1361 or vintagetheatre.com
March 11-April 2: Avenue Theater's Tigers Be Still
417 E. 17th Ave., 303-321-5925 or avenuetheater.com
March 11-May 29: Midtown Arts Center's The Fantasticks
3750 S. Mason St, Fort Collins, 970-225-2555 or midtownartscenter.com
March 11-20: Inspire Creative's The Fantasticks
19650 E. Mainstreet, Parker, 303-805-6800 or Inspirecreative.org
​
March 11-20: The Stampede Troupe's The Dixie Swim Club
​Hensel Phelps Auditorium, 701 10th Ave., Greeley, 970-356-5000 or ucstars.com
March 12-April 23: Curious Theatre's Elliot, A Soldier's Fugue
1080 Acoma St., 303-623-0524 or curioustheatre.org
March 12-April 24: The BiTSY Stage's The Stonemason's Wish: A Chinese Tale
1137 S. Huron St. 720-328-5294 www.bitsystage.com
March 13-May 1: Denver Children's Theatre's Art Dog (Sundays only)
Elaine Wolf Theatre at the Mizel Arts and Culture Center, 350 S. Dahlia Street, 303-316-6360 www.maccjcc.org
March 17-May 8: Candlelight Dinner Playhouse's South Pacific
4747 Marketplace Drive, Johnstown, 970-744-3747 or coloradocandlelight.com
March 18-26: DCPA Off-Center's HOW I GOT OVER: Journeys in Verse
At The Jones Theatre, 13th and Arapahoe streets, 303-893-4100 or
denvercenter.org
March 18-April 10: Aurora Fox's Black Elk Speaks
9900 E. Colfax Ave., 303-739-1970 or aurorafoxartscenter.org
March 22-April 17: Arvada Center's The Mountaintop
6901 Wadsworth Blvd., 720-898-7200 or arvadacenter.org
March 23-April 9: Disney's Newsies
Buell Theatre, 14th and Curtis streets, 303-893-4100 or denvercenter.org

March 25-May 1: Miners Alley Playhouse's You Can't Take It With You
1224 Washington St., Golden, 303-935-3044 or map's home page
March 25-April 10: Performance Now's Ragtime
Lakewood Cultural Center, 470 S. Allison Parkway, 303-987-7845 or performance now's home page
March 25-April 3: Southern Colorado Repertory Theatre's Sarah, Plain and Tall
At the Famous Performing Arts Center, 131 W. Main St., Trinidad, 719-846-4765​ or scrtheatre.com

March 31-April 10: Athena Project Arts Festival
At The Byron Theatre in the Newman Center, University of Denver, athenaprojectfestival.org
March 31-April 24: Colorado Springs Fine Arts Center's Peter and the Starcatcher
30 W. Dale St, Colorado Springs, 719-634-5581 or csfineartscenter.org
March 31-April 3: Magic Moments' It's All Greek to Me
Anschutz Family Theatre at Kent Denver High School, 4000 E. Quincy Ave., Englewood, 303-575-1005 or magicmomentsinc.org
April 1-10: Longmont Theatre Company's Sylvia
513 Main St., Longmont, 303-772-5200 or longmonttheatre.org
April 2-May 1: Bas Bleu Theatre's Love, Loss and What I Wore
401 Pine St., Fort Collins, 970-498-8949 or basbleu.org
CONTINUING CURRENT PRODUCTIONS:
Through March 4: Midtown Arts Center's I Love You, You're Perfect, Now Change
3750 S. Mason St, Fort Collins, 970-225-2555 or midtownartscenter.com​
Through March 5: Miners Alley Playhouse's 4000 Miles
1224 Washington St., Golden, 303-935-3044 or minersalley.com
​Through March 5: Longmont Theatre Company's Boeing Boeing
513 Main St., Longmont, 303-772-5200 or longmonttheatre.org
Through March 6: TheatreWorks' Satchmo At The Waldorf
3955 Regent Circle, Colorado Springs, 719-255-3232 or theatreworkscs.org
Through March 6: Evergreen Chorale's Guys and Dolls
27608 Fireweed Dr., 303-674-4002, evergreenchorale.org
Through March 6: Candlelight Dinner Playhouse's Hello, Dolly!
4747 Marketplace Drive, Johnstown, 970-744-3747 or coloradocandlelight.com
Through March 6: Southern Colorado Repertory Theatre's Art of Murder
At the Famous Performing Arts Center, 131 W. Main St., Trinidad, 719-846-4765​ or scrtheatre.com
Through March 12: Thunder River Theatre Company's Rashomon
67 Promenade, Carbondale, 970-963-8200 or thunderrivertheatre.com
Through March 12: Coal Creek Community Theatre's Escanaba In Da Moonlight
Louisville Center for the Arts, 801 Grant St., 303-665-0955 or cctlouisville.org
Through March 13: DCPA Theatre Company's FADE
Ricketson Theatre, Denver Performing Arts Complex, 14th and Curtis streets, 303-893-4100 or denvercenter.org

Through March 19: Openstage Theatre Company's The North Plan
Lincoln Center, 417 W. Magnolia St., Fort Collins, 970-484-5237 or openstagetheatre.org
Through March 19: Firehouse Theatre's The Champagne Charlie Stakes
John Hand Theatre, 7653 E. 1st Place, 303-562-3232 or firehousetheatercompany.com
Through March 20: Boulder Ensemble Theatre Company's Ideation
March 3-13 at MobileDay, 2040 14th St.
March 17-20 at Boulder Chamber of Commerce, 2440 Pearl St.
303-351-2382 or boulderensembletheatre.org
Through March 20: Ignite Theatre's Heathers: The Musical
At the Aurora Fox, 9900 E. Colfax Ave., 720-362-2697 or ignitetheatre.com
Through March 20: Town Hall Arts Center's The Man Who Came to Dinner
2450 W. Main St., Littleton, 303-794-2787 or townhallartscenter.org
Through March 25: Midtown Arts Center's Ring of Fire
3750 S. Mason St, Fort Collins, 970-225-2555 or midtownartscenter.com
Through March 27: Theatre Esprit Asia's Yohen
At ACAD Gallery, 1400 Dallas St., Aurora, 720-492-9479, or www.theatre-esprit-asia.org
Through March 27: Vintage Theatre Productions' One Man, Two Guvnors
1468 Dayton St., Aurora, 303-839-1361 or vintagetheatre.com
Through May 8: Jesters Dinner Theatre's Little Women
224 Main St., Longmont, 303-682-9980 or jesterstheatre.com
ONGOING, MONTHLY or ONE-TIME PROGRAMMING:
ADAMS MYSTERY PLAYHOUSE
Ongoing productions
2406 Federal Blvd., Denver, 303-455-1848 or adamsmysteryplayhouse.com
BUNTPORT THEATRE
March 15: The Great Debate: Arguing dumb topics
March 16: The Narrators: True stories centered on a monthly theme
March 25: untitled (at the Denver Art Museum)
March 26: Duck Duck … DUPE (all ages family theatre)
717 Lipan St., 720-946-1388 or buntport.org
DENVER ACTORS FUND PRESENTS FILM SERIES
March 14: Screening of Ragtime (the film)
Pre-screening entertainment by Performance Now Theatre Company
Alamo Drafthouse Cinema, 7301 S Santa Fe Drive, Littleton, drafthouse.com

THE SOURCE THEATRE COMPANY
Every third Monday: Monday! Monday! Monday! Cabaret
At Su Teatro Performing Arts Center, 721 Santa Fe Drive, 720-238-1323 or thesourcedenver.org
STORIES ON STAGE
March 11-13: Fractured Fairy Tales
Friday, March 11 (7:30 p.m.) in the Chautauqua Community House, 301 Morning Glory Dr., Boulder, 303-440-7666 or www.chautauqua.com
Sunday, March 13 (1:30 p.m., 6:30 p.m. at the Su Teatro Performing Arts Center, 721 Santa Fe Drive, 303-494-0523 or storiesonstage.org
THEATRE ASPEN
At the Wheeler Opera House
March 6: Concert featuring Broadway star Susan Egan. Tickets at aspenshowtix.com
https://www.denvercenter.org/wp-content/uploads/2018/04/featured-image-2632.jpg
400
600
John Moore
John Moore
2016-03-01 16:08:00
2018-06-14 15:30:23
March: Colorado Theatre Openings