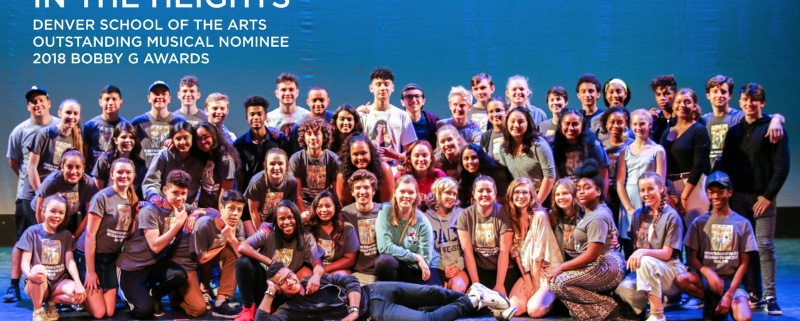 2018 Bobby G Awards: DSA reaches the heights with 'In the Heights'
Awards celebrating achievements in Colorado high-school musical theatre are spread over a record 13 schools
Students from high schools all over the state of Colorado found themselves at the Buell Theatre on Thursday night for the Denver Center's sixth annual Bobby G Awards — and now, Bobby G Awards are going to be found at high schools all around Colorado. In all, a record 13 schools won at least one award, spreading the love from Greeley to Parker to all sorts of towns named Springs: Glenwood Springs, Steamboat Springs and Colorado Springs.
And speaking of being found, the sixth annual party celebrating achievements in Colorado high-school musical theatre began like no other when two students from all 43 participating schools joined together to perform the stirring anthem "You Will Be Found" from six-time 2017 Tony Award® and 2018 Grammy®-Winning Best Musical Dear Evan Hansen, which will be launching its first North American tour at the Denver Center in September.
Denver School of the Arts and Castle View High School in Castle Rock led all schools with three awards each. DSA earned its first-ever Outstanding Musical Award, for In the Heights. DSA is comprehensive secondary arts magnet school for grades 6-12 in the Denver Public Schools district. Much like college, DSA students graduate with majors in intensive arts programs ranging from Theatre to Stagecraft to Creative Writing. In the Heights was directed by the team of Brandon Becker and Mara Osterburg, who also won the Bobby G Award for Outstanding Direction.
Becker said In the Heights was a rare opportunity for DSA to wholly embrace multicultural casting, and he encouraged other directors in the room to do the same. "Please continue to cast color-blind, because everyone deserves a chance to shine on the stage," Becker said in accepting his award.
In six years of the Bobby Gs, there has yet to be a school to win Outstanding Musical twice.
The Bobby G Awards are a culmination of a year-long program administered by the Denver Center that emphasizes camaraderie and shared experiences — but there is also much at stake. The students named Outstanding Actor and Actress go on to represent Colorado at The Jimmy® Awards/The National High School Musical Theatre Awards™ (NHSMTA) on June 25 at the Minskoff Theatre in New York City.
Elisha Horne of Vista PEAK Preparatory in Aurora (pictured above) was named Outstanding Actor for his performance as The Baker in Into the Woods. Abby Lehrer (pictured above), who wonthe Bobby G Award two years ago for Rising Star (outstanding underclassman), on Thursday was named Outstanding Actress for her work as Eponine in Castle View's Les Misérables.  Horne and Lehrer will participate in a 10-day series of intensive classes and workshops with Broadway actors, directors and designers leading up to the national awards ceremony, which is presented by The Broadway League Foundation, and will be hosted this year by Broadway and TV star Laura Benanti.
Bobby G Awards Outstanding Musicals: Through the years
2013: Chaparral High School, Les Misérables
2014: Cherry Creek High School, Joseph and the Amazing Technicolor Dreamcoat
2015: Durango High School, Les Misérables
2016: Mountain View High School, Anything Goes
2017: Valor Christian, Pippin
2018: Denver School of the Arts, In the Heights
Nominees for the Bobby G Awards are determined by scoring from a team of professional adjudicators. Unlike other awards categories, the Outstanding Actor and Actress winners are determined by two equally scored criteria: First, the students are judged for their actual performances in their respective school musicals. The five students with the highest scores then go before a professional panel for a private, scored audition.
An unusual twist Thursday: Vista PEAK senior Julianna Luce, who in February was celebrated at the Denver Center's 2018 Colorado New Play Summit as one of the winners of DCPA Education's statewide student playwriting contest, won a Bobby G Award for Outstanding Lighting. Which could not have been more perfect, given her winning play, Technical Difficulties, is a backstage comedy about a high-school theatre production that is saved from vengeful understudies by members of the tech crew. The play will be publicly staged by DCPA Education's summer academy students next month.
In her acceptance speech. Luce said the award was especially meaningful to her given the DCPA's commitment to encouraging creativity in young people in many ways. "As Willy Wonka said, 'We are the dreamers of the dreams,' " she said. More on Julianna Luce
Students and educators were honored in the areas of performance, design, direction, choreography, technical production and overall production excellence. All participating schools received one personal master class session with a DCPA Education theatre teacher. Winners of the Outstanding Supporting Actor, Actress and Rising Star awards also earn a full year of free classes at the Denver Center. "Theatre is alive in Colorado," said Education Director Allison Watrous. "The DCPA is proud to be a part of your journey."
The Bobby G Awards were founded in 2013 by the late DCPA President Randy Weeks. They are named after late producer Robert Garner, who established Denver as a top destination for touring Broadway shows.
In the six years of the Bobby G Awards nearly 24,000 students have participated in the program. More than 2,000 students have been involved in free workshops delivered by DCPA Education Teaching Artists. Since the Randy Weeks Memorial Fund was begun in 2015, four schools have received funding to help support their productions.
Full photo gallery from the sixth annual Bobby G Awards, which celebrate achievement in Colorado high-school theatre. To see more, click on the photo above. All photos may be downloaded and redistributed with permission from the DCPA with proper photo credit. Photos by Emily Lozow and John Moore for the DCPA NewsCenter.
While the Bobby G Awards culminate each year with an awards ceremony modeled after the Tony Awards, the year-long focus of the program is to both celebrate and educate. The participating schools receive detailed feedback on their musical productions from the adjudicators.
The 10 nominated Outstanding Actors and Actresses are invited to the Denver Center two weeks before the awards to prepare a medley together in community and friendship, which they then perform at the ceremony on the Buell Theatre stage. The annual ritual is created anew each year by 2017 True West Award winner Claudia Carson.
Each of the five nominated Outstanding Productions performed a musical number during the ceremony, each drawing thunderous appreciation from an enthusiastic Buell Theatre crowd estimated at more than 2,000.
The Master of ceremonies was again Greg Moody, longtime known as Colorado's Critic-At-Large for CBS-4. Acknowledging the ongoing tragedy of school shootings at American schools, Moody said, "The people who have been stepping up and making their voices heard and making their feelings known have been theatre students."
Liberty High School's Kyle Husted, who was named Outstanding Supporting Actor for his performance as Jean-Michel in Rodgers + Hammerstein's Cinderella, summed up the evening succinctly in his acceptance speech when he said, "I love theatre. I hope you do, too."
John Moore was named one of the 12 most influential theater critics in the U.S by American Theatre Magazine in 2011. He has since taken a groundbreaking position as the Denver Center's Senior Arts Journalist.
THE 2018 BOBBY G AWARDS: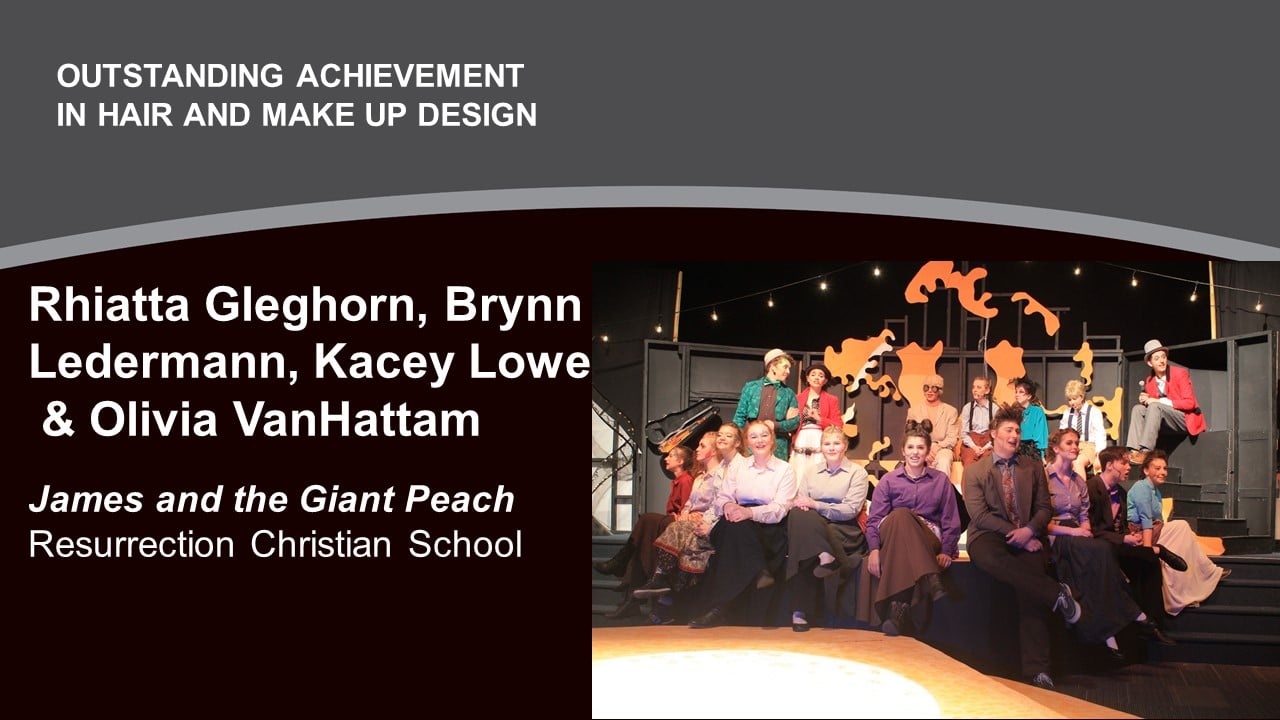 Outstanding Achievement in Hair and Make-up Design
Rhiatta Gleghorn, Brynn Ledermann, Kacey Lowe and Olivia VanHattam
James and the Giant Peach
Resurrection Christian School
Other nominees:

Jana Datteri, Jacelyn Hays and Bryana Martinez, The Little Mermaid, Greeley West High School
Lauren Lewis and Ailani Paramo, Into the Woods, Legend High School
Amanda Moore & Katie Taylor, Rodgers + Hammerstein's Cinderella, Liberty High School,
Arianna Mahan-Higgins, Little Women, Montezuma-Cortez High School
---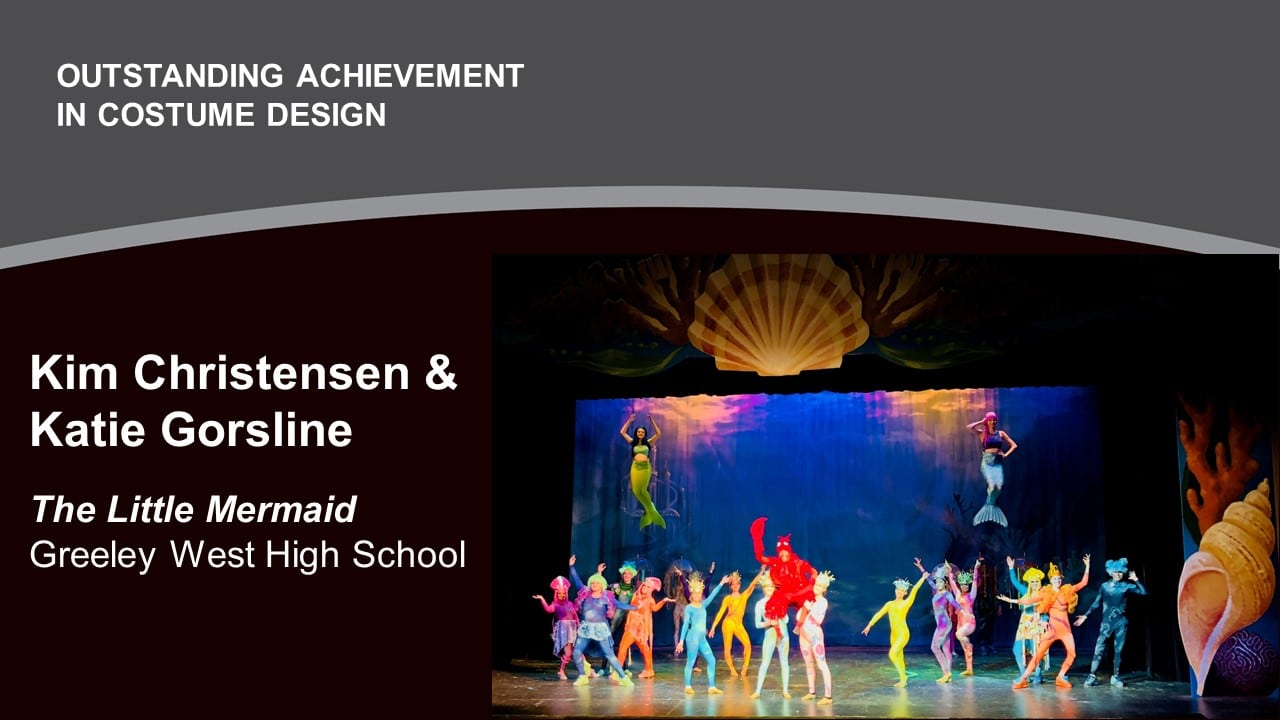 Outstanding Achievement in Costume Design
Kim Christensen and Katie Gorsline
The Little Mermaid
Greeley West High School
Other nominees:
Jane Archuleta and Carson Charles, Once on This Island, Brighton High School
Katelynn Brusco & Julie Snow, Rodgers + Hammerstein's Cinderella, Chaparral High School
Nikky Haabestad, Big Fish, Fossil Ridge High School
Ana Alonzo, Nicole Lucier & Joan Stewart, Into the Woods, Legend High School
---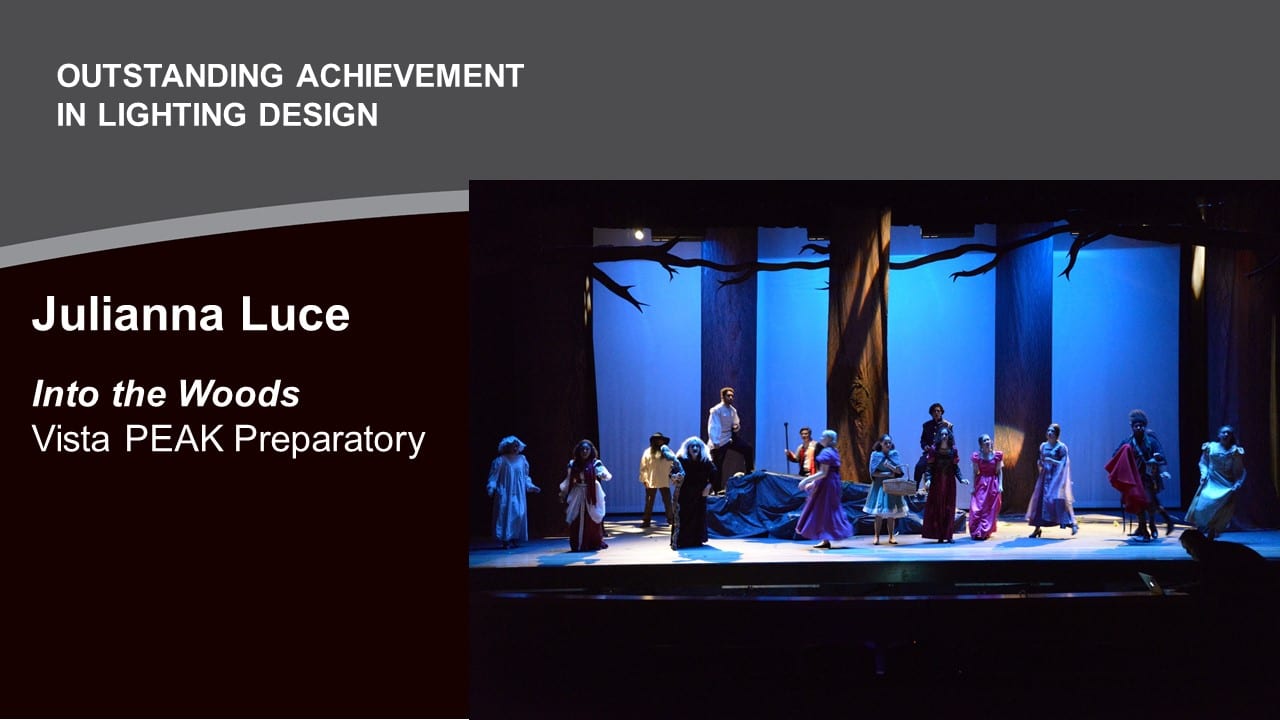 Outstanding Achievement in Lighting Design
Julianna Luce
Into the Woods
Vista PEAK Preparatory
Other nominees:
Jane Archuleta and Julia Snyder, Once on This Island, Brighton High School
Riley Dixon, Bye Bye Birdie, Cherry Creek High School
Drew Meier and Thomas Woolner, Big Fish, Fossil Ridge High School
Justin Fiscus, Kawak Miranda, Andrew Stott and Alexander Tucker, Crazy for You, Glenwood Springs High School
---
Outstanding Achievement in Scenic Design
Brogan Croom, Rylee Carlson and Rob Scott
Les Misérables
Castle View High School
Other nominees:

Steven Davis and Danny de Paz, Rodgers + Hammerstein's Cinderella, Chaparral High School
Alyea Caldwell, Iz Nyghe and Megan Tunnell, Bye Bye Birdie, Cherry Creek High School
Jackie Carreras, Jon Ducat, Amanda Penke, Thomas Ray and Red Schweitzer, Into the Woods, Legend High School
Josh Belk and Emily Hartlaub, Little Women, Palmer Ridge High School

---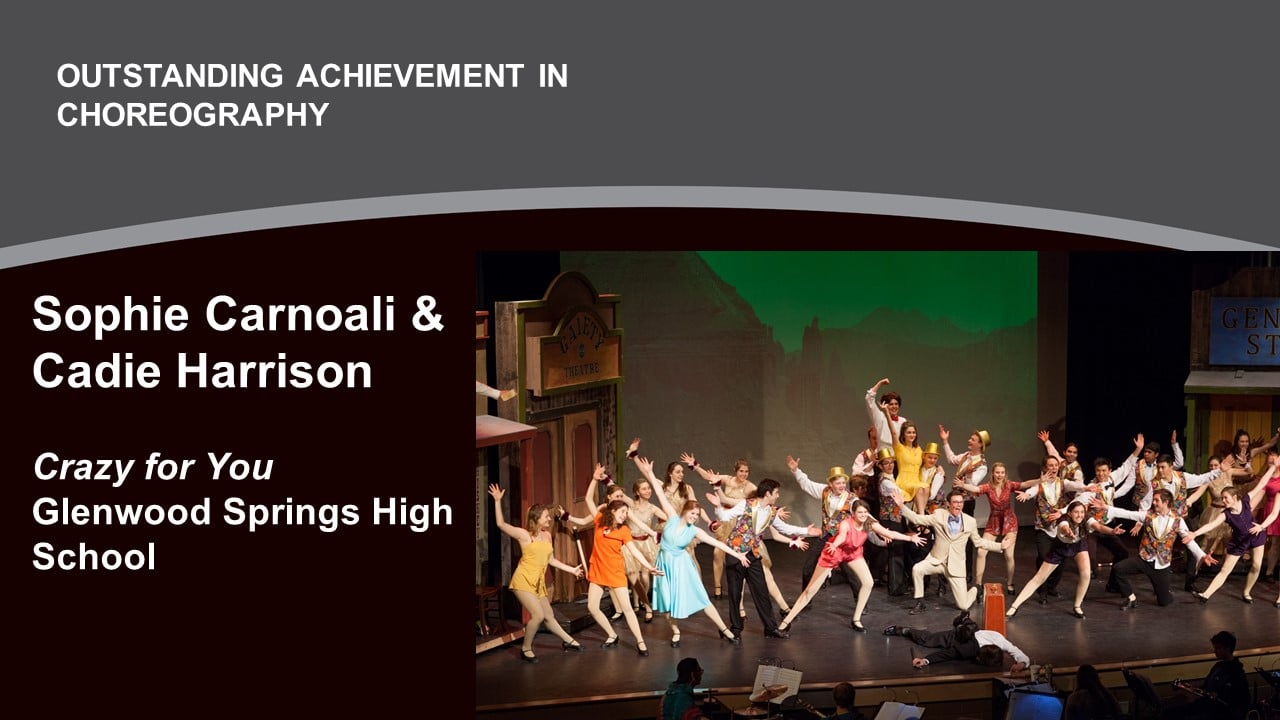 Outstanding Achievement in Choreography
Sophie Carnoali and Cadie Harrison
Crazy for You
Glenwood Springs High School
Other nominees:
Heather Westenskow, Rodgers + Hammerstein's Cinderella, Chaparral High School
Brandon Becker and Mara Osterburg, In the Heights, Denver School of the Arts
Andrew Cassel and Karen Cassel, Bring it On: The Musical, Fairview High School
Tammy Johnson and Rachel Miller, Crazy for You, Mountain View High School
---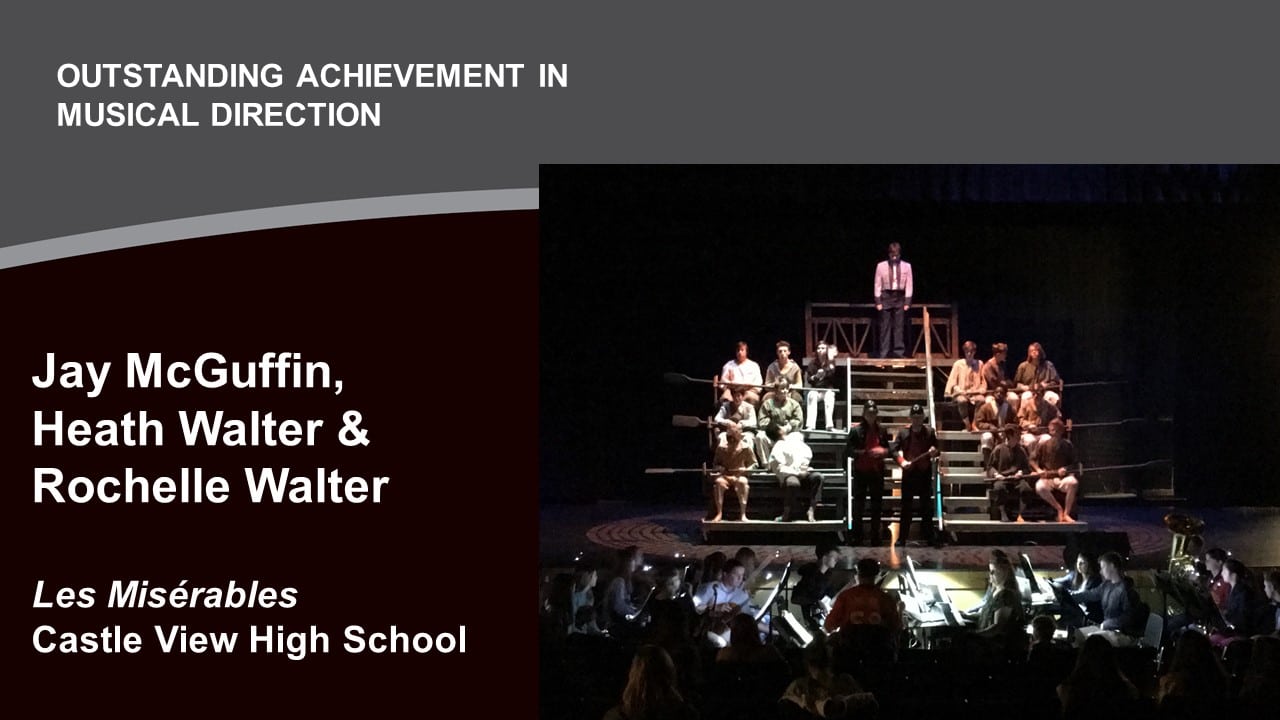 Outstanding Achievement in Musical Direction
Jay McGuffin, Heath Walter and Rochelle Walter
Les Misérables
Castle View High School
Other nominees:
Alan Davis, Once on This Island, Brighton High School
Gretta Hambrook, Dave Hammond, Ray Hootman and Robert Styron, In the Heights, Denver School of the Arts
Travis Keller, Zachary Strand and Janice Vlachos, Bring it On: The Musical, Fairview High School
Randal Hoepker and John Richard, Into the Woods, Vista PEAK Preparatory
---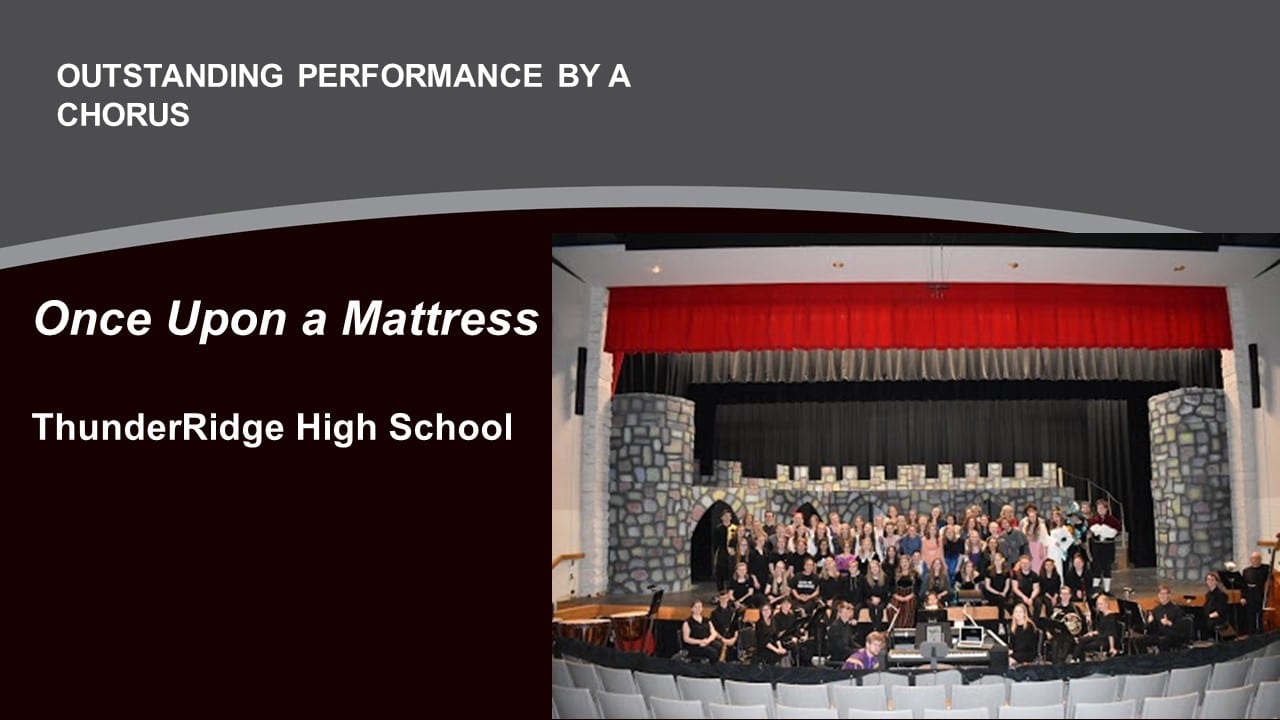 Outstanding Performance by a Chorus
Once Upon a Mattress
ThunderRidge High School
Other nominees:
Once on This Island, Brighton High School
Rodgers + Hammerstein's Cinderella, Chaparral High School
Bring it On: The Musical, Fairview High School
Fiddler on the Roof, Regis Jesuit High School
---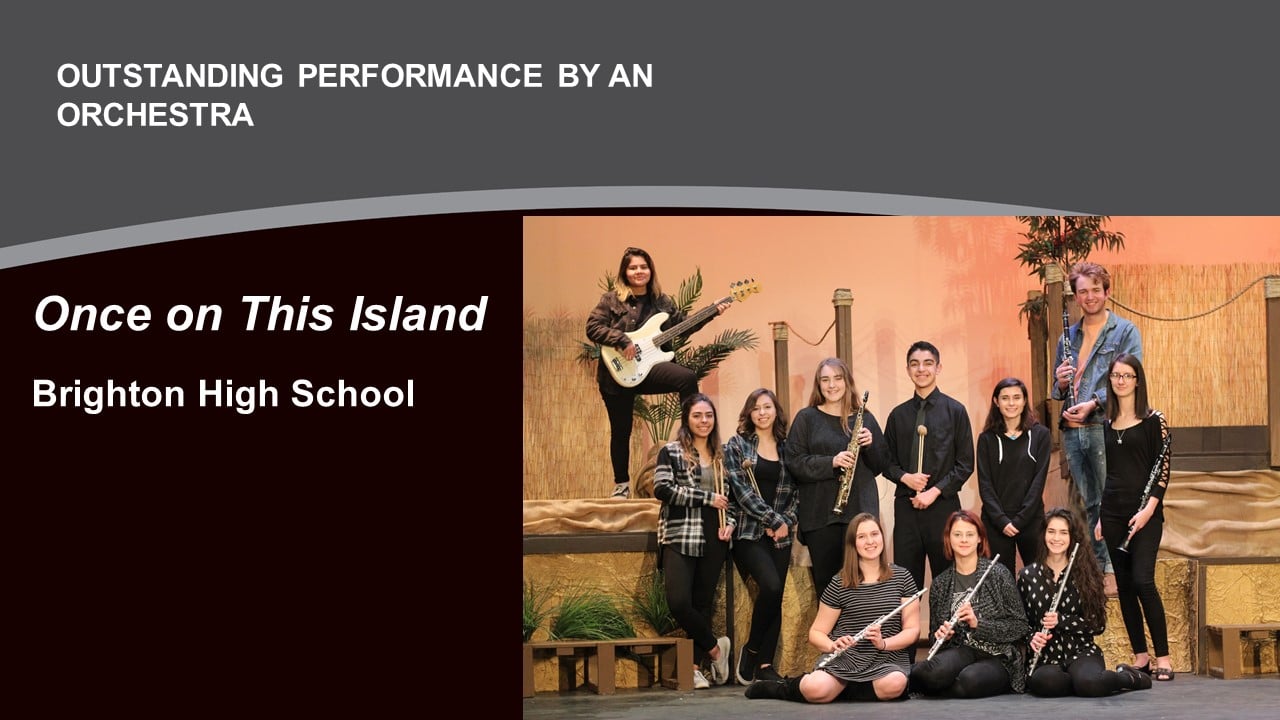 Outstanding Performance by an Orchestra
Once on This Island
Brighton High School
Other nominees:
Side Show, Boulder High School
Annie, George Washington High School
Sweeney Todd The Demon Barber of Fleet Street, Loveland High School
Into the Woods, Vista PEAK Preparatory
---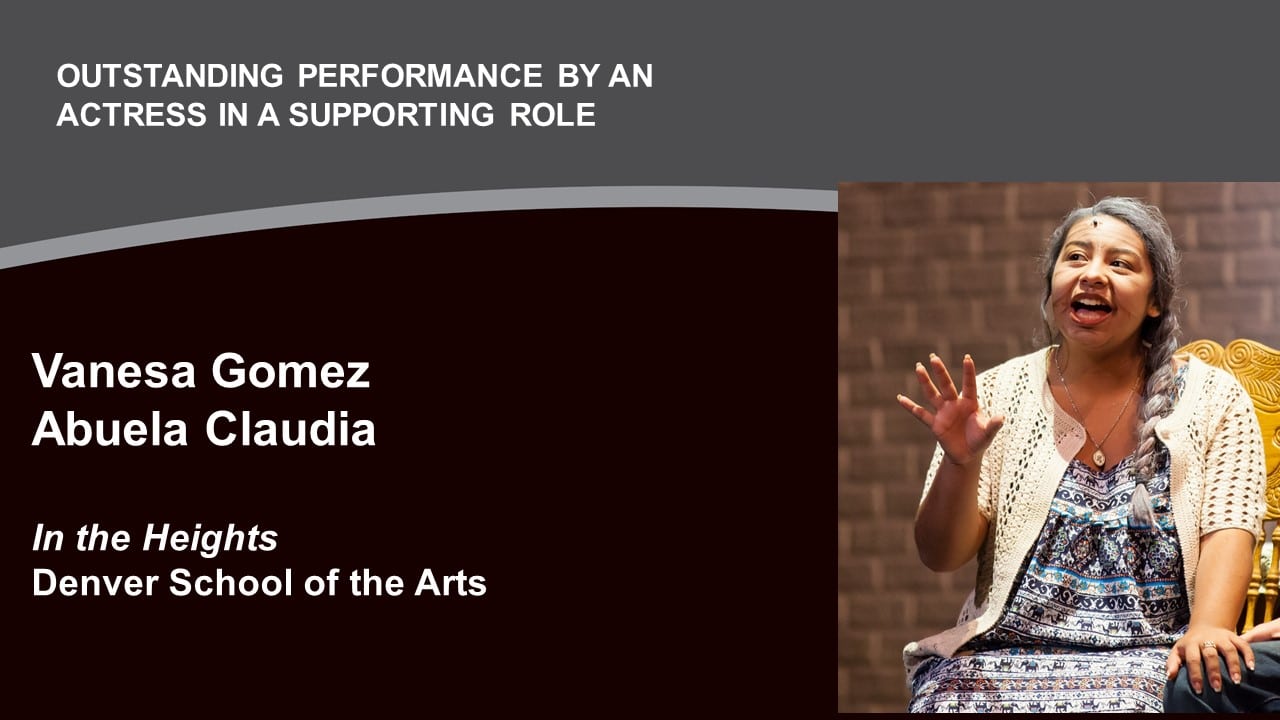 Outstanding Performance by an Actress in a Supporting Role

Vanesa Gomez
Abuela Claudia
In the Heights
Denver School of the Arts
Other nominees:
Gabi Meyer, Bridget, Bring it On: The Musical, Fairview High School
Megan Bean, Jenny Hill, Big Fish, Fossil Ridge High School
Rachel Miller, Tess, Crazy for You, Mountain View High School
Frankie Spiller, Aunt Eller, Oklahoma!, Palisade High School
---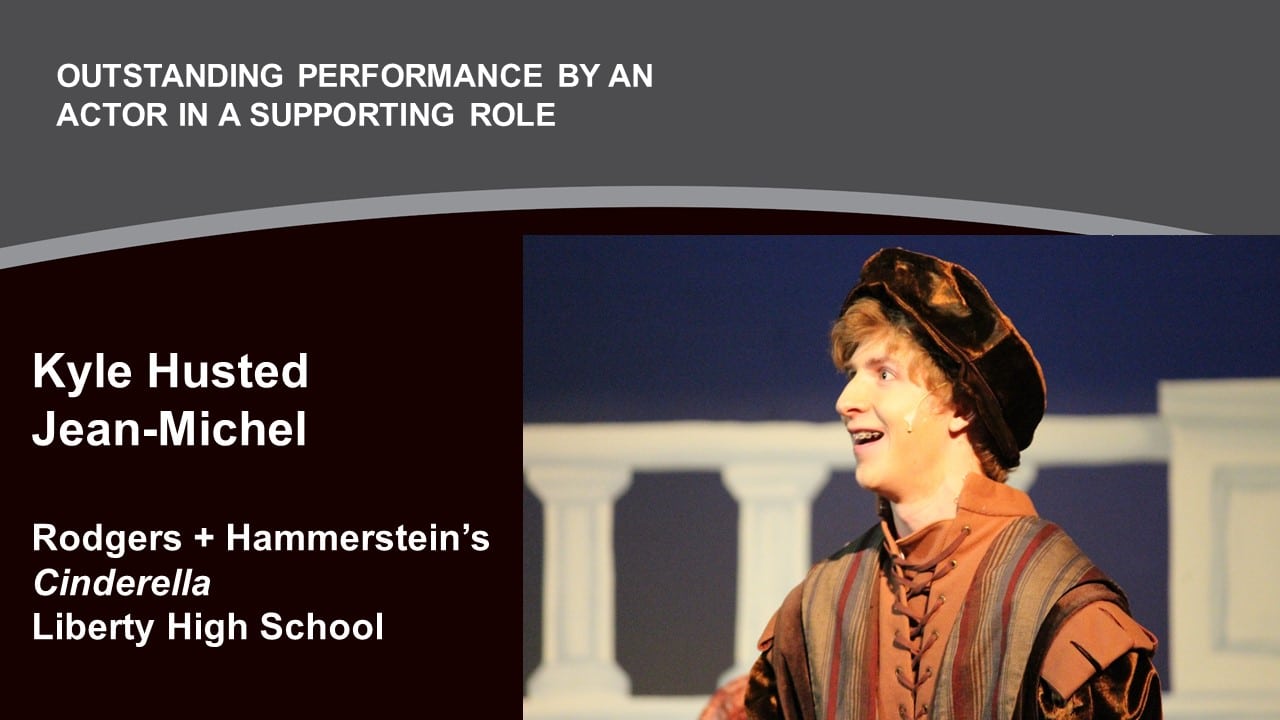 Outstanding Performance by an Actor in a Supporting Role
Kyle Husted
Jean-Michel
Rodgers + Hammerstein's Cinderella
Liberty High School
Other nominees:
Ryker Chavez, Papa Ge, Once on This Island, Brighton High School
Ethan Leland, La Cienega, Bring it on: The Musical, Fairview High School
Eli Pettit, Bella Zangler, Crazy for You, Glenwood Springs High School
Matthew Sewell, Benny Southstreet, Guys and Dolls, Wheat Ridge High School
---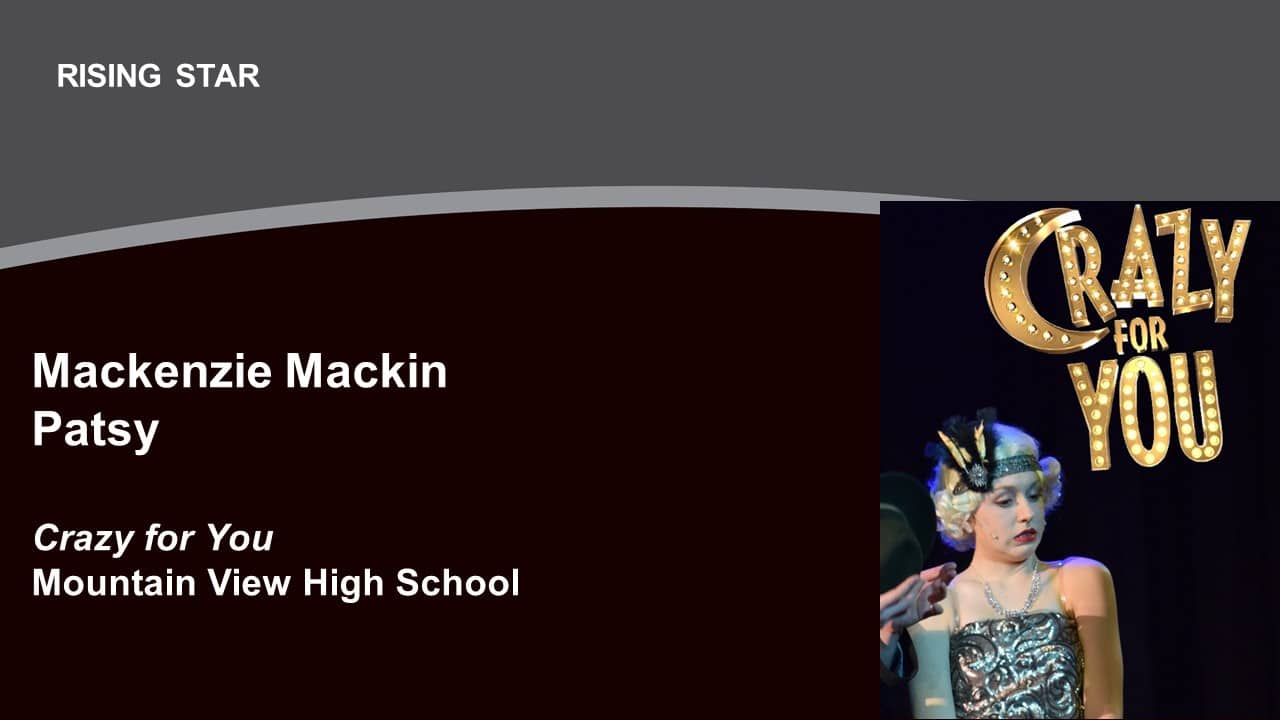 Rising Star
Mackenzie Mackin
Patsy
Crazy for You
Mountain View High School
Other nominees:
Spencer Gordon, Drake, Annie, George Washington High School
Johnathan Webster, Wyatt, Crazy for You, Glenwood Springs High School
Abe Soto, Ticket Agent, Honeymoon in Vegas, Lakewood High School
DJ Bashford, Rudolph Reisenweber, Hello, Dolly!, Ralston Valley High School
---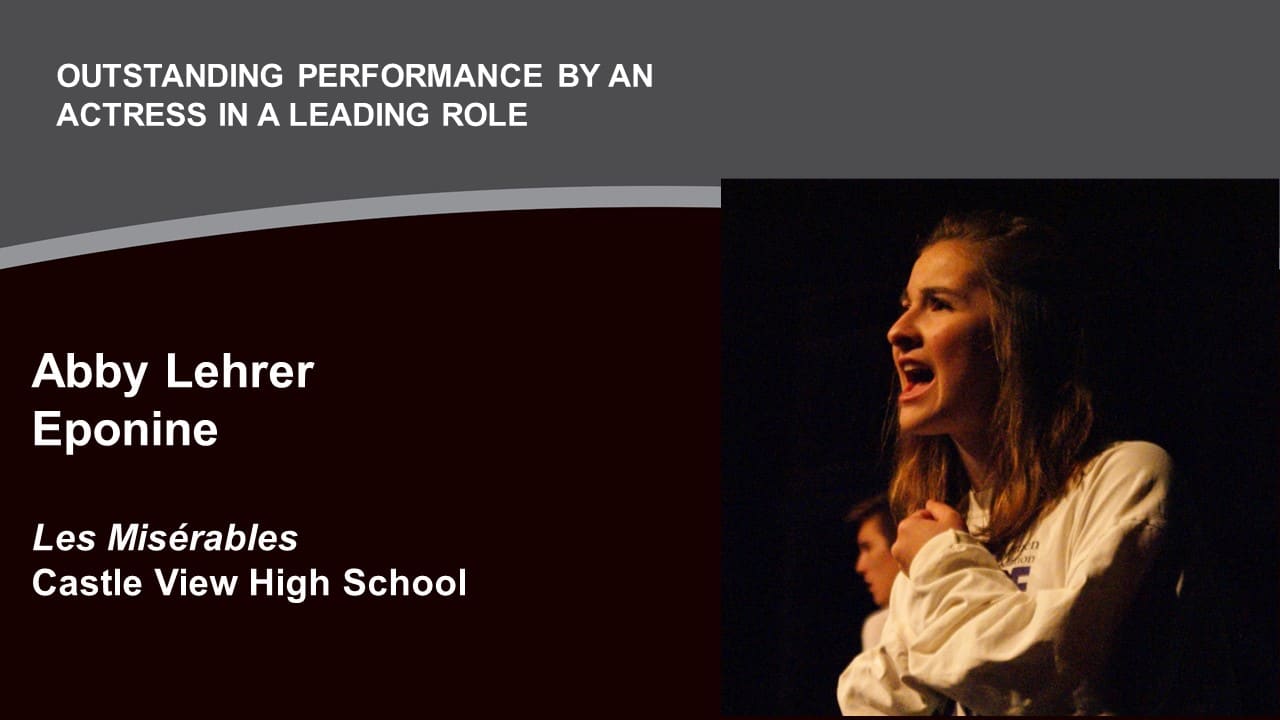 Outstanding Performance by an Actress in a Leading Role
Abby Lehrer
Eponine
Les Misérables
Castle View High School
Coco Justino, Camila Rosario, In the Heights, Denver School of the Arts
Daelyn Nace, Lady of the Lake, Spamalot, Fort Collins High School
Isabella McArdle, Ella, Rodgers + Hammerstein's Cinderella, Liberty High School
Dominique Smith-Lopez, Baker's Wife, Into the Woods, Vista PEAK Preparatory
---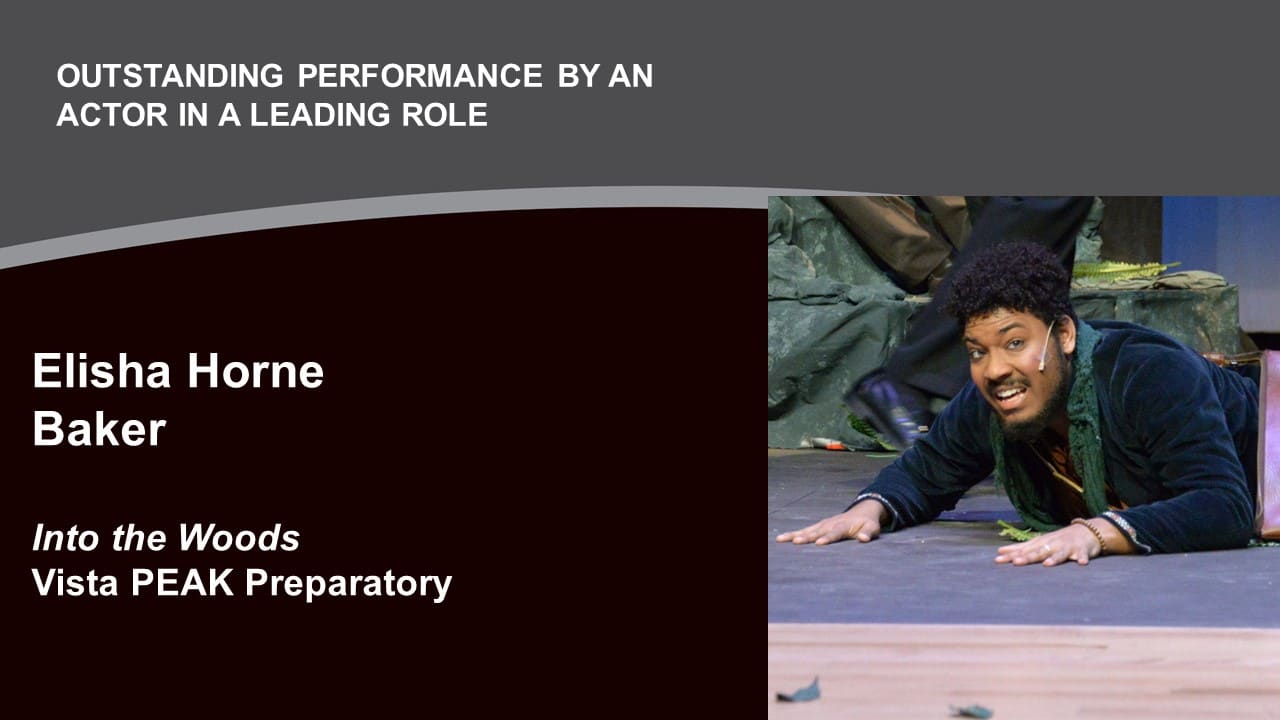 Outstanding Performance by an Actor in a Leading Role
Elisha Horne
Baker
Into the Woods
Vista PEAK Preparatory
Other nominees:
Anton Karabushin, Frederic, The Pirates of Penzance, Eaglecrest High School
Travis Turner, Edward Bloom, Big Fish, Fossil Ridge High School
Will Warner, Tommy Korman, Honeymoon in Vegas, Lakewood High School
Jeremiah Garcia, Emmett Forrest, Legally Blonde, Pomona High School
---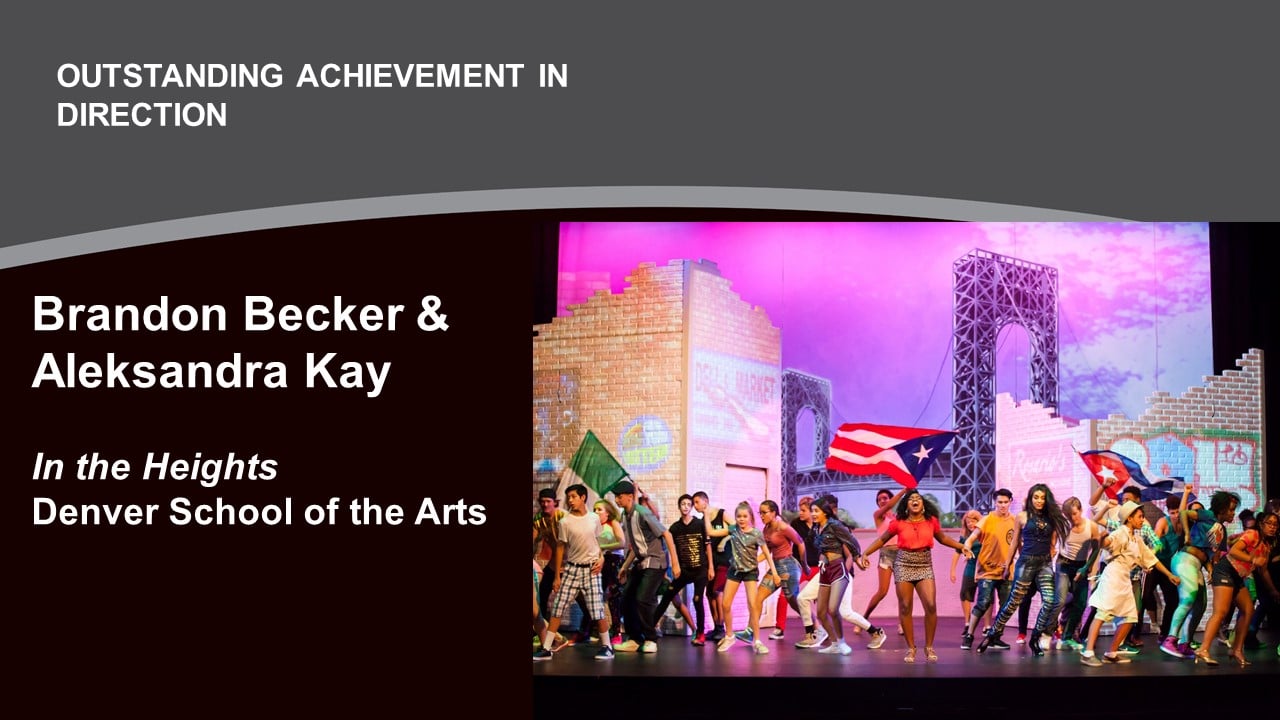 Outstanding Achievement in Direction
Brandon Becker and Aleksandra Kay
In The Heights
Denver School of the Arts
Other nominees:
Jane Archuleta, Gabby Doyle and Ayaka Hayashi, Once on This Island, Brighton High School
Michelle Leisy and Bennie Palko, Into the Woods, Legend High School
Katie Marshall, Crazy for You, Mountain View High School
Jesse Collett and Taylor Hulett, Legally Blonde, Pomona High School
---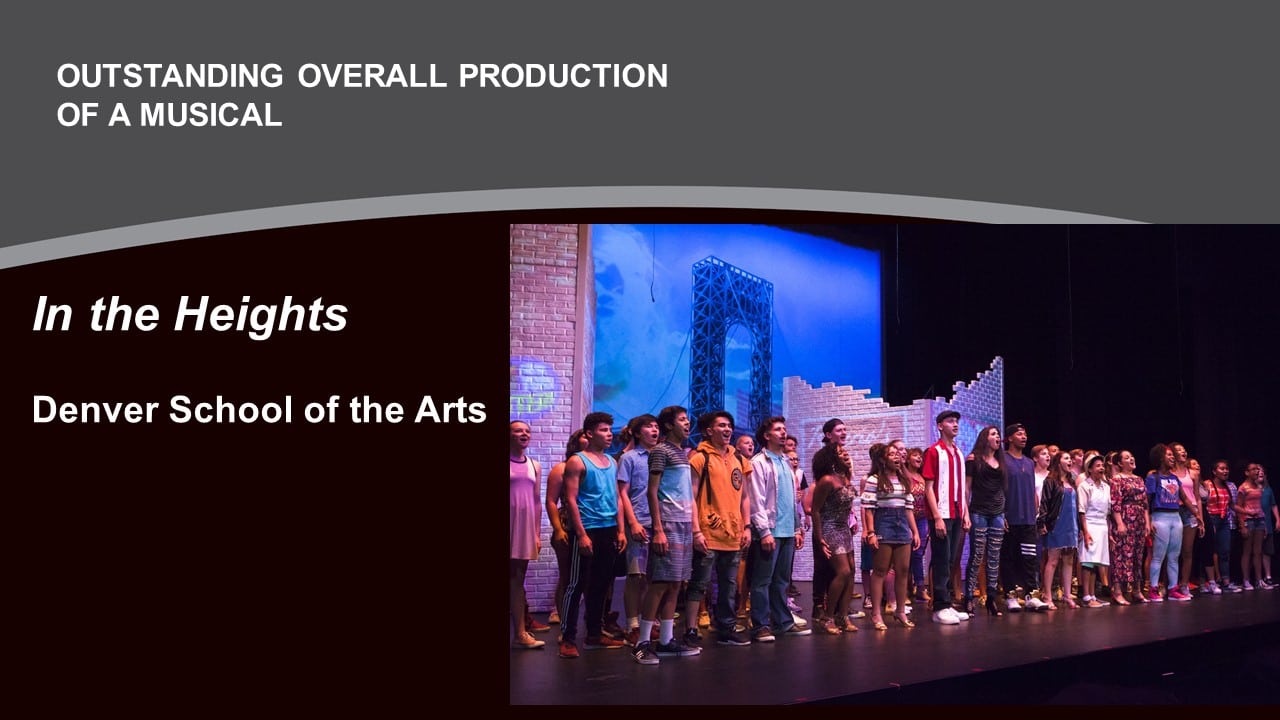 Outstanding Overall Production of a Musical
In The Heights
Denver School of the Arts
Other nominees:
Once on This Island, Brighton High School
Rodgers + Hammerstein's Cinderella, Liberty High School
Crazy for You, Mountain View High School
Into the Woods, Vista PEAK Preparatory
---
2018 SPECIAL ACHIEVEMENT WINNERS:
Special Achievement in Prop Management: Cody Charlton, Scott Kull and Rachel Ross; The Pirates of Penzance, Eaglecrest High School
Special Achievement in Sound Design: Jocelyn Baker and Kate Holeman; Into the Woods, Legend High School
Special Achievement in Projections: Addison Sandvik, Sweeney Todd, The Demon Barber of Fleet Street, Steamboat Springs High School
Selected recent coverage of the Bobby G Awards:
 Our series of featured Outstanding Chorus nominees:

Meet our nominated Outstanding lead actors and actresses:



Participating schools (with 2018 nominations in parentheses):
Arvada West High School
Boulder High School (1)
Brighton High School (8)
Broomfield High School
Castle View High School (3)
Chaparral High School (4)
Cherry Creek High School (2)
Doherty High School
Denver School of the Arts (6)
Durango High School
Eaglecrest High School (2)
Erie High School
Fairview High School (5)
Fort Collins High School (1)
Fossil Ridge High School (4)
George Washington High School (2)
Glenwood Springs High School (4)
Greeley West High School (2)
Heritage High School
Lakewood High School (2)
Legend High School (5)
Lewis-Palmer High School
Liberty High School (4)
Loveland High School (1)
Lutheran High School
Monarch High School
Montezuma-Cortez High School (1)
Mountain View High School (5)
North High School and STRIVE Prep Excel High School
Palisade High School (1)
Palmer Ridge High School (1)
Pomona High School
Ponderosa High School (2)
Poudre High School
Ralston Valley High School (1)
Regis Jesuit High School (1)
Resurrection Christian School (1)
Steamboat Springs High School (1)
ThunderRidge High School (1)
Valor Christian High School
Vista PEAK Preparatory (6)
Wheat Ridge High School (1)
https://www.denvercenter.org/wp-content/uploads/2018/05/featured-image-9435.jpg
393
800
John Moore
John Moore
2018-05-24 22:41:00
2019-05-21 22:20:58
2018 Bobby G Awards: DSA reaches the heights with 'In the Heights'