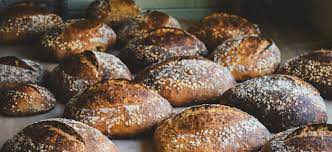 Bread Worth Stealing in Denver
For those who have not seen Les Misérables yet, we don't want to spoil anything, but let's just say that a loaf of bread is crucial to the entire story.
Is there bread in Denver worth risking it all for? Maybe just bread getting up early for or waiting in line for or trying again when they've sold out on your first visit?
Try these Denver area bakeries to find out what's worth your effort:
DENVER BREAD COMPANY
Denver Bread Company at 3200 Irving St. in the Highlands neighborhood was the go-to bakery for years and is always recommended. You'd walk in, feel the warmth of baking ovens, smell wheat or yeast or some specific ingredient and suddenly it was clear that you just needed more bread in your life. Alas, they announced they were closing and it just became Victory + Love Cookies…until the previous owner couldn't resist baking some more. Their bread is typically available by noon, they can sell out, and they won't reserve or hold you a loaf of anything at this first-come-first-serve bakery. You can call ahead to see if they are making a specific bread though. Their signature bread is the 3-lb. boule, and you can also dependably get sourdough, focaccia, and more. Bonus? Those cookies. You will forget every diet promise ever made after the first bite.
BAKERY FOUR
Often called "the best bakery in Denver" by those willing to stand in line for a croissant is the Bakery Four at 4150 Tennyson St., also in the Highlands area. They describe themselves as an "artisan leavened bread and pastry" bakery and for those in the know about flour, they use Cairnspring Mills and Camas Country flour. Cairnspring Mills is based in Washington and boasts of craft flours; Camas Country in Oregon claims to have brought back grain milling and they have artisan and whole grain flours. If you just want to window shop, go to Bakery Four's Instagram where they post mouth-watering baked goods, including classic country loaves, cruffins, and more.
REUNION BREAD
Reunion Bread is in The Source at 3350 Brighton Blvd. in the RiNo neighborhood and you can order ahead for takeout or delivery. You might find a perfect baguette — that soft crunch on the outside and mellow on the inside — or something more exotic like the cranberry walnut sourdough. Don't take my word for it: the owner/baker, Ismael de Sousa, was named as a semifinalist for a James Beard Award in 2023. It's like an international pastry bakery here with treats from Venezuela, Portugal, France and more countries. You can also get a quick bread, a vegan banana bread, here.
REBEL BREAD
If you can get there before 10am, when they typically start running low on fresh-baked goods, Rebel Bread at 675 S. Broadway is worth it. What's different about this bakery is that it's also a school for home bakers of all levels. Their website lists where their bread is sold if you want to find it in your own neighborhood grocery store or coffee shop, or which farmers' markets they will be at seasonally, and also a chance to sign up for a weekly bread club where you can customize your box for delivery. Is it the only local bakery with a podcast? Maybe. There's a big variety of bread here: artisanal sourdough such as street corn or seeded sourdough, chocolate or olive ciabatta, honey whole wheat, classic baguette, and pastries of all kinds.
RALEIGH STREET BAKERY
Raleigh Street Bakery is so specialized that you can only get their bread two days a week. This is a destination like no other for baked goods: it's at the home of the baker at 5245 Raleigh St. Under Colorado's cottage food law, anyone can sell bread like this, fresh from their own kitchen. You have to preorder for Tuesday or Friday pickup (Tuesday pickups are at Call to Arms Brewery during happy hour at 4526 Tennyson St.) and the bread choices change regularly. The psychology behind this exclusivity and unique process just makes me want their bread more. There are some constants on their menu such as the six-pack of pretzel rolls and a baguette, but the other bread changes week to week with choices including Einkorn Wheat, Buckwheat Wheat, Sunflower Rye, and more rotating in and out.
Just beyond Denver, you can find some pretty great bakeries to meet special preferences.
WAVE THE GRAIN
Wave the Grain is all about being gluten free, but not tasting like it. This is also the rare bakery that sells sliced bread and their menu provides other allergen information such as being corn free, dairy free, and more. Beyond the bread, there are other allergen-safe pastries and baked goods too. Wave the Grain has two locations: 8172 S. Holly St., Centennial and 8996 W. Bowles Ave., Unit T1, Littleton.
Whether you are gluten-free, need a good sandwich bread, or just want to try delicious pastry, start your tour of Denver's top bread bakeries today.
https://www.denvercenter.org/wp-content/uploads/2023/04/raleigh-street-bakery.jpeg
152
332
Mindy Sink
Mindy Sink
2023-04-06 09:40:54
2023-10-25 10:26:30
Bread Worth Stealing in Denver