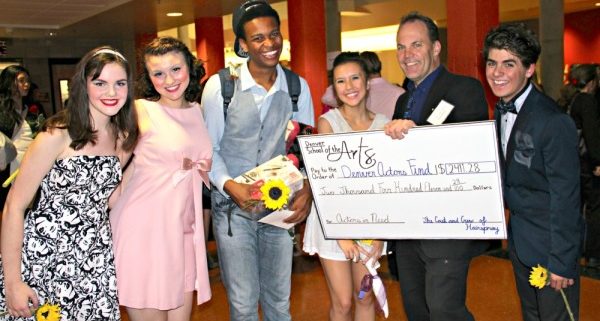 DSA students make remarkable, record donation to Denver Actors Fund
From left: Amelia Corrada (Penny), Madison Kitchen (Tracy), Jeremy Willis (Seaweed), Claire Willcutt, John Moore and Jimmy Bruenger (Link Larkin).
Twelve days before Denver School of the Arts was to open its fall all-school musical "Hairspray," cast members Jimmy Bruenger and his little sister, Damiana, learned their father, James, had died of a sudden heart attack.
Jimmy, a junior who plays Link Larkin, and Damiana, who plays Youth Council member Madge, decided the best way to honor their father was to go on with the show.
"He was one of the kindest and loving men, and I am so blessed to have had him as my dad," said Jimmy. "He was honestly beyond supportive, and always told me to follow my heart."
Not only did the Bruengers go on when the show opened on Sept. 12, Jimmy spearheaded the cast's philanthropic effort. Director Shawn Hann encourages her casts to designate a nonprofit organization for every production. The students chose Broadway Cares/Equity Fights AIDS. In the first weekend of "Hairspray" alone, they had collected more than $2,000 for the nation's leading entertainment-based fundraising organization to fight HIV and AIDS.
The next week, Denver actor Tom Borrillo was hired to teach two master classes at DSA as a guest artist. While there, he explained to the students that the reason he had limited mobility was because of recent emergency shoulder surgery. And he told them about the Denver Actors Fund, which had awarded him $1,000 to help off-set his nearly $15,000 in out-of-pocket medical expenses.
At that point, the cast decided to use all remaining performances of "Hairspray" to help raise money for the Denver Actors Fund.
Following Saturday's closing performance, Jimmy and his 90 castmates surprised Denver Actors Fund founder John Moore with a check for $2,411.28. The donation is the largest in the short history of the Denver Actors Fund. The gift also brings to more than $20,000 the total raised by the organization to date.

The Denver Actors Fund, founded by Moore and actor Christopher K. Boeckx in June 2013, offers financial and practical neighborly assistance including meals, transportation and child care to members of the local theatre community who find themselves in need resulting from sudden or ongoing medical situations. To date, the fund has helped actors, directors, artistic directors, stage managers and even props specialists facing a wide variety of crises. Moore is the former theatre critic at The Denver Post and is now the DCPA's Senior Arts Journalist.
"It is humbling when the youngest, healthiest members of our theatre community — students who are clearly in the prime of their lives — take the time and care to raise money for fellow members of the theatre community who are in far different stages of their lives," said Moore. "Fellow artists facing illness, loss or end of life."
The Bruenger siblings, prove, however, that tragedy and unexpected need know no age boundaries.
Jimmy Bruenger said he and his sister got the strength to keep going with "Hairspray" in part because of a massive show of support from friends and family, known and unknown.
But Jimmy was particularly blown away to receive encouragement from none other than "Hairspray" composer Marc Shaiman:
To Jimmy Bruenger: Hello, Jimmy. I've heard from my pal Gregg Sherman that the Denver School Of Arts is putting on a fantastic production of "HAIRSPRAY." I also heard you just lost your Dad. Jimmy, I'm sorry you've suffered this loss, and at such a young age. I was in my late 40s when my father died in 2007. I found, as I'm sure you are finding, that everything I did I would say to myself "This is the first time I am _______ without my father still alive." Whether it was walking down the street back in NY, or seeing a show, I kept keeping this list in my head. I was lucky that, when I got back to NY, I was able to go to The Neil Simon Theatre and feel the warmth of the HAIRSPRAY family (as the show was still running). Before the show, at the pre-show circle, I told them it would be the first time I was seeing the show since my Dad had died. That night I watched from the pit. During the curtain call, when Tracy says "Let's dance!" the actress said "for Bill Shaiman." Man, I lost it…sat there sobbing from both grief and for the feeling of love I was so lucky to be bathing in there with my HAIRSPRAY family. Jimmy, I hope you are having a similar situation there, being helped along by your newest family as you come to terms with the change in your own. I know I am, right now, re-experiencing it all just from writing you about it. Just let it all out and take it all in, both the pain and the joy. It's all there, as his spirit always will be too, right there within you. I hope you don't mind me writing you this letter out of the blue. And thank you for using your talent, heart and soul to lift the audience with our little show. All My Best, Marc
"Marc is so kind," Bruenger said after receiving the note. "He honestly helped remind me why I love what I do."
​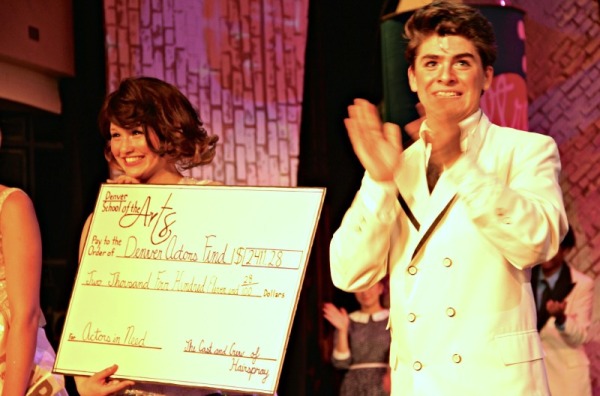 In response to the surprise donation from DSA, Moore has invited the cast of "Hairspray" to perform a number of its choice at "Miscast 2014," a benefit for the Denver Actors Fund that will be presented at 7 p.m. Monday, Sept. 29, at the Aurora Fox Theatre.
Denver School of the Arts is a comprehensive secondary arts magnet school covering grades 6-12 the the Denver Public Schools district. In addition to a rigorous academic program, students engage in intensive studies in Creative Writing, Dance, Music, Stagecraft and Design, Theatre, Video Cinema Arts, and Visual Arts. DSA is committed to fostering a lifelong love of the arts in a culturally diverse, academically challenging environment.
To learn more about the Denver Actors Fund, click here
To read testimonials from artists who have benefited from the Denver Actors Fund, click here
To donate to the Denver Actors Fund, click here
To apply for aid from the Denver Actors Fund, fill out this brief online form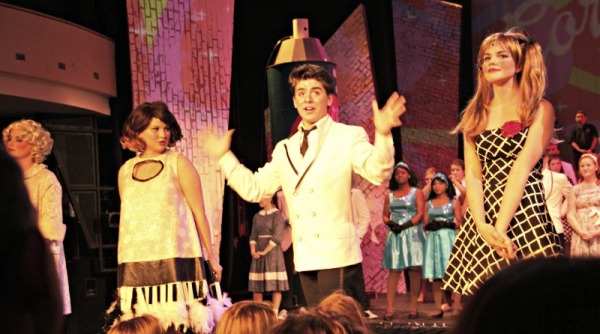 Jimmy Bruenger announces the "Hairspray" cast's surprise donation to The Denver Actors Fund.

"Hairspray" Director Shawn Hann, left, with Denver Center for the Performing Arts Teaching Artists Allison Watrous and Jessica Austgen.

​

Denver Actors Fund founder John Moore with Jimmy Bruenger and Damiana Bruenger.
https://www.denvercenter.org/wp-content/uploads/2018/04/featured-image-1358.jpg
358
600
John Moore
John Moore
2014-09-23 15:51:00
2014-09-23 15:51:00
DSA students make remarkable, record donation to Denver Actors Fund