Eboni Boneé Coleman Explores Faith and Love in "We Believe in God, Too"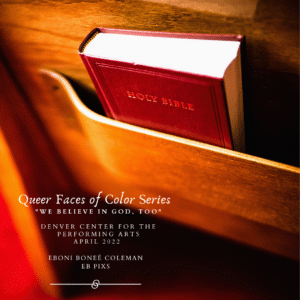 In the Black community, religion and spirituality run deep in African traditions. The Black Church is a melting pot that enslaved people from different African communities created to combat a system designed to crush their spirit. Other Black American spiritual practices like Hoodoo, Yoruba, and Obeah spring from ancestral African roots as well. Belief in a higher power held and continues to hold an integral role in the fight for freedom and a better future for Black communities. 
Though based in community, religion and spirituality practices are personal. Many people crave these connections on a very human level. What would you do if the spirituality you practiced, or a religious institution didn't accept you for who you are? 
Artist Eboni Boneé Coleman, EB, poses the question, "Why is it that our faith in God is questioned if our sexual orientation doesn't align with the heteronormative perspective?" 
The exhibit "We Believe in God, Too" is the second installation in a series by EB called Queer Faces of Color. This photography exhibition will be displayed at the Denver Center for the Performing Arts (DCPA) in the upper ring of the Kilstrom Theatre, our distinctive theatre in-the-round, to complement the DCPA Theatre Company production Choir Boy. This connection was made through the DCPA's partnership with Black Pride Colorado, whose mission is to acknowledge, uplift, and empower the Black LGBTQIA+ community. 
As viewers move through the exhibit, they will learn about historical components within Black culture, focusing on religion and spirituality, exploring intersectionalities between faith and love. They will also witness personal stories from queer members and allies within the Black community. "I wanted to highlight these stories," explained EB. "Since I myself hold the identities of being queer and Black, I center my work around those identities as well." She incorporates a message of peace, communicating that the LGBTQIA+ community can still hold space in these religious and spiritual realms despite literature that says otherwise. "It's an ongoing journey, identifying as a spiritual or religious Black person," EB proposed, "but queerness, religion, and spirituality can coexist."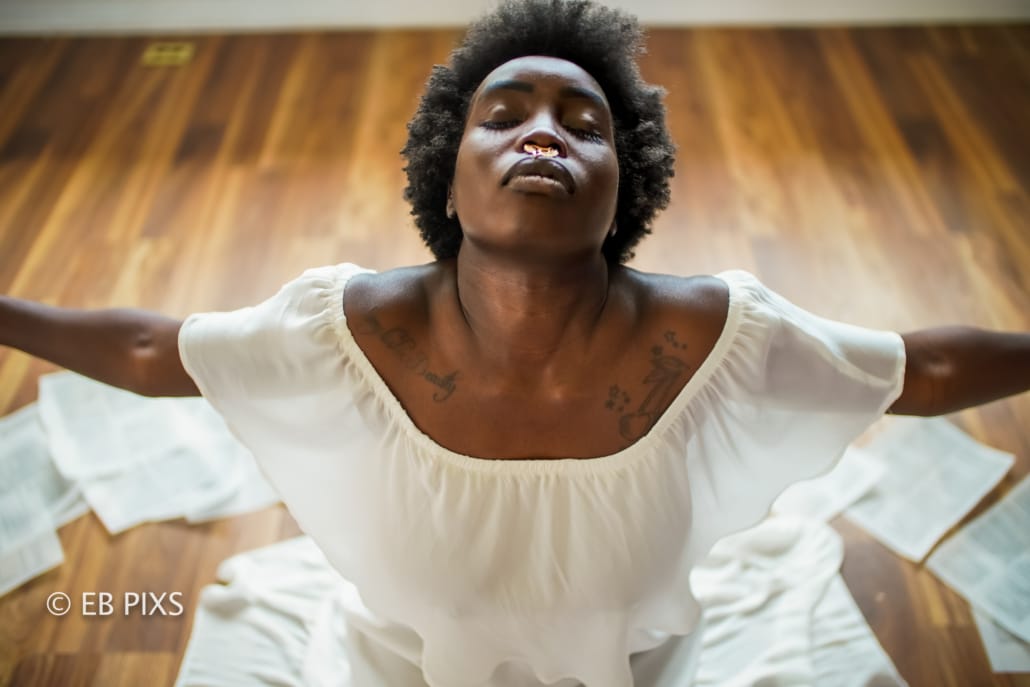 This series holds a special place in EB's heart after her own struggle between her relationship with God and her identity. After growing up in the Baptist church, she found the Bible was no longer resonating with her. "I was doing research for myself, and I found the Bible has been changed by man over the centuries," said EB. "Within Black history, the Bible has been tainted for these communities to believe a certain calling; to abide by these masters they were given." But EB's art and self-discovery proved healing. "I don't need to be in a church, I don't need anyone to tell me how to have a relationship with God in order to have one." 
But not everyone has the same experience.  
EB is passionate about empowering the queer community and bolstering their faith. "You can be queer and still believe in God," she stated, "even though, as a queer person – especially within the Black Church – we are told it is wrong to live your life that way." EB hopes that "We Believe in God, Too" will start conversations whether viewers identify as a member of these communities or not. By sharing these stories, EB hopes to promote peace, encourage other members of the Black and queer communities to share their experiences, and prompt viewers to question why they believe what they believe. "Sometimes you need the photo or the person or the musical number to start asking questions," said EB. 
"We Believe in God, Too" will be on display in the Kilstrom Theatre from April 21 through May 29, 2022. Viewers will journey upon six different paths through a photograph and scannable QR code featuring more information. After viewing the exhibit, audiences can enjoy a Choir Boy performance. Tickets to Choir Boy can be purchased on the DCPA website. 
https://www.denvercenter.org/wp-content/uploads/2022/04/WBIGT-PROMO-IMAGE_.jpg
3448
5168
Emma Hunt
Emma Hunt
2022-04-18 11:25:50
2022-04-18 11:25:50
Eboni Boneé Coleman Explores Faith and Love in "We Believe in God, Too"