A Shining Heart: The Legacy of First Hand Cathie Gagnon
It just doesn't sound the same in the Denver Center's costume shop these days.
"It's very quiet now," Director of Costumes Jan MacLeod said as her team continues to process the July 19 passing of stitcher Cathie Gagnon, an open and outgoing fixture in the DCPA Theatre Company family for the past 30 seasons.
They miss the banter. The chatter. The camaraderie. The opinions on everything from politics to traffic to the weather to, well…everything.
"Cathie was very talkative and open and outgoing," MacLeod said. Costume Crafts Director Kevin Copenhaver called Gagnon a super-gregarious woman who livened up the room.
"I so miss that now," said MacLeod.
It also doesn't smell the same.
Gagnon baked everyone in the shop a birthday cake, MacLeod said. That's a lot of birthdays, but Gagnon not only knew them all, she knew everyone's favorite kind of cake. Red Velvet for Copenhaver. Cookies for MacLeod. Gingerbread for her supervisor, the now-retired tailor Sheila Morris. (Even if hers took months and multiple failed attempts to come up with the perfect gingerbread recipe.)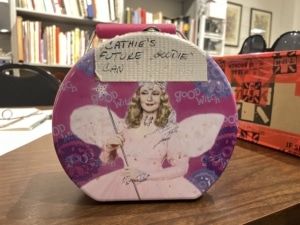 "Cathie didn't know a stranger," Copenhaver said. "The first thing she said to any new person  was: 'Welcome to the fold. You are one of us. Now…when's your birthday?' "
No matter who you were, or at what level you worked, you got that cake. Even if you were an "overhire" – a term for temporary workers who are brought on only briefly to help MacLeod meet an imminent deadline.
Maybe Gagnon had a "sweet" spot for the overhires on the crew because she started out as one herself.
Gagnon, who called herself Zazu, was born June 20, 1948, in Colorado Springs and grew up in Denver. She graduated from Bishop Machebeuf Catholic High School and studied Anthropology at Metropolitan State University Denver. She was an entrepreneurial, independent and fearless single mother working lots of odd jobs involving sewing and alterations the 1991 afternoon she showed up unannounced at MacLeod's office door with her resume (and best friend) in hand. No appointment (and apparently no security), no matter.
"They were just so cute," MacLeod said. "Cathie told me she always wanted to work at the Denver Center and was interested in part-time work." But when the conversation organically shifted to their mutual love of Jazzercise, MacLeod was sold. "That's basically how she got the job," she said with a laugh.
Gagnon started out as an overhire on one show – Tartuffe – "and she was good, so we kept her," MacLeod said.
Her challenge for that first show was to add velvet ribbon to make the curved hem of actor Jim Baker's black vest look striped. And she passed. MacLeod hired Gagnon as a seasonal full-time employee on February 17, 1992. Because the DCPA Theatre Company is not fully operational year-round, most creative employees are hired on seasonal contracts that, in any given year, can run for as few as six months or as many as 11.
Morris knew Gagnon had staying power after A Midsummer Night's Dream in 1994. Her major task, Morris said, was to make "miles and miles of piping" – that's the flexible edging on some shirts that looks kind of like a small, rubber straw.
"I handed her a whole lot of cording and bias tape (think stretchy fabric strips) and said, 'I need you to make me 300 yards of piping,' " Morris said. "She just laughed, like I was joking. And I told her, 'This is just the beginning – there will be more.' " But, Morris admitted, "It really was a ridiculous amount of piping."
Gagnon was a stitcher, but her official job title was "First Hand," an industry reference to team members who lay "first hands" on costume pieces and put them all together. Essentially how it works is this: Once a designer sketches a costume piece, a tailor like Morris develops the fabric patterns for the piece. The tailor then hands over those completed patterns to a stitcher like Gagnon. Because every costume shop team member has a hand in every show, MacLeod estimates Gagnon probably contributed to as many as 300 Theatre Company, Cabaret and Off-Center productions.
Gagnon had a (first) hand in creating many iconic pieces over the years, including Sam Gregory's colorful tights with the signature cross-garters as the hapless Malvolio in Twelfth Night (2019). "She was very proud of that one," Morris said. Another was Gregory again in a bold plaid checkered jacket playing Lucio in Measure for Measure (2006). "The challenge there was cutting out the fabric in such a way that the stripes were in the same place and the plaid matched on both sides," Morris said.
Gagnon also took great pride in stitching Shawn King's coat, vest and pants for Sweeney Todd (2016). He's the drummer from the band DeVotchKa who played (and got eaten) in every performance.
"You could say the theater was in her blood and her heart shined with every costume she made," said her son, Peter Gagnon.
Morris said Gagnon was always interested in learning and doing more than stitching. "In most cases, I could hand her a project and just ignore her while I went about doing other things," she said.
Gagnon, MacLeod agreed, "could do a little bit of everything." She helped take actor measurements – sometimes as many as eight fittings in an hour. Most probably don't realize that a costume shop makes two versions of every costume piece. The first is kind of a practice version made from muslin, a plain and inexpensive cotton fabric. Gagnon was always helping out by washing and ironing mountains of fabric – muslin and otherwise.
In everything Gagnon did, "she was consistent, reliable, patient – and relatively cheerful," Copenhaver said with a smile.
Whenever the costume department is called upon for special tasks, like dressing CEO Janice Sinden in a Victorian gown for the Denver Public Schools Shakespeare Festival, or Trustee Judi Wolf in a pink ballgown for an educational fundraiser, or former CEO Dan Ritchie in drag to call attention to the Theatre Company's world premiere play The Legend of Georgia McBride, Gagnon was always there to make it happen.
Just a few weeks before her death, she took on the rather massive purging project of reorganizing the bins where all the department's spare fabric is stored. She even added lights to the bins – "and they look amazing," MacLeod said.
"Cathie's talent was clearly illustrated in her work," Sinden said. "Her loyalty and dedication were demonstrated over three decades, and her loving and lively spirit was shared through the friendships with her colleagues each and every day."
They miss it all – even "The Water Speech." The one every actor who was new to Denver heard when they came in for their costume fitting. The one everyone in Gagnon's proximity heard so many times they could repeat it in their sleep. It went something like this: "You're at altitude, so drink lots of water. If you get a terrible headache, drink more water. And take it easy on the alcohol: You will be an easy drunk in Denver."
"It was like a broken record," Copenhaver said with a laugh.
Outside of work, Gagnon walked every morning and always seemed to have a book with her. She loved cooking, classical music and shopping with her sister, Martee. "They liked to drink wine together, although very different tastes with Martee loving red and Cathie loving German white wine – Riesling, to be exact," Morris said. She loved dragonflies and owls, but most of all she loved her large family, including three grandchildren and many nieces and nephews.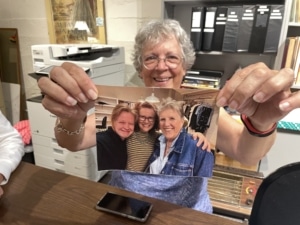 Gagnon's death from a heart attack was tragic on every level. The DCPA isn't like most businesses, where workers quickly come and go. MacLeod, Copenhaver, Morris and Gagnon represent more than 150 years of history in the DCPA costume department. When someone like Gagnon is suddenly gone, it leaves an irreplaceable hole.
But, far more consequently, it is a tragedy for what she had coming up in her own life. Gagnon was always fiercely proud of being a single mother to her son, a filmmaker and visual-effects specialist living in Spain. She also essentially raised two of his friends who were in poor family situations, Morris said.
"Cathie had just gotten knee-replacement surgery, and she was working hard to get rehabilitated in hopes of being able to go and visit Peter and her grandchildren in Spain in a few months," MacLeod said.
On his Facebook page, Peter wrote he had no words to convey his monumental loss. "Just memories, thoughts, whispers, smells, sounds, echoes. …
"You were the best," he wrote, "and you did it all by yourself."
Gagnon is survived by her son, Peter Gagnon (Catalina), and grandsons Flynn, Rhys and Drake. The family is requesting that memorial contributions be made to The Denver Actors Fund, which has made more than $1 million available to help Colorado theatre artists pay their medical bills.
https://www.denvercenter.org/wp-content/uploads/2022/09/IMG_0500.jpg
1650
2252
John Moore
John Moore
2022-09-22 09:09:05
2022-09-22 09:14:12
A Shining Heart: The Legacy of First Hand Cathie Gagnon