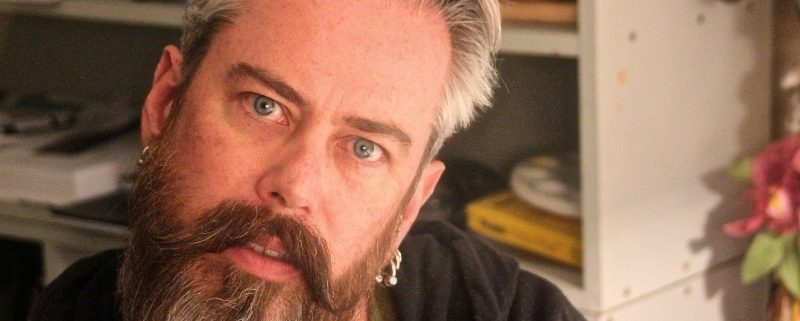 Art and artist: Kevin Copenhaver tips his hats to Broadway's 'Doctor Zhivago'

Kevin Copenhaver. Photo by John Moore.
There is not a more easily identifiable employee of the Denver Center for the Performing Arts than Kevin Copenhaver with his full silvery beard, layered mustache, tattoos and barbell-pierced ears.
Copenhaver has a style all his own. On his face. On his skin. And in his work as both Costume Crafts Director and a resident Costume Designer for the DCPA Theatre Company.
Ironically enough, Copenhaver owes much to the bullies back home in Ohio for both his personal style, and the man he has become.
"Growing up, I was a really fat kid," said Copenhaver, who was relentlessly teased in school. "My senior year, I just decided: 'If you are going to make comments about the way I look … I'll give you something to look at.' "
Copenhaver worked hard and lost weight. He colored his hair. Got his first ink. Pierced his ears.
"I wanted to have some control over what was happening," he said. "So that was my way of saying, 'You can make fun of my purple hair, because I made the choice to color my hair. But don't make fun of me for being fat, because I didn't make the choice to be a fat kid.' "
The skinny exhibitionist who has emerged is now completing his 24th season with the DCPA Theatre Company, and it is culminating with a major career milestone: Copenhaver was hired to build 16 hats for the Broadway production of Doctor Zhivago. It's an adaptation of the epic 1957 novel by Boris Pasternak that follows a turn-of-the-century Russian poet who falls in love with a political activist's wife and experiences severe wartime hardships.
Sophia Gennusa, left, wears a hat by Kevin Copenhaver in Broadway's "Doctor Zhivago." Photo by Matthew Murphy.
Copenhaver has worked on many national tours including the Denver-born Book of Mormon and The Lion King. But when Doctor Zhivago officially opens on Tuesday, it will be the first time Copenhaver's work will have been seen on Broadway.
And he has the DCPA's launching of the new The Unsinkable Molly Brown last fall to thank for it. Paul Tazewell, the show's New York-based Costume Designer, called on Copenhaver to help pull off that high-stakes world premiere here in Denver. And Tazewell called on him again, out of the blue, in February, to help him out with Zhivago.
"We were running into a great challenge in Manhattan because the shops were so overbooked with upcoming Broadway openings and national tours, and no one could take on as much work as we needed," said Tazewell, who has five Tony Award nominations. So he called Copenhaver.
"Kevin is a wonderful artist, and I trusted that he could work long distance with me because that's exactly what he did for me on Molly Brown," Tazewell said.
The task: Build 16 hats from two different Russian periods: 1903 and the 1930s. The style, Tazewell said, is similar in period to Molly Brown.
"When you see hats from 1903, you often just see lots of flowers. But 1903 hats were more than that," Tazewell said. "There were flowers and ribbons and all kinds of bows. Kevin's work is beautiful and beautifully finished. He gave me exactly what I was looking for and more."
Copenhaver said it was a creatively liberating project because Tazewell doesn't design down to the tiniest little detail and then ask you to simply mimic what he has drawn. He sent Copenhaver research photos of the period and sketches of what he had in mind, and then gave Copenhaver freedom to create.
"And then one day, boxes started arriving with fabric and feathers and trims with a note that said, 'Here's what you need for this actor – make me a hat,' " Copenhaver said.
He then built a "mock-up" of each hat. (Think of it as rough draft.) He sent those back to New York, where they were fitted for each actor. Tazewell then asked for small revisions, such as, "Can we make this a half an inch higher?" or, "Can we switch this brim?" From that direction, Copenhaver built the actual hats.
"Kevin was really a life-saver," Tazewell said. "I am grateful for his work, and I am honored that I can help showcase his work in this show."
Copenhaver describes the unexpected assignment as "sort of surprising," but it didn't occur to him that making his Broadway debut is sort of a big deal until he started telling friends about it. "The people I told that I got this gig seemed more excited than I was at first because, you know, it's really just building some hats," he said. "But the more I think about it … yeah, it's pretty cool."
He now thinks of the assignment as not only an affirmation of his body of work, but of the DCPA itself. And he hopes this is just the beginning of a beautiful relationship with Tazewell.
"I absolutely plan to stay here at he DCPA – this is my home," he said. "But if Paul wants to throw some stuff my way every now and then, that would be great."
Copenhaver's work will be seen locally next at the Town Hall Arts Center, where he is designing costumes for Young Frankenstein, directed by Nick Sugar and featuring Annie Dwyer. It opens May 15 (303-794-2787 or click here).
​
Kevin Copenhaver's hats for "Doctor Zhivago" in process. Photos courtesy Kevin Copenhaver.
We took the opportunity to reflect further on Copenhaver's 24 years at the DCPA. Here are excerpts of our conversation:
John Moore: When did you move to Colorado?
Kevin Copenhaver: I moved here in September of 1990 for the job here at the DCPA. I was hired by Jan MacLeod to run the costume crafts shop for the 1990-91 season.
John Moore: What's the difference between a Costume Designer and a Costume Crafts Designer?
Kevin Copenhaver: The crafts shop builds "things," like hats, mask, armor and that kind of stuff. Not the dresses. Jan is the Costume Shop Director.
John Moore: But you design costumes here as well.
Kevin Copenhaver: Yes, I think I've designed 29 shows here, including A Christmas Carol five times. Once I designed five shows in one season.
John Moore: So how does a crafts artist end up designing costumes?
Kevin Copenhaver: The first show I designed here was A Servant of Two Masters. (Then Artistic Director) Donovan Marley put that in the season specifically because I had gone to Italy and studied the commedia dell'arte. Initially the thought was, "Kevin will do the masks for this show." And then they decided, "No, you should just design the show." So that was the start of that. A year or two later, (Resident Costume Designer) Andrew Yelusich and I co-designed Pierre. Then the former Production Manager started slotting me in to design shows as a regular costume designer.
John Moore: Can you name a show that has been a personal favorite?
Kevin Copenhaver: Oedipus Rex. I really love Greek tragedy, so it was exciting to get the chance to work on an authentic production with all the masks. Also, Andrew was clinging to life at that time, and we became really good friends. It was just a very emotional time for me to be doing this huge Greek production while I was losing the person I most considered to be my mentor. I was very proud of how that show turned out.
John Moore: What will your 25th season at the DCPA mean to you?
Kevin Copenhaver: It's kind of astonishing to me that it has been that long already. When I initially got the job, I was in the gypsy mode, as a lot of us are when you first start out. So it just didn't occur to me that this would become home. It's kind of unheard of in this industry. So I am an anomaly.
John Moore: When did you know this place was home?
Kevin Copenhaver: Probably after my third or fourth season. We were doing some really interesting stuff. This was a very supportive place. And I wanted to keep working with Andrew.
John Moore: So what's your next tattoo?
Kevin Copenhaver: My mom died two summers ago. I would like to tattoo something that is symbolic of her – but I also want to weave something of myself into it as well.
John Moore: Is your father still alive?
Kevin Copenhaver: Yes. He is a retired preacher, and he certainly did not approve of a lot of things I did in terms of my appearance. He used to harass me because I had really long hair. But when I was visiting him one day in Ohio after my mom passed away, we were just hanging out and he told me that he was jealous of my beard.
John Moore: Really?
Kevin Copenhaver: Oh, yeah. He said, "I always wanted whiskers … but I could never grow any." I thought that was sweet.
John Moore: I don't think I have ever seen you clean-shaven.
Kevin Copenhaver: I have had some form of facial hair since college.
John Moore: How come?
Kevin Copenhaver: I just feel like I look better with facial hair.
John Moore: And how do you describe your personal style?
Kevin Copenhaver: I was a freshman in high school when I discovered alternative music. I was at a party and somebody put on the B-52s' "Rock Lobster," and it changed my life. I am not kidding you. At the time, that was considered alternative. That is when I started visually exploring. I grew my hair long. I was wearing mascara and guyliner to school, and I pierced my nose. When I was in college, I worked really hard at not looking like everybody else. I used to spend a lot of time putting my outfits together. Now I just need to be comfortable. But honestly, if I knew I wouldn't look ridiculous – I would probably still have purple hair.
John Moore: You have had pretty much all colors, haven't you?
Kevin Copenhaver: Yes. When we were doing Tantalus, the work on that show was crazy. Someone would be in the shop by 6 in the morning, and we would all be here until 1 or 2 in the morning. There were a couple nights where we would just get slap-happy. I had bleach-blonde hair then, and I started adding color in. I wound up with red and orange hair, and I used to joke that my head was on fire from trying to get through Tantalus.
John Moore: How many ear piercings do you have?
Kevin Copenhaver: Right now I have four on one side and two on the other. I used to have them going all the way up. I had seven or eight at one time in one ear.
John Moore: So if you were to run into your bullied, pudgy, 16-year-old self now, what would you tell him to encourage him through those tough times?
Kevin Copenhaver: Probably, "Don't be afraid." I used to really care about what people thought of me. I used to think, "Well, if they are saying it, that must be the truth." I don't feel like that now.
John Moore was named one of the 12 most influential theater critics in the U.S by American Theatre Magazine in 2011. He has since taken a groundbreaking position as the Denver Center's Senior Arts Journalist.
Previous DCPA 'Art and Artist' profiles:
Stage manager Jennifer Schmitz
Costume Designer Megan Anderson Doyle
Graphic Designer Kyle Malone
Stage Manager Kurt Van Raden
Teaching Artist Jessica Austgen
Head of Acting Lawrence Hecht
Lighting Designer Charles MacLeod
Director of I.T. Bruce Montgomery
Stage Manager Lyle Raper

Video: Kevin Copenhaver and the art of Costume Quackery:
Check out our video from 2014 following Kevin Copenhaver and the creation of three separate costumes for "Animal Crackers."
https://www.denvercenter.org/wp-content/uploads/2018/04/featured-image-2186.jpg
533
800
John Moore
John Moore
2015-04-16 13:47:00
2015-04-16 13:47:00
Art and artist: Kevin Copenhaver tips his hats to Broadway's 'Doctor Zhivago'