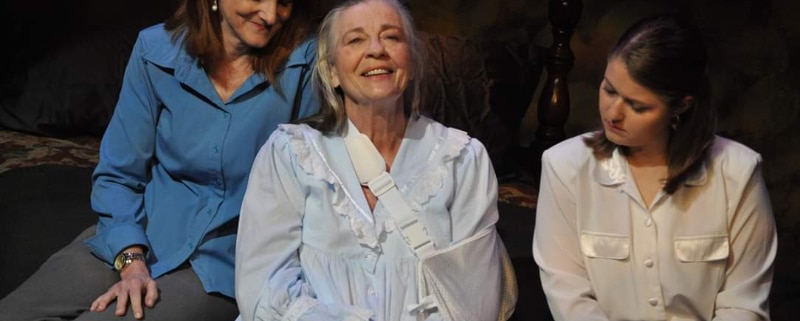 Thoughts on Edward Albee and his 'Three Tall Women'
Firehouse Theater production brings you fact to face with … yourself
What if you could see and speak to the person you once were? Or to the person you perhaps are predetermined to become? Would you choose to see yourself again at the physical peak of your 20s, the compromised middle ground of your 50s or in your decayed and terminal 90s, when all of life's lessons and cruelties have been learned and endured but, ironically, are no longer fully remembered?
Would that be a blessing or a curse?
Would you even recognize yourself?
Would you want to?
The concept isn't all that far afield from Dickens' A Christmas Carol. But prize-winning provocateur Edward Albee is no Charles Dickens. For Albee, whatever will be, will be – which makes looking at our past or future selves an unalterable nightmare of discontent, denial and regret.
Come on. Isn't it hard enough just to look at our present selves in the mirror?
Three Tall Women, which won Albee his third Pulitzer Prize in 1994 even though it never has played Broadway, is two symmetrical but distinct plays. In the first, a doddering a woman of 91 (or 92!) belligerently banters with two equally dyspeptic younger women: A terse nurse of 52 and a beautiful but bitter law clerk of 26. Together they bicker over the lives they will live, are living or have lived.
John Moore's 2005 interview with Edward Albee: 'I want people to imagine the unimaginable'
The eldest, known only as "A" (Judy Phelan-Hill) is a wreck. She is bed-bound, nearly blind and suffers from brittle bones, delusions and palsies. At the end of her privileged life, she's frightened and frightening, a racist relic dying alone in a crowded room. This is a woman with no future, not much of a present and only a murky past.
The second act opens with "A" in bed, clinging to life. Hill, as a mirrored version of herself, emerges to join the others, who are now the very same woman, each representing different eras of her life. These are now three trapped spirits awaiting their last breath in an existential waiting room right out of No Exit.
This isn't a review, but I will go out on a limb and say that the new Firehouse Theater Company production, directed by Julie Kaye Wolf, is a culmination of Judy Phelan-Hill's storied career on local stages. Her challenge includes executing A's physical frailties while simultaneously wallowing in girlish self-pity and building both the audience's sympathy and disdain as more unflattering information about her is slowly revealed. She rambles like a leaky faucet, spilling dark secrets, deep-seated prejudices and jumbled memories with equal inevitability and unreliability. ("I can't remember what I know!")
This production also features Donna Louden as the acerbic 52-year-old who is finally overwhelmed by disappointment and betrayal; DCPA Teaching Artist Kate Poling as the naive ingénue too young to not believe her best days surely lay ahead of her; and Kevin Douglas as the son who turns up at her bedside to say a silent good riddance.
Imagine the horror of being 26 and confronted with a timeline of your life that covers your as-yet unknowable descent from marriage and childbirth into oblivious racism. Women in the prime of youth don't deserve to be tormented with the knowledge that sweet ideologies of romance and chastity will lose in any battle with necessity.
Slowly and inevitably, the tales of these Three Tall Women become delicately woven into one sad and solitary obituary.
Three Tall Women plays at the John Hand Theatre, 7653 E. 1st Place, through September 28. Ticket info: 303-562-3232 or firehousetheatercompany.com
John Moore was named one of the 12 most influential theater critics in the U.S. by American Theatre Magazine in 2011. He has since taken a groundbreaking position as the Denver Center's Senior Arts Journalist. Much of this essay was taken from a piece originally published in The Denver Post.

https://www.denvercenter.org/wp-content/uploads/2019/09/Firehouse-Theatre-Three-Tall-Women.-Photo-credit_-Meghan-Ralph_Soular-Radiant-Photography.jpg
531
800
John Moore
John Moore
2019-09-17 13:59:10
2019-09-19 14:37:03
Thoughts on Edward Albee and his 'Three Tall Women'