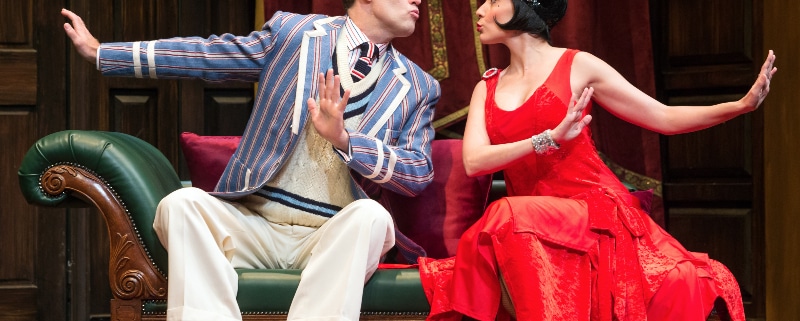 For Jamie Ann Romero, everything is right with 'The Play That Goes Wrong'
Video: Interview by DCPA Senior Arts Journalist John Moore. Video by DCPA Video Producer David Lenk.
Popular returning Denver actor calls the madcap Broadway comedy 'a two-hour laugh-a-thon'
Jamie Ann Romero grew up watching shows at the Denver Center and always dreamed of working there someday. The seed took root with her middle school's annual field trips downtown to see A Christmas Carol, and it fully bloomed when Chatfield High School drama teacher Scott Ogle took Romero's class to see the DCPA Theatre Company's The Cripple of Inishmaan.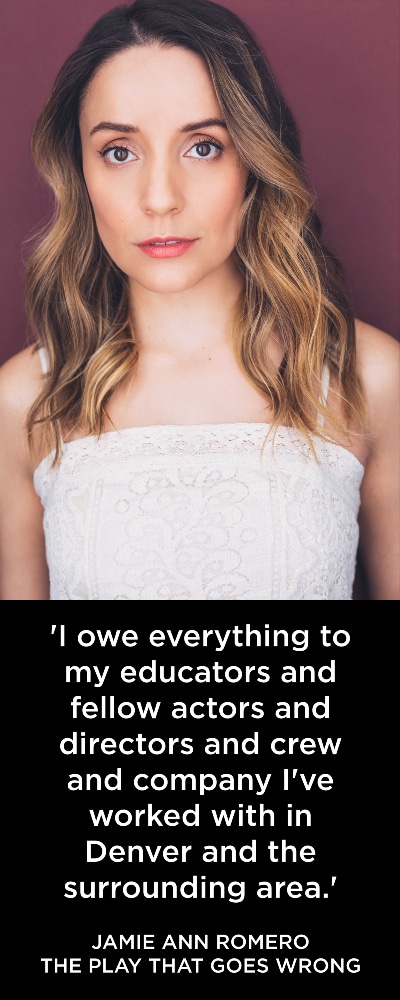 After graduating from the University of Northern Colorado in Greeley, Romero took a job that teasingly had her drive pass the Denver Performing Arts Complex on her way to work each day. "I started this mantra where every time I drove down Speer Boulevard, I would point to the Denver Center and say, 'I am going to work there someday,' " Romero says now with a laugh.
Someday came in 2009, when Romero was cast as Bianca in the Theatre Company's world premiere comedy Sunsets and Margaritas. She then played Kitty in The Three Musketeers in 2012 and Jo in the world premiere of Matthew Lopez's hit The Legend of Georgia McBride in 2014. Someday comes again next month when Romero performs in the first national touring production of the madcap comedy The Play That Goes Wrong at the Buell Theatre.
"When I was a small kid, I fell in love with Sam Gregory and John Hutton and Mikey Hartman and Kathy Brady and all the other great actors there," she said. "Getting to work with them taught me a lot about my profession and my craft. Working at the Denver Center taught me how to be a part of a company and how to work for the greater good of a production. Those are things I hold dear from my time at the Denver Center."
Ogle remembers Romero as a young woman with an old soul, a student who would throw herself into any role, no matter the size, with vigor. "She always seemed to rise above the little things – and even the bigger things that could tap your reserves or fill your mind, and focus instead on the art of acting," said Ogle, who now runs the theatre program at Evergreen High School. He recalls Romero deftly moving from playing the vastly disparate roles of Cecily Cardew in The Importance of Being Earnest to Puck in A Midsummer Night's Dream with ease. "I know for a fact that Jamie has enriched my life and made me a better teacher, and I will always be thankful for that," he said. "I'm incredibly proud of her."
Romero was a highly sought local actor from the moment she graduated from UNC, with her primary artistic homes being the Denver Center, Colorado Shakespeare Festival, Boulder Ensemble Theatre Company and Colorado Springs TheatreWorks. She remains an Artistic Associate with Boulder's Local Theater Company. Incidentally, patrons of Off-Center's annual co-production of The SantaLand Diaries have been hearing Romero's taped voice count down the number of remaining shopping days for the past 10 Decembers.
Romero moved to New York in 2014 with one humble goal: "To be lucky enough to work." That, she has. Her New York acting career got off to a fairy-tale start when she was immediately asked to help out at the auditions for the esteemed Paper Mill Playhouse's production of Christopher Durang's Vanya & Sonya & Masha & Spike in Milburn, New Jersey. She sat at the director's table reading the opposing lines for the actors who were officially auditioning to be in the play. But she was soon asked to meet Director Don Stephenson herself, and he hired Romero to play Nina opposite Tony-winning actor Michele Pawk. Durang himself came to the opening performance.
She also starred in a short film called "Sunday 1287," produced by fellow UNC grad Blake Babbitt. She then had two acclaimed seasons at the Oregon Shakespeare Festival headlining Shakespeare in Love and the world-premiere drama The River Bride, among others. Last summer, she made her off-Broadway debut as the female understudy in Tracy Letts' Mary Page Marlowe. Recent film ("Viper Club") and TV ("House of Cards" and "The Punisher") appearances have upped her national profile even further.
But her biggest break to date came last August when Romero was hired to help launch the first national tour of  The Play That Goes Wrong, which follows the Cornley Polytechnic Drama Society's doomed efforts to stage a 1920s murder mystery. Romero will make her first-ever appearance on The Buell Theatre stage from March 5-17.
"It's absolutely wild that this is happening," Romero recently told the DCPA NewsCenter. "Growing up, going to the Buell was always such a special treat, and I remember the theatre always seemed so massive. Usually, the Buell is reserved for big musicals. And I don't normally do big musicals, so I never thought I would get to do a show there. And yet … here I am. I don't know that I've ever looked forward to the month of March more."
The Play That Goes Wrong has been described as what would happen if Sherlock Holmes and Monty Python had an illegitimate Broadway baby. As the title suggests, The Play That Goes Wrong is about a company of valiant thespians who come up against every problem imaginable while touring their little murder mystery across the country. We're talking falling set pieces and broken props and actors both skipping lines – and yes, occasionally getting knocked out. Romero plays Sandra, an actor who thinks she's simply the best of the best.
"The show is incredibly physical, and there is a lot of slapstick," said Romero, who credits her training with veteran DCPA Theatre Company Fight Director Geoffrey Kent with helping her develop the physical skills required for the role. "Everything I ever learned from Geoff Kent I get to use in this show — like how to fall down correctly. It's been fun to use those skills on a big stage like this."
She says Denver audiences who come to see The Play That Goes Wrong need to come prepared for only one thing.
"I just want people to come ready to laugh and ready to have a good time because that's really what this is," she said. "It's a two-hour laugh-a-thon."
More of John Moore's conversation with Jamie Ann Romero:
John Moore: We recently reported the news that The Legend of Georgia McBride will be made into a film produced by and starring Jim Parsons of TV's "The Big Bang Theory." What are your thoughts on the continued life of a project that you were part of from the very beginning?
Jamie Ann Romero: I am just elated to see how far it's gone, because I love that play and I love [playwright] Matthew Lopez. and I think it's an important and exciting story. So I'm glad it's going to reach more audiences. Stephen Michael Spencer, one of my dear friends from the Oregon Shakespeare Festival, just played Casey [a straight man who turns to drag performance to support his growing family] in a production of The Legend of Georgia McBride in Santa Barbara, California. When he told me he had an audition for the show, I told him, "You have to do it. You just have to." I'm thrilled and excited for the film, and I can't wait to see it up on the screen.
John Moore: You just appeared as a reporter on the final season of "House of Cards."
Yes, it was a quick turn as a hard-hitting reporter, but I'm there. My bigger TV debut was last month in Marvel's Netflix series "The Punisher." I played Deputy Murphy in two episodes, and I had to learn to shoot some very big guns.
John Moore: Who are some of the local teachers you'd like to shout out for some of the success you have had?
Jamie Ann Romero: I owe everything to my educators and fellow actors and directors and crew and company I've worked with in Denver and the surrounding area. Everything started for me with Chatfield High School and Scott Ogle, who was my drama teacher. He taught me to be brave and to make good choices and to trust myself. I also did Shakespeare as a teenager with Robert Kramer, who has worked at Miners Alley Playhouse and around the metro Denver area. And my time at UNC was absolutely invaluable. My professors there included Tom McNally, Mary Schuttler, Tracy Salter, Ken Womble and David Grapes. I learned so much working with them. The education I got there has definitely kept me afloat all these years. And I can't say enough how much I've learned over the course of my career working in the Denver community. There are just so many people that I would want to name and thank.
John Moore: So introduce us to Sandra, your character in The Play That Goes Wrong.
Jamie Ann Romero: Sandra is an actress who thinks she's the best of the best, and in the story she plays Florence Colleymoore, the fiancée of our murder victim. And she tends to have hysterical fits.
John Moore: How does that opportunity play into your comic capabilities and what you do so well?
Jamie Ann Romero: The show is incredibly physical. There is a lot of physical comedy and a lot of slapstick, and it's been fun to use the skills that I've learned over the course of my career on a big international stage like this. Everything I ever learned from Geoff Kent I get to use here – like how to fall down correctly.
John Moore: What muscles do you get to use besides the physical comedy?
Jamie Ann Romero: The great challenge of this comedy for the actors we play is that they're trying so desperately to keep the murder mystery going. This is supposed to be a very serious, very intense Murder on the Orient Express-esque drama. And as everything falls apart, they're getting so frustrated and they can't figure out how to get the play back on track. I think that's the joy of it.
John Moore: Tell me about the unique challenge of having to perform ineptly. That must be quite a challenge.
Jamie Ann Romero: It's fun to pretend to not know when things are going to go wrong. That was a fun discovery process in rehearsals. We had a great director, Matty Di Carlo, who directed us into Mark Bell's Broadway production. He really helped us keep it fresh and new and exciting.
John Moore: Part of the lore of this show is that it started as a fringe-festival play and the very first time it was performed there were only four paying members in the audience. Now it's now gone on to play in front of more than 2 million people. Why does it work?
Jamie Ann Romero: I'm not exaggerating when I say there is more than a laugh a minute in this comedy. One of my co-actors tells the story that when he first saw the show as an audience member, he was having just a horrible, awful day. But he had tickets, so he went. But he was prepared to just sit there and get it over with. And by intermission, his mood had been lifted, and he had been laughing, and it was just a cathartic release.
John Moore: When I was looking at the script, I saw that you were given the following direction from the writers: "It's useful to remember that the actors are not bad actors, just victims of unfortunate circumstance. The comedy comes from their unwavering endeavor to continue their bad choices in trying to get out of the situations they find themselves in and their optimistic belief that their luck will change." How did that inform your approach as an ensemble?
Jamie Ann Romero: When we as actors do a play and something does go wrong, we try our best to cover it up and continue on and not let the audience know that something has gone horribly awry. That's what we're doing here – times a billion. So when props break or lines get skipped or someone gets hurt and we're trying to cover it up, I think that's where the comedy is found. But the audience is in on the joke from the moment the lights come up.
John Moore: Why is this the right time for this play?
Jamie Ann Romero: I think there is never a bad time for comedy, but it feels like now might be a particularly good time to just come and laugh at a smart comedy. You never know what each individual audience member is going through when they come to see our comedy. But whether you are having a good day or a bad day, you can come and commune with thousands of strangers and laugh together at actors being idiots.
John Moore: Last words?
Jamie Ann Romero: If you come prepared to let yourself get wrapped up in the craziness, then I think you're guaranteed to have a good time.
John Moore was named one of the 12 most influential theater critics in the U.S. by American Theatre Magazine in 2011. He has since taken a groundbreaking position as the Denver Center's Senior Arts Journalist.
The Play That Goes Wrong first national tour: Ticket information
Through March 17
Buell Theatre, Denver Performing Arts Complex
Written by Mischief Theatre company members Henry Lewis, Jonathan Sayer, and Henry Shields
Tickets start at $25
Call 303-893-4100 or
Groups of 10 or more: 800-641-1222
More about Jamie Ann Romero:
At the Denver Center: Jo in The Legend of Georgia McBride, Kitty in The Three Musketeers, Bianca in Sunsets and Margaritas. At the Oregon Shakespeare Festival: Viola de Lesseps in Shakespeare in Love; Anne Page in The Merry Wives of Windsor, Belmira in The River Bride. Elsewhere: Nina in Vanya & Sonya & Masha & Spike (Paper Mill Playhouse); (Silvia in The Two Gentlemen of Verona, Lucy in Dracula (Utah Shakespeare Festival); Titania in A Midsummer Night's Dream, Queen in Richard II, Lady Percy in Henry IV, Part One, Juliet in Romeo and Juliet, Ophelia in Hamlet (Colorado Shakespeare Festival); Sylvia in Sylvia, Audrey in Hank Williams: Lost Highway (Lone Tree Arts Center); Celia in As You Like It (Modern Muse Theatre Company); Nina in The Seagull (Colorado Springs TheatreWorks); International: Brooke in Noises Off (Maxim Gorky Theatre in Vladivostok, Russia).
Photo gallery: Jamie Ann Romero through the years
Video: A message from Jamie Ann Romero
https://www.denvercenter.org/wp-content/uploads/2019/02/Jamie-Ann-Romero.-Ned-Noyes-and-Jamie-Ann-Romero.-Photo-by-Jeremy-Daniel.jpg
501
800
John Moore
John Moore
2019-02-05 13:51:47
2019-03-07 10:54:50
For Jamie Ann Romero, everything is right with 'The Play That Goes Wrong'