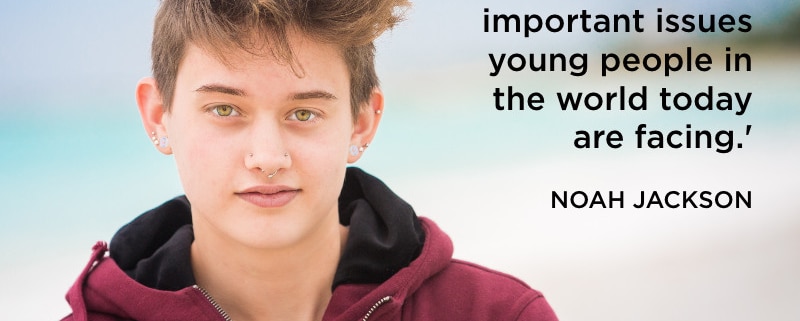 Guest Column: 'You Lost Me' finds a home in the heart of a young playwright
Noah Jackson calls Bonnie Metzgar's new play 'a masterpiece of heartbreak, love, loss and being found'
You Lost Me is a play that asks, "What does it mean to be lost? Wandering without destination? Going around in circles?" As a young adult in the world, I can say the feeling of being "lost" is one I am all too familiar with. Being a teenager is being a committed member of the Outcast Club – the first twist being that every one of us thinks we're the President. The second twist being that we're all correct.
You Lost Me has a story that, at a surface level, may seem not relevant to people my age, but that is far from correct. It's a time-traveling masterpiece of heartbreak, love, loss and being found. Of adventure and tragedy. Of lies and "setting fire to the truth." It will touch people no matter their age.
We teenagers search for ways to stand out, to rebel. Anything that's asked of us, we're immediately drawn to doing the polar opposite. And that fact itself is our favorite thing to deny. Because to us, you are wrong, we are the monarchs of our own worlds and we're still trying to fight the impending doom of eventually having to grow up. We are all the President of the misfits, and the rebellious, the saddest, the least talkative member. There can be no middle ground. We must all be the best or the worst at everything, otherwise what's the point. Normal people are boring, right?
You Lost Me centers on a woman who has taken in her sister's teenage son, named Joe-L, in remote Newfoundland. He's a dark and troubled poet who would do anything to get off the island and start his life anywhere else.
We have been seeing more and more of these "angsty teen" characters in the media in recent years, whether that be TV, film and theatre or through us sharing our own stories through social media. It's an amazing thing to see in many ways. Getting to witness people get truly invested and attached to a character who is a real representation of what it feels like to be this age, at this time, is one of the most validating experiences I've ever had.
Watching adults have emotional reactions to shows like Dear Evan Hansen makes us important. It makes us seen. Found. With You Lost Me, playwright Bonnie Metzgar's play did an outstanding job checking all the boxes, writing a script that gives pretty much anyone a character they can relate to, and feel for.
You Lost Me is a wonderful story that showcases how the past continues to affect the future. It talks about real, important issues young people in the world today are facing and makes you feel for the characters in a way that will keep you thinking about the story for a long while after you see it.
Noah Jackson is a young playwright from Denver and a graduate Girls Athletic Leadership School. His work was featured at Curious Theatre's 2019 Curious New Voices Festival. He also was a finalist in DCPA Education's 2018 AT&T High School Playwriting Competition for his play 'Wine Colored Lip Gloss,' about a non-binary teenager dealing with gender-identity issues and unaccepting parents.


You Lost Me: Ticket information
Dates: Through February 23
Where: Ricketson Theatre

Genre: Poetic drama
Tickets: Start at $30 and can be purchased at 303-893-4100 or in person in the Helen Bonfils Theatre Complex at 14th and Curtis streets or online by clicking here:

Video: Interview with teen playwright Noah Jackson
Video above: Noah Jackson's play made history when it became the first story to address topic of gender identity in the nearly 40-year history of the Denver Center.
https://www.denvercenter.org/wp-content/uploads/2020/01/Noah-Jackson-800.jpg
634
800
Noah Jackson
Noah Jackson
2020-01-21 09:56:58
2020-01-21 16:17:15
Guest Column: 'You Lost Me' finds a home in the heart of a young playwright