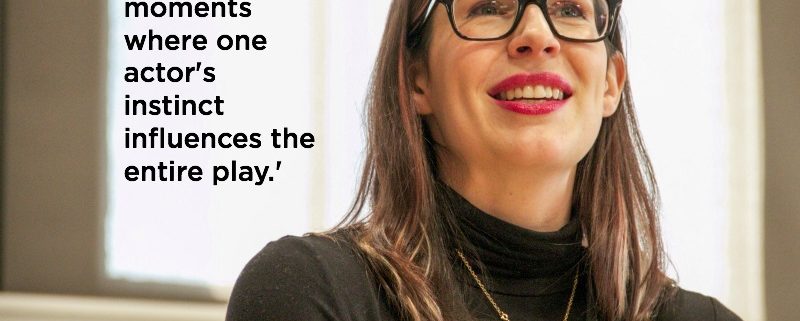 Guest columnist Lauren Gunderson: How one word can change a play
Photo by John Moore for the DCPA NewsCenter.

By Lauren Gunderson
Playwright, The Book of Will
During a very early reading of The Book of Will – when I was just starting to understand my own play and how to make it the richest, most complex and soulful play I could – one of my favorite actors in America changed one word of my play.
Well. She didn't change the word itself, but she changed her delivery of it. And with that one instinct she changed my whole play. The word was "handsomely," and the actor was Jennifer LeBlanc, a graduate of the Denver Center's own National Theatre Conservatory.
During a scene where our trio of heroes (John Heminges, Henry Condell and John's daughter Alice – played by Jenn) are discussing what kind of publication their friend William Shakespeare deserved, Jenn's character describes this future book like a strapping young man, and everyone in the scene agrees with her that they want to publish the book "handsomely." But also in this same scene is another character, Isaac (played by Andy Nagraj), who is trying to convince the trio that he can help them publish the works of Shakespeare.
During a rehearsal of this scene Jenn (pictured at right) tried something new and, without any direction from me, turned to Andy and sent her one-word line – "handsomely" – in his direction and with a slight twinkle of flirtation in her delivery. Suddenly her character of Alice wasn't just talking about the book but about this new young man: a smart and thoughtful person who loves theatre as much as she does, who loves Shakespeare as much as she does, who might just share her values and interests. In that moment I saw a part of the play I had never noticed before: A simple love story.
American Theatre on Gunderson and LeBlanc's previous work

For the past months I have been developing this subplot in the play and so enjoyed watching both Jenn and Andy subtly plant clues of their character's love throughout the production.
The mutual interest of Alice and Isaac isn't overt or ruddily operatic in the play, but it allows me to echo the other love stories in the play like those between the main character John and his wife Rebecca, between Shakespeare and the "Dark Lady" to whom he dedicated his sonnets, and between the men and their lost friend Will. It's a simple, fun, and rosy addition that I would have lost without Jenn's great insight and improvisation.
This is one of those amazing moments in the creation of a new play where one actor's instinct – in this case with a single word! – influences the entire play. This is why theatre is such a collaboration at heart. It only exists with the mutual brainpower and bravery of a group of talented and complimentary people working together to discover a story's best self. We are finding moments like this in every rehearsal of The Book of Will here at Denver, and I truly cannot wait to share it with you. Because the final element of this production is – of course – you.
The audience completes the collaboration by offering the heart and histories you bring with you when you walk in the theater. Our story is yours, just as Jenn's instinct became mine. We all affect, challenge, and exhilarate each other. And isn't that the great magic and power of theatre.
(Photo above and right: Jennifer LeBlanc at first rehearsal for 'The Book of Will.' Photo by John Moore for the DCPA NewsCenter.)
More Colorado theatre coverage on the DCPA NewsCenter

About our Guest Columnist

Lauren Gunderson is a playwright, screenwriter and short story author from Atlanta, GA. She received her BA in English/Creative Writing at Emory University, and her MFA in Dramatic Writing at NYU Tisch, where she was also a Reynolds Fellow in Social Entrepreneurship. She was named the most produced living playwright in America by American Theatre Magazine in 2016, was awarded the 2016 Lanford Wilson Award from the Dramatist Guild, and was awarded the prestigious 2014 Steinberg/ATCA New Play Award for her play, I and You(also a Susan Smith Blackburn Blackburn and John Gassner Award finalist). Her Play Silent Sky will be presented by the Boulder Ensemble Theatre Company from April 6-30 at The Dairy Arts Center in Boulder.
Editor's Note: The DCPA NewsCenter offers a regular guest column from local and national voices covering a wide range of theatre topics. To submit a proposed guest column, email your name and topic to jmoore@dcpa.org.
The Book of Will: Ticket information

Without William Shakespeare, we wouldn't have masterpieces like Romeo and Juliet. But without two of his friends, we would have lost Shakespeare's plays forever. A comic and heartfelt story of the characters behind the stories we know so well.
Jan. 13-Feb. 26
Ricketson Theatre
ASL and Audio-Described Matinee 1:30 p.m. Feb. 4
303-893-4100 or BUY ONLINE
Selected previous NewsCenter coverage of The Book of Will:
Five things we learned at 'The Book of Will' opening rehearsal
'The Year of Gunderson' has begun in Colorado
Shakespeare in a season with no Shakespeare
First Folio: The world's second-most important book heads to Boulder
2016-17 season: Nine shows, two world premieres, return to classics
Video: Our look back at the 2016 Colorado New Play Summit
Summit Spotlight: Playwright Lauren Gunderson
Lauren Gunderson wins Lanford Wilson Award from Dramatists Guild of America
Just who were all the king's men, anyway?
Selected previous NewsCenter Guest Columns:
Students Aleksandra Kay and Alice Zelenko on The Secret Garden in NYC
Student Nik Velimirovic on A Gentleman's Guide to Love & Murder
Douglas Langworthy: On translating Shakespeare for Oregon Shakespeare Festival
David Nehls: Live theatre returns to Elitch Gardens after 24 years
Gillian McNally: Colorado's oldest theatre celebrates Artistic Director Tom McNally
Margie Lamb on the Henry Awards: Something doesn't add up
Bryan VanDriel on Lloyd Norton: A name that will live on in Greeley
Jessica Jackson on Creede Repertory Theatre's 50th anniversary season
Susan Lyles on 10 years of staging plays for women in Denver
Photo gallery: The Book of Will in Denver

Photos from the first rehearsal for Lauren Gunderson's world-premiere play 'The Book of Will' by the DCPA Theatre Company. To see more, click the forward arrow on the image above. Click again to download. All photos by John Moore for the DCPA NewsCenter.
https://www.denvercenter.org/wp-content/uploads/2018/04/featured-image-4699.jpg
569
800
John Moore
John Moore
2017-01-04 11:17:00
2017-01-04 11:17:00
Guest columnist Lauren Gunderson: How one word can change a play