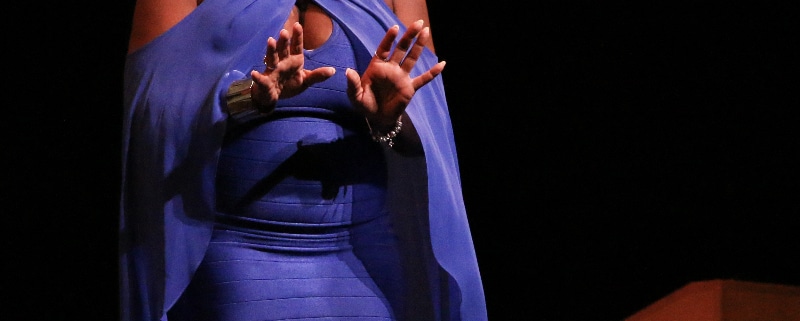 Henry Awards are, oh what a beautiful evening for 'Oklahoma!'
Fine Arts Center at Colorado College is honored with prestigious Outstanding Season award
The Colorado Theatre Guild's annual Henry Awards honored the breadth of work on stages all across the state on Monday night, but the wind whipping down the plain blew most strongly in the direction of the DCPA Theatre Company's Oklahoma! The musical, daringly set in an all African American town, was honored with seven awards, including Outstanding Musical and Ensemble.
"Representation matters," Bre Jackson said in accepting the Henry Award for Outstanding Supporting Actress in a Musical for her portrayal of Ado Annie. "Whether we are black, white, purple, transgender or whatever, it is important that we all be seen for the beautiful people we are."
"Wokelahoma!" as Jackson called it, also earned awards for Outstanding Director (Chris Coleman), choreographer (Dominique Kelley), Ensemble, Actor (Antoine L. Smith) and Supporting Actor (Rennie Anthony Magee).
Coleman, who is preparing to open his second season as the DCPA Theatre Company's Artistic Director, thanked the community for welcoming him to Denver and cited what he called "the incredible honor" of working with the cast and creative team that brought Oklahoma! to life.
The most honored play of the theatre year that ended June 1 was Thunder River Theatre Company of Carbondale's Equus, which won three Henry Awards, though the Fine Arts Center Theatre Company at Colorado College's Church & State won both Outstanding Play and Outstanding Actor for Brian Landis Folkins, a longtime DCPA Teaching Artist. Church & State is an agonizingly personal look at how a school massacre impacts a conservative North Carolina senator's views on gun violence days before an election.
The versatile Nathan Halvorson made Henry Awards history last month by having a hand in six 2018-19 nominations as an actor, director and choreographer, but he wasn't called to the stage on Monday until the penultimate award of the night, for directing Church & State. "I had two beers because I kept losing," he said to laughs. He called the experience "playing in a sandbox filled with joy." Playwright Jason Odell Williams was a surprise guest at the ceremony, which was held for the second straight year at the Lone Tree Arts Center.
A whopping nine shows were nominated for Outstanding Musical because of ties in the voting, and eight of them performed at Monday's ceremony. Mary Louise Lee drew a prolonged standing ovation just before she was named Outstanding Actress for her performance in the Aurora Fox's Caroline, Or Change as an African American maid in 1963 Louisiana. Among those standing was her husband, the recently re-elected Denver Mayor Michael B. Hancock.
"She's never ceased to amaze me," said Hancock, "whether she's stepped on the stage as a singer for her band or as a performer in a theatrical musical – which I know is her favorite thing to do. She was wonderful tonight, and I am so proud of her." Lee is currently starring in the Vintage Theatre's Crowns through August 4.
Lee accepted her award "on behalf of my ancestors and their untold stories." She thanked her mother for taking her to productions at the Bonfils Theatre when she was a girl. "That's why I wanted to become an actor," Lee said. The Henry Awards are named for Henry Lowenstein, the late longtime producer at the former Bonfils Theatre. Kevin Hart, who won the Outstanding Supporting Actor Award for his work in Breckenridge Backstage Theatre's Lend Me a Tenor, also credited Lowenstein for his start.
The Henry Awards, which consider achievements among the Colorado Theatre Guild's statewide member companies, have been a topsy-turvy, roller-coaster affair throughout their controversial 14-year existence. The DCPA Theatre Company, which received just one Henry Award last year, took home eight of Monday's 28 competitive awards, followed by the Fine Arts Center with five, and Thunder River with four.
Go to our growing gallery of photos from Monday's Henry Awards
The Arvada Center, which led all companies with eight wins in 2018, won two on Monday while Miners Alley Playhouse, which won seven Henrys last year, landed just one nomination this year. But beyond the Oklahoma! runaway, the rest of Monday's awards were widely dispersed. In all, 12 companies and 14 productions won at least one award.
In accepting one of two awards for Outstanding Direction of a Play for The Diary of Anne Frank, Christy Montour-Larson pointed out that had Anne Frank survived the Holocaust, she would have turned 90 last month. "She could have given so much to the world," Montour-Larson said. "But through her work, we see what was destroyed by the murder of 6 million human beings – the lost promise, creativity and potential from the failure of a world to respond. I think Anne Frank lives on in everyone here tonight who uses the power of theatre to shine a light about prejudice and the nobility of human compassion."
There were two special awards given this year. The Denver Children's Theatre, which ceased operations last month, was recognized for performing for more than 150,000 young people over the past 22 years at the JCC Mizel Arts and Culture Center. In presenting the award to Executive Artistic Director Steve Wilson, actor Ilasiea L. Gray thanked him for casting her as a black Sleeping Beauty. "DCT always played for a diverse group of children, and that was an invaluable inspiration for kids of color and all backgrounds as to what is possible," she said. "And for me as an actor, Steve broke down a barrier in my mind about what was possible to me." Wilson used the occasion to encourage all producers to serve youth audiences. "Consider this work as core to your missions," he said.
The annual Lifetime Achievement Award went to Beki Pineda, who over the past 35 years has served in a variety of capacities, primarily as Props Designer. Pineda has worked on the making of 10 theatrical productions in the past year alone. She started as a volunteer at the Bonfils Theatre on East Colfax Avenue before building her trade in properties for countless theater companies. She turns 80 on August 19.
Seven companies are nominated each year for Outstanding Season at the sole discretion of the Colorado Theatre Guild's Board of Directors. This year's winner was a foregone conclusion when the Fine Arts Center landed 26 nominations, including a Henrys first: Four productions nominated either for Outstanding Musical or Play. The company's strong season (its 30th) included Anna in the Tropics (8 nominations), Church & State (7), Matilda The Musical (6), Hands on a Hardbody (3), Too Much Light Makes The Baby Go Blind, Shakespeare in Love, Bad Dates and Barnum.
Henry Awards by company:
DCPA Theatre Company: 8
Fine Arts Center Theatre Company at Colorado College: 5
Thunder River Theatre Company (Carbondale): 4
Theatre Aspen: 3
Arvada Center for the Arts and Humanities: 2
Aurora Fox Arts Center: 1
Bas Bleu Theatre (Fort Collins): 1
Breckenridge Backstage Theatre: 1
Colorado Shakespeare Festival (Boulder): 1
Local Theater Company (Boulder): 1
OpenStage Theatre & Company (Fort Collins): 1
The Colorado Theatre Guild splits scenic, lighting, sound and costume nominees into two tiers determined by member companies' annual overall operating budgets. Seven member companies reported budgets above this year's $1 million threshold (down from $1.2 million the past several years) and therefore made up Tier I: The Arvada Center, Creede Repertory Theatre, Colorado Shakespeare Festival, Colorado Springs TheatreWorks, DCPA Theatre Company, Fine Arts Center Theatre Company and Theatre Aspen. The rest were placed into Tier II. In an effort to make the tiers more balanced going forward, the Guild has further lowered the budgetary dividing line to $500,000 for the new judging season that began June 1.
Monday's program was directed for the second straight year by busy area actor/directors Betty Hart and Robert Michael Sanders. Hart is directing Vintage's Crowns and he's about to open as Amos in Phamaly's Chicago, opening August 1 at the Denver Performing Arts Complex. Sanders, choreographer Jessica Hindsley and Musical Director Eric Weinstein created an original song to open the show called "All the World's a Stage." As part of the number, two dozen actors honored Colorado's recent theatre past by cleverly re-creating poses from production photos of notable shows as the pictures were projected above them on the stage.
Notable among this year's individual design winners was Brian Miller, who earned one of the two scenic design awards for Bas Bleu Theatre's The Waverly Gallery. Miller won last year for lighting. Thunder River's Sean Jeffries, who earned a record five individual nominations in 2017, was back at the winner's podium Monday for lighting Equus.
Among those sure to be disappointed by Monday's results are Vintage Theatre, which had 10 nominations, and Boulder Ensemble Theatre Company (seven), both of which left empty-handed. Other prominent companies that were not recognized this year include Phamaly Theatre Company, Miners Alley Playhouse, BDT Stage, Creede Repertory Theatre, Buntport Theater, Candlelight Dinner Playhouse, the soon-to-close Midtown Arts Center, Benchmark Theatre and The Catamounts. Curious Theatre Company and the Lake Dillon Theatre Company have withdrawn from awards consideration.
Sam Gregory has now been nominated for acting nine times without a win, this time for his role as Grandpa Vanderhof in the Colorado Shakespeare Festival's You Can't Take it With You. He joked that he should get a special Susan Lucci Award, a reference to the soap-opera queen who was nominated for 19 Daytime Emmys before she finally broke through in 1999.
The Henry Awards' nominees and winners are determined through a judging process involving more than 100 judges statewide. This year, local theatre journalists and bloggers were eliminated from the pool in favor of a peer judging process made up primarily of fellow theatre artists, academics and educators, as well as general theatre-lovers who apply to become judges. For the just-completed season, the Colorado Theatre Guild increased the number of judges scoring each show from five to nine, and board member T. David Rutherford said the Guild succeeded in getting 206 member productions qualified.
The Colorado Theatre Guild has announced the addition of two new categories for next year: Youth awards for both leading and supporting actors.
John Moore was named one of the 12 most influential theater critics in the U.S. by American Theatre Magazine in 2011. He has since taken a groundbreaking position as the Denver Center's Senior Arts Journalist. He was a Henry Award judge from 2005-18.
Photo gallery: 2019 Colorado Theatre Guild Henry Awards
Click on any photo to see a larger version. Photos by RDG Photography and John Moore. More photos will be added at the link below.
Go to our growing gallery of photos from Monday's Henry Awards
2019 COLORADO THEATRE GUILD HENRY AWARD WINNERS:
Outstanding Season for a Theatre Company
Fine Arts Center Theatre Company at Colorado College
Also nominated: 
Arvada Center for the Arts and Humanities
Aurora Fox Arts Center
Colorado Shakespeare Festival
DCPA Theatre Company
Thunder River Theatre Company
Vintage Theatre
---
Outstanding Production of a Play
Church & State, Fine Arts Center Theatre Company at Colorado College, Directed by Nathan Halvorson
Also nominated: 
The Diary of Anne Frank, Arvada Center for the Arts and Humanities, Directed by Christy Montour-Larson
Miss Holmes, Creede Repertory Theatre, Directed by Jessica Jackson
Anna Karenina, DCPA Theatre Company, Directed by Chris Coleman
Anna in the Tropics, Fine Arts Center Theatre Company at Colorado College, Directed by Rebecca Martinez
Paper Cut, Local Theater Company, Directed by Pesha Rudnick
Equus, Thunder River Theatre Company, Directed by Corey Simpson
---
Outstanding Production of a Musical
Oklahoma!, DCPA Theatre Company, Directed by Chris Coleman, Musical Direction by Darius Frowner
Also nominated:
ELF – The Musical, Arvada Center for the Arts and Humanities, Directed by Gavin Mayer, Musical Direction by Christopher Babbage
Songs for a New World, Aurora Fox Arts Center, Directed by Helen R. Murray, Musical Direction by David Nehls
Caroline, or Change, Aurora Fox Arts Center, Directed by Kenny Moten, Musical Direction by Trent Hines
Xanadu, DCPA Cabaret, Directed by Joel Ferrell, Musical Direction by David Nehls
Hands on a Hardbody, Fine Arts Center Theatre Company at Colorado College, Directed by Nathan Halvorson, Musical Direction by Stephanie McGuffin
Roald Dahl's Matilda, The Musical, Fine Arts Center Theatre Company at Colorado College, Directed by Mêlisa Annis, Musical Direction by Jay Hahn and Sharon Skidgel
Disney's NEWSIES: The Musical, Parker Arts and Inspire Theater Company, Directed by Liane Adamo, Musical Direction by Tanner Kelly
A Gentleman's Guide to Love and Murder, Vintage Theatre, Directed by Bernie Cardell, Musical Direction by Lee Ann Scherlong
---
Outstanding Direction of a Play (tie)
Christy Montour-Larson, The Diary of Anne Frank, Arvada Center for the Arts and Humanities
Rebecca Martinez, Anna in the Tropics, Colorado Springs Fine Arts Center at Colorado College
Also nominated:
Pam Clifton, Lend Me a Tenor, Breckenridge Backstage Theatre
Nathan Halvorson, Church & State, Fine Arts Center Theatre Company at Colorado College
Carolyn Howarth, You Can't Take It With You, Colorado Shakespeare Festival
Rebecca Martinez, Anna in the Tropics, Fine Arts Center Theatre Company at Colorado College
Rose Riordan, Sweat, DCPA Theatre Company
Corey Simpson, Equus, Thunder River Theatre Company
---
Outstanding Direction of a Musical
Chris Coleman, Oklahoma!, DCPA Theatre Company
Also nominated:
Bernie Cardell, A Gentleman's Guide to Love and Murder, Vintage Theatre
Joel Ferrell, Xanadu, DCPA Cabaret
Nathan Halvorson, Hands on a Hardbody, Fine Arts Center Theatre Company at Colorado College
Mark Martino, Ragtime, Theatre Aspen
Kenny Moten, Caroline, or Change, Aurora Fox Arts Center
Kelly Van Oosbree, A Little Night Music, Cherry Creek Theatre
---
Outstanding Musical Direction
Eric Alsford, Ragtime, Theatre Aspen
Also nominated:
Annie Durham, Forever Plaid, The Butte Theater
Darius Frowner, Oklahoma!, DCPA Theatre Company
Trent Hines, Caroline, or Change, Aurora Fox Arts Center
Tanner Kelly, Disney's NEWSIES: The Musical, Parker Arts and Inspire Theater Company
David Nehls, Songs for a New World, Aurora Fox Arts Center
Lee Ann Scherlong, A Gentleman's Guide to Love and Murder, Vintage Theatre
---
Outstanding Actor in a Play (tie)
Brian Landis Folkins, Church & State, Fine Arts Center Theatre Company at Colorado College
Owen O'Farrell, Of Mice and Men, Thunder River Theatre Company
Also nominated:
Dustin Bronson, Barefoot in the Park, Creede Repertory Theatre
Felipe Gorostiza, Anna in the Tropics, Fine Arts Center Theatre Company at Colorado College
Sam Gregory, You Can't Take It With You, Colorado Shakespeare Festival
Geoffrey Kent, Sin Street Social Club, Arvada Center for the Arts and Humanities
Isaac Stackonis, Equus, Thunder River Theatre Company
---
Outstanding Actress in a Play
Elise Santora, Anna in the Tropics, Fine Arts Center Theatre Company at Colorado College
Also nominated:
Gretchen Egolf, The Constant Wife, DCPA Theatre Company
Sally Hybl, Church & State, Fine Arts Center Theatre Company at Colorado College
Wendy Ishii, The Waverly Gallery, Bas Bleu Theatre
Darrow Klein, The Diary of Anne Frank, Arvada Center for the Arts and Humanities
Kate MacCluggage, Anna Karenina, DCPA Theatre Company
Leslie O'Carroll, You Can't Take It With You, Colorado Shakespeare Festival
Maria Peyramaure, Anna in the Tropics, Fine Arts Center Theatre Company at Colorado College
---
Outstanding Actor in a Musical
Antoine L. Smith, Oklahoma!, DCPA Theatre Company
Also nominated:
Leonard E. Barrett Jr., Songs for a New World, Aurora Fox Arts Center
Brandon Bill, A Gentleman's Guide to Love and Murder, Vintage Theatre
Brandon Bill, Murder for Two, Stagedoor Theatre
Nathan Halvorson, Roald Dahl's Matilda The Musical, Fine Arts Center Theatre Company at Colorado College
Wayne Kennedy, A Christmas Story, BDT Stage
Scott RC Levy, Roald Dahl's Matilda The Musical, Fine Arts Center Theatre Company at Colorado College
---
Outstanding Actress in a Musical
Mary Louise Lee, Caroline, or Change, Aurora Fox Arts Center
Also nominated:
Iris Beaumier, Ragtime, Theatre Aspen
Kathleen Macari, Thoroughly Modern Millie, Thingamajig Theatre Company
Sheryl Renee, Sister Act, Town Hall Arts Center
Leiney Rigg, Songs for a New World, Aurora Fox Arts Center
Carmen Shedd, Roald Dahl's Matilda The Musical, Fine Arts Center Theatre Company at Colorado College
Emily Van Fleet, 9 to 5: The Musical, Creede Repertory Theatre
---
Outstanding Supporting Actor in a Play
Kevin Hart, Lend Me a Tenor, Breckenridge Backstage Theatre
Also nominated:
Casey Andree, Pride and Prejudice, Boulder Ensemble Theatre Company
Jordan Bellow, Sweat, DCPA Theatre Company
Bobby Bennett, The Boys in the Band, Vintage Theatre
Dustin Bronson, Miss Holmes, Creede Repertory Theatre
Kyle Cameron, Anna Karenina, DCPA Theatre Company
Rodney Lizcano, Miss Bennet: Christmas at Pemberley, Boulder Ensemble Theatre Company
Alex Perez, Anna in the Tropics, Fine Arts Center Theatre Company at Colorado College
---
Outstanding Supporting Actress in a Play
Brittany Dye, Equus, Thunder River Theatre Company
Also nominated:
Eva Balistrieri, Miss Bennet: Christmas at Pemberley, Boulder Ensemble Theatre Company
Christy Brandt, Barefoot in the Park, Creede Repertory Theatre
Tara Kelso, The Wolves, Boulder Ensemble Theatre Company
Chloe McLeod, You Can't Take It With You, Colorado Shakespeare Festival
Deborah Persoff, Lost in Yonkers, Miners Alley Playhouse
Al-nisa Petty, A Raisin in the Sun, Colorado Springs TheatreWorks
Karen Slack, Men on Boats, The Catamounts
---
Outstanding Supporting Actor in a Musical
Rennie Anthony Magee, Oklahoma!, DCPA Theatre Company
Also nominated:
Chase Conlin, A Chorus Line, Parker Arts and Inspire Theater Company
Ian Coulter-Buford, Trav'lin – The 1930s Harlem Musical, Arvada Center for the Arts and Humanities
Brian Maurice Kinnard, The Full Monty, Rocky Mountain Repertory Theatre
Chris Mauro, The Full Monty, Rocky Mountain Repertory Theatre
Jeremy Rill, A Little Night Music, Cherry Creek Theatre
Aaron Vega, Xanadu, DCPA Cabaret
---
Outstanding Supporting Actress in a Musical
Bre Jackson, Oklahoma!, DCPA Theatre Company
Also nominated:
Katie Jackson, A Gentleman's Guide to Love and Murder, Vintage Theatre
Anne Jenness, A Gentleman's Guide to Love and Murder, Vintage Theatre
Maggie Lamb, Sister Act, Town Hall Arts Center
Alicia King Meyers, A Christmas Story, BDT Stage
Rebecca Myers, Always … Patsy Cline, The Butte Theater
Megan Van De Hey, A Little Night Music, Cherry Creek Theatre
---
Outstanding Ensemble Performance
Oklahoma!, DCPA Theatre Company
Also nominated:
Anna in the Tropics, Fine Arts Center Theatre Company at Colorado College
Church & State, Fine Arts Center Theatre Company at Colorado College
Equus, Thunder River Theatre Company
The Diary of Anne Frank, Arvada Center for the Arts and Humanities
The Wolves, Boulder Ensemble Theatre Company
Pride and Prejudice, Boulder Ensemble Theatre Company
---
Outstanding Choreography
Dominique Kelley, Oklahoma!, DCPA Theatre Company
Also nominated:
Nathan Halvorson, Hands on a Hardbody, Fine Arts Center Theatre Company at Colorado College
Kitty Skillman Hilsabeck, Mamma Mia, Arvada Center for the Arts and Humanities
Kitty Skillman Hilsabeck, ELF – The Musical, Arvada Center for the Arts and Humanities
Tobi Johnson Compton, Disney's NEWSIES: The Musical, Parker Arts and Inspire Theater Company
Mark Martino, Ragtime, Theatre Aspen
Melissa Zaremba, Roald Dahl's Matilda The Musical, Fine Arts Center Theatre Company at Colorado College
---
Outstanding New Play or Musical
Paper Cut, by Andrew Rosendorf, Directed by Pesha Rudnick, Produced by Local Theater Company
Also nominated:
1 Night, 6 Plays, Written and Directed by Kristen Adele Calhoun, Kenya Fashaw, Gabriela Goldstein, Bobby Lefebre and Suzi Q Smith, Produced by 5280 Artist Co-op
Sin Street Social Club, by Jessica Austgen, Directed by Lynne Collins, Produced by Arvada Center for the Arts and Humanities
What You Will, by Jeffrey Neuman, Directed by Warren Sherrill, Produced by Benchmark Theatre
Rausch, Created and Directed by Amanda Berg Wilson and Patrick Mueller, Produced by The Catamounts and Control Group Productions
Last Night and the Night Before, by Donnetta Lavinia Grays, Directed by Valerie Curtis-Newton, Produced by DCPA Theatre Company
The Whistleblower, by Itamar Moses, Directed by Oliver Butler, Produced by DCPA Theatre Company
---
Outstanding Costume Design, larger budget (tie)
Kevin Brainerd, Ragtime, Theatre Aspen
Jeff Cone, Anna Karenina, DCPA Theatre Company
Also nominated:
Sara Ryung Clement, The Constant Wife, DCPA Theatre Company
Jeff Cone, Oklahoma!, DCPA Theatre Company
Meghan Anderson Doyle, You Can't Take It With You, Colorado Shakespeare Festival
Courtney Flores, Anna in the Tropics, Fine Arts Center Theatre Company at Colorado College
Clare Henkel, The Diary of Anne Frank, Arvada Center for the Arts and Humanities
---
Outstanding Costume Design, smaller budget
Madeline Miles and Colin Tugwell, Equus, Thunder River Theatre Company
Also nominated:
Erika Duan, Miss Bennet: Christmas at Pemberley, Boulder Ensemble Theatre Company
Kelly Gregson, A Little Night Music, Cherry Creek Theatre
Julie LeBlanc, Lend Me a Tenor, Breckenridge Backstage Theatre
Linda Morken, Disney's The Little Mermaid, BDT Stage
Jesus Perez, A Gentleman's Guide to Love and Murder, Rocky Mountain Repertory Theatre
Susan Rahmsdorff-Terry, A Gentleman's Guide to Love and Murder, Vintage Theatre
---
Outstanding Lighting Design, larger budget
Paul Black, Ragtime, Theatre Aspen
Also nominated:
Katie Gruenhagen, You Can't Take It With You, Colorado Shakespeare Festival
Shannon McKinney, Diary of Anne Frank, Arvada Center for the Arts and Humanities
Jeanette Oi-Suk Yew, Vietgone, DCPA Theatre Company
Jon Olson, Educating Rita, Arvada Center for the Arts and Humanities
Diane Ferry Williams, Anna Karenina, DCPA Theatre Company
Diane Ferry Williams, Oklahoma!, DCPA Theatre Company
---
Outstanding Lighting Design, smaller budget
Sean Jeffries, Equus, Thunder River Theatre Company
Also nominated:
Kristof Janezic, Men on Boats, The Catamounts
Sean Mallery, Songs for a New World, Aurora Fox Arts Center
Brett Maughan, Caroline, or Change, Aurora Fox Arts Center
Brian Miller, Frankenstein, OpenStage Theatre & Company
Jacob Welch, Disney's NEWSIES: The Musical, Parker Arts and Inspire Theatre Company
Jacob Welch, Paper Cut, Local Theater Company
---
Outstanding Scenic Design, larger budget
Caitlin Ayer, You Can't Take It With You, Colorado Shakespeare Festival
Also nominated:
Brian Mallgrave, The Diary of Anne Frank, Arvada Center for the Arts and Humanities
Matthew Schlief, Miss Holmes, Creede Repertory Theatre
Christopher L. Sheley, Shakespeare in Love, Fine Arts Center Theatre Company at Colorado College
Christopher L. Sheley, Roald Dahl's Matilda The Musical, Fine Arts Center Theatre Company at Colorado College
Christopher L. Sheley, Church & State, Fine Arts Center Theatre Company at Colorado College
Matthew Smucker, Last Night and the Night Before, DCPA Theatre Company
---
Outstanding Scenic Design, smaller budget
Brian Miller, The Waverly Gallery, Bas Bleu Theatre
Also nominated:
Brandon Case, Caroline, or Change, Aurora Fox Arts Center
Brandon Case, Songs for a New World, Aurora Fox Arts Center
Michael R. Duran, Disney's NEWSIES: The Musical, Parker Arts & Inspire Theater Company
Michael R. Duran, Lend Me a Tenor, Breckenridge Backstage Theatre
Michael Grittner, The Boys in the Band, Vintage Theatre
Tom Ward, Yankee Tavern, Thunder River Theatre Company
---
Outstanding Sound Design, larger budget
Jason Ducat, The Diary of Anne Frank, Arvada Center for the Arts and Humanities
Also nominated:
Philip G. Allen, Oklahoma!, DCPA Theatre Company
Jason Ducat, You Can't Take It With You, Colorado Shakespeare Festival
Robert Jackson, Church & State, Fine Arts Center Theatre Company at Colorado College
Becca Pearce, Educating Rita, Arvada Center for the Arts and Humanities
André Pluess, Vietgone, DCPA Theatre Company
David Thomas, Ragtime, Theatre Aspen
---
Outstanding Sound Design, smaller budget
Peter Anthony, Frankenstein, OpenStage Theatre & Company
Also nominated:
Curt Behm, Caroline, or Change, Aurora Fox Arts Center
Curt Behm, Songs for a New World, Aurora Fox Arts Center
Brian Freeland, Men on Boats, The Catamounts
Chris Gavin, Lend Me a Tenor, Breckenridge Backstage Theatre
Sean Jeffries, Equus, Thunder River Theatre Company
Allen Noftall, Beehive: The '60s Musical, Lone Tree Arts Center
---
Video: In Memoriam 2018-19
Again the ceremony include a video tribute produced by the Denver Center honoring those from the theatre community who have died in the past year:
Dave Bova, hair and makeup artist
Jeff Carey, playwright and actor
Kirsten Brant , actor
Deb Countryman, Phamly Theatre Company actor
Le Donahue, Longmont Theatre Company actor and set builder
Mark Duran, Stage Vice President, IATSE Local 7
Deb Note-Farwell, Fort Collins actor
Ross Haley, Boulder's Dinner Theatre founder
Hack Hyland, actor
Winston 'Winnie' Laszlo, actor
Nicholas Lee, Longmont Theatre Company actor
Daniel Lindsay, DCPA Ticketing Agent and Bobby G Awards adjudicator
Tina Logsdon, Phamaly Theatre Company actor
Marianne Morrison, Fort Collins actor
Earl Trussell, Creede Repertory Theatre founding member
Charles Weldon, DCPA Theatre Company actor
Video by DCPA Senior Arts Journalist John Moore
https://www.denvercenter.org/wp-content/uploads/2019/07/Bre-Jackson-Oklahoma.-Henry-Awards.-Photo-by-John-Moore..jpg
819
800
John Moore
John Moore
2019-07-23 11:18:05
2019-12-11 19:29:06
Henry Awards are, oh what a beautiful evening for 'Oklahoma!'