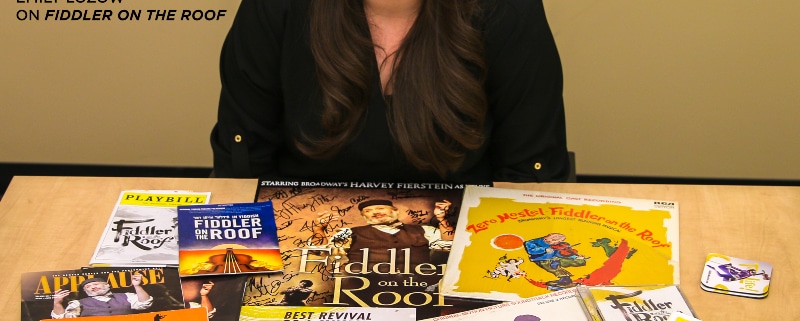 How 'Fiddler on the Roof' changed my life
Being exposed to the magic that is live theatre at age 7 'changed the trajectory of my life,' says Denver fan
Fiddler on the Roof is in my blood. Literally: My great, great, great grandfather was a Russian dairy farmer named Louis Robinson who immigrated to America in 1885. In the magical world of musical theatre, that pretty much makes Tevye my zayde.
My mom and I have seen just about every production of Fiddler on the Roof in the Denver metro area since I was 7. We're talking high school, community theatre, dinner theatre, national tours, everything – and I have loved every single one. I even left college just to come home and see Harvey Fierstein star in the 2010 tour. (OK, so it was only for a night, and I only had to drive down to Denver from Boulder and back. But still … it was a big deal.)
But Fiddler is not just an obsession to me. Growing up Jewish in Denver, I have always seen Fiddler as a powerful way to connect to my family's immigrant story. Every production strikes me in a different way. The 2015 production at BDT Stage in Boulder was one of the best I have ever seen. But none has had a greater impact on me than my very first time seeing it on stage after spending my childhood wearing out our VHS of the movie. It was at the Country Dinner Playhouse. I was 7, and my cousin, Sue Leiser (regarded by many as the grandmother of the Denver theatre community), was playing Golde.
But it was the arrival of Fruma-Sarah that day that seared Fiddler into my musical-theatre loving soul. She's the invented ghost of the butcher's formidable dead wife, who supposedly rises from her grave to warn Tevye of severe retribution if his daughter marries her husband. (It's all a ruse because Tevye's too afraid to tell his own wife that their daughter won't be marrying the butcher after all.)
Fruma-Sarah's entrance (right next to our table!) remains, to this day, one of the most exciting theatrical experiences of my life because it was equal parts terrifying and thrilling. My parents recall the look of wonder and terror they saw across the table in my 7-year-old eyes with a fear that they had broken me. Little did they know that by exposing me to the magic that is live theatre they had changed the trajectory of my life. In the best possible way.
Even now, half the fun for my mom and me is waiting to see how Fruma-Sarah is going to come on stage. We've seen her flown in, atop a ladder, on someone else's back and rolled in on wheels. It's always our favorite moment.
Last October, I celebrated my 30th birthday with a trip to New York to see the National Yiddish Theatre Folksbiene production of Fiddler on the Roof directed by Joel Grey and presented entirely in Yiddish (but did feature English and Russian subtitles) at the National Jewish Heritage Museum.
I went by myself to a Wednesday matinee performance and sat down in a row where I did not know a single person. We did not all speak Yiddish. Yet, as the show went on, we all started to lean into each other and by intermission we were sharing memories and our own family stories. By the time the show was over, we parted as friends brought together by rich storytelling that was so clear and powerful, it transcended all barriers.
But wonder of wonders, miracle of miracles … the most miraculous one of all was sitting down in Row H of The Broadway Theatre on April 19, 2016, to see Fiddler on the Roof on Broadway for the first time. I was the guest of John Ekeberg, the Executive Director of DCPA Broadway, and we were sitting in his Tony Award voter seats. Usually in a situation such as this, I would try to present (at least on the outside) as a calm, collected theatre professional. But instead, the second I heard that incredible Broadway orchestra play the first note of the overture, that 7-year-old girl came out – I laughed, I cried, I felt the exhilaration of live theatre, but as I looked around – so did everyone else.
What strikes me about the national tour of this production now coming to Denver is how it will appeal to audiences of all ages. This gorgeous staging feels fresh, contemporary and particularly relevant. And the orchestrations are stunning.
But to me, Fiddler is all about the story. And while Fiddler tells a specific story about Jewish life at a specific time and in a specific place, this is the story of anyone whose way of life can be taken away at any minute. This is a story about tradition, community, culture and family. Everyone can relate.
So when I take my seat in The Buell Theatre on June 11 next to my mom, speculating on how we think Fruma-Sarah will make her entrance, I will be pinching myself. Because I have never gotten over the excitement of sitting in the audience as a story comes to life before my eyes. Because now I have a job where I get to be part of bringing a show like this to my hometown.
I will feel like the luckiest 7-year-old girl in the world.
Emily Lozow is a graduate of Cherry Creek High School and CU Boulder and has worked at the DCPA for nearly seven years. She is currently the Marketing and Digital Manager for DCPA Broadway and Cabaret.
Fiddler on the Roof in Denver: Ticket information
Writers: Tony winner Joseph Stein and Pulitzer Prize winners Jerry Bock and Sheldon Harnick
Director: Tony Award winner Bartlett Sher
Dates: June 11-16
Where: Buell Theatre

Tickets: Available by calling 303-893-4100, in person in the Helen Bonfils Theatre Complex at 14th and Curtis streets or, online by clicking here:

Note: Please be advised that the Denver Center for the Performing Arts – denvercenter.org – is the ONLY authorized ticket provider for Fiddler on the Roof in Denver. As with all productions produced and/or presented by the DCPA, ticket buyers who purchase tickets from a ticket broker or any third party run the risk of overpaying or purchasing illegitimate tickets. Patrons should be aware that the DCPA is unable to reprint or replace lost or stolen tickets and is unable to contact patrons with information regarding time changes or other pertinent updates regarding the performance. Patrons found in violation of the DCPA Ticket Purchase and Sale Terms and Policies may have all of their tickets canceled.
https://www.denvercenter.org/wp-content/uploads/2019/05/Emily-Lozow.-Photo-by-John-Moore.jpg
792
800
Emily Lozow
Emily Lozow
2019-05-13 17:00:52
2019-05-15 14:19:52
How 'Fiddler on the Roof' changed my life