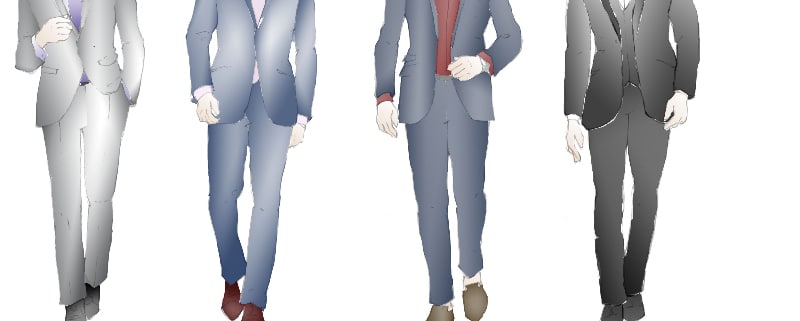 How might fashion change by the year 2050?
Time waits for no man, but twenty50 costume designer believes some fashion truths are timeless
It's not every day a theatre practitioner gets to glimpse into the future.
"With shows set in the past, there is a trove of research to look back on," said Meghan Anderson Doyle, costume designer for the DCPA Theatre Company's upcoming world-premiere production of twenty50, a play set three decades into the future. "With something in the future, you have to approach it differently."
For plays set in the past, "You can find inspiration in fashion magazines, photographs, paintings, and even garments, to some extent," Doyle said. But she and her team found the best way to design a show that takes place 30 years from now was actually to look 30 years in the past and observe what's changed — and what hasn't. And use that information to then envision how things might change in the near future.
"I looked at what garments have been present in western fashion and felt like they might have some stylistic changes, but stay in our wardrobes," Doyle said. "Men's suits, school uniforms and jeans are all things that we see in 2020 and have been popular for more than a century."
'Men's suits, school uniforms and jeans are all things that we see in 2020 and have been popular for more than a century.' – Meghan Anderson Doyle
Here is more of Cheyenne Michaels' conversation with Meghan Anderson Doyle:
Cheyenne Michaels: Have you ever designed costumes for a futuristic show before?
Meghan Anderson Doyle: This is certainly the first realistic futuristic show I have designed. I did design Jessica Austgen's Drag On for Off-Center, but time-traveling Drag Queens isn't quite the same genre as twenty50!
Cheyenne Michaels: How do you think rapid changes in personal technology will affect fashion moving forward?
Meghan Anderson Doyle: We really connected with technology and how intertwined it's becoming in our everyday lives. "Wearable tech" definitely has a presence in the play's costume design, like smartwatches and camera glasses. When I looked to fashion in particular, casual and everyday clothing tends to show the most changes while men's formal and business wear remained largely the same. Men's suits aren't really all that different from 1910 until today.  I think there is the opportunity to give a subtle nod to the future of fashion in things like sneakers and accessories without taking our audience out of the moment.
Cheyenne Michaels: What other considerations went into your approach for this story?
Meghan Anderson Doyle: Social status, class, gender, age and occupation are all things I really examined when designing the looks for this show. It was truly eye-opening when designing for the character Irene. She is a matriarch and grandmother who is the anchor of her family.  In 2050, I will be close to 70 years old, so designing for Irene is kind of like me picturing myself in the future.  It's sort of bizarre to think that her first concert could have been Boyz II Men. She would have ushered in the year 2000 as a teenager, and could have voted for the first Black president.  I like to think about how those experiences might have impacted the way she dresses and the style she developed.
More twenty50 costume renderings
Meghan Anderson Doyle/At a glance
Meghan Anderson Doyle, born and raised in Colorado and a fourth-generation Northsider, is in the midst of her 14th season as a Costume Design Associate with the DCPA Theatre Company, though her credits span DCPA's Off-Center and Cabaret series as well. Select design credits include both parts of A Doll's House; Xanadu; American Mariachi; First Date; The Wild Party; Drag On; The Glass Menagerie; Sweet & Lucky; Tribes; One Night In Miami; Appoggiatura; Vanya and Sonia and Masha and Spike; Lord of the Butterflies; Jackie and Me; and I Love You, You're Perfect, Now Change. Other theatre companies include the Colorado Shakespeare Festival, Arvada Center, Aurora Fox, Curious Theatre Company, Local Theatre Company, Theatre Aspen and  National Theatre Conservatory. She holds a B.A. in Theatre from the University of Denver along with an M.F.A. in Costume Design and Technology from the University of Florida. She is passionately curious, an avid reader, history nerd – and still wants to be a Muppet when she grows up.
twenty50: Ticket information
At a glance: In the year 2050, Andres Salazar, an immigrant, is running for congress. In an imagined America where Latinos are now considered part of the racial majority, he has tough decisions to make. Will identifying himself as a Mexican American help or hinder him on Election Day? Will denying part of his identity be worth the potential political benefits? As the campaign forces his mother and daughter to face their own questions of culture and identity, a mysterious stranger arrives. Searching for freedom and running from the law, his appearance jeopardizes everything the family holds dear.
Dates: Performances January 31 through March 1 (Opens February 7)
Where: Space Theatre

Genre: Suspenseful thriller
Tickets: Start at $30 and can be purchased at 303-893-4100 or in person in the Helen Bonfils Theatre Complex at 14th and Curtis streets or online by clicking here:

About the author: Cheyenne Michaels is the Marketing Manager as well as a contributing writer for DCPA Theatre Company and Off-Center. She is a native Coloradan, an alumna of the University of Denver, and worked at regional theatres in our nation's capital before returning home to work at the DCPA.
https://www.denvercenter.org/wp-content/uploads/2020/01/Meghan-Anderson-Doyle-twenty50-Sebastian-color.jpg
586
800
Cheyenne Michaels
Cheyenne Michaels
2020-01-08 11:32:45
2020-01-09 10:26:56
How might fashion change by the year 2050?