Ignite Theatre to cease operations after 'The Wiz'
Denver's Ignite Theatre somehow caught a spark during the worst economic nadir since the Great Depression – and still caught fire. But after seven years of brazen and unapologetically provocative fare, the torch is soon going out on the most unlikely success story in Denver theatre over the past decade.
Co-founder Will Adams made the announcement at tonight's opening performance of The Wiz that Ignite is ceasing operations after the show closes at the Aurora Fox on Jan. 29.
"We're not mourning; we're celebrating 31 incredible productions," Adams said.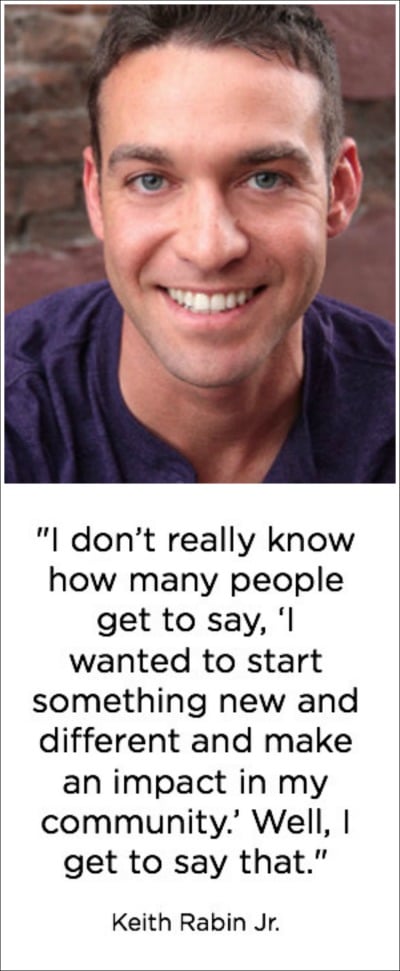 Ignite was facing several significant challenges moving forward, including an overextended board, the impending departure of co-founder Keith Rabin Jr., and the increasing challenge of finding viable performance spaces in the metro area. But Adams said Friday there was no single tipping point. "It's just time," he said.
Ignite was launched in 2009 as Gravity Defied Theatre Company by Rabin, Adams and Reace Daniel, with initial support from the Rocky Mountain Arts Association, home of the Denver Gay Men's Chorus and others. But the driving artistic force was always Rabin, who is co-directing the farewell production of The Wiz.
"I am so lucky," Rabin said. "I don't really know how many people get to say, 'I wanted to start something new and different and make an impact in my community.' Well, I get to say that."
Ignite was started as a musicals-only company that would introduce regional premieres and revisit groundbreaking musicals of the past. And from its opening staging of bare: the musical, the story of two gay high-school students and their struggles at a Catholic boarding school, Ignite didn't just push the envelope. It pushed the envelope over the edge and into the fire.
"No, we were never afraid to be overtly sexual," Adams said with a laugh. "And the further we pushed the sexuality, the more successful we were for our audience."
Rabin told Westword early on that Ignite intended to do shows that no other companies would want to touch because they might have too many f-bombs, or too much sex or drugs. "Those are the types of shows we like to do," Rabin said, "more risqué shows, definitely stuff that nobody has been beating the hell out of. "
Gravity Defied distinguished itself from all other companies from the start by writing into its mission statement a commitment to donating a portion of its ticket revenues to a designated local charity. While the service commitment was ultimately unsustainable for a bare-bones non-profit, the company did raise $2,000 for Phamaly Theatre Company, which creates performance opportunities for actors with disabilities, and $1,500 for the Starlight Children's Foundation, among others, before giving up the ghost. In 2011, the Rocky Mountain Arts Association ended its partnership with Rabin, which is what had made Gravity Defied eligible for public funding. So after five productions, Rabin and Adams created their own nonprofit called Lucent Performing Arts and changed the name of the theatre company to Ignite. Their new mantra: "Ignite the night."
Even with a new name, the theatre continued to live up to its original moniker by defying the odds, if not gravity. "This was always a very unlikely proposition," Adams said. But Ignite slowly made its name and reputation presenting highly sought regional or Denver premieres like Next to Normal, Spring Awakening, Heathers and American Idiot alongside provocative classics like Pippin, A Chorus Line, Cabaret and Rent – with the occasional You're a Good Man, Charlie Brown and Into the Woods thrown into the mix to keep audiences off-balance. But Ignite's bread and spicy butter was a regular stream of smaller cutting-edge titles for the Smash generation like bare, The Wild Party and [title of show]. Ignite's only non-musical title ever was 2011's The Busy World is Hushed.
Adams cites two seminal productions as Pippin (which was somehow accompanied by a 21-piece orchestra) and Green Day's in-your-face American Idiot.
"American Idiot was just bad," Adams said, "And I mean that in the best possible way. It was a risky production, and I think it really sums up what Ignite Theatre can do." (Story continues below.)

Photo retrospective: A look back at Ignite Theatre Productions
"bare: the musical" was Ignite Theatre's inaugural staging in 2009. To see more photos, click here.
Although Ignite was never a bricks-and-mortar company, it staged 30 of its 31 productions as a tenant of the Aurora Fox. Adams would like to believe Ignite made the Fox  a more energized and vital force in the growing Aurora Cultural Arts District, which includes the two stages at the Aurora Fox and two more at the nearby Vintage Theatre. And Aurora Fox Executive Producer Charles Packard could not agree more.
"Ignite attracted people to the neighborhood I was not as focused on with their programming, so that is fantastic," Packard said. "It's been great to watch them grow and fill a niche we weren't filling. That allowed me focus on other under-represented audience groups with mainstage shows like Black Elk Speaks and Porgy and Bess. The same is true with Vintage. When you have a variety of  different companies performing within a few blocks of each other, you are naturally going to attract a wider span of potential audiences."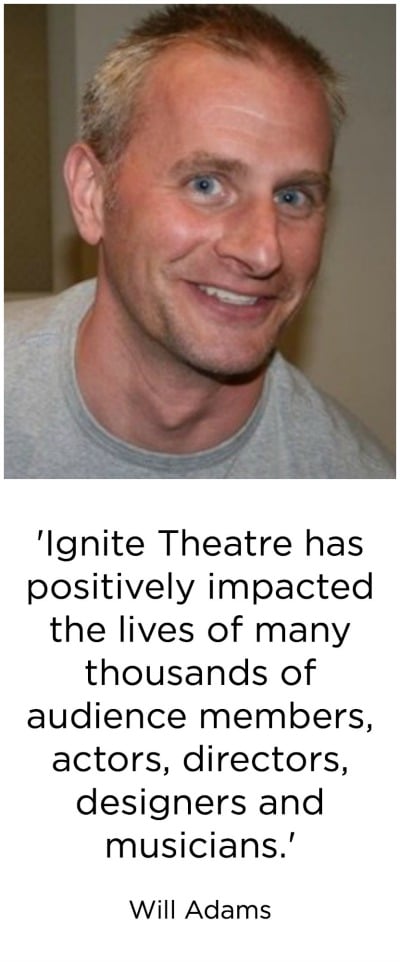 But the partnership hit a hiccup last summer when Aurora city officials informed the Fox it could no longer present simultaneous shows on its mainstage and in its busy studio theatre next door if both were going to require dressing-room space for the actors. That's too many people in too small of spaces. That forced Ignite to move or cancel three upcoming productions. Nevermore: The Imaginary Life and Mysterious Death of Edgar Allen Poe became the first Ignite show ever hosted outside the Fox when it was staged instead at the Crossroads Theatre in Five Points.
The job to expand the Aurora Fox dressing rooms went to bid just this week, Packard said, and he expects the work to be completed by the end of May. He said he is sad to see Ignite go, "but they have come to the end of a great run."
Adams emphasized that Ignite was not in financial straights, but acknowledged the board and artistic leadership could no longer dedicate the time and necessary resources to continue operating a semi-professional theatre company at its current pace. He said Lucent Performing Arts will remain in operation, "and that leaves us open to the possibility of future programming that would carry on in Ignite's footsteps, such as educational workshops, guerilla theatre or remounts of past productions."
Adams said he can move on with his head held high knowing Ignite Theatre has made a difference in the Denver-area theatre community.
"Ignite Theatre has positively impacted the lives of many thousands of audience members, as well as hundreds of the actors, directors, designers and musicians who have passed through our doors, many when they were just starting out and have moved on to much bigger things." Adams cited Denver Post Ovation Award winner Rebekah Ortiz, Norrell Moore, Anna High and Lindsey Falduto, among others.
"This company began as Keith Rabin's dream," Adams said. "And I feel very proud that I helped make his dream happen. We made some amazing theatre as a result of that dream."

John Moore was named one of the 12 most influential theater critics in the U.S by American Theatre Magazine in 2011. He has since taken a groundbreaking position as the Denver Center's Senior Arts Journalist.
The Wiz: Ticket information
Through Jan. 29
Presented by Ignite Theatre at the Aurora Fox
9900 E. Colfax Ave.
Performances 7:30 p.m. Thursdays through Saturdays and Monday, Jan. 16.; 2:30 p.m. Sundays
Tickets are $20-28
866-811- 4111 or ignitetheatre.com
Ignite Theatre: Production history
2009
bare: the musical*
2010
You're a Good Man, Charlie Brown
Totally Electric*
The Wild Party*
[title of show]*
2011
Seussical
The Last 5 Years
Pippin
A Chorus Line
2012
The Busy World is Hushed*
The Great American Trailer Park Musical
Spring Awakening*
Sweeney Todd
Next to Normal
2013
Cabaret
Lysistrata Jones*
Avenue Q
Aida
2014
See What I Wanna See*
35MM*
Rent
Into the Woods
2015
Dreamgirls*
tick … tick … BOOM!
La Cage Aux Folles
Dogfight*
2016
Green Day's American Idiot*
Heathers The Musical*
The Wild Party (Aurora Fox and Brighton Armory)
Nevermore: The Imaginary Life and Mysterious Death of Edgar Allan Poe*
2017
The Wiz
*Regional premieres
https://www.denvercenter.org/wp-content/uploads/2018/04/featured-image-4683.jpg
533
800
John Moore
John Moore
2017-01-07 20:27:00
2020-02-04 10:52:53
Ignite Theatre to cease operations after 'The Wiz'