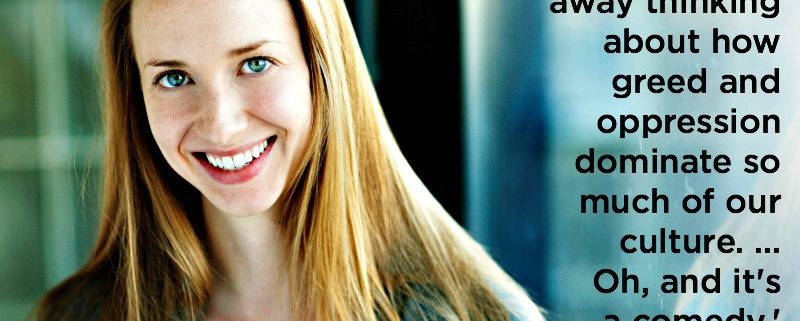 In the Spotlife: Emily K. Harrison of 'She Rode Horses Like the Stock Exchange'

Emily K. Harrison is a lecturer in theatre for the University of Colorado Department of Theatre and Dance. She is also the founder of square product theatre.

MEET DR. EMILY K. HARRISON
Amy in square product theatre's She Rode Horses Like the Stock Exchange

Hometown: Kilgore, Texas, located 70 miles west of Shreveport, La.
Home now: Longmont
College: B.A. from Emerson College (Boston); MFA from Savannah College of Art & Design (Ga.); PhD from the University of Colorado Boulder
What have you done for us lately? I played The Aunt in square product theatre's This Aunt is Not a Cockroach
What's next? I will be playing JonBenet Ramsey in Gregory S. Moss' House of Gold for square product theatre
Why is your square product theatre company spelled in lower-case? To place the focus on the work we make, rather than on any one name or personality.
Twitter-sized bio: I love cats. And tacos. I have a lot of anxiety about my choices. Including the choice to tell everyone I love cats and tacos. But: first thought, best thought. Or something.
What was the role that changed your life? I played Tiger in SLAB, which is a show I spent about five years developing with my friend Gleason Bauer. It changed my life in many ways. The piece was adapted from the novel by Selah Saterstrom. When one has such great source material, and when the creation process is lengthy, there's so much more space to go deep. We weren't working on it consistently for five years, of course, but it was incredible to live with that character for so long; to get to know her in ways I don't usually have time for when working on a play. She lived in the back of my mind, whispering things to me for years before the show premiered. She's a character who lives in such desperate poverty, and who still manages to have so much hope. It's also the most challenging role I've ever played. I just love her.
Ideal scene partner: I'd really like to work with my friend Brenda Withers (pictured right) at some point. She's probably best-known for co-writing the comedy Matt & Ben with Mindy Kaling, but she's also a very good, smart actor, and I think we'd have fun together. I could use this opportunity to meet someone new, but that fills me with anxiety, and there are so many great actors I actually know that I've never had a chance to work with. So I'm sticking with Brenda. Maybe we could make something new together. Speaking of making something original: I just can't get enough of Michelle Ellsworth's work. I would be so, so interested in understanding how her brain works. Her work just blows my mind. It's like nothing I've seen before anywhere.
What is She Rode Horses Like the Stock Exchange all about? So many things. It's about public persona vs. private reality – the masks we put on to hide our truth – and what it takes for those masks to crack. It's about relationships. It's about gender dynamics. It's a commentary on patriarchal systems and privilege. It's about personal responsibility. It's about the Global Financial Crisis. It's about dogs.
What do you love about this play? It really straddles the line between realism and absurdism, which is great fun, but is also a great challenge. Amy is in some respects a very different person than the Emily I present most of the time. Her values are very different than mine, though I do understand where she's coming from on a lot of fronts. She's not a facet of my personality that I show very often, and that's been fun to play with. She's smart, and she's worked hard to get to where she is, but she presents a self-assuredness and a confidence that is challenging for me, especially in relationship to the other characters.

More Colorado theatre coverage on the DCPA NewsCenter

What do you hope audiences get out of seeing this play? The play reveals the cyclical nature of destruction wrought by American capitalism in some respects. It's a timely play and I think it's a warning – or a plea to break the cycles that keep driving us towards "newer," "bigger," "more." So I hope people walk away thinking about how greed and oppression dominate so much of our culture – and how these cycles dehumanize us and how our prioritization of the individual over the good of the community will be our undoing. … But also: I hope they laugh. It's a comedy!
What's one thing most people don't know about you? I love being at home. Like, if I could just stay at home most days, I would.
What's one thing you want to get off your chest? Feminism is good for everybody. Every. Body. I'm happy to chat with anybody who isn't so sure. I think we should all chat more. There's a lot of yelling. There are a lot of assumptions. We're all guilty of that behavior. But I'm convinced that feminism is good for everybody, that we're all doing the best we can, that we can all do better, and that two or more things can be true at once. Let's chat.
From left: Michelle Moore, Jihad Milhem and Emily K. Harrison in 'She Rode Horses Like the Stock Exchange.'
square product's She Rode Horses Like the Stock Exchange: Ticket information
At a glance: In a "nice" New England park, on a "nice" New England street, two "nice" New England couples try very, very hard to be "nice" to each other, as the crippling Global Financial Crisis gallops into town. This new play is an absurdly funny, poignant and terrifying ride through downsized, foreclosed America.
• Written by Amelia Roper
• Presented by square product theatre company
• Directed by Niki Tulk
• April 21 through May 28
• Performances in the Carsen at the Dairy Arts Center
• Dairy Arts Center, 2590 Walnut St., Boulder
• Tickets $18-24 ($15 for students)
• For tickets or information, call 303-440-7826 or the dairy.org

Remaining performance schedule:
• 7:30 p.m. Saturday, April 22
• 7:30 p.m., Friday, April 28
• 4 p.m., Saturday, April 29
• 7:30 p.m., Monday, May 1 (all seats $15)
• 7:30 p.m., Wednesday, May 3
• 7:30 p.m., Thursday, May 4
• 7:30 p.m., Saturday, May 6
• 6 p.m., Sunday, May 7
• 7:30 p.m., Thursday, May 11
• 7:30 p.m., Saturday, May 13
Cast list:
Emily K. Harrison
Andrew Horsford
Jihad Milhem
Michelle Moore
More 'In the Spotlife' profiles:
Meet Lauren Bahlman of Wide-Eyed West's theMumblings
Meet Mark Collins of And Toto Too's Lost Creatures
Meet Carley Cornelius of Colorado Springs TheatreWorks' Constellations
Meet Emily Paton Davies of Miners Alley Playhouse's God of Carnage
Meet Kelsey Didion of Curious Theatre's Constellations
Meet Denise Freestone of OpenStage's August: Osage County
Meet Sam Gregory of the Arvada Center's Tartuffe
Meet John Hauser of Curious Theatre's Hand to God
Meet Jim Hunt of Buntport's The Zeus Problem
Meet Jeff Jesmer of Spotlight Theatre's The Crucible
Meet Wayne Kennedy of BDT Stage's Mid-Life 2
Meet Carla Kaiser Kotrc of Miners Alley Playhouse's A Skull in Connemara
Meet Heather Lacy of the Aurora Fox's Priscilla Queen of the Desert
Meet Seth Maisel of Town Hall Arts Center's The Firestorm
Meet Tim McCracken of Local Theatre's The Firestorm
Meet Angela Mendez of Beauty and the Beast
Meet Joelle Montoya of Su Teatro's El Sol Que Tu Eres
Meet Rebekah Ortiz of The Robber Bridegroom
Meet Anne Oberbroeckling of Boulder Ensemble Theatre Company's Ripcord
Meet Jessica Robblee of Buntport Theatre for All Ages' Siren Song: A Pirate Odyssey
Meet Cory Sapienza of Miners Alley Playhouse's Hir
Meet Sean Scrutchins of the Arvada Center's Bus Stop
Meet Lauren Shealy of Lone Tree Arts Center's Evita
Meet Jane Shirley of The Avenue's Santa's Big Red Sack
Meet Marc Stith of Benchmark Theatre's The Nether
Meet Peter Trinh of the Aurora Fox's Chinglish
Meet Petra Ulyrich of Germinal Stage-Denver's Johnny Got His Gun
Meet Megan Van De Hey of the Arvada Center's Sister Act
Meet Sharon Kay White of the Arvada Center's I'll Be Home for Christmas

https://www.denvercenter.org/wp-content/uploads/2018/04/featured-image-4428.jpg
533
800
John Moore
John Moore
2017-04-22 11:26:00
2017-04-22 11:26:00
In the Spotlife: Emily K. Harrison of 'She Rode Horses Like the Stock Exchange'