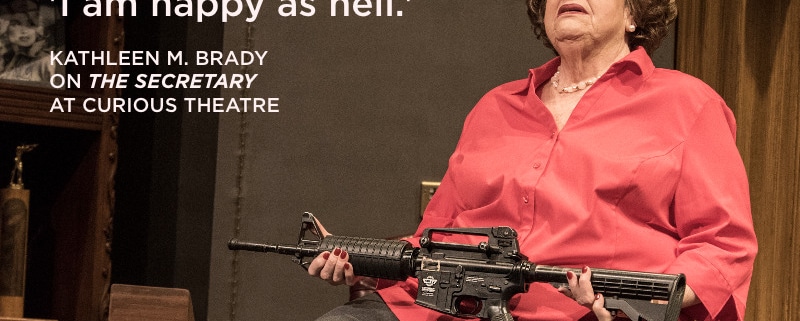 In the Spotlife: Kathleen M. Brady
Beloved Denver Center veteran is brandishing her weapon in Curious Theatre's The Secretary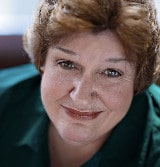 Longtime DCPA Theatre Company actor Kathleen M. Brady is making her first mainstage appearance with Curious Theatre Company in The Secretary, running through February 22 at 1080 Acoma St. Among Brady's many Denver Center productions since 1986 have been The Beauty Queen of Leenane, Arsenic and Old Lace, Dancing at Lughnasa and Trip to Bountiful. She has appeared on TV as Dorothy Yobs in Breaking Bad and in numerous commercials. Kathleen has received accolades from Westword for Best Actress in a Drama for the show Well in 2010, and was named The Denver Post's 2009 Colorado Theatre Person of the Year.
Role: Ruby, owner of a gun manufacturing company, in Curious Theatre's The Secretary

About the show: Kyle John Schmidt's incendiary black comedy centers on a high-school secretary who takes down a student shooter. The play features an all-female cast including Leslie O'Carroll, Karen Slack, Emma Messenger, Devon James and Adeline Mann.
Hometown: Denver since 1986
College: San Francisco State
Twitter-sized bio: "An introverted Bohemian."
One thing many people might not know about you: I started out shy. I was incredibly shy. Painfully shy as a child.
Favorite quote: "That's why you all want to be actors: Because your souls are not used up by life." – Stella Adler
Why did you choose to make Denver your forever home? Because (Denver Center Theatre Company Artistic Director) Donovan Marley asked me to come out here and become a part of his company. I had been a part of his company in California, the Pacific Conservatory Theatre. I trusted him, I knew the kind of work he was trying to do, and I wanted to be a part of that.

Choose one favorite role from among the dozens you played with the DCPA Theatre Company. The Beauty Queen of Leenane, because I played a side of my mother that no one has ever seen.

What's the one role you would love to play … but would be completely miscast for? Tevya in Fiddler on the Roof
What have you seen lately that has floored you? Sophie's Choice. Meryl Streep's performance is impeccable, and the rest of the cast is impeccable, too. There is no flaw in that film. And The Hunt for Red October because Sean Connery and Alec Baldwin are in the same film – and they're in uniform! Also Don Juan Demarco with Johnny Depp. I love all the performances, but I adore Marlon Brando's most of all. Absolutely incredible.
What music are you listening to? The only music I don't like is what they used to call "wall of noise." I'm learning the lyrics to "Uptown Funk," by Mark Ronson and featuring Bruno Mars. I know the lyrics to "I Like Big Butts," but I also know the lyrics to "Jeepers Creepers" from the 1930s.
What's it like working in an all-female ensemble that includes your old friend Leslie O'Carroll and these other strong women? Fabulous! Fabulous, lovely, wonderful, grateful. I am happy as hell. And also a female director – the fabulous Christy Montour-Larson. And also a female Stage Manager – the fabulous Phoebe Sacks. Every single human being here at Curious is trying to help you to be your best. They make it easy for you to really work. I can't think of anything else an artist would want. It's the dream. It's heaven!
About The Secretary: What are your thoughts on the Second Amendment?  Oh is that guns? The genie's been out on guns for a long time. Of course, they had muskets back then, not semi-automatic weapons. I hope I'm never in a position where I would need a gun. I think that's the way most people feel.
What do you hope the audience gets out of seeing The Secretary? I hope it makes them think.
What's one thing you want to get off your chest? Trump.
The Secretary

Written by Kyle John Schmidt
Directed by Christy Montour-Larson
Dates: Performances through February 22
Where: 1080 Acoma St.
Tickets: Call 303-623-0524 or go to curioustheatre.org
Video: Uptown Funk
https://www.denvercenter.org/wp-content/uploads/2020/01/Kathleen-M.-Brady.-Photo-by-Michael-Ensminger.jpg
575
800
John Moore
John Moore
2020-01-15 14:54:59
2020-01-16 10:47:15
In the Spotlife: Kathleen M. Brady