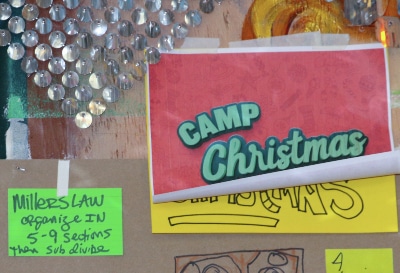 Lonnie Hanzon, Off-Center announce immersive 'Camp Christmas' collaboration
Creators hope massive holiday installation at Stanley Marketplace grows into a new seasonal tradition for all of metro Denver
Opening the doors to his expansive Lakewood art studios, Lonnie Hanzon welcomes visitors into what he calls "the inside of my brain." Hanzon Studios, tucked almost hidden into a quiet residential neighborhood, is a wonderland of beads, paint, mirror squares, sequins, dolls, unicorns and "all the stuff you could possibly collect," he said. One whole backyard shed is devoted entirely to glitter.
Hanzon is a Colorado-based installation artist perhaps best known here for designing the temporarily removed gateway sculpture "Evolution of the Ball" at Coors Field. Or the iconic castle façade for the peripatetic The Wizard's Chest toy store. Or the interior design at the downtown Clocktower Cabaret. Hanzon has been immersing art lovers in his singular, sprawling outdoor urban entertainment projects, some covering as many as 30 acres, for decades.
You've heard of a minimalist? Hanzon has almost singlehandedly created the inverse genre. "I'm a maximalist," he said. Maximalism, he explains, "is basically using everything you possibly can use to help tell the story."
And nobody does Christmas to the max like Hanzon and his team at Hanzon Studios. Nationally, he is recognized for his Christmas installations at Neiman Marcus, Houston Zoo Lights and the original Denver Parade of Lights floats.
Hanzon's next immersive experience will be his first collaboration with the Denver Center for the Performing Arts, and one of the most ambitious projects of his storied career.
Off-Center, the DCPA's most adventurous programming wing, today announced a creative partnership with Hanzon called Camp Christmas, which Off-Center Curator Charlie Miller describes as "the ultimate immersive Christmas experience."
Beginning November 21, Camp Christmas will take patrons on a journey through different eras of Christmas with extravagant installations filling the 10,000-square-foot Hangar at Stanley Marketplace. Hanzon says it will be like building six theatrical plays in one space. "Believe me, we're using every turning motor we've got," he said.
Miller says "Camp Christmas is going to be 10,000 square feet of concentrated Christmas insanity." Hanzon calls it "a multigenerational family activity, an educational experience, a romantic date night, an office party … and most of all, fun."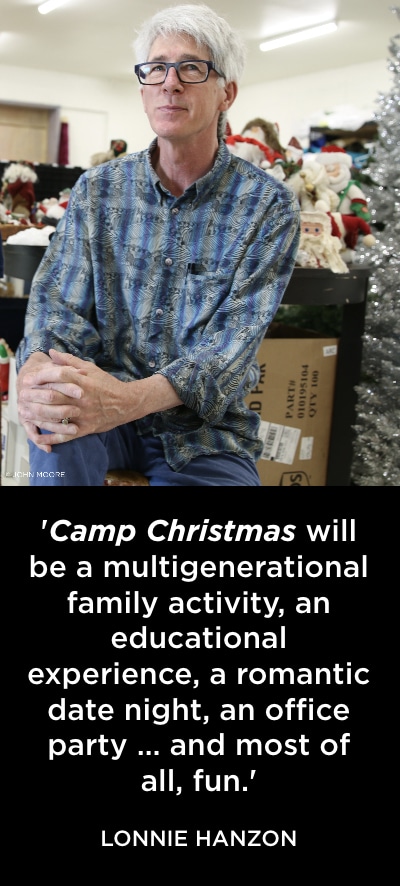 Hanzon, a native of Pine, Colorado, who was a Lead Show Producer of Attractions at LucasArts/LucasFilm, says Camp Christmas will travel through a variety of Christmas eras starting in ancient Rome and covering the Renaissance, Baroque, Rococo, Victorian, Art Nouveau, Art Deco, mid-century modern, disco and present day. So if you have ever wondered how Santa Claus went from being Saturn in ancient Rome all the way through to the Coca-Cola, red-and-white Santa we know and love today, Hanzon said, Camp Christmas will show you.
"As you move through these different environments, you create your own narrative and you discover your own throughlines and surprises," Hanzon said. "This journey through the history of Christmas is really the history of our very human need to find light in the darkest time of year. It's a journey to find community and warmth and celebration."
Audiences will enter Camp Christmas in regular intervals from 10 a.m. through 8 or 10 p.m., depending on the day of the week. Everyone will start in the Santa Bar, where they can purchase special holiday-themed drinks that they can carry through the experience. Miller calls it a comfortable, self-guided journey for all ages, with seating in every area.
For the adults, he added, "The Santa Bar will be the biggest and weirdest and coolest holiday bar of the season," Miller said. "And there will be a Santa Tiki bar in another room. There will be opportunities to do period toasts in each environment. We want Camp Christmas to be a place to be social, to be merry, and to experience Christmas in a totally different and unbelievably entertaining way."
Because Camp Christmas will be both indoors and open all day, Hanzon said it will make for a memorable experience for children, parents and grandparents as well. "Everybody has this incumbent memory of going out with their family for a holiday stroll, and this is meant to be that magical stroll," Hanzon said. "In the old days, that meant a trip to see the beautiful department-store windows. This is this generation's family stroll."
Learn more about Camp Christmas and receive email updates on tickets
Camp Christmas will mark Off-Center's third immersive experience at Stanley Marketplace, a food-centric, community-inspired gathering place located just southeast of the Stapleton neighborhood, after previously hosting The Wild Party and Travelers of the Lost Dimension. "We are ecstatic to continue our great relationship with the DCPA and Off-Center," said Bryant Palmer, chief storyteller at Stanley Marketplace. "Camp Christmas will be the perfect addition to our community for families, individuals and culture-lovers to spend their day during the holidays."
Miller's hope is that Camp Christmas grows into a new holiday tradition for all of metro Denver. "One that is visually stimulating and nostalgic and full of wonder – and most of all is really fun," he said. "It's also inside, so you don't have to bundle up."
John Moore was named one of the 12 most influential theater critics in the U.S. by American Theatre Magazine in 2011. He has since taken a groundbreaking position as the Denver Center's Senior Arts Journalist.
Camp Christmas: Ticket Information
When: November 21, 2019, through January 5, 2020
Where: At the Hangar at Stanley Marketplace, 2501 Dallas Street, Aurora
Hours: The experience will be open from 10 a.m. to 8 p.m. Sundays and Tuesdays through Thursdays; from 10 a.m. to 10 p.m. Fridays and Saturdays (with some exceptions; schedule subject to change).
Tickets: Start at $8 and are available by calling 303-893-4100, in person in the Helen Bonfils Theatre Complex at 14th and Curtis streets or, online by clicking here:

Photos from our visit to Hanzon Studios:
Click any photo to see a larger version. Photos by John Moore for the DCPA NewsCenter.
Click here to see our full gallery of photos from Hanzon Studios NewsCenter
https://www.denvercenter.org/wp-content/uploads/2019/07/Camp-Christmas.-Lonnie-Hanzon.-Photo-by-John-Moore..jpg
273
400
John Moore
John Moore
2019-07-16 09:18:12
2019-10-23 13:05:37
Lonnie Hanzon, Off-Center announce immersive 'Camp Christmas' collaboration