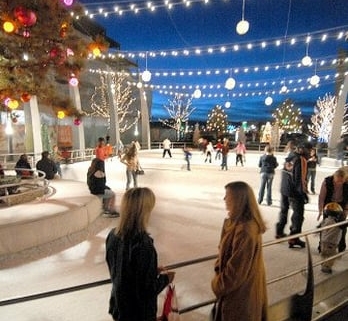 Making the Most of Your Camp Christmas Time
If you're off to Camp Christmas, the holiday production created by artist Lonnie Hanzon, consider making a day — or night — of it in Lakewood's Belmar area as you embrace the holiday spirit through November and December.
As you select your timed entry you will be factoring in weather, the dietary needs of your group, the bedtimes of your kiddos, and how to make the most of this family or friends outing during a busy time of year. Keep in mind that Camp Christmas is open from 4pm to 9pm (with a few exceptions), so you may be there during typical dinner times. Food trucks and on site beverage stations are available at the experience, but you may want to explore the neighborhood too.
The Belmar area is very walkable so if the weather is decent, you can be walking from shops to restaurants to entertainment easily.
Here are a few ideas to make the day full and memorable without having to drive to other parts of the metro area for food, drinks, or other entertainment:
The Lakewood Cultural Center (LCC) is right next to the Heritage Lakewood Belmar Park where Camp Christmas is installed so if you schedule on the early side, you'll still have time for a show too. Consider the Rocky Mountain Stocking Stuffers on Dec. 3 or a selection of Nutcracker performances by either Ballet Melange (Nov. 18-20), the Dance Conservatory of Denver (Nov. 26-27), or Ballet Ariel (Dec. 10-23). The Colorado Jazz Repertory Orchestra performs here on Dec. 4 and the Rocky Mountain Ukulele Orchestra on Dec. 13.
Start early in the day and do a little Christmas shopping to support local shops and artists, as well as hitting the big stores like Dick's Sporting Goods. Look for A Touch of Colorado for that gift that is evocative of the Centennial State, Julie Havel Fine Art, Valkarie Gallery, Kustomized to get a personalized gift, or iNk Jewelry to buy local and one-of-a-kind.
While there are sweets, hot cocoa, and Tiki bars with themed cocktails in the Camp Christmas exhibit, you may want a full meal before you begin to explore, or a place to hang out after your visit. There is no shortage of good eateries and bars in the Belmar area, so you'll find something for everyone in your group. Consider Mono Gogo, the fast-casual version of the Mono Mono Korean Fried Chicken place; Seafood Empire for Vietnamese Cajun food; D Cha Café for that caffeine pick-me-up; G-Que Barbeque has both lunch and dinner; Tstreet Roadhouse with brunch, lunch, happy hour, and dinner serving a mix of salads, burgers, and more; Chuy's for those heaping plates of Tex-Mex. This is not a full list of all restaurants and bars in the area, just some preferred spots for variety.
Keep the magic of the evening going with ice skating at The RINK at Belmar, scheduled to open on Nov. 18. Daily hours and fees will be posted online soon.
As you make your plans, note that Camp Christmas is up Nov. 17-Dec. 24 and does require timed entry tickets.
https://www.denvercenter.org/wp-content/uploads/2022/11/348s.jpeg
348
348
Mindy Sink
Mindy Sink
2022-11-16 11:27:31
2022-11-16 11:27:56
Making the Most of Your Camp Christmas Time