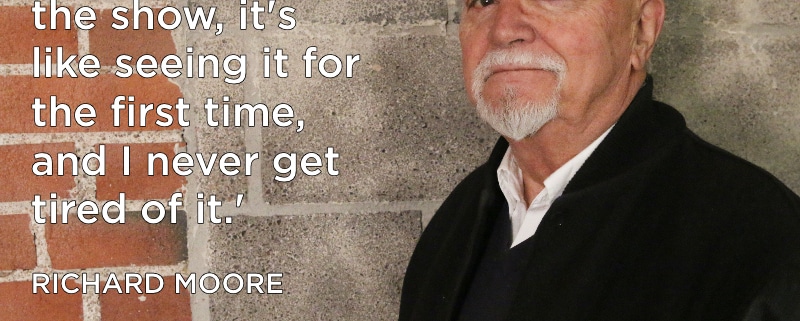 Meet Denver's legendary 'Phantom Phan'
Video by David Lenk and John Moore for the DCPA NewsCenter
Octogenerian Dick Moore is nearing 200 performances of Webber's masterpiece over 31 years
Denver does not have an official The Phantom of the Opera fan club. But it does have perhaps the ultimate "Phantom Phan": Dick Moore, an 81-year-old from Wheat Ridge who, by the time the latest national touring production leaves Denver on Sunday, will have seen 198 live performances of Andrew Lloyd Webber's tragic love story over the past 31 years.
"And if I lived in New York, I'm sure it would be a thousand," Moore told the DCPA NewsCenter. "Every time I see the show, it's like seeing it for the first time, and I never get tired of it."
They say life begins at 50. That's certainly when Moore's life began with Christine, Raoul, Carlotta and poor, tormented, chandelier-dropping Erik. At his 50th birthday party in 1988, Moore's friends presented him with George Perry's "The Complete Phantom of the Opera," a book covering the pop-culture history of The Phantom from Gaston Leroux's 1911 novel through the stage adaptation that opened in New York that very same year (1988). It is now the longest-running musical In Broadway history.
Moore was intrigued by the book, "so I thought, 'I am going to find out all about this' – and boy, did I," he said. Moore decided on a whim to fly to London to see the original show. "It was nothing like I had ever seen before," he said. "The music and the staging were overwhelming. It just grabbed me, and I was hooked."
Three years later (1991), it was announced that the new Buell Theatre would be christened with none other than the first North American tour of The Phantom of the Opera. Moore, who had moved to Colorado in 1974 for the weather, would have to travel only 5 miles to see the show here.
By then, he had seen the show just five times. But he took in 26 performances of that inaugural Buell Theatre run, which sold more than 224,000 tickets. Before the 11-week engagement ended, Moore was given a private meeting with star Kevin Gray, a signed poster and a tour jacket – still his most cherished piece of Phantom memorabilia.
"So then I followed them to Philadelphia, and during the curtain call, Kevin turned and acknowledged me in the second row," Moore said. "When he did that, I thought, 'OK, now this is where this is going. I am not going to stop this.' "
When Moore flew to London in 2004 to see the first screening of the Joel Schumacher film adaptation, it was his 10th Phantom-related trip across the pond.
Moore now has a huge mask decal covering the hood of his Miata with the vanity license plate OPRGOST – for "opera ghost." In 2005, when the Phantom tour returned to Denver for the fifth time, Moore bought balcony tickets for 31 of the 41 performances, all on his own dime (adding up to $1,420.) For that first matinee, Moore arrived by horse and carriage wearing full Phantom regalia.
Not all of Moore's friends understand his infatuation with the gothic tale of the villainous young composer shamed by his disfigured appearance into a shadowy existence beneath the majestic Paris Opera house – or his lethal infatuation with the beautiful opera singer Christine. But like art, "The Phantom's beauty lies in the eyes of the beholder," Moore said.
"He's just a poor unfortunate person who had something bad happen to him," Moore said. "He was just trying to be wanted. He's the underdog, and sometimes I feel I'm an underdog, too. He has pulled me through a lot hard times in my own life."
Friends have teasingly called him "The Phantom Phreak," but he says he's exactly like any Colorado Rockies season-ticket-holder who attends 81 baseball games every year.
"Sure, people say I'm crazy," he said, "but this is all fun for me. I mean, I don't do drugs, and I don't hurt anybody by doing this."
Cameron Mackintosh on the bathtub birth of The Phantom of the Opera
And just as Christine is the only woman for Erik, Phantom is (pretty much) the only show for Moore. He was raised to enjoy all kinds of musical theatre by his parents in St. Louis, but he said he has felt no similar infatuation for any other musical. "There is no show I'd rather see than The Phantom of the Opera," he said flatly. "Like The Phantom, I am basically possessed." And happily so. For the tour's current visit to Denver, Moore is ticketed to see all 16 performances. "And I am looking forward to all of them with bated breath," he said.
Moore figures he has spent precisely $66,639 to feed his habit: $49,886 on tickets and travel expenses, $12,216 on memorabilia and $4,537 on his Phantom Miata. But Moore is not some independently wealthy eccentric. He's working stiff who in younger days spent 17 years as a graphic artist for the shuttered Hirschfeld Press, and later manned the counter for a DIA shuttle service. Even at 81, he's looking for a new job right now.
For all who will be seeing Phantom for the first time in Denver this week, Moore is confident: "You're in for a wonderful night of beautiful music and wonderful theater," he said.
And to those who have still not yet seen the show, he laments: "You should. It will change your life. It did mine."
John Moore was named one of the 12 most influential theatre critics in the U.S. by American Theatre Magazine in 2011. He has since taken a groundbreaking position as the Denver Center's Senior Arts Journalist. He has no relation to Dick Moore.

The Phantom Phan: By the numbers
First viewing: On Broadway, April 14, 1988

Films see: 10 different adaptations. Favorite Phantom: Lon Chaney, 1925. Least favorite: Robert Englund, 1989. "Englund is playing Freddie from Elm Street in this stupid and gory version," he said.
Books read about "The Phantom": 10
Memorabilia: He keeps 450 pieces in the basement of his home, along with a framed Playbill from every production he's ever attended.
Number of casts seen: 40 in 37 U.S. cities, as well as England and Canada
Favorite Phantom: Michael Crawford. "I saw him in Los Angeles, and that was the only time I got to see him."
Favorite Christine: Too many to name just one
Favorite Raoul: Nat Chandler
Favorite Carlotta: Patricia Hurd
Greatest regret: Never having seen the original Christine, Sarah Brightman, former wife of composer Andrew Lloyd Webber
Wish list: To meet Webber. That would be like meeting the Queen of England to me."
The Phantom of the Opera: Ticket information
Cameron Macintosh's spectacular new production returns to Denver as part of its North American Tour. Critics are raving that this breathtaking production is "bigger and better than ever before" and features a brilliant new scenic design by Paul Brown, Tony Award®-winning original costume design by Maria Björnson, lighting design by Tony Award®-winner Paule Constable, new choreography by Scott Ambler, and new staging by director Laurence Connor. The production, overseen by Matthew Bourne and Cameron Mackintosh, boasts many exciting special effects including the show's legendary chandelier. The beloved story and thrilling score – with songs like "Music of the Night," "All I Ask Of You," and "Masquerade" – will be performed by a cast and orchestra of 52, making this Phantom one of the largest productions now on tour.
Producer: Cameron Mackintosh
Written by: Andrew Lloyd Webber, Charles Hart and Richard Stilgoe; adapted from the novel by

Gaston Leroux

Direct by: Laurence Connor
When: Through November 17

Where: Buell Theatre
Accessible Performance: Saturday, November 16 at 2 p.m.

Tickets: Available by calling 303-893-4100, in person in the Helen Bonfils Theatre Complex at 14th and Curtis streets or, online by clicking here:

The Phantom of Opera official web site
Photo gallery:
Photos by Alastair Nuir.
https://www.denvercenter.org/wp-content/uploads/2019/11/Richard-Moore.jpg
559
800
John Moore
John Moore
2019-11-14 14:18:13
2019-11-14 14:33:18
Meet Denver's legendary 'Phantom Phan'