Moisés Kaufman on 'The Laramie Project' from process to production
Video above: Moisés Kaufman and Donovan Marley announce the partnership that would bring the world-premiere staging of 'The Laramie Project' to Denver in 2000.
'As this incident had taken place in the West, it became important to us to premiere our piece in the West'
Note: The following is an essay written by Tectonic Theater Project Artistic Director Moisés Kaufman to mark the opening of his world-premiere play 'The Laramie Project' on February 26, 2000, in the Denver Center's Ricketson Theatre:
The idea for The Laramie Project originated out of my company, Tectonic Theater Project, and its members' reactions to the killing of Matthew Shepard in October 1998. Shortly after this murder occurred, I posed a question to the company: what can we as theatre artists do to respond to this incident and, more concretely, is theatre a medium that can contribute to the national dialogue on current events?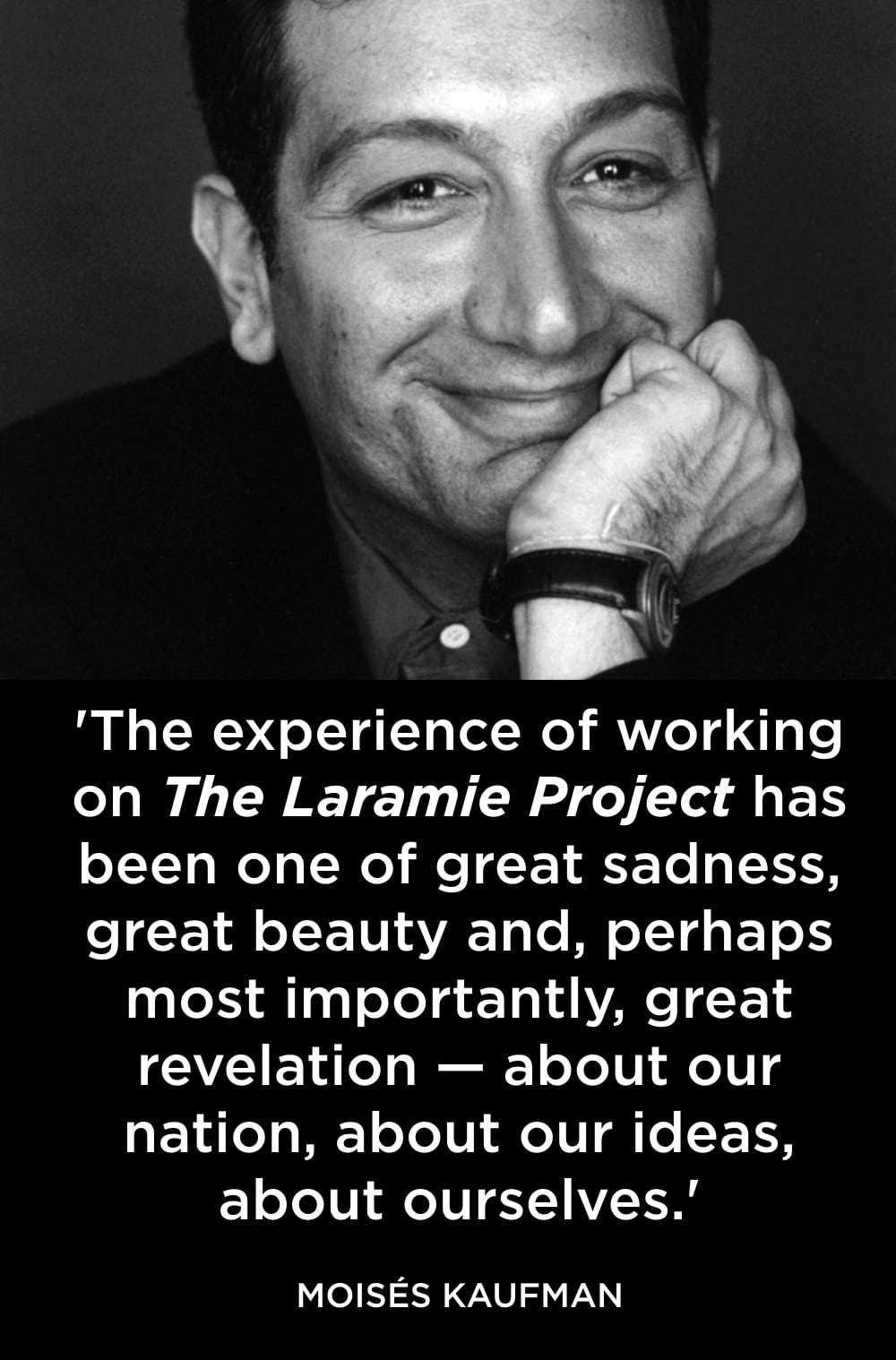 These concerns fall squarely within Tectonic Theater Project's mission of exploring theatrical language and forms and are a direct outgrowth of Tectonic's most recent major project, Gross Indecency: The Three Trials of Oscar Wilde. That play asked the question: "How can theatre reconstruct history?" The Laramie Project asks: "How can theatre relate to current events?"
Every project that we undertake as a company usually has two objectives: To examine the subject matter at hand, but also to keep exploring theatrical language and form. In an age when film and television are constantly refining and redefining their tools and devices, the theatre has too often remained entrenched in 19th Century traditions of realism and naturalism.
In this sense, one of our abiding interests is to continue to have a dialogue on both how theatre speaks and how it is created. The idea that a company of theatre artists could go somewhere, talk to people and return with what they saw and heard, interested me deeply.
So in November 1998, four weeks after Matthew Shepard's murder, Tectonic Theater Project sent 10 of its members to Laramie, Wyoming. The purpose of the trip was to hold interviews that might become material for a play and to explore a new way of researching. We all conducted interviews with the people of Laramie, even though, for most of us, it was the first time we had ever made such an attempt.
One of the first things we noticed, was that the diversity within our group turned out to be a great advantage. Each participant had his or her own interests. Some members wanted to know about the ranching community, others about the gay and lesbian community, others about Matthew Shepard, still others about the lives of the perpetrators. So in a very natural way, we began to hear a rich and varied collection of community voices.
Read more: How The Laramie Project changed theatre – and the world
When we read transcriptions of the interviews we had gathered on that trip (close to 80 in all), we were captivated by what we heard. The material was powerful, but entirely disorganized. So Tectonic produced a three-week workshop in January 1999 in New York that culminated in a reading of about 90 minutes of material, by now more organized and more structured. And although the workshop was primarily dramaturgical in nature, the set designer and composer were already involved.
Hearing those texts read in front of an audience was a powerful experience. It was at this point that I decided that we would continue returning to Laramie until the trial of the last perpetrator, set for August 1999, had occurred. Thus started a year of trips and workshops.
A smaller group of Tectonic company members returned to Laramie in April 1999 for the trial of Russell Henderson. This trip yielded a whole new level of discovery and another 45 interviews. Unlike the first visit that had occurred barely a month after the event, we found ourselves side by side with the media, experiencing first hand what a town of 27,000 people feels like with media trucks parked at all of its motels and in the center of town.
Our small group would return from Laramie and eventually form The Writers Group (led by Leigh Fondakowski, with Stephen Belber, Greg Pierotti and Stephen Wangh). They became fundamental to going through the growing volume of material and helping me organize it.
Leigh Fondakowski on The Laramie Project at 20: 'Good is winning over evil'
The process itself was in place: Transcribe tapes, edit material, gather the company together for another three-week workshop. Whereas the first workshop was largely devoted to sifting through and editing the texts of the interviews, the next phase allowed for the introduction of some theatrical elements, including modest scenery, props, costumes and music. In this and in subsequent phases of the process, the actor/dramaturgs in the company began creating theatrical presentations ("moments") with the material in the texts. And the writers group was there to continue to help me make changes and additions based on what the actors were bringing to rehearsal.
Four more trips to Laramie would take place over the course of a year. We returned for the events commemorating the first-year anniversary of Matthew's death. Another two trips would cover the trial of Aaron McKinney, and a final trip would take care of the last of the follow-up interviews. As the process continued, and we racked up more than 200 interviews total, Leigh Fondakowski became more and more helpful to me in selecting material and organizing themes, characters, and forms.
At this time, two other organizations became pivotal to the development of our work: Robert Redford's Sundance Theatre Lab and the New York Theatre Workshop. Both housed and supported us as we continued to workshop and develop the piece.
The experience of working on The Laramie Project for the past year, has been one of great sadness, great beauty and, perhaps most importantly, great revelation — about our nation, about our ideas, about ourselves.
As this incident had taken place in the West, it became important to us to premiere our piece in the West, which is why we accepted Donovan Marley's generous invitation to start the next part of our journey here in Denver. And now a new phase of the work begins: the all-important one that includes the presence and participation of you, the members of the audience.
We are delighted to be taking this first step in Denver, only a few hours from Laramie. We have been moved by Donovan's deep commitment — and that of everyone else at the Denver Center Theatre Company — in helping us bring this play to life.
We invite you to partake in our examination of this event that, at this moment in our history, has challenged us and made us think again about who we are as artists and where we might be going.
Photo gallery: Original production photos from Denver
https://www.denvercenter.org/wp-content/uploads/2020/02/Moisés-Kaufman.-Photo-by-Ken-Friedman..jpg
759
1000
John Moore
John Moore
2020-02-25 18:48:17
2020-02-26 09:41:54
Moisés Kaufman on 'The Laramie Project' from process to production