Off-Center bringing live-action gaming experience to Denver
Audience gets to save the world … or not … in Off-Center's The Last Defender
Off-Center's next immersive experience will be part theatre, part puzzle hunt and part live-action gaming experience, it was announced today. The Last Defender, beginning May 28, draws on the political and social turmoil of the 1980s, the golden age of arcades and impending nuclear threats to give audiences a one-of-a-kind storytelling experience that gives them the chance to be the hero.

Because in this thriller it's 1983, the United States and the Soviet Union are still mired in the Cold War, and the only one who can end it is you.
"The Last Defender is an exhilarating 90-minute experience that is a mixture of storytelling and stagecraft with no actors or theatre seats," said Off-Center Curator Charlie Miller. "Instead, it brings the audience together as defenders to save the world from nuclear annihilation, and their decisions and actions determine the outcome of the story.
Tickets go on sale Monday, April 15.
The Last Defender, which will play out beneath the Patagonia retail store at 1510 Blake St., was commissioned and developed by The House Theatre of Chicago and the Chicago Performance Lab through the University of Chicago. After successfully defending the world in Chicago, the creators are expanding the adventure and bringing the action to Denver.
"People tend to describe The Last Defender as an escape room, but I don't like to say that," said Nathan Allen, a graduate of Pomona High School in Arvada and co-founder of The House Theatre in Chicago. "It's technically not an escape room. You can leave if you want to. But I guarantee, you won't want to."
The Last Defender actually incorporates most everything you could want out of a traditional theatergoing experience, Allen said: A cohesive and engaging narrative, costumes and great production values. Really everything except actors. "Because here, you are the actor," he said. "You're not asked to role-play. But you are not a passive audience. Here you are player, and in this storytelling world, the player is the protagonist."
And the protagonist is also the playwright. "The audience's imagination is where the storytelling happens," Allen said. "They are literally co-authors of the storytelling."
Between Us: One Actor. One Audience Member. One Up-Close-and-Personal Encounter.
When you arrive, Allen said, "you put on a jumpsuit and are thrown into a 1980s Atari-driven nuclear-missile command center." From there, Allen's designers carry you through the puzzle experience. And regardless of your success or failure at preventing nuclear war, Allen said, "I promise every team makes it to a narratively satisfying conclusion.
"On the best nights you have total strangers high-fiving and hugging each other at the end. Kind of like you've all made it through a mosh pit together."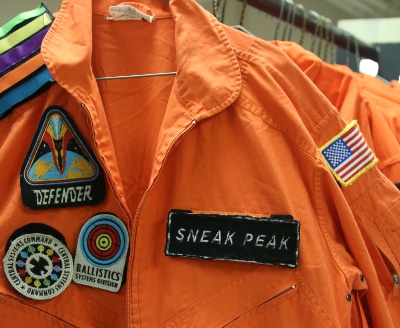 Off-Center specializes in out-of-the-box and immersive theatrical adventures. The like-minded House Theatre was co-founded by Allen and a group of friends in 2001 to explore connections between community and storytelling through unique theatrical experiences. "It started from our foundational interest in getting people who look and live differently from each other into a room where they can all see each other and then have a shared emotional experience," Allen said.
Added Miller: "I am thrilled to collaborate with the talented team from The House Theatre of Chicago to bring this wild and completely unique experience to Denver."
The Last Defender: Ticket information
At a glance: Head to The Defenders' underground headquarters, where we've deployed artificial intelligence alongside 8-bit arcade-style computer technologies to control our nuclear weapons. Suit up and work as a team to gather information, solve puzzles, and make increasingly difficult decisions in real time. Do you have what it takes to complete The Defenders' final mission and save the world?
Written and Directed by Nathan Allen
Game Design by Sandor Weisz
Production Design by Lee Keenan
When: May 28 through July 28
Where: Beneath the Patagonia retail store at 1510 Blake St.
Tickets start at $25 and go on sale Monday, April 15, at denvercenter.org, 303-893-4100 or in person at the Helen Bonfils Theatre Complex box office.
Photo gallery:  The Last Defender
More about the creators
Nathan Allen (Writer, Director and Artistic Director): Nathan founded The House Theatre of Chicago with friends in the year 2001 and continues to lead the company as Artistic Director. Writing and directing credits include Death & Harry Houdini, The Sparrow, Rose and the Rime, and The Hammer Trinity. He directed The Magnificents by Dennis Watkins, with whom he also created the weekly magic show, The Magic Parlour. Nathan's work has received several acknowledgments from the Joseph Jefferson Awards. He is an Eagle Scout, a Hunt Leadership Scholar, and a Board Member of The League of Chicago Theatres. He has been named an Associate Artist at The Adrienne Arsht Center in Miami, and received the Emerging Leader Award from his alma mater, Southern Methodist University, where he serves on the Executive Board of the Meadows School of the Arts. Nathan is an Arvada native and a proud Pomona Panther.
Sandor Weisz (Game Designer): Weisz is the commissioner of The Mystery League. He's built puzzles for Google, Accenture, The Field Museum, Chicago Architecture Foundation, The University of Chicago, The House Theatre of Chicago, The Art Institute of Chicago, Cards Against Humanity, and others. He has been making puzzles and puzzle hunts since he was a teenager. He is also a frequent contributor to the NPR Sunday puzzle, and he publishes a new puzzle every weekday on Twitter @pzlr. He lives in Chicago with his wife and two kids.
Lee Keenan (Production Designer): Lee is a Company Member at The House Theatre of Chicago where he has designed over 40 productions of 26 new plays. The joy of communicating directly from designer to audience makes The Last Defender is one of his favorite projects. Lee is based in Chicago and has designed for Lookingglass Theatre, Victory Gardens, Court Theatre, Albany Park Theatre Project, and many more. He teaches theatre design at Loyola University Chicago and is Co-Chair of the Michael Merritt Awards.
https://www.denvercenter.org/wp-content/uploads/2019/04/TheLastDefender004_OperationsDept_photobyJohnnyKnight.jpg
2574
3861
John Moore
John Moore
2019-04-05 10:54:49
2019-05-14 13:19:31
Off-Center bringing live-action gaming experience to Denver