Russell Costen remembered: A bear of an actor, a teddy bear of a man
"I've got the guts to die. What I want to know is, have you got the guts to live?"

– 'Big Daddy' Pollitt, Cat on a Hot Tin Roof
From the film Hair to Cat on a Hot Tin Roof, beloved actor delivered winning performances with heart into his twilight
There was nothing Russell Costen wouldn't do to support his lifelong dream to be an actor. He worked as a security officer, a sales agent, a human-resources director and a teacher of English as a second language. He was a concierge at the world-famous restaurant Sardi's and ran the information desk at the headquarters for The Shubert Organization.
Anything to be on a stage.
Costen, whose performing career was bookended by an appearance in the classic Milos Forman musical film Hair in 1979 and playing a barrier-breaking Big Daddy in The Edge Theatre's 2013 stage production of Cat on a Hot Tin Roof, died Wednesday from a recurrence of lung cancer. He was 79.
"Russell was gifted and he was highly intelligent. He was eccentric and he was intense," said his friend and fellow actor Harvy Blanks. "He always felt like success had skirted past him, but Russell was successful in so many ways. I loved that man. We will never see his likes again."
Costen was a veteran of stage, screen and the U.S. Army, which added irony to his appearance in Hair as an African-American officer in the number "White Boys."
Costen cut an imposing figure with his burly frame and white hair offset by a wide and welcoming smile. He loved all things pop culture. His apartment was a veritable library filled with books and films – and books and films about books and films.
He also loved McDonald's.
"I think he ate McDonald's every day," said his friend and fellow actor Adrienne Martin-Fullwood. "Whenever I asked him where we should get together, he would flash that wide grin of his and say, 'McDonalds!' "
Costen performed everything from Camus to Pinter. His greatest pride, he often said, was playing the titular role in Othello, accompanied by the Denver-based Spirituals Project; and starring in the one-man play Paul Robeson for Shadow Theatre Company, for which he earned a 2005 Denver Post Ovation Award nomination. He also was part of the casts of the DCPA Theatre Company's Jitney and The Little Foxes.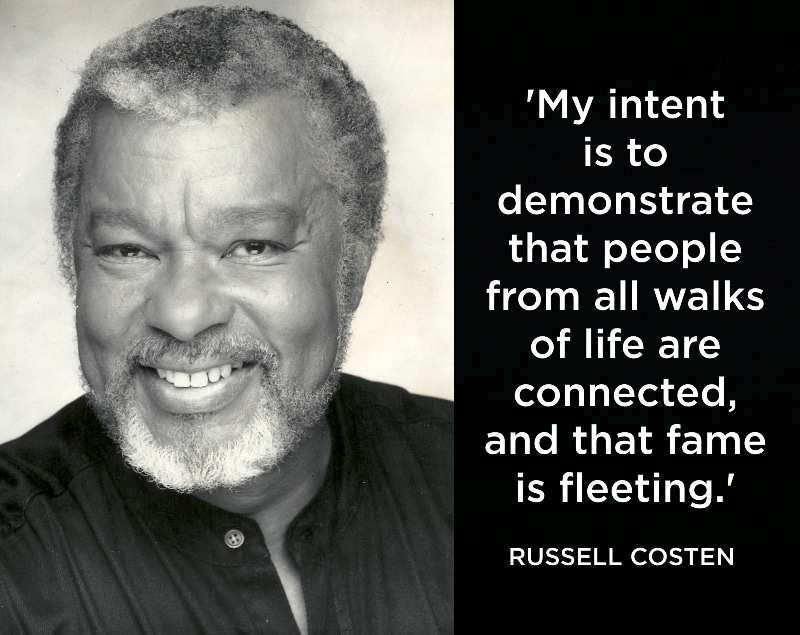 Costen was enjoying the best extended run of his stage career in 2013 when he performed in the Arvada Center's Dividing the Estate, followed by the Athena Project's world premiere presentation of Tell Martha Not to Moan. "When casting for Dividing the Estate, I was immediately struck by his warmth and openheartedness," said Director A. Lee Massaro. "He had a bear-like presence: At once calm, mischievous and strong. He added so much to our production, both on and off stage. I will miss his kind eyes and gentle laugh."
Tell Martha Not to Moan was about a devoted elderly African-American couple whose son was killed in the 1967 Detroit riots. Martin-Fullwood, who played Costen's wife, was surprised to casually discover just how extensive Costen's résumé is.
"My God, what that man accomplished – and I didn't know it until we were well into rehearsal," Martin-Fullwood said. "I never realized the power of the man's program."
Melissa Lucero McCarl, who directed that production, took comfort in knowing that Tell Martha Not to Moan offered Costen "the opportunity to be at his very best in the twilight of his career," she said.
Costen's final significant stage appearance came next in The Edge Theatre's Cat on a Hot Tin Roof, in which director Angela Astle cast Costen to play the vulgar Mississippi plantation owner who treats his black servants atrociously – without commenting on the color of Costen's own skin. That means lines such as these came out of Costen's mouth: "I quit school at 10 years old and went to work like a (n-word) in the fields." The moment was all the more remarkable given Costen's own life experiences. In fact, McCarl said, Costen had refused to have his character say the n-word word in Tell Martha Not to Moan. He agreed to say in Cat on a Hot Tin Roof, however, because he was playing a white man, and that was true to his character.
"I was surprised by the choice (for Russell to play Big Daddy), and I was really excited at Angela's color-blind approach," said Brian Landis Folkins, who played Big Daddy's tormented son, Brick. "We didn't play the story any differently than if Russell were white. He was just my dad, and color and race had nothing to do with it. What an incredible opportunity that was for Russell to play this iconic character that he wouldn't otherwise get a chance to ever play." Added McCarl: "I love what Angela did with that play because she simply cast the best actor for the role, regardless of what he looked or sounded like."
Folkins and Martin-Fullwood both described Costen as kind and gentle. "He was a nice guy with a really big heart," added Folkins.
Soon after Cat on a Hot Tin Roof, Costen was cast to star in Curious Theatre's Civil War drama The Whipping Man. But Costen struggled through rehearsals with health issues and left the show as opening approached. Within days, he was diagnosed with lung cancer and required surgery and a six-week stay in a Denver V.A. hospital. During that time, dozens of members of the local community banded together to help Costen through the efforts of The Denver Actors Fund. "Isn't it extraordinary when people can offer you such extraordinary generosity, love and affection, which you never even asked for?" said Costen, who lived as a single man in his later years on a limited income.
In a February 2018 interview with Colorado Public Radio, Costen said: "I've been living by my wits for a very long time. There hasn't been a month in my life that I haven't thought, 'So what's going to happen tomorrow? Am I going to step out into space? Am I going to fall?' So far, it hasn't happened."
Video: Watch Russell Costen in Hair:
Costen was born May 15, 1939, in Queens, N.Y. He began acting in his youth, inspired by an English teacher who took his students to New York City to see plays and movies. After seeing Shakespeare's Julius Caesar, Costen and his friends staged their own version of the play, wearing their mothers' white sheets for togas. Costen was hooked on performing.
He graduated from St. John's University in Jamaica, N.Y., with degrees in English, speech and drama. He then joined the U.S. Army and was assigned to teach English in San Juan, Puerto Rico. While there, he played Walter Lee Younger in a military production of A Raisin in the Sun that was attended by West Side Story composer Leonard Bernstein.
"Russell was a bit of a throwback in that he was a classically trained actor with a wealth of experience, but he also had a huge heart and spirit that came through in his technique," said McCarl.
In 1985, Russell was praised by the most feared theatre critic in America for his work in the Yale Repertory Theatre's production of August Wilson's Fences in New Haven, Connecticut. "Russell Costen is particularly formidable as the beatific Gabriel," wrote Frank Rich of The New York Times.
Costen considered his seminal roles to include playing The Inquisitor in George Bernard Shaw's St. Joan; the title role in Albert Camus' Caligula; Goldberg in Harold Pinter's The Birthday Party; and Cardinal Richlieu in The Three Musketeers. His film credits also include Panic in the Needle Park and The Cotton Club.
Costen moved to Denver in 1999 and from 2004-11, he worked as the Patron Representative for Group Sales for the Denver Center for the Performing Arts. He was also a volunteer usher.
"Russell's spirit and presence touched so many lives.  His stories almost always brought us a smile – and sometimes an occasional eye-roll – but his magnanimous energy and charming personality made him awesome to connect with," Astle said. "I will miss him, and the twinkle in his eye, dearly."
Costen was also a tireless playwright. His first play was called Prisoner, which presented a messianic figure in the court of King Louis XIV. Absent Friends offered early film stars talking about the movie industry, fishing, boats, children, marriage, luck and money.
"My intent is to demonstrate that people from all walks of life are connected, and that fame is fleeting," Costen said of his writing.
One of his characters offers this advice for a full life: "Take care of the memories. Take care of the dreams."
Astle will be holding a memorial service from 1-3 p.m. on Saturday, December 1, at the first Mennonite Church, 430 W. Ninth St., in Denver.
"I look forward to connecting further with those who knew him at his upcoming celebration of life," Astle said. "In my mind, the best way to remember Russell is to share our stories with each other.  He would get a kick out of that as he loved being the 'center.' "
John Moore was named one of the 12 most influential theater critics in the U.S by American Theatre Magazine in 2011. He has since taken a groundbreaking position as the Denver Center's Senior Arts Journalist.
https://www.denvercenter.org/wp-content/uploads/2018/10/Russell-Costen-Dividing-the-Estate-P.-Switzer.jpg
1244
1908
John Moore
John Moore
2018-10-04 16:46:48
2018-10-22 09:55:04
Russell Costen remembered: A bear of an actor, a teddy bear of a man