Stuck in Limbo: Clyde's is a workplace comedy that elevates the humble sandwich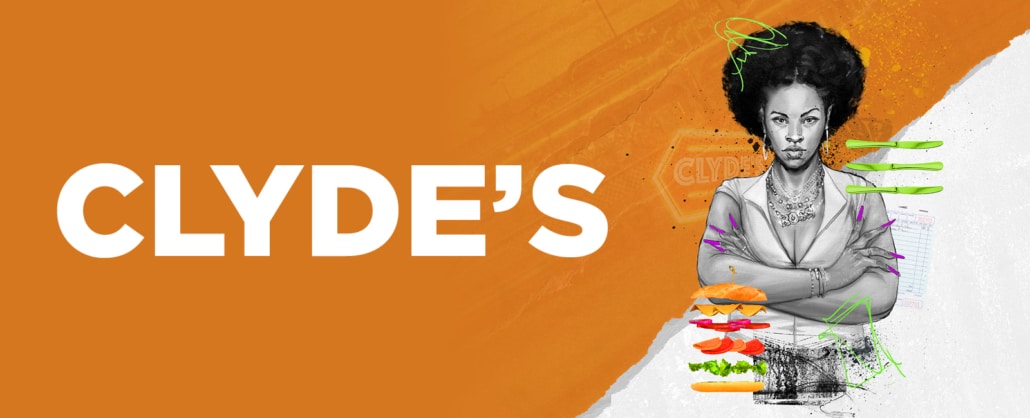 There's a truck stop in eastern Pennsylvania that sells the usual fare: burgers, fries, wraps, sandwiches. There is the occasional elevated offering like the Manuel Luis Echegoyen La Fiesta Burger, a beef patty topped with cotija, avocado, salsa verde and jalapeños. For the most part though, the menu is fairly uninspired, like a ham and cheese sandwich…on white.
But for the kitchen staff, creating each sandwich, no matter how simple, is a work of art, an opportunity to connect with another person. "The sandwich is your pulpit, it's where you preach the gospel of good eating," Rafael, one of the cooks, explains.
Welcome to Clyde's the truck-stop setting for Lynn Nottage's play of the same name. In it, characters may be talking about sandwiches (and describing some mouthwatering ones), but the story is really about any art.
"I think the play is very intentionally about creative expression and having room to shape your own narrative through art," Nottage told the Los Angeles Times. "That is really at its core. How do you take the simple ingredients that you have in front of you and create something that is singular and special? Something that when people bite into it, they understand fully who you are and you have a communion."
Nottage has been seeking communion with audiences for years with plays such as Intimate Apparel, about a black seamstress at the turn of the 20th century; and Ruined (produced by DCPA Theatre Company in 2011), about women in the Congo. More recently she wrote the book for MJ, a jukebox musical about pop star Michael Jackson (touring to Denver in April 2024). Along the way, she's scooped up two Pulitzer Prizes. Clyde's might be her most popular play to date. It was the most produced show of 2022 and seems apropos for a society emerging out of lockdown. The truck stop, the play tells us, is a liminal space.
"You here cause you done run outta options, ain't nobody gonna hire you except for Clyde," Letitia, another one of the cooks explains. "Cuz if you here, you done something. We all done something. And we just biding our time 'till we can get to another place."
Everyone working at Clyde's was once incarcerated, and most of them are now just stuck, marking time: Owner Clyde refuses to change her restaurant, Letita circles back to old flames, Rafael has a stalled love story, and another chef, Jason, is trying to escape a racist past tattooed all over his body.
Jason may be familiar to some audiences. He's a character in Nottage's play Sweat (produced by DCPA Theatre Company in 2019), about a factory shutting down in Reading, Pennsylvania.
In it, Jason turns violent against a scab during a factory strike and gives someone a traumatic brain injury. After being released, he's now washed up at Clyde's, and his racist gang tattoos do nothing to endear him to Rafael or Letitia, both people of color.
The three battle each other and Clyde, their foul-mouthed, foul-tempered boss. She is constantly ready to put someone down physically or emotionally the moment she senses anyone is getting out of line or having fun.
Montrellous, the head chef, who smells like canola oil and patchouli, is Clyde's antithesis and the calm center of the play. He was also formerly incarcerated, but is a mentor to other cooks.
"He has a servant's heart," says Sekou Laidlow, who plays Montrellous. "And that kind of depth of humanity is what I think people should witness, particularly from one who has endured the confines of prison. It is a direct critique of what society says Black men are."
The play's emotional depths are one thing that drew director Jamil Jude to the show. He was last at the DCPA in 2022 when he directed Choir Boy. For that show, he had to get his actors to showcase the soul-stirring nature of gospel music. For this one, he needed his performers to learn… knife skills?
Yep. There's actual cooking on stage (with real knives). "It'll be a little smell-o-vision for the audience," Jude says. But also culinary skills were necessary to "learn just how these characters go about their job in this kitchen," Jude adds.
Jude was also motivated to take on the play because of how it tackles radical imagination and freedom through craft. "The characters wonder, if I can just dedicate myself to getting better at making a sandwich, what else could improve about my life?" explains Jude.
And the play's central question becomes, can a sandwich really make a difference? Nottage purposefully picked something humble. A sandwich is just a sandwich after all — despite the new found appreciation everyone who has seen "The Bear" has for what it takes to run a good sandwich shop. While the characters wax on about their dream sandwich and strive to put together a tuna melt with reverence, the audience would be forgiven for reluctantly agreeing with Clyde, who comments: "That bitch ass sandwich ain't gonna change a damn thing."
Can you even dare to dream when you were incarcerated only to emerge from prison to flip burgers at a godforsaken truck stop?
Montrellous acts as the Orpheus to the other chefs. He's come into limbo to lead them out through example. They have a perfect right to dream unabashedly, he encourages, and to dedicate themselves to an art form no matter how humble.
And when they finally do look out on that horizon, they may see that getting out of limbo is as simple as hanging up their aprons and walking out the door.
DETAILS
Clyde's
Oct 27-Nov 26 • Kilstrom Theatre
Free Post-Show Discussions: Nov 9, 16, 21 & 22
Tickets
https://www.denvercenter.org/wp-content/uploads/2023/03/TC23-Clydes-web-assets-1600x650-1.jpg
650
1600
Rosalind Early
Rosalind Early
2023-09-12 10:15:04
2023-09-12 10:31:00
Stuck in Limbo: Clyde's is a workplace comedy that elevates the humble sandwich