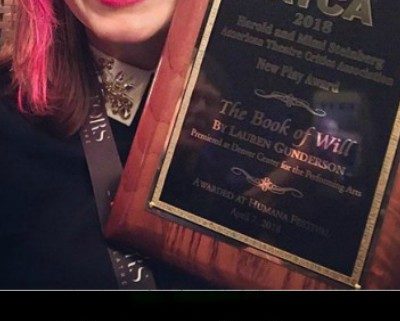 'The Book of Will' wins national critics' Steinberg New Play Award

Highlights from he DCPA Theatre Company's world premiere staging of 'The Book of Will' in 2017. Videos by David Lenk and John Moore for the DCPA NewsCenter.
Lauren Gunderson scores the nation's largest prize for new plays, which comes with a $25,000 cash award

By John Moore
Senior Arts Journalist
Lauren Gunderson's celebrated play The Book of Will was named the winner of the American Theatre Critics Association's Steinberg New Play Award on Saturday night at the Humana Festival of New American Plays in Louisville, Ky.
The award, which comes with a $25,000 prize, considers scripts that were premiered by professional theatre companies outside New York City during 2017.
The Book of Will was commissioned by the DCPA Theatre Company, developed at the 2016 Colorado New Play Summit and given its world premiere on the Ricketson Theatre last year. It has since been scheduled for productions around the country, including the Oregon Shakespeare Festival, opening June 6. The play already has been staged at theatres in New York, Illinois and Maryland.
Without William Shakespeare, we wouldn't have literary masterpieces like Romeo and Juliet. But without his friends Henry Condell and John Heminges, we would have lost half of Shakespeare's plays forever. Gunderson's play tells what the two actors sacrificed when they endeavored to compile the First Folio and preserve Shakespeare's words after the death of their friend and mentor.
"For a play about theatre-makers to garner this honor in this company is so meaningful," Gunderson said. "Thank you to the Denver Center and Kent Thompson for commissioning and premiering the play, to Davis McCallum for his heartfelt direction and to all the artists who worked on it to make it full of soul. Also to ATCA for all they do, and to Jim Steinberg, who is a generous visionary."
The play was commissioned under former Producing Artistic Director Kent Thompson, who calls The Book of Will "a love letter to Shakespeare, to actors and to the theatre."
Video: Our interview with playwright Lauren Gunderson
"The Book of Will fires on all cylinders" said one unnamed judge, according to an ACTA press release. Said others:
"The play wrestles with big questions: Why do we create, and how do we deal with death? What constitutes a legacy? And how a surpassing love for something bigger can make every sacrifice worth it."
"This play is all the more impressive given that we know how the story will end."
"It's funny — genuinely funny — in a way that feels contemporary and yet not cynical."
Denver Center audience member Artis Roslyn Silverman said it was the play's themes of friendship, love and devotion to craft that made the play memorable to her. "I still quote lines from the play," she said.
Denver Center's sudden impact on national theatre scene in 2017-18
Two additional citations that come with $7,500 prizes were presented to Molly Smith Metzler's Cry It Out and Ike Holter's The Wolf at the End of the Block, which had their world premieres respectively at the Humana Festival and by Teatro Vista at Chicago's Victory Gardens Theater. At $40,000, the Steinberg is the largest national new-play award program recognizing regional theaters as the crucible for new plays in the United States, according to the ATCA.
Cry It Out focuses on the bonds and barriers between two new mothers across a backyard and across class differences. It wrestles with issues of female friendship and class and privilege while still being a story about two people. The Wolf at the End of the Block is centered on a beating outside of a Chicago bar. Other finalists for the Steinberg/ATCA Award were Linda Vista and The Minutes, both by Tracy Letts; and Objects in the Mirror by Charles Smith.
The six finalists were selected from eligible scripts recommended by ATCA members from around the country. They were evaluated by a committee of theater critics, led by Lou Harry, who has written for theatrecriticism.com, The Sondheim Review, and many other publications.
"Once again, the panel has bowled me over with its rigorous and passionate debate," said Harry, "and once again playwrights and theaters from around the country have supplied us with plays worthy of those fierce discussions. Together, these six plays speak well of the American theatre today. Individually, they speak to the excitement and originality of some of our finest playwrights."
Other committee members were:
Misha Berson, Seattle Times (Seattle)
Bruce Burgun, The New Orleans Advocate (New Orleans)
Lindsay Christians, The Capital Times (Madison, Wis.)
Amanda Finn, Wisconsin State Journal (Madison, Wis.)
Mike Fischer, Milwaukee Journal Sentinel, (Milwaukee)
Pam Harbaugh, floridatheatreonstage.com (Indialantic, Fla.)
Erin Keane, Salon (Louisville, Ky.)
Mark Lowry, theaterjones.com, Fort Worth Star-Telegram (Dallas)
Jonathan Mandell, newyorktheater.me (New York)
Julius Novick, freelance (New York)
Marjorie Oberlander, freelance (New York)
Kathryn Osenlund, freelance (Philadelphia)
Wendy Parker, freelance (Midlothian, Va.)
Wendy Rosenfield, broadstreetreview.com (Philadelphia)
David Sheward, artsinny.com, theaterlife.com (Jackson Heights, N.Y.)
Martha Wade Steketee, freelance (New York)
Perry Tannenbaum, Creative Loafing, (Charlotte)
Bob Verini, Variety (Boston)
Denver Center's 'Georgia McBride' to be a film starring Jim Parsons
In 1977, ATCA began to honor new plays produced at regional theaters outside New York City, where there are many awards. Since 2000, the award has been funded by the Harold and Mimi Steinberg Charitable Trust.
Since its inception, ATCA's New Play Award honorees have included Moisés Kaufman, Adrienne Kennedy, Craig Lucas, Donald Margulies, Arthur Miller, Marsha Norman, Robert Schenkkan, August Wilson, Lanford Wilson, and Mac Wellman.
Last year's honoree was Man in the Ring by Michael Cristofer.

John Moore was named one of the 12 most influential theater critics in the U.S. by American Theatre Magazine in 2011. He has since taken a groundbreaking position as the Denver Center's Senior Arts Journalist.
Photo gallery: The making of The Book of Will at the Denver Center

To see more photos, click the forward arrow on the image above. All photos are downloadable from our Flickr site above. Photos by John Moore for the DCPA NewsCenter.
Production photo gallery:
Production photos by Adams VisCom. To see more, click the forward arrow on the image above.
Selected previous DCPA NewsCenter coverage of The Book of Will:
Video: Your first look at The Book of Will
Perspectives: Why is there a bobble-head on that set?
Guest columnist Lauren Gunderson: How one word can change a play
Five things we learned at The Book of Will opening rehearsal
'The Year of Gunderson' has begun in Colorado
Video: Take a tour of The Book of Will set
Shakespeare in a season with no Shakespeare
First Folio: The world's second-most important book heads to Boulder
Video: Our look back at the 2016 Colorado New Play Summit
Summit Spotlight: Playwright Lauren Gunderson
Lauren Gunderson wins Lanford Wilson Award from Dramatists Guild of America
Just who were all the king's men, anyway?
2016-17 season: Nine shows, two world premieres, return to classics

Meet the cast: Jennifer Le Blanc
Meet the cast: Wesley Mann
Meet the cast: Rodney Lizcano
https://www.denvercenter.org/wp-content/uploads/2018/04/featured-image-5743.jpg
801
400
John Moore
John Moore
2018-04-08 13:15:00
2018-04-08 13:15:00
'The Book of Will' wins national critics' Steinberg New Play Award