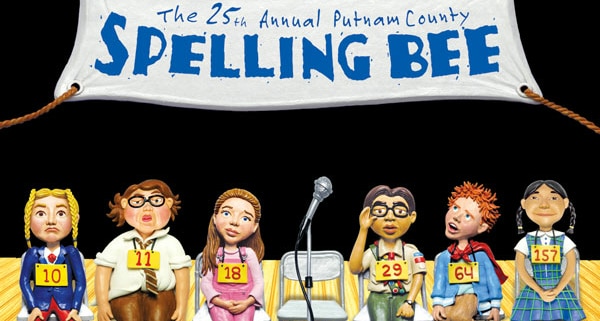 The Three Men of THE HEAVYWEIGHTS Present – Three Man – The 25th Annual Putnam County Spelling Bee
Your first word is opportunity. How do you spell opportunity?
For Jeremy Geller it is H-E-A-V-Y-W-E-I-G-H-T-S, a company he created to give plus size actors the opportunity to play roles they may not otherwise be cast in. "THE HEAVYWEIGHTS take the shows that you know and love and cast them with three fat actors," says Jeremy. "Think about the shows on Broadway, how many of them have plus size actors or fat actors that aren't the comic relief? When will there be a 300lb Glinda or a 300lb Phantom, so THE HEAVYWEIGHTS were created to give fat actors, plus size actors, an opportunity."
Jeremy Geller, Polanco Jones Jr. and Max Wilcox truly play EVERYONE in their version of The 25th Annual Putnam County Spelling Bee, a Broadway musical about an eclectic group of mid-pubescents vying for the spelling championship of a lifetime. In chatting with the talented three, Denver audiences are in for a wild ride of organized chaos; an honest journey that is not about making a joke of the many characters.
The trio may or may not have been young spelling bee champions, but they did find performing arts at a youthful age with Max playing Tiny Tim in Park City Utah, Polanco falling in love with theatrical movement and Jeremy even playing Tevye in his elementary school production of Fiddler on the Roof. Yes, elementary school. "Being a fat actor, a plus size actor, in musical theater is even harder at a young age. We're put into these boxes," Jeremy recalls. Polanco adds, "If I had been introduced to THE HEAVYWEIGHTS when I was younger, I think my life would have been drastically different. Growing up I was always overweight. I was 375 as a kid and for a long time I felt like I would not be able to be successful. I think watching the three of us tell such a complex story will hopefully inspire someone to understand that they can do anything if they put their mind to it."
Back to the spelling bee, THE HEAVYWEIGHTS invite patrons to join them for a celebration of storytelling, no matter their size or shape. When they leave the Garner Galleria Theatre, Max hopes that "they don't think about anything for about the first 15 minutes. I hope they just walk out, laugh and talk about their favorite parts with their friends…. Later, when they're getting ready to go to sleep, I hope they realize and remember that the three of us who were up there are just three people doing the thing that we absolutely love, and that all that mattered is that they had a good time and that we were there helping them along with it."
So, who will be this year's spelling bee champ?! Come find out at the Garner Galleria Theatre with this world premiere, body positive three-man version of THE HEAVYWEIGHTS Present – Three Man – The 25th Annual Putnam County Spelling Bee.
DETAILS
THE HEAVYWEIGHTS Present – Three Man – The 25th Annual Putnam County Spelling Bee
Mar 29-Apr 9, 2023
Tickets
https://www.denvercenter.org/wp-content/uploads/2023/02/SB_compact.jpg
499
600
Heidi Bosk
Heidi Bosk
2023-02-15 09:30:21
2023-02-16 09:27:52
The Three Men of THE HEAVYWEIGHTS Present – Three Man – The 25th Annual Putnam County Spelling Bee